3 Universal Applications of Augmented Reality in Business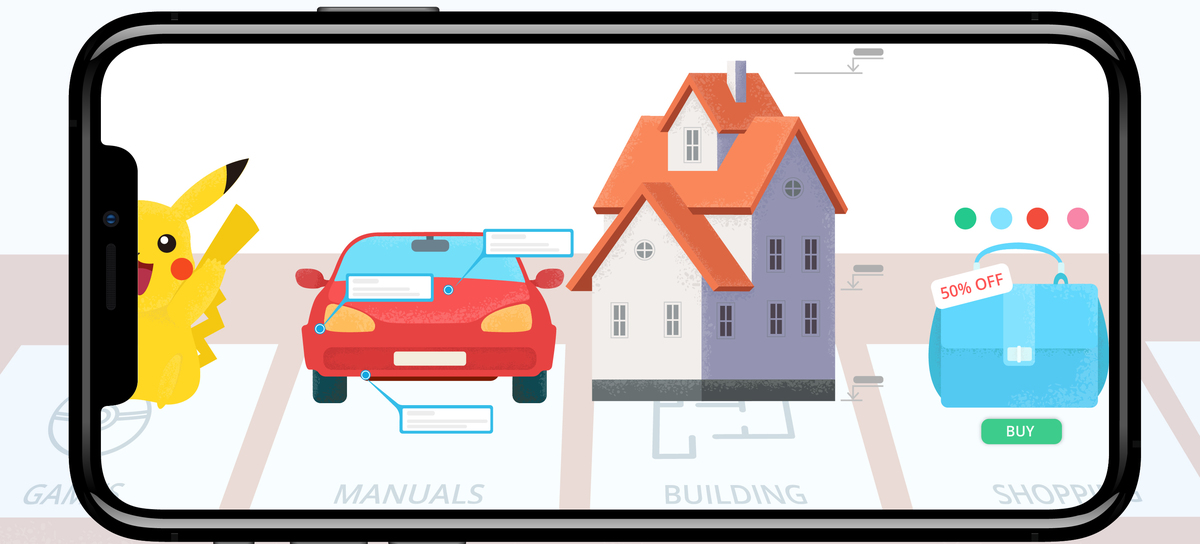 We are finishing the series of posts about augmented reality (AR) and virtual reality (VR). The first post dealt with the potential of augmented and virtual reality in business. The possible applications of VR technology range from VR escape rooms to payment systems. The number of companies that are looking to create VR experiences for their customers is growing.
However, currently, we are witnessing more augmented reality applications being realized. AR uses everyday devices. 77% of U.S. consumers own a smartphone, and the global number of smartphones is projected to reach 2.87 billion by 2020. Simultaneously, the number of mobile apps is growing. It's getting harder to stand out in a crowd, so brands and companies are looking for innovative features. AR integration offers that kind of opportunity.
Augmented reality app development is now facilitated by ARKit and ARCore supplied by Apple and Google respectively. Software developers can build AR features into existing iOS and Android apps or create unique new programs. AR smart glasses and similar gear will be gradually getting better, cheaper, and more widespread, as it happened with smartphones. As a result, even small companies are increasingly considering AR solutions.
AR is already revolutionizing sports, dating services, education, online shopping and retail and so on. Virtually any company can adopt AR technology both externally and for internal business and production processes. Let's start with AR solutions for customer experiences and relationships.
3 Universal Ways to Apply Augmented Reality in Business
Augmented reality business opportunities stem from the unique ability to deliver information and streamline processes. "We're already seeing things that will transform the way you work, play, connect and learn," Apple's CEO Tim Cook said. Let us add a few more verbs: serve, create, sell, and buy.
Marketing and Advertising
AR adds to real settings images, sounds, or vibration. The additions can highlight things, amplify messages, improve understanding of events, and provide relevant data at the point it is needed. Thus AR unfolds a huge business potential for marketing domain.
If your brand app is AR-enabled, users will be able to point their mobile camera at QR codes, bar codes, markers, or other objects and see an overlay with whatever you want them to see. Mobile AR is also more budget-friendly than traditional forms of marketing.
One of the simplest applications is flyers, business cards, magazines, or other marketing materials you hand out. AR can make a magazine issue special by adding a dimension to the illustrations. A story that plays on a tablet's screen transforms a printed material into a new medium. Fashion magazines already do that. Alternative-spaces has recently used AR when designing its booklets.
At an industry event, a company using AR can stand out with an exciting and unique stall. Travel companies can use AR apps to show travelers superimposed views of the cities and sites to visit.
In the retail sector, forward-thinking brands are using AR to connect with their consumers meaningfully and creatively. Seasonal promotions featuring AR treasure hunts are a perfect example.
AR offers a fresh way to enhance any ad campaign. Enhance your store window by showing a hologram model wearing the garments you sell. Add interactivity to your big boards. Gamify the consumer interactions with AR.
Whether creating an AR app or integrating AR technology into a current offering, strive to delight your audience. Moreover, let them share the experience through social networks. Snapshots of virtual try-ons are not only fun and useful. They can entice others to try and become your customers too.
Due to the proliferation of mobile devices with GPS and beacon technology, marketers and businesses will be increasingly relying on markerless AR. It allows to identify objects near the user's location and place content, such as virtual products, in the real world around them. The more accurate the location, the more personalized the content will be. Eventually, AR may create a world where people are served up personalized ads and information as part of their daily life.
Successful AR marketing campaigns and attention-grabbing advertising will be increasingly accessible to small businesses. Imagination Park Technologies is representative of the trend. They developed a self-service enterprise cloud-based platform for AR campaigns. A company can create a dynamic campaign in minutes, without technical resources, and with a minimal investment. These campaigns may include scavenger hunts, sweepstakes, and even donations for fundraising. Companies can capture consumer data with full analytic reporting.
Businesses that wish to engage consumers and drive revenue should take advantage of the emerging digital communications channel.
Brand Awareness, Reach, and Loyalty
VR and AR enable the three E's — engagement, experience, and entertainment — like no other medium. If brands apply AR creatively, it can bring more loyalty and engagement for their products. They can also take a big leap ahead of competitors.
Original and extraordinary mobile apps are allowing brands to connect and engage with consumers in a crowded marketplace. Even the fact that AR technology is only transitioning from a novelty into a serious business tool plays into the hands of businesses. Most people hate feeling sold to but love being a part of innovation.
AR-enriched apps can be functional, visually impressive, and offer personalization at the same time. If you integrate AR into an existing app, you save money and time without the risk of losing your audience. Instead, you'll encourage consumers to return to your brand, and thousands can become new loyal followers.
AR still helps brands stand out by surprising and entertaining audiences. For example, to encourage customers in Poland to "Try something new with Visa," the global supplier of payment solutions had an interactive AR-based campaign travel four major cities. At local shopping malls, images from cameras directed at visitors were displayed on a 15m2 LED screen. When someone entered a marked circle, the screen displayed additional animated objects and characters. People could experience "something new" and see themselves on a desert island, petting a giant panda or giraffe, walking with a family of penguins, and so on.
The people could take photos during their interaction with the animations. Using an iPad dedicated application, later they would choose the best pictures, add comments, and send to an email address and share on social networks. They also participated in the "Try something new with Visa" photo-competition.
Distinctive packaging is one of the easiest ways to make customers love and remember your brand. When customers point their smartphone at the product packaging, let AR instantly tell the story of your brand, or show personalities representing the product, and so on.
AR can generate real value for both companies and consumers. See how cleverly the Ukrainian delivery leader Nova Poshta improves the emotional connection with existing customers and reaches out to prospective ones. WowBoxes are a stand-alone product. Every month, the kids receive a box with toys and books. Various games and fairytales come to life with the help of a mobile app.
It's not only fun for the parents and kids but also an excellent business opportunity in the market. By delighting a younger audience who are not yet shipping or receiving packages themselves, Nova Poshta earns their trust as a brand. The exciting experiences and warm memories increase the odds of them favoring the service in the future.
Along with generating buzz and engaging people emotionally, AR can and should be applied in practical business arenas to solve real problems.
Improve User Experiences with AR
Oil companies and hairdressers, social networks and artists, IT service providers and restaurants — all are concerned about customer acquisition and retention. AR can become a game changer by allowing businesses to transform user experiences. Again, mobile AR offers the most viable use cases.
Mobile applications and AR technology enhance in-store experiences with additional content. For example, it's enough to scan a store area with the phone and be directed to the location where the desired goods are. Lowe's Vision is arguably the first augmented reality store navigation app. It combined AR, geolocation, and mobile technology to make physical shopping easier and faster. Customers create shopping lists in the app which then guides them through the store using the optimal route.
Similarly, AR can be used for convenient indoor navigation in large offices, hospitals, airports, etc. On a greater scale, travel companies' apps can provide their clients with itineraries, area maps, and tips about local tourist attractions, best restaurants, etc., which would enhance the whole service experience while helping travel companies become more competitive and reach out to new customers.
Digital search is a vibrant trend. It turns a camera into a sense of vision. At a store, patrons can scan items on the shelves, receive instant information related to products, and make better informed purchase decisions. A picture of a handbag can yield a line of bags. Passers-by can use their smartphones to scan a store's window display and purchase the items using their phones.
With AR, customers can personalize products to match their exact preferences and tastes. It enables customers to 'try before they buy,' removing one of the worst barriers in online shopping. Consequently, fewer customers will return the goods and more will be satisfied with the products and services. They will shop more frequently. Moreover, a business can offer more personalized experiences without hiring extra staff.
After a product was purchased, another great use case presents itself for delivery of information via AR. In 2015, Hyundai became the first mainstream automaker to launch an AR manual. Scanning various areas of a vehicle with a smartphone or tablet, car owners can get how-to information for repairs, maintenance, and vehicle features in AR overlays.

Comprehensive virtual manuals and step-by-step maintenance instructions can be created for home appliances, medical equipment, industrial machinery, etc. Scanning a device for a specific functionality details is fast and simple. An AR app can provide them in the desired language and empower inexperienced people to identify problems and perform repairs. Reduced downtime and associated costs further improve customer satisfaction.
AR technology also provides product visualization in the construction and interior design areas. 2D blueprints can be replaced with augmented models that facilitate customization opportunities. Interactive 3D walkthroughs can show the clients what a renovation or home improvement project will look like when completed.
Businesses offering advanced services like these appear to be more professional and competitive. A company proves that it's tech-savvy and puts heart into the service or product. Thus AR assists in attracting new customers and encouraging a loyal customer base.
Internal Business Solutions Using AR Technology
Internal applications of augmented reality in business are as varied as the businesses themselves. It's harder to list 'general' AR business tools. Let us list a few use cases that illustrate AR technology empowering the workforce and streamlining processes.
Companies have to train the employees, improve their performance, and foster safety and job satisfaction. AR technology can assist with these needs by bringing the right content in the right format in the context of jobs and environments.
It's often critical to provide assistance or guidance to workers without interrupting the workflow. With AR, mobile workforce can be connected to remote experts who will superimpose the required markings, messages, etc., directly onto a worker's field of view. Shared AR combined with real-time communication technologies like WebRTC facilitates remote assistance and collaboration. Vuforia Chalk is a good example of a solution for mobile users:
The use of head-mounted AR devices is the next step. One of the best examples is the use of AR smart glasses in manufacturing, warehousing, and field service environments. They overlay computer-generated video, graphic, or text information onto physical objects. The worker can view step-by-step repair instructions while their hands are kept free. Connecting by video with remote experts, they can share what they see through their smart glasses and get assistance in real time.
View a side-by-side time-lapse comparison of a GE technician wiring a wind turbine's control box using the company's standard process and then wearing an AR headset.
The cases from GE and several other firms show an average productivity improvement of 32%. NASA used Microsoft's HoloLens to build a new spacecraft faster. Engineers wearing the goggles assembled the crew capsule Orion without having to read thousands of pages of instructions.
Similar technology can be deployed for warehouse management. Instead of spending minutes finding and counting inventory, an employee wearing an AR device looks at a container, scans it, and is directed to the next container. Over the course of a year, that means significant savings.
The use of AR reduces confusion, improves safety, and takes pressure off engineers. Thus AR technology can help to improve performance, productivity, and worker satisfaction significantly. An employee's ability to view the augmented reality of a peer and introduce their own vocal and digital input makes workflows more efficient and streamlines existing business processes.
AR applications for onboarding employees facilitate training with minimal risk to the employee and workplace operations. The ability to train staff and apply the same training across locations is especially valuable for large franchises.
Siemens-DAQRI case study illustrates the benefits of using AR in training. DAQRI WORKSENSE offers AR technologies and wearable devices for the smarter workforce. The companies partnered to build an AR gas burner assembly training app. At the Siemens Power Service Training Center in Berlin, the app enhanced training efficiency for new trainees and employees in need of a refresher. It reduced the potential for errors, enabled streamlined data collection, and facilitated report generation. The overall speed of learning increased too.
The introduction of AR will also positively impact the design and creative markets. AR equips artists and computer-aided design modelers with a means to render products in a 3D space. It can be used at early-stage product design and development, helping to bring designs from concept to reality. Designers will be able to quickly iterate on designs, review the models quickly, and see a more precise view of a product form and functionality. In architecture, engineering, and construction fields, AR facilitates the collaboration of designers, engineers, architects, and clients.
See how Mortenson and Autodesk's BIM360 cloud service and software, combined with DAQRI Smart Helmet, have successfully delivered augmented designs to the worksite:
In manufacturing, AR will help to reduce or even avoid the costs associated with testing, prototypes, and perfecting engineering tolerances. Combined with cloud computing advances and the Internet of Things development, AR is contributing to the digital transformation of industries.
To Recap
The digital imagery in augmented and virtual reality devices is one of the trendiest things out there now. VR and AR offer a new way of interacting with customers, prospects, colleagues, employees, and the world. The smartest, savviest, and most determined companies are already taking advantage of it.
With camera-enabled smartphones and tablets everywhere, software platforms facilitating AR app building, and the development of wearable AR devices, augmented reality is transforming into a significant marketing channel. Mobile AR provides a means for customer engagement and retention and increasing brand awareness.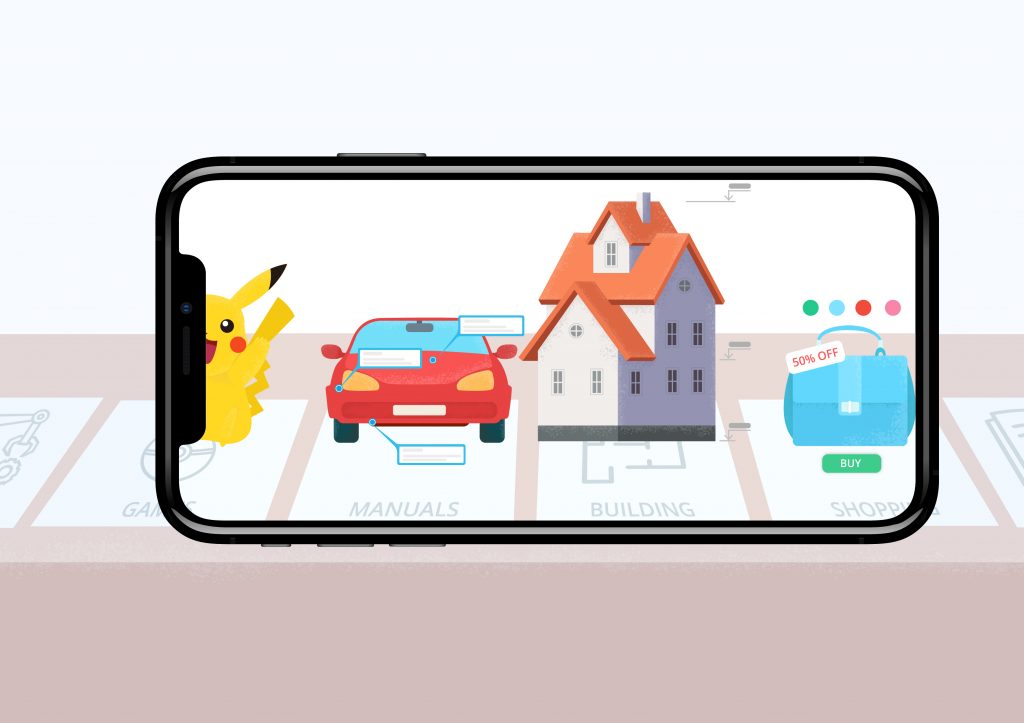 The immersive, fun, and engaging augmented version of reality will change the way consumers experience goods and brands. The ability to interact and immerse themselves with products before buying raises the level of customer services. Impactful and engaging AR experiences promote purchasing decisions and increase sales of goods that typically require physical try-on and sampling.
Creative AR solutions stand out over other competitors and help build loyalty. Advertising with AR can be engaging, emotional, and memorable. It can complement marketing strategies and improve their results. These factors are helping even small businesses attract new customers and retain existing ones.
Beyond the mobile arena, AR technology will eventually pair with developments in artificial intelligence and location-based services. The latter will be creating more use cases for the customers while AI is paving the way for reading and interpreting consumer data.
Another key to capitalizing on AR may be found in an AR-powered mobile application, enterprise app, or customized software for a line of business. AR will be transforming businesses by reforming their functions and streamlining processes.
Across various industries, AR empowers teams to collaborate using 3D prototypes and a natural combination of video, voice, and annotations. In manufacturing, AR is used to guide or train workers by overlaying graphics, videos, and content on the machinery. Remote experts can observe, guide or annotate a real-world view with digital tools and instructions. Such solutions are dramatically reducing both errors and the time needed to complete a job. They also help to train new workers more efficiently, increase accuracy, and reduce costs. Wearable AR devices are especially compelling.
New VR and AR devices keep emerging. Software development companies will continue creating solutions for top market players and most creative companies. The first ones to realize and exploit AR's possibilities will gain an edge over the competition and occupy niches.
If you're looking to upgrade your app or make your business innovative, it's time to invest in augmented and virtual reality business ideas. The technologies are becoming increasingly feasible financially and otherwise. As people get more used to VR and AR, it will be easier to try them out externally in innovative ways.
Outsourcing the development may help you reduce the cost and accelerate your market entry. Get in touch to find out how Alternative-spaces can develop an affordable VR or AR solution for you!
Content created by our partner, Onix-systems.