30 Ways to Transform Your Company with ERP Business Software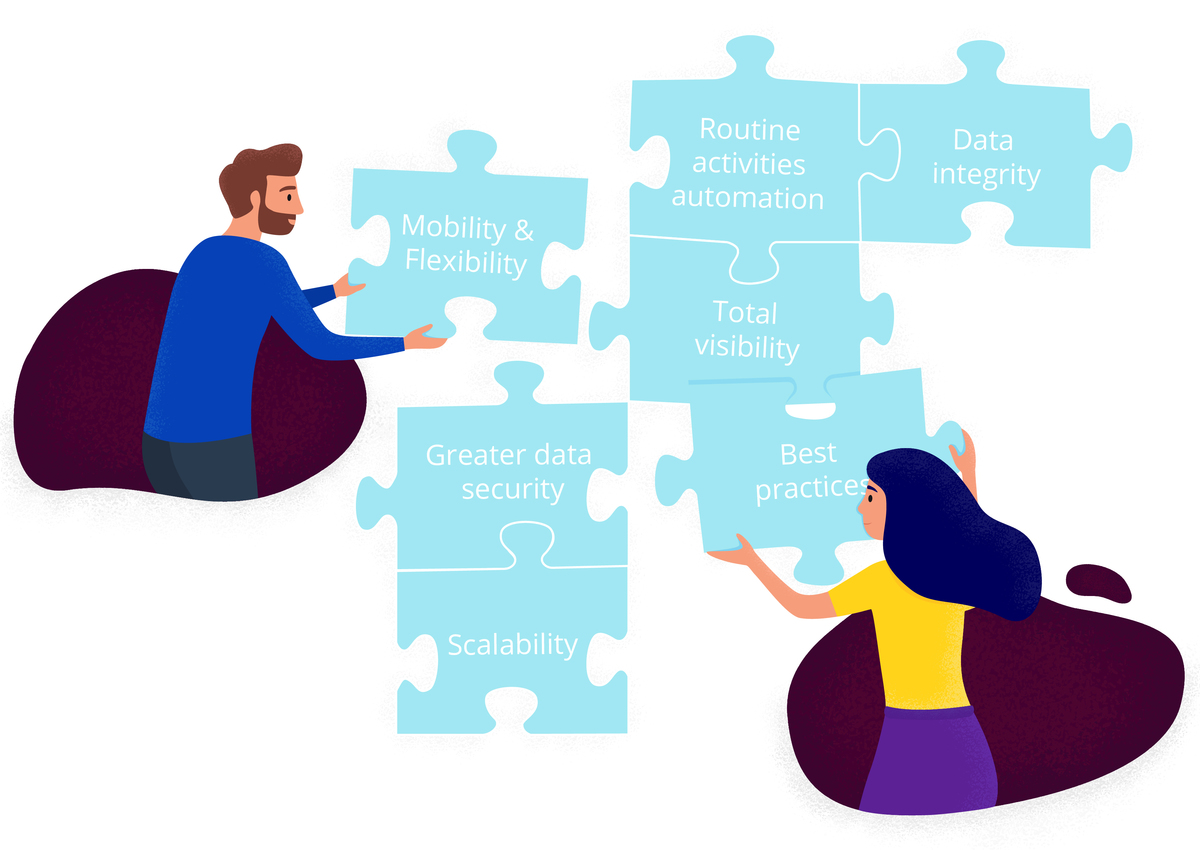 Enterprise Resource Planning (ERP) systems are used for centralized management of an enterprise's processes, often in real-time and mediated by software and/or hardware. As opposed to software for a specific business process, ERP integrates all facets, e.g., product planning, development, manufacturing, sales, and marketing. The software collects, stores, manages, and interprets data from all units of a company.
The early ERP software was designed primarily for inventory management and accessible only to large enterprises. Since then, it has increasingly gained traction among companies of all sizes. Numerous vendors are offering 'Software as a Service' (SaaS) for various industries. The products' modules can be bought separately according to a company's needs. As a result, even startups and small businesses can fully enjoy the benefits of ERP system implementation.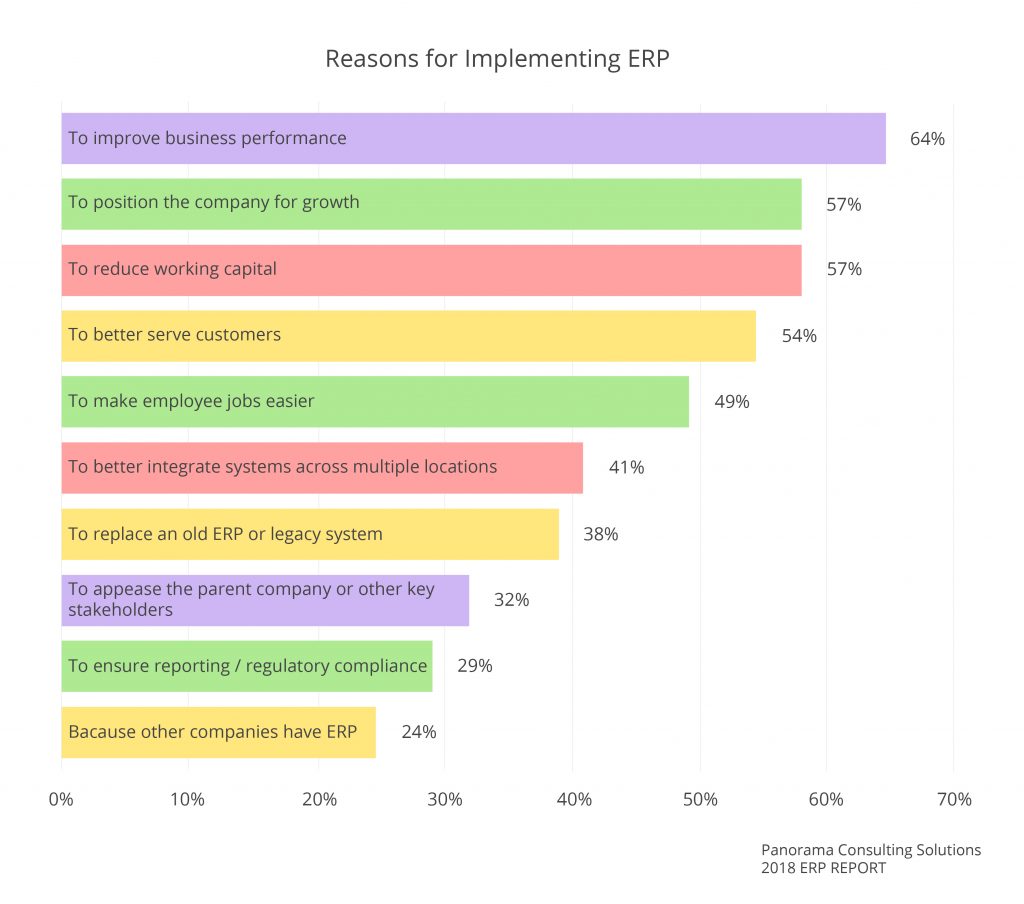 If you are contemplating ERP implementation for your business, read on to learn about the advantages it delivers. Along with the basics like the types and key features, this post refers to actual ERP system examples from our experience.
Most Valuable Features of ERP Systems
ERP platforms combine horizontal and vertical attributes to meet the various clients' needs. A typical system design is modular, allowing companies to select the pieces. Each module covers a major business process. ERP applications normally should be able to stand alone, be implemented together, or integrate with the larger suite.
The key horizontal features that can benefit any organization include:
Human Resources (HR)
The HR component of an ERP system should be able to handle the full scope of employee management. It may feature:
time tracker
timesheet
payroll management
database for employee records
job profiles
skills matrix
performance reviews
learning management system
employee surveys and news
online community for employee collaboration
policies and procedures for a company, etc.
Payroll software is the greatest asset. It is tightly integrated with the financial management module to handle wages, travel expenses, reimbursements, and tax and benefits deductions. The functionality helps automate the payments and removes the need for a payroll department or at least saves their time.
Financial Management
The module stores, monitors, and analyzes the company's capital inflow and outflow and facilitates payroll, budgeting, billing, and banking operations. The tools may include:
standard accounting and finance transactions like expenditures, general ledger, balance sheet, bank reconciliation, tax management, and payments;
cost analyses, budgets, and forecasts;
financial reports for the departments and business units, etc.
A robust financial feature in ERP software enables companies to automate and simplify most accounting processes. They can meet financial reporting and tax requirements with a single accounting, banking, and payment system.
Customer Relationship Management (CRM)
The component manages leads, opportunities, and issues and consolidates data on the customers' purchase history, interactions with customer support, and social media activities. It helps salespeople and marketing planners address customer needs, preferences, and buying patterns more efficiently and suggest additional purchases.
Businesses can provide relevant and real-time information for the best-prepared proposals, monitor the status of contracts, and manage invoicing activities better. That boosts customer service and eventually profit per capita.
Sales and Marketing
This component handles sales inquiries, quotations, sales orders, and sales invoices. More advanced ERP applications include taxation rules and shipping tracker. They enable businesses to automate the tracking of sales margins and to access synchronized reports of key business metrics.
These features of ERP systems cater to most enterprises' processes. However, the needs of, say, retailers differ from those of educational organizations. For that purpose, ERP software can include advanced vertical features for various sectors. More about that in the next chapter.
Types of ERP Business Software
By the deployment method, two types are distinguished: on-premise and through the cloud. The first type requires the acquisition of physical software and installation on a company's computers and servers. In the case of cloud-based systems, a SaaS provider is fully responsible for the entire off-site software bundle.
ERP applications can be further grouped by functional levels and business size:
1. Generalist ERP
Many cloud-based solutions belong to this class. They enjoy strong customization and integration to match varying requirements and adapt to processes across industries. For example, Oracle's NetSuite is priced based on the required number of modules, the number of users per month, and any add-ons the client needs.
2. Vertical/Specialty ERP
Such vendors usually don't have massive user bases and may not be very well-known outside their niche. However, they satisfy specific feature requests and support new technologies to meet urgent needs for their users. The customers are typically SMBs.
For example, bcFood is an all-in-one ERP solution for the food industry. It includes special features that are critical to the industry, bringing accuracy and automation to companies.
3. Small Business/Lightweight ERP
These off-the-shelf cloud or on-premise ERP applications often come with reduced features, covering only 1-2 business processes. NetSuite mentioned above was originally designed to be just an accounting system.
4. Open-Source ERP
For a business' in-house developers, open-source means the flexibility to develop and integrate their apps into the system. That increases usability and user adoption.
Odoo is one of the most affordable open-source options among the leading ERP platforms. It offers over 10,000 apps that cover all business needs and can be perfectly integrated.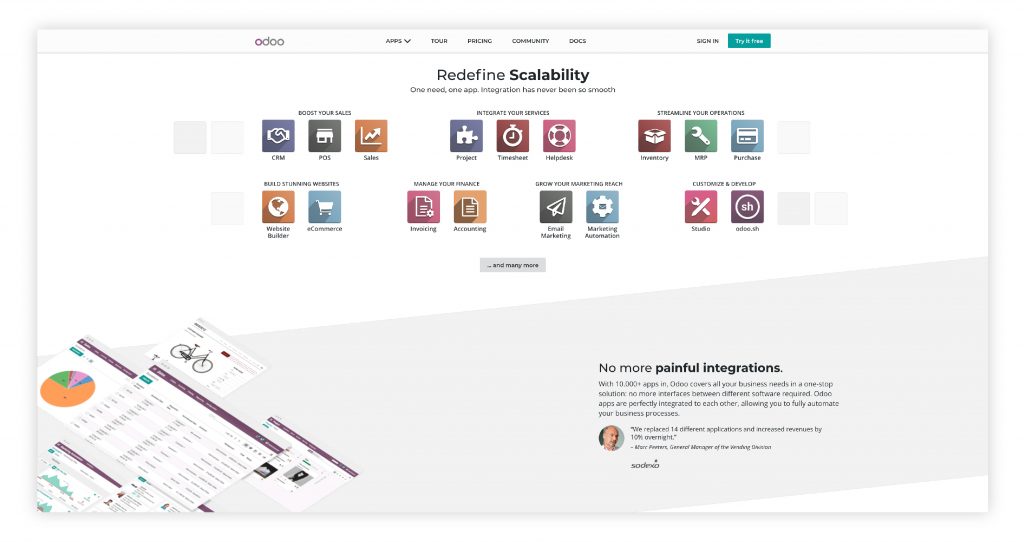 Most often, however, ERP solutions seem to be grouped by the cost/tier:
Tier I. The platforms like SAP and Oracle have traditionally serviced Fortune 1000 companies.
Tier II. Many vertical ERP vendors fall into this group. They cater to enterprises with $20-200 million in sales and less than a hundred users.
Tier III. These least expensive systems generally focus on companies under $40 million with 5-30 users.
Thousands of companies are implementing some type of ERP systems for various purposes and with different results. The industries in which they reap the most benefits include:
Manufacturing
Distribution
Professional services
Construction
Industrial services
Healthcare
Let us share our company's experience.
Alternative-spaces' ERP System Examples
Businesses in the IT industry are project-based. They need tools for project planning and execution, teamwork, project cost management, customer relationships, and more. The backbone and central nervous system of our company is Hydra. Alternative-spaces developed the software in-house and uses it internally.
The system already includes HR, financial, production, CRM, and sales features. It's integrated with Jira software which Alternative-spaces employs for Agile project management. Now it's easy to collect and access data across the company and to keep it consistent and accurate. Sharing information across the departments enhances collaboration.
Everyone has access to the entire company's wealth of data. An accountant gets the week's sales numbers without the sales manager's assistance. Faster access to accurate client information and history enables the salespeople to interact with prospects and clients more efficiently and to improve customer relationships. Dashboards allow project managers and executives quick look-ups at key performance indicators across the organization. The automation of day-to-day tasks lets development teams focus on the delivery of quality product. Simultaneously, user permission rules and built-in controls ensure the integrity and security of the company's data.
Alternative-spaces also takes pride in having contributed to another ERP solution development. uCat is the first Ukrainian unified electronic catalog for suppliers and retailers. The software works toward the standardization of data, exchange of current product information, and improving business efficiency. It has been facilitating data exchange between manufacturers, suppliers, and retailers for five years.
Currently, 53% of retailers in Ukraine are using the catalog data to update their lists of products daily. Over 300 suppliers are saving time by generating specifications and product cards in uCat. They enter the product information according to the international standards, e.g., Global Product Classification and Global Data Synchronization Network, and the requirements for the specification and organization of the supply chain and commerce. The system checks the info and sends it to all connected retailers.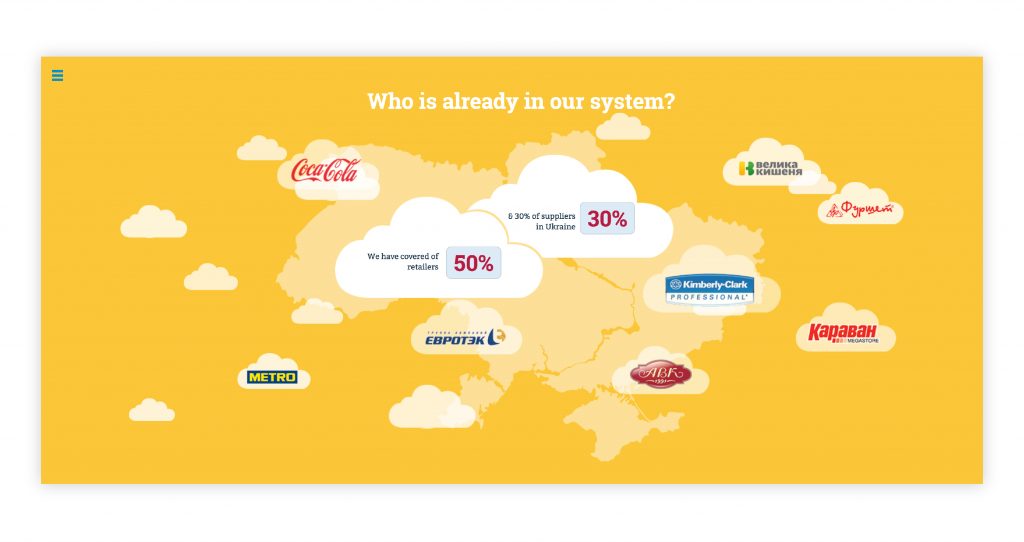 The unified place for managing product data allows to
eliminate manual data input by 100%
use correct and verified product data
update data easily and quickly
uCat delivers basic product content, packaging, commercial, and media information. For e-commerce, it offers assistance in creating content. A unique content database of Fast-Moving Consumer Goods is ready for integration with their platform.
Let's break down the advantages an ERP solution can yield for most enterprises.
Primary Benefits of ERP System Implementation
1. Total visibility is the first-cited benefit of ERP software. It easily allows the management total access to data on every process from every department. They can track inter-departmental processes and handle and control everything on a more precise level.
2. Companies collect data more efficiently. ERP systems eliminate data duplication and ensure data integrity with a single source of accurate real-time information.
3. Because many data tracking processes are automated, friction, errors, and costs can be reduced significantly.
4. The "one source of truth" also means a unified reporting system for every process and easy generation of reports and analytics. ERP reporting tools use advanced filters and analytics to sift data for inconsistencies and duplication. Reporting becomes faster and more customizable. All that means the ability to respond to complex data requests more efficiently.
5. A complete picture of the organization's processes at any moment empowers managers to make crucial decisions quickly and more confidently. A clutter-free and easily understandable interface of ERP software with spreadsheets, charts, and graphs further facilitates decision-making.
6. Managers can make more realistic estimates and useful forecasts.
7. Some ERP systems permit the integration of third-party services into a unified whole. SaaS helps businesses integrate existing apps or export their ERP data to other business apps for a more streamlined workflow.
8. ERP software can unify a company's IT costs and improve efficiency. Instead of several systems that need dedicated staff, infrastructure, etc., companies can focus all these costs into one system. Thanks to ERP vendors providing regular updates, patches, and troubleshooting, their clients can save on maintenance.
9. Using a single system reduces training requirements for end-users and related costs.
10. Many vendors offer business intelligence tools with their software. Advanced ERP solutions use machine learning and predictive algorithms to dig into big data. Access to high-quality data and real-time analytics permits deeper insight into business operations. The leadership can identify operational strengths and problems, optimize processes, plan and make better-informed decisions based on trends and metrics, predict demand and supply position, and gain a competitive edge.
11. Deeper insights into a firm's spending enable discovery of profit trends and times of unusually high spending, improve cash flow, reduce costs, and increase profitability.
12. ERP platforms facilitate communication and cooperation between departments and link local workstations together. The process is streamlined by opening access to relevant data from all departments and provision of real-time project updates.
13. When all business units work together using real-time data, they get a collective vision and the tools to make proactive decisions. When processes are streamlined and critical metrics are closely monitored, disruptions, delays, and breakdowns can be predicted and prevented, issues resolved faster, and damage minimized.
14. By helping users navigate complex processes, automating tasks, preventing data re-entry, and improving functions like order completion and delivery, ERP software reduces business complexity and increases efficiency and productivity.
15. The improved synergy drives employee engagement, team play, innovation, and efficiency.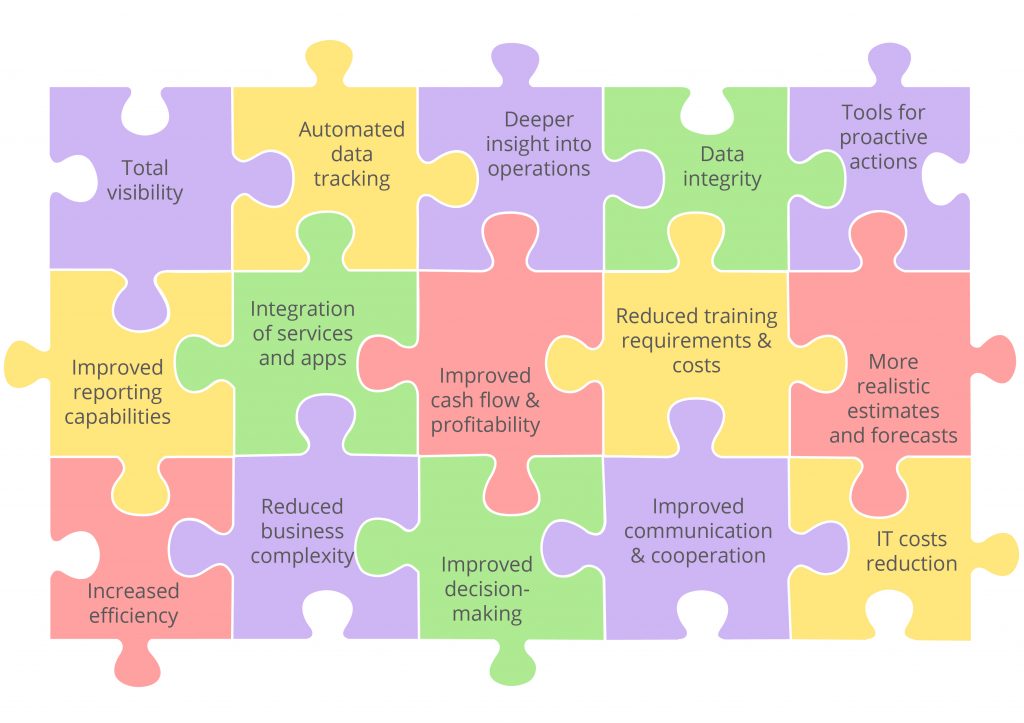 16. ERP software reduces the time and effort required by employees to carry out their daily activities, e.g., invoice creation, report generation, etc. The minimization or elimination of repetitive and manual processes allows team members to focus on other pressing projects and revenue-affecting tasks.
17. ERP applications assist in tracking employees' productivity and learning.
18. Employees now expect to be able to do their jobs anywhere, e.g., at home or on a commuter train. Cloud ERP enables them to access the system through any browser and on their mobile devices. The systems also promote collaboration between remote teams and headquarters, which is particularly valuable for offshore units.
19. An ERP solution can assist with handling different languages, currencies, and accounting standards. It helps multi-location businesses to provide better customer service and support comprehensive management of new processes and departments.
20. Most ERP systems are built with an industry's tried-and-true processes in mind. These best practices help individual businesses standardize their methods and systems, which further enhances productivity and efficiency.
21. In the case of moving of physical inventory and production, the benefits include shorter lead times, more on-time deliveries, and improved demand forecasting, inventory management, and procurement. Supply chain management features help eliminate costly mistakes.
22. Unified insight into sales, production, and delivery schedules promotes stock levels optimization, which reduces overages involving inventory and production and improves profitability.
23. Because all customer information is centralized and streamlined, the sales team can better concentrate on customer relationships. Through the end-to-end tracking and insight offered by ERP solutions, you can enhance customer interaction from targeted marketing through late-phase customer service.
24. ERP applications that support e-commerce integration help businesses better handle web-based order processing and customer interactions. Marketing automation and contact center software will ensure consistent communication.
25. Modern ERP systems are flexible and configurable. Their packages are tailored based on the number of a business' employees or users and unique requirements, and adapt to changing needs. You won't have to buy a new solution when the situation changes.
26. Optimally structured systems elegantly accommodate and facilitate the company's growth. Clients add more modules as their business evolves. Whether they're adding new users, expanding the customer base, entering new markets, or rolling out new departments or products, adding new functionality should be easy. An ERP solution also eliminates the "fragmentation" which occurs when multiple software systems are used to cope with the initial growth experienced by a company.
27. Data security is another great benefit of ERP software. A single input system and repository of information, along with firewalls and restriction controls, improves the accuracy, consistency, and security of a company's information. Access points are tightly monitored. Administrators can quickly deactivate the access of terminated employees, grant permission to new ones, lock in sensitive data, and spot unauthorized actions or suspicious activity patterns in the system.
28. Cloud-based ERP offers an extra layer of security because the providers employ 24/7 security experts to protect their servers. The database systems of cloud and on-premise ERP platforms also enable centralized backups of critical and sensitive data.
29. ERP solutions relieve the burden of meeting regulatory compliance requirements, e.g., in the manufacturing industry. Many feature built-in regulatory process standards and compliance reporting and subscribe to reporting protocols for financial accounting, product regulations, and data security. Some ERP vendors take specific regulations into account, keep track of industry regulations, and monitor changes in compliance.
30. Compliance reports can also be automated to cut down the cost of regular audits.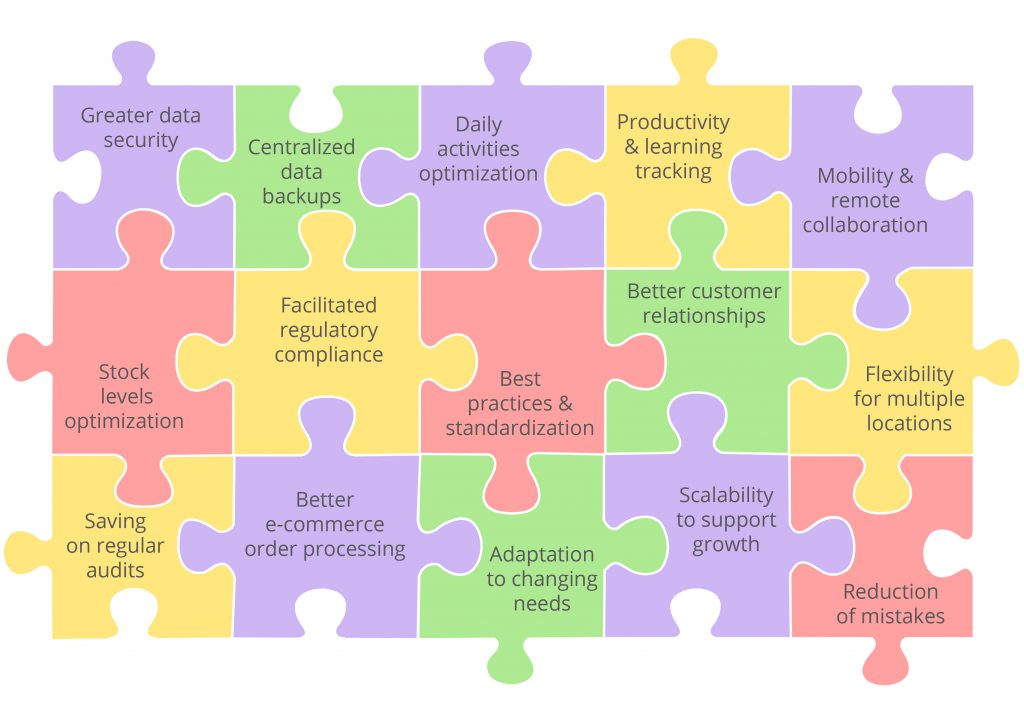 Final Thoughts
An ERP solution may require a substantial investment, but it's offset by the resulting savings of funds and other advantages. ERP software drives efficiency, boosts productivity, reduces human error, increases profitability, and makes a business more competitive. Forward-looking entrepreneurs can't ignore the necessity of ERP implementation while their competitors are reaping its multiple benefits.
Regardless of the industry and company size, five key facts can signal it's time to implement or upgrade your enterprise resource planning:
accounting difficulties and other issues with processes
time of growth
mergers or acquisitions
new strategic roadmap
the current system is inadequate, outdated, and not fit for upgrades
The market doesn't lack ready-made solutions. Most SaaS vendors offer scalable sets of modules that address main business areas. Cloud-based software with monthly pricing plans is accessible and useful even for small businesses.
Alternative-spaces has seen extensive benefits of implementing a custom-built system. Hydra has dramatically improved project management processes, enabling the company to concentrate on the clients' needs and to keep up with the business growth. Not every firm, however, needs a full-fledged ERP business software. Sometimes, a professional services system or a project management solution is sufficient.
Whatever you are looking for, contact Alternative-spaces. After an honest assessment of your organization's needs and pain points, we would suggest, design, and build a system that should give your business the most potential to grow.
Content created by our partner, Onix-systems.