8 Hot Trends Driving Mobile App Development in 2022 and Beyond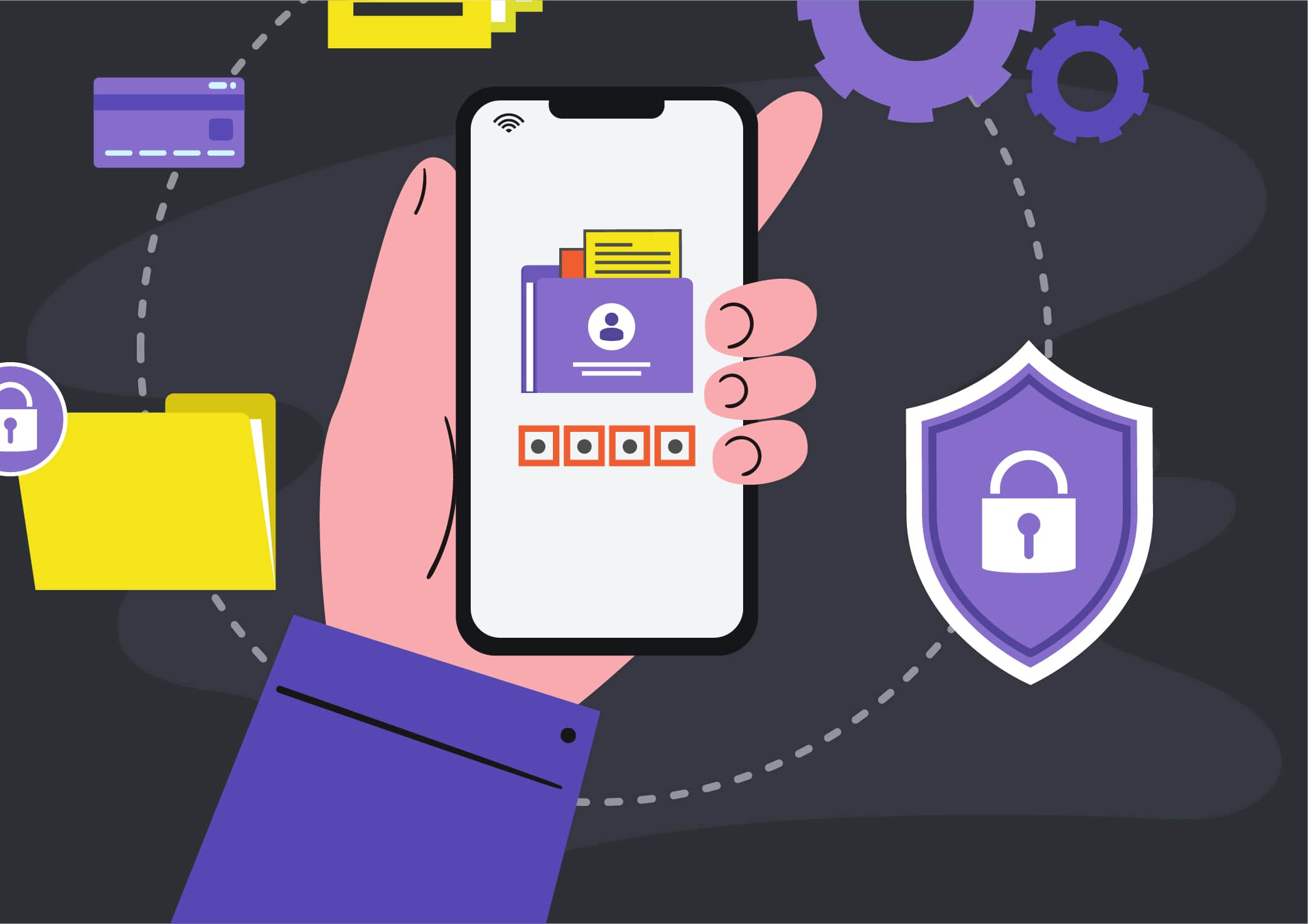 The mobile development market continues to thrive, and the industry is evolving in leaps and bounds. The statistics speak for themselves: the global mobile application development market is expected to reach $44.3 trillion by 2027. To survive and thrive in this digital era, you should stay up-to-date with new blooming trends.
We've teamed up with Alternative-spaces experts from different fields to get their opinions and prepare a list of mobile app development trends that will shape 2022. Don't pass up on opportunities to innovate!
#1 Super apps
One app that solves one user's issue is no longer a trend in mobile app development. Today, all is changing. Super app is a new mobile app development trend that you can observe in 2022.
Super app is a one-stop solution that allows users to solve multiple issues by providing various services, from food delivery, shopping experiences, and movie ticket purchase, to financial services, online messaging, and ride-hailing. A vivid example when trying to understand super apps is WeChat. This is a Chinese multi-purpose instant messaging, social media, and mobile payment app with over 1.26 billion monthly active users from a wide range of age groups.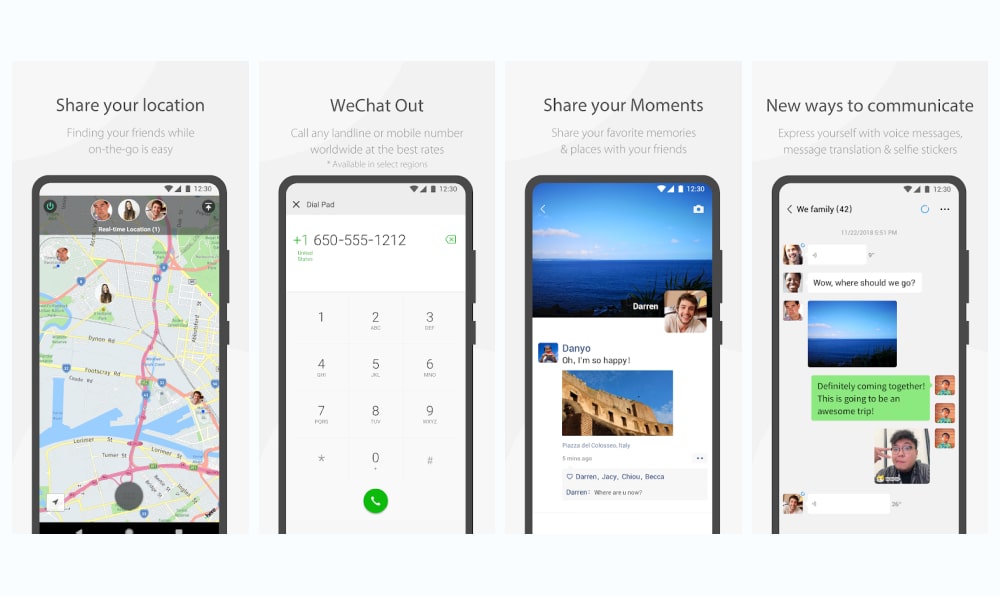 Super apps are a handy way for users to solve their issues in one digital place that is always at hand. Using one super-app is much more convenient for people than performing many actions in different apps. So, it's no surprise that the demand for super apps will only grow.
A study from PYMNTS shows that 67% of US consumers would like to use at least two of their activities integrated into one place, while around 11% would like one app for managing their entire digital lives.
Moreover, according to Statista, as of November 2021, around 67 percent of consumers in the United States reported being interested in integrating multiple digital experiences in one super app.
Thus, 20.38 percent of respondents were identified as "information seekers," who would be interested in integrating their online experiences into one super app to access online shopping, travel, entertainment services, and banking services.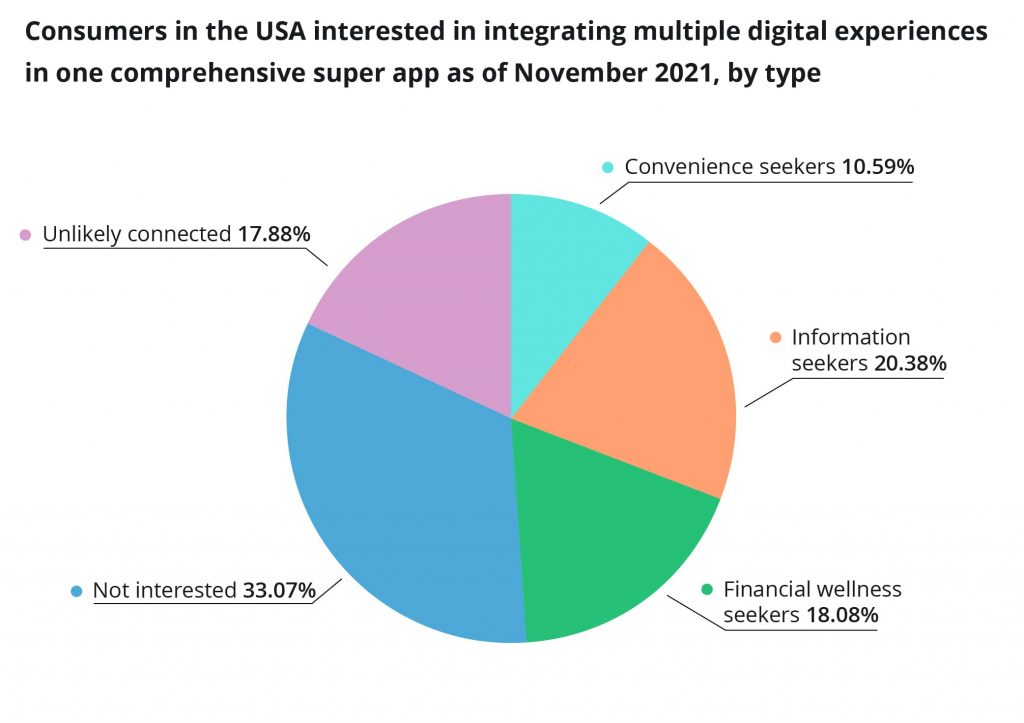 #2 Mobile learning
In a world that is changing faster and faster, easy access to education is becoming more vital. Now, especially considering the COVID-19 pandemic, educational mobile app development appears even more relevant than ever before. Mobile learning is one of the most promising trends in mobile app development that hasn't shown any signs of slowing down. According to Statista, by 2026, the total market for eLearning worldwide is expected to grow by over $370 billion.
The primary purpose of mLearning is to enable people to gain required knowledge and skills using portable devices like smartphones, tablets, and laptops. It's a convenient way to get access to learning content 24/7 and study on the go.
For example, the Alternative-spaces team created Edplus, an educational mobile app for both iOS and Android.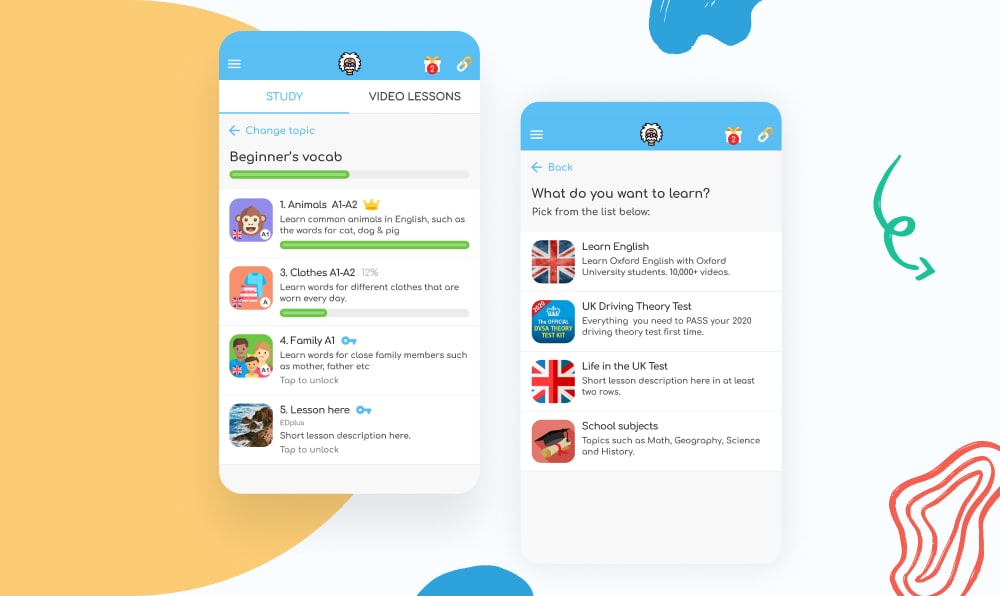 This educational app offers 150+ topics to learn, 5,000+ videos to watch, and new content added daily. Using artificial intelligence technology, we created a learning path for each user. The app chooses questions in ways most relevant to each learner based on what they already know. EdPlus records how each user has answered the previous questions and uses this data to optimize its teaching strategy. The system accumulates data of each learner mastering topics and creates 3D learning maps showing each learner's progress.
Mobile learning will only gain more ground since it offers excellent advantages for users, such as:
Access to the learning content 24/7
Great flexibility (users can gain the knowledge whenever and wherever they want)
Personalized learning approach
Content variety
We provide some impressive figures to show you how promising the mLearning industry can be.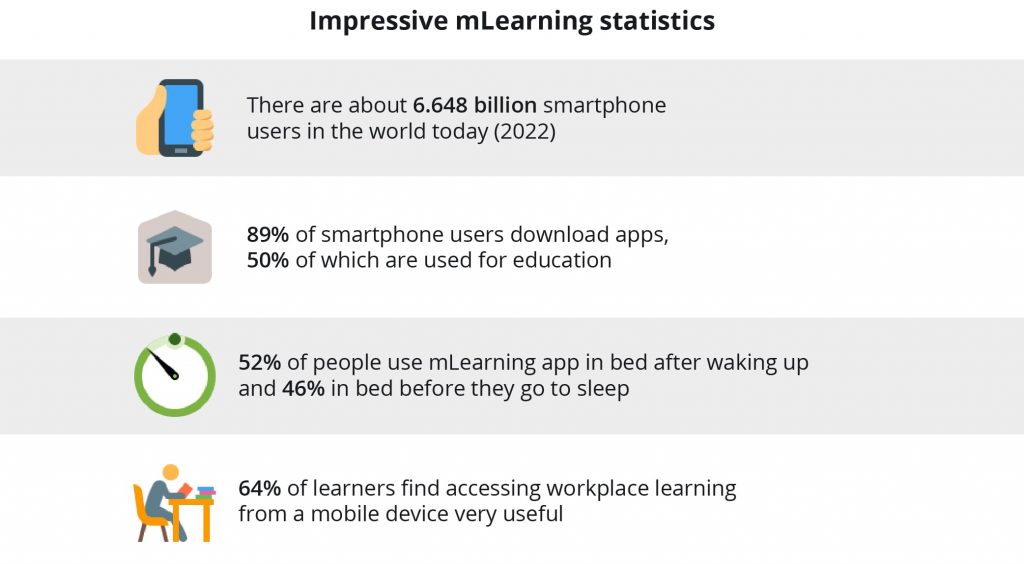 As you can see, building an mLearning app is a very promising idea. The EdTech market is constantly gaining momentum, and it's a great time to enter it with your own custom solution.
#3 Rise of 5G
5G was already among app development trends, but it's expected that wide use of 5G is yet to come. According to forecasts, 5G connections will grow to 40 percent of all connections in Europe and 15 percent of all mobile connections worldwide by 2025. Below you can see how the usage of 5G technology will rise worldwide.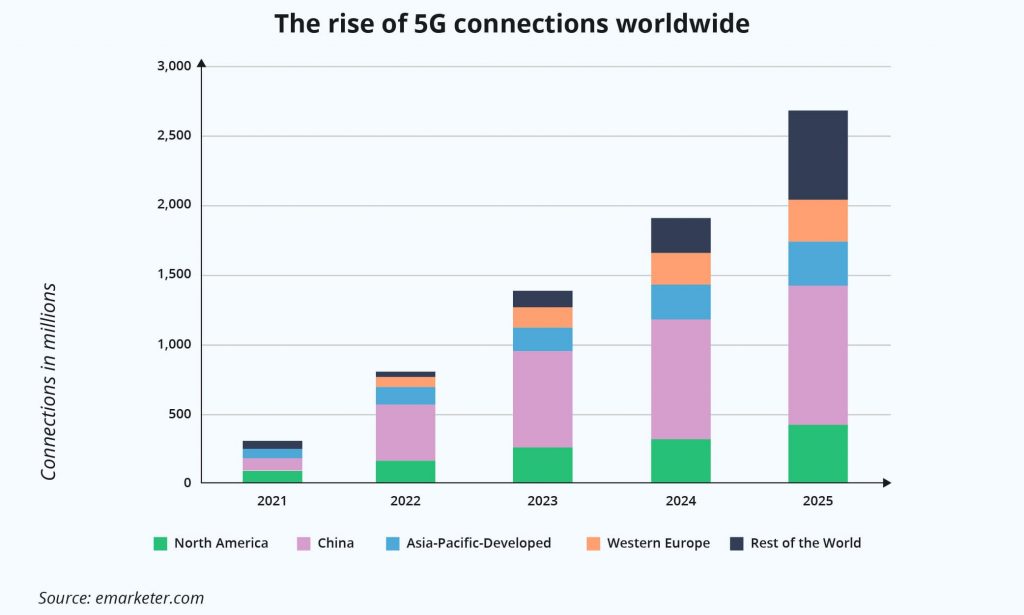 So what, exactly, is 5G, and what does it mean for mobile app development?
5G is not a modified version of 4G. The Fifth-Generation wireless cellular network (5G) is the newest radio technology that aims to strengthen mobile connectivity and improve the smartphone experience for users as a whole. 5G technology offers:
high-speed performance (5G is 100 times faster than 4G)
low latency that allows delivering data in just a millisecond
new opportunities for building more realistic and complex AR/VR apps, streaming quality 4K-8K and 360 videos
increased connectivity for up to a million devices
smoother video streaming by supporting high-resolution live streaming at a faster speed
secure mobile payment due to fast biometric data processing
As you can see, 5G opens up new opportunities for building more robust, high-performed, and secure mobile apps than they were before. So it really is no surprise that meeting the 5G standard is one of the most popular mobile technology trends.
#4 Voice technology
Voice technology has completely taken the world by storm, and it's not surprising that it's one of the most popular mobile app development trends in the near future. The global voice recognition market size was forecast to grow from $10.7 billion U.S. in 2020 to $27.16 billion U.S. by 2026. Well, what voice technology is and why is it so appealing?
Voice recognition refers to the ability of a specific device to receive and interpret spoken directives. Simply put, voice recognition technology enables people to use voice commands to operate devices and perform internet searches.
Today banking and finance businesses are already leveraging voice technology in their mobile apps. Now people can send payments via mobile personal voice assistants. A vivid example is the Garanti Bank's voice-driven mobile banking. Garanti implemented a virtual assistant that enables customers to perform banking transactions by voice. Thus, users can transfer money and make purchases by speaking the name of a company or a person.
The retail industry can benefit from voice technology too. Carrefour is a retailer that is integrated with Google Assistant to provide a voice-activated grocery shopping service. Carrefour customers tie their account with a Google assistant and add items to their shopping list just by dictating the required products (milk, bread, spaghetti). Then the list is converted into a cart of products, and customers confirm their shopping cart and make payments. The checkout and payment experience are voice-based too.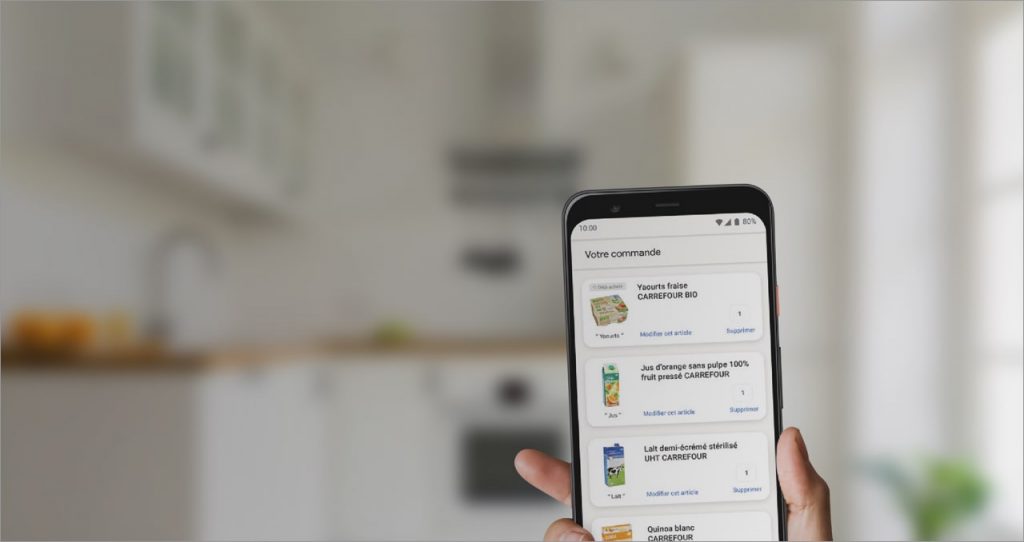 As you can see, voice technology provides excellent benefits and holds tremendous promise for mobile apps right now.
#5 AR & VR technology
Augmented and virtual reality has proven to be one of the best innovations opening up new opportunities for businesses from various industries. AR & VR development are the hottest trends in mobile app development this year.
According to Statista, the global AR and VR market will reach $296.9 billion U.S. dollars in 2024.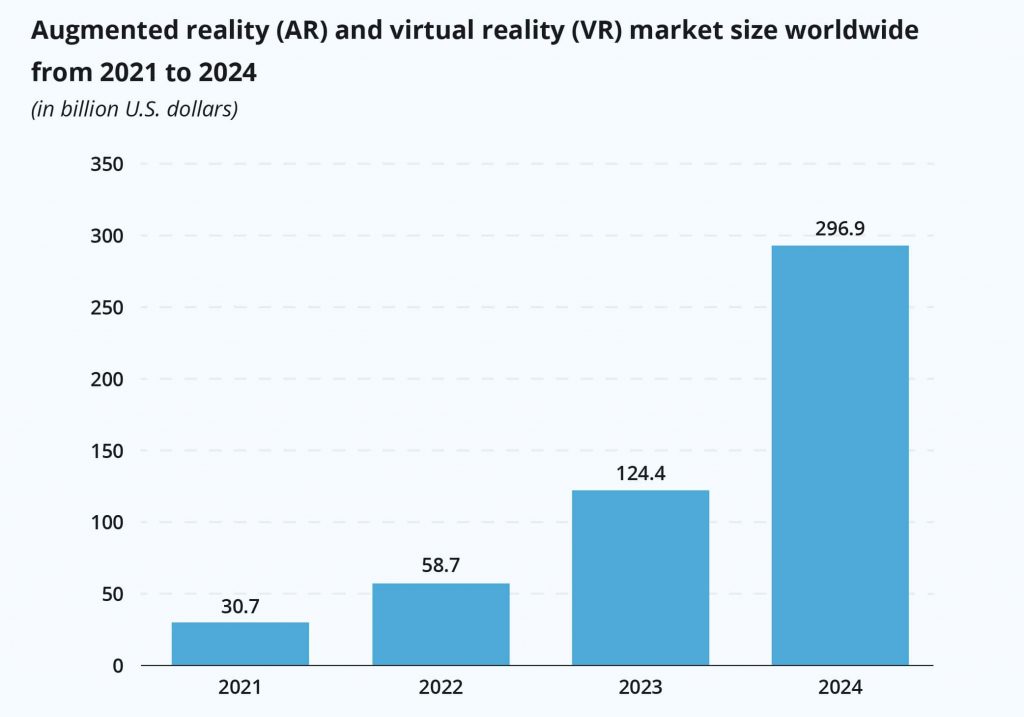 And this considerable growth in demand is for a good reason. AR and VR offer great benefits for businesses, such as:
making the customer experience more efficient and comfortable
increased sales due to this technology allows consumers to try many products virtually, encouraging people to buy more often
improved communication and collaboration by creating a shared space simultaneously
comprehensive analytics to better understand consumer behavior to promote the company's products more effectively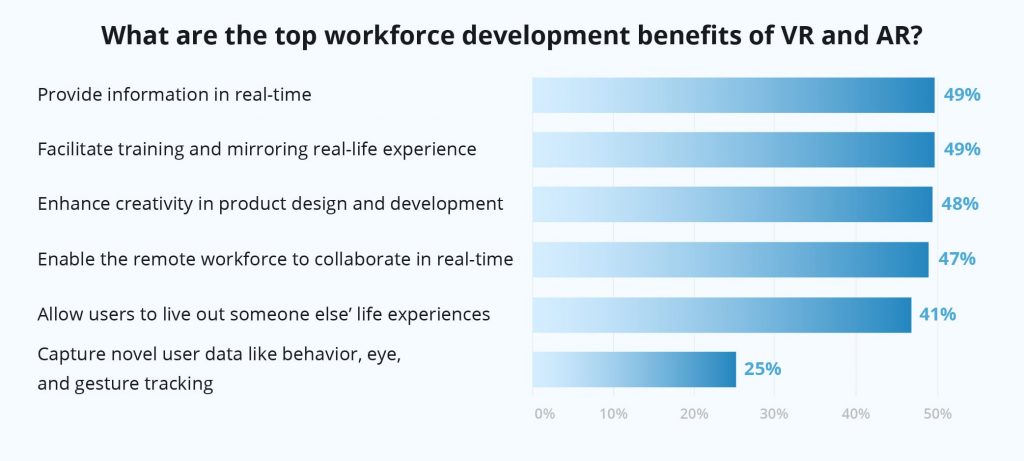 Both VR and AR technologies are beneficial for businesses in various industries. For example, retail is already leveraging this cutting-edge technology. Thus, the Nike app enables users to scan their feet and get hyper-accurate sizing recommendations. Thanks to this feature, online shoppers are not afraid to mistake the size and safely buy shoes online.
One more use case is advertising and marketing. For example, the team has created an AR mobile app to enhance our promotional materials. Alternative-spaces AR mobile app reveals vivid details of our printed booklets, allowing us to tell the company's exciting story in a corresponding format. The users simply point their mobile device at a page – and it goes live.
Virtual and augmented reality is one of the growing application development trends this year. This technology is already transforming how people work and interact with customers, colleagues, and the world, and it will not stop. AR and VR will be increasingly used in gaming, real estate, travel, healthcare, education, entertainment, and many other industries. So, if you're thinking of diving into augmented or virtual reality, it's a perfect time.
#6 P2P mobile apps
Peer-to-peer mobile apps is another mobile app development trend that will shape the industry in 2022. Based on eMarketer data, the value of P2P mobile transactions will grow up to $612.23 billion by 2023.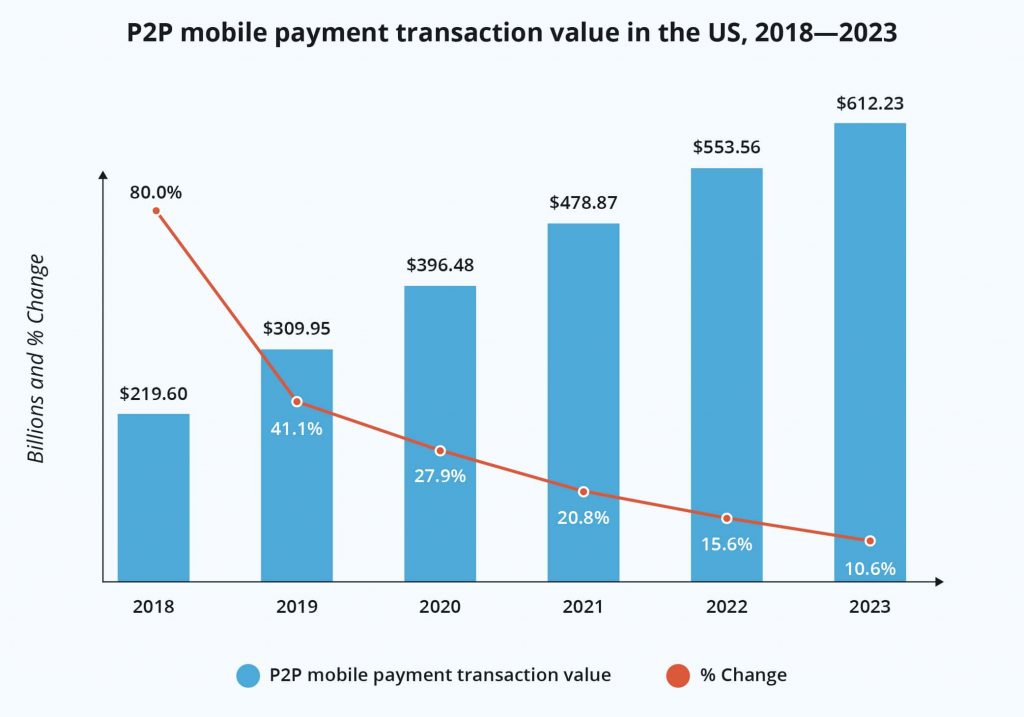 P2P payment apps like PayPal or Venmo allow users to transfer money from one person to other people from their cards or bank accounts that are connected to the app. Using P2P payment apps, people can shop online, buy needed products or services, pay rent, transfer money to the required user, etc.
There are different types of P2P mobile apps that we can observe in 2022. Among them are:
Mobile OS systems with built-in payment systems like Apple Pay or Android Pay
Social media platforms with built-in payment features allow users to make payments without leaving an app, for example, WeChat
Standalone vendors who have their own payment system, such as PayPal
Bank-based apps where the bank is one of the third parties that perform transactions, for example, Zelle
Here are some impressive numbers that show you the prospect and demand for P2P payment applications.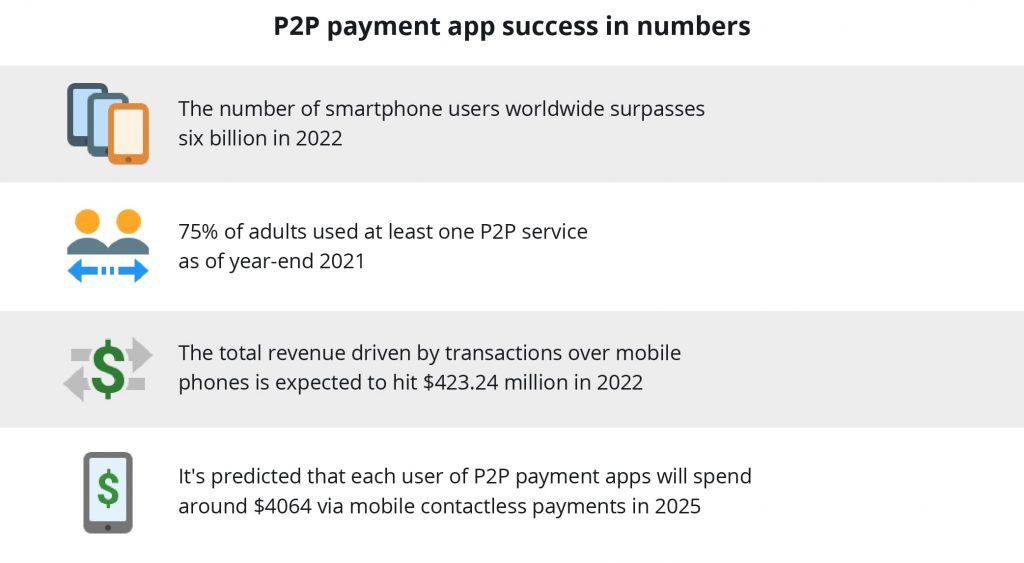 Building their own P2P payment apps helps businesses hold cross-border transactions and reach a broader range of customers, enhance customer trust and engagement, and avoid intermediaries who charge expensive services. Moreover, it's expected that some companies will expand payment options for their customers by implementing technologies such as blockchain and cryptocurrencies like Bitcoin.
#7 Great focus on mobile app security
According to Check Point Software's Mobile Security Report 2021, almost every organization globally experienced a mobile malware attack during the past year. Thus,
97% of companies in 2020 dealt with mobile threats that used multiple attack vectors
46% of companies had at least one staff download a malicious mobile app
At least 40% of the world's mobile devices are inherently vulnerable to cyberattacks
Since the number of cyber attacks is increasing every year, cybersecurity is a priority concern. Fortunately, there are various ways to provide the highest level of app security. Here are some of them:
Data encryption to encode sensitive data into code that prevents any fraud
Two-factor authentication via fingerprint, face integration, voice recognition, or a password for one-time use
Restricted access means only the authorized workers have access to the clients' data
Data tokenization implies a random line of symbols to replace sensitive data
Reliable data backup to prevent the loss of information during some operations with data
Regular penetration testing to ensure a high level of protection and avoid security problems in the future
Just one security issue can ruin your reputation, and your users will soon leave. Don't risk users' private data and your reputation, but rather, take reliable protective measures. Before starting mobile app development, make sure your team has vast experience building reliable solutions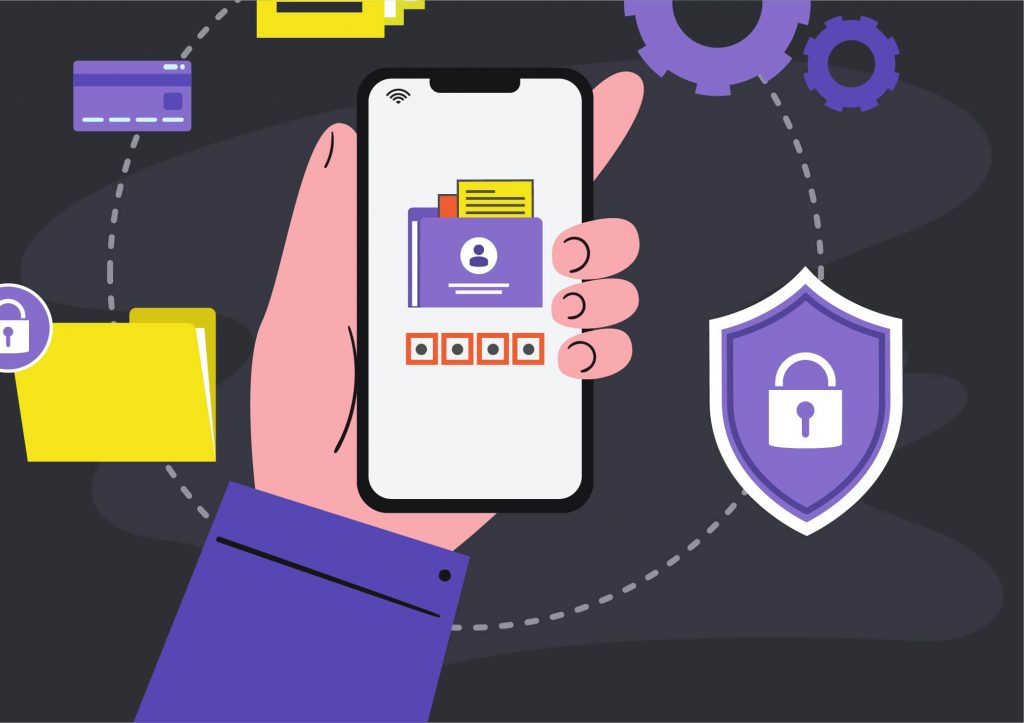 #8 mCommerce growth
Mobile commerce has seen a remarkable boost in the past several years, and in 2022 it will continue to gain momentum. Since the beginning of the COVID-19 pandemic, we saw a significant lifestyle shift in how people shop, and that mobile commerce tendency will continue. According to Allied Market Research, the global Mobile Payment market size was valued at $1.48 trillion in 2019 and is projected to reach $12.06 trillion by 2027.
Today, people spend more time on their smartphones, and accordingly, mobile commerce is becoming more and more popular. mCommerce makes the shopping and payment experience more smooth and convenient, allowing people to buy online anywhere and anytime just by using their mobile device.
Below you can consider the most interesting facts and stats to power your business going forward.
As you can see, the demand for mCommerce is exceptionally high. So to survive this cut-throat competition, every company, from large retailers to small businesses, should adapt their businesses to this mobile commerce trend.
Final words
On the whole, 2022 will be another exciting year for new technology trends in the mobile app development industry. Would you like to empower your business with a progressive mobile app solution? Or do you want to enhance your existing mobile app solution with emerging technology?
Please don't hesitate to contact us and share your idea. Our expert will gladly assist you in building a top-tier mobile app solution that will take your company to the next level!
Content created by our partner, Onix-systems.
Source:
https://onix-systems.com/blog/mobile-app-development-trends