Designing the Internet of Things: Best Practices and Examples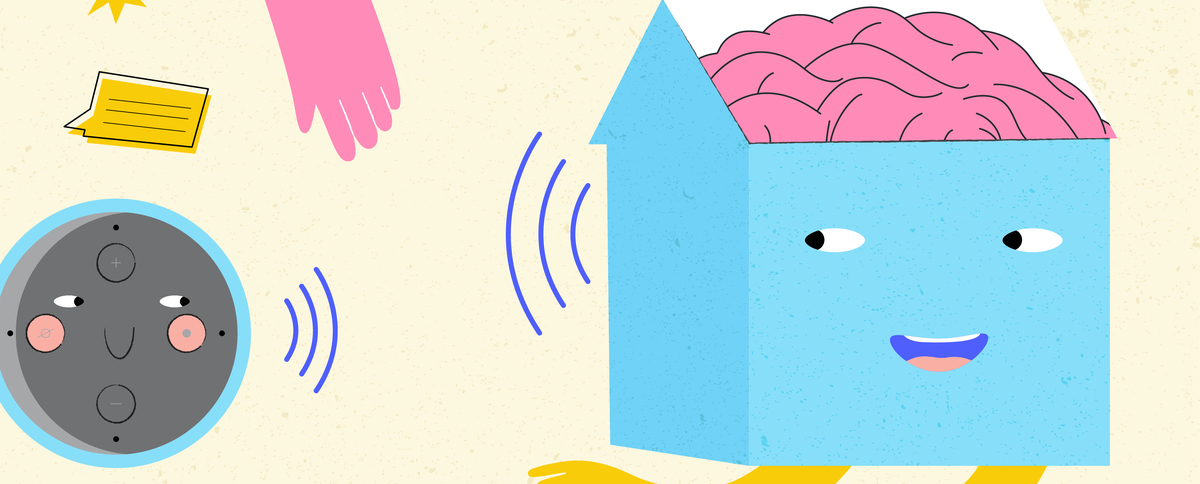 The Internet of Things is evolving and is no longer only associated with smart homes where devices are connected and synchronized. A recent example of this evolution involves the Goodyear Tire & Rubber Company which has recently revealed its innovative "smart tires" technology. The technology monitors the condition of the tires and, if needed, will call for car service. In the long run, the company wants to create a smart tire that will be a sensor all by itself.
The global Internet of Things market, which was estimated at $190 billion in 2018, is projected to be growing at the CAGR (Compound Annual Growth Rate) of 24.7% and reach $1,102 billion by 2026. The ever-increasing utilization of connected devices based on machine learning and artificial intelligence is expected to stimulate this rapid growth. Given the factors, it's an excellent time to talk about designing the Internet of Things (IoT) systems.
In this article, we will outline the key differences between user interfaces (UI) and user experiences (UX) for IoT systems and regular UX/UI, as well as share some key principles of building appealing and useful IoT products and services.
Why IoT Design Is Different from Regular UX/UI Design
The UI design of digital products is focused on the product's look-and-feel, while the UX design ensures that the user's interaction with the product is smooth and effective.
An IoT device has network connectivity and can interact with the world around it without human intervention. Some obvious examples are Amazon Alexa, Smart TVs, and smartwatches. Basically, anything high-tech with 'smart' in its name is probably an IoT product.
The process of designing IoT products and services is somewhat unique partly due to the novelty of the technology itself. As with every new technology, IoT pioneers are still in the relatively early stages and creating standards sometimes by trial and error.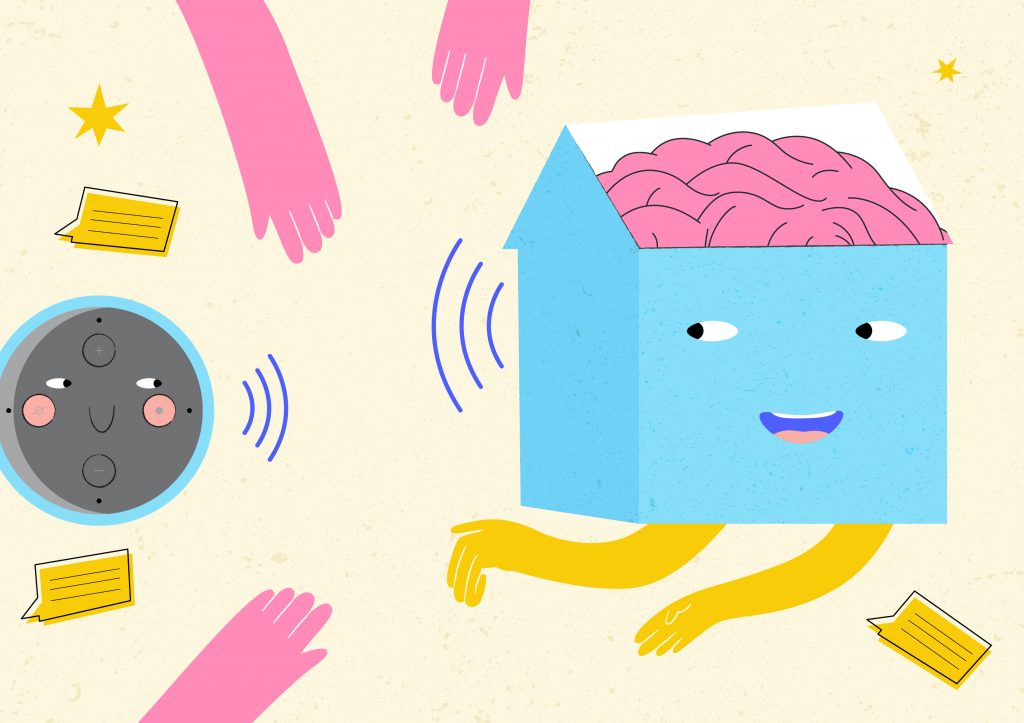 Then comes the complexity of the IoT technology. Users typically know what to expect from interactions with a website or mobile app. The UX/UI can differ from site to site and from app to app, but there are still usually standard structures and user journeys that make them feel familiar. With IoT systems, these standard structures and experiences are not always part of the equation since they are designed not only for human-machine interaction but also for interactions among various IoT devices. They often have personalization options and depend on the Internet connection. This makes design for IoT more complex.
The diversity of devices and user interfaces, the hardware used, and the connectivity employed to increase the complexity of IoT design. There are also IoT platforms on which IoT solutions are built. An IoT platform supports the implementation of data collections, rules, connectivity, hardware, analytics, application development, and actions. Designers of IoT solutions should have a deep understanding of all the modules of IoT platforms and how they affect the design.
Last but not least is the constant evolution of IoT technology, which brings more and more new devices and data points to the table. Consequently, design for IoT should be flexible and adaptive to these changes.
The UX/UI design of websites and mobile apps has much in common with IoT's, but an IoT solution calls for a fresh approach to its design.
Key Principles of Good IoT Design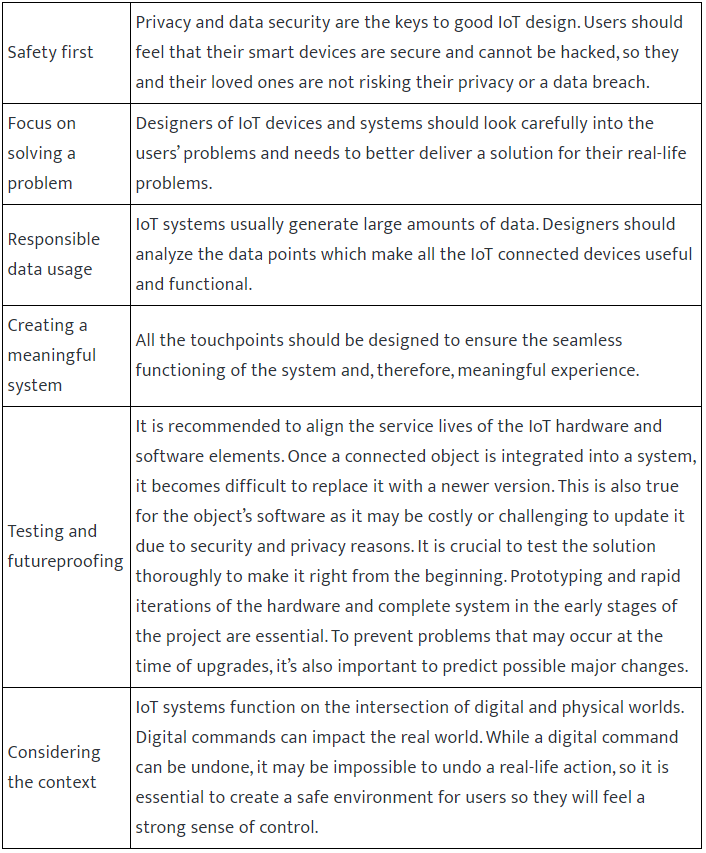 A Few Well-Designed IoT Experiences
Predictions abound regarding employing IoT in various industries. Here we'd like to focus on some of the more tangible IoT implementations — the ones that are already in general use, benefiting people and businesses, and helping deliver a bright future for the technology and its users.
IoT Wearables
According to Ericsson, 2 out of 5 users of wearable smart devices say that they 'feel naked' without the device, and a quarter of those users sleep with the device on. Statista predicts the number of smart wearable devices to exceed one billion by 2022.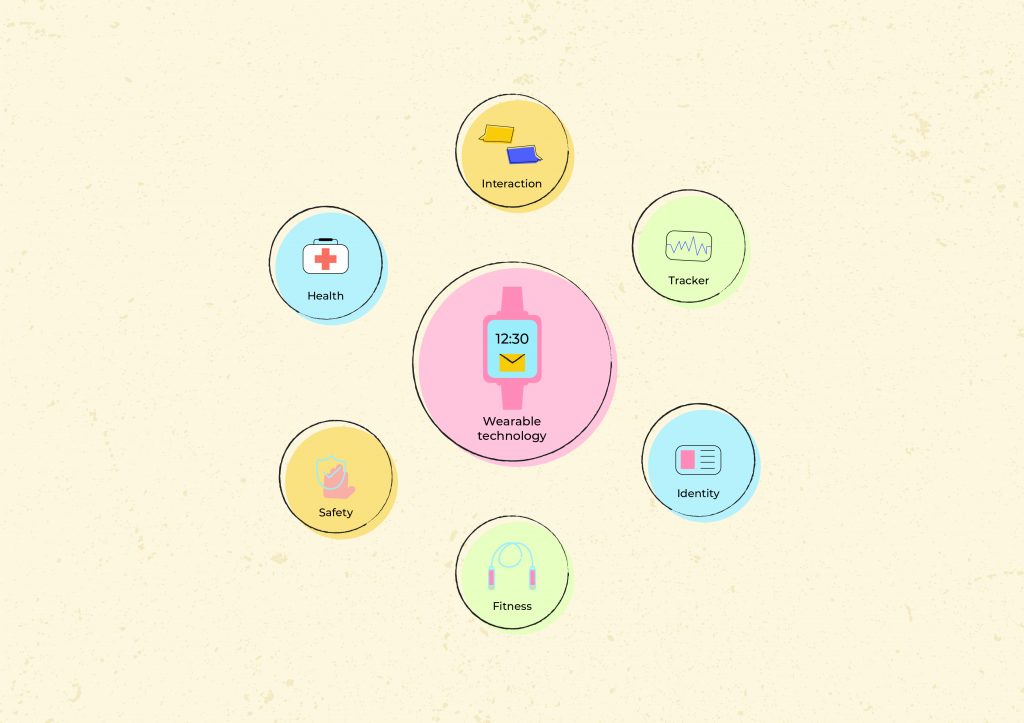 1. Catapult. These IoT wearables for professional athletes collect data on their activity and vital stats, which helps to optimize the athletes' performance, minimize injuries, and manage the rehabilitation process.
2. PubNub. This mobile app connects all the IoT devices that a user owns. The app has such features as bi-directional monitoring and remote control of devices.
3. Whistle. This is an example of a fitness app for dogs. Essentially, Whistle serves as a GPS tracker with an impressive 3,000-mile work radius and an activity tracker which helps to monitor and regulate the dogs' behavior to improve the pets' well-being. 

Automotive IoT
A Meticulous Research report forecasts the automotive IoT market to reach $541.73 billion by 2025, growing from $217.48 billion in 2019. IoT solutions here include predictive maintenance, biometric, infotainment, etc.
1. Possibly the most prominent example of automotive IoT experience is predictive maintenance. Chips and sensors placed throughout the car collect data on the car's performance which is then gathered and processed in the cloud. Such data helps to predict when a car will need maintenance well before any issues occur. Currently, Progress is helping to make the concept of predictive maintenance a reality.
2. In-car IoT-enabled infotainment can improve car journeys with diagnostics, navigation, and entertainment. Amazon Echo Auto, AndroidAuto, and Apple CarPlay are current examples.

3. Kymeta. It is an example of vehicle-to-vehicle (V2V) communication technology that connects vehicles via satellites. V2V technology aims at reducing traffic, improving safety, and creating a more accurate mapping of the world.
Smart Healthcare
The IoT healthcare market is expected to grow from $55.5 billion in 2019 to $188 billion by 2024, according to a report by Markets and Markets. Various solutions include remote patient and chronic disease monitoring, hospital asset management, and much more.
1. A smart pill bottle by Adhere Tech can detect when a user removes a pill. When they miss taking a pill at a proper time, the bottle lights up or sends a message to the user's smartphone.
2. Empatica is a smartwatch-like IoT device that tracks epileptic seizures and factors that may cause them.
3. Santa Casa de Valinhos is an example of a hospital that uses an IoT asset management system. It helps in locating and identifying equipment, such as infusion pumps or electrocardiograph machines. The implementation of such IoT systems helps prevent theft and simplifies audits.
Conclusion
The excellent design of IoT devices and systems helps make their usage more seamless and simple. Users want devices to make their life easier by doing some thinking for them. Say a word to your voice assistant and like magic, a light will turn on as you approach your door. When you come inside, the house can welcome you with a comfortable temperature thanks to a smart thermostat and a 'smart' portion of fresh food in the kitchen. Smart TV and Echo are ready to provide the evening's personalized entertainment, while in the garage, car systems are checked while the car is already charging for tomorrow. This can be a reality as a result of good IoT design.
Are you planning to integrate a useful IoT experience into your business model or enterprise? At Alternative-spaces, we are helping small startups and large companies alike bring their ideas to life.
Content created by our partner, Onix-systems.