How Project Status Reports Facilitate Successful Development

It is project managers' direct duty to update executives and stakeholders on the status of a project through reports describing how the original plan matches the current progress. Project status tracking (a.k.a project management tracking) is not a mechanical way to recite data. Your project manager (PM) should prepare a well-formulated report that will reassure you and other stakeholders.
The PM's credibility can be destroyed with poor project management tracking. The solution is to present hard-edged information, not guesses or speculations. This allows them to spot problems early when they are small and easier to fix. Therefore, a project status report is an important part and parcel for effective project communications and project strategy to keep the project team, sponsors or stakeholders informed.
Let's dive into examining the concept of successful project reporting and discuss its purposes, benefits, and types.
The Purposes and Benefits of Project Status Reports
Project management status reports give snapshots of a project throughout the development process. Clients can see all the progress and business efforts. It fosters the atmosphere of accountability and ownership within the team.
Reports are helpful for:
spotting issues
mitigating risks
realizing the overall project's goals.
Undoubtedly, project status reports are of great value for clients. They ensure that clients' money is not wasted but is put to a good end. It can ensure funding in the future. A report is also a paper trail in case the project goes off the rails.
Such reports are a documented history of the work done in the project. It helps you to know what will be done in the next part of the project.
A project management status report helps to:
uncover latent risks and issues so that the course can be slightly re-adjusted or totally changed
register the progress of what has been accomplished by teams, individual workers and what resources have already been used
avoid unpleasant surprises (for all parties involved: stakeholders, team members, and clients)
furnish a method for keeping project members and leaders accountable to each other
improve communications within the company
simplify communication flow
keep stakeholders well-informed
minimize risks
keep an eye on budget expenses
monitor timelines
Types of Project Management Status Reports
Project status management reporting includes more than deliberating on the latest project status both for the development team and stakeholders.
There are several types of project status reports:
1. Status report
2. Baseline reports
3. Time tracking report
4. Risk assessment
5. Project health report
6. Team availability report
Let's take a look at each one of them in greater detail.
1. Status Report Example
A weekly status report helps to inform the team and stakeholders easily. Take a look at these important components of your status report:
Completed work
Pending work
Percentage of project completion and budget spent
Action items
Project risks or issues
Here's an example of a status report: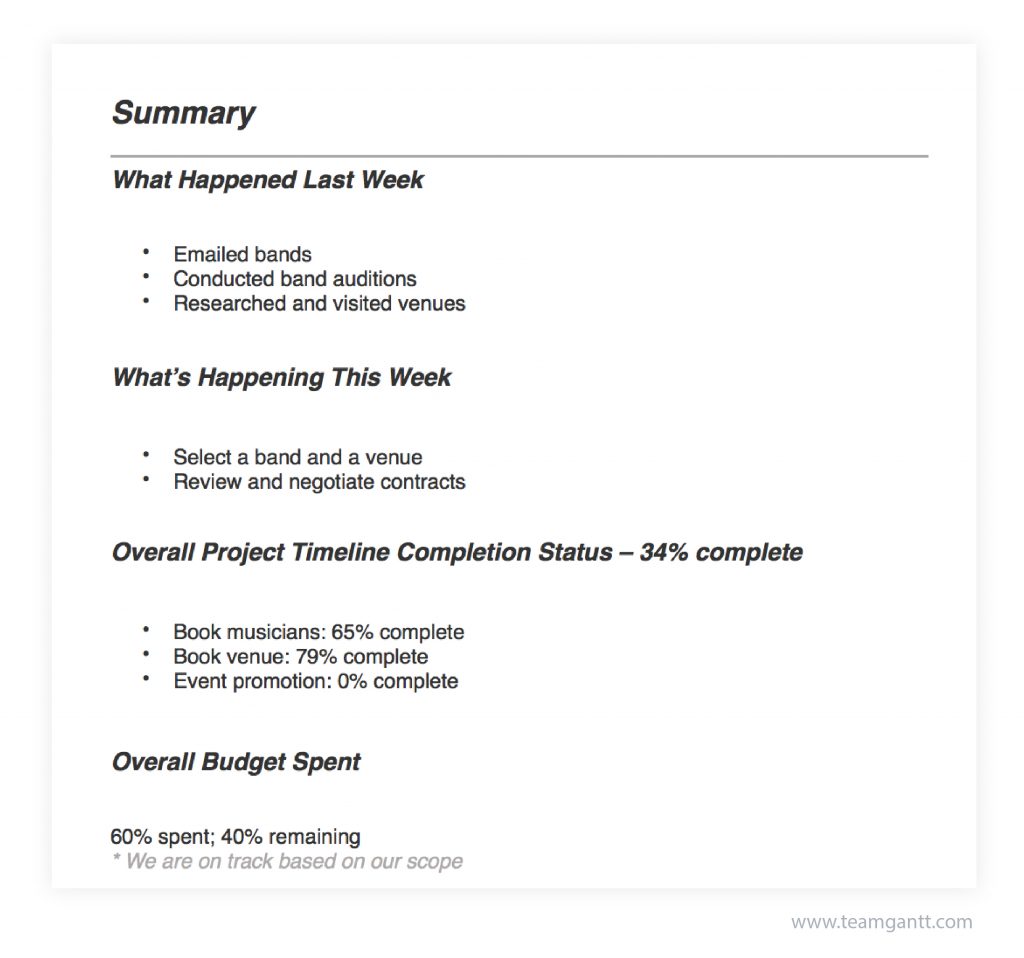 2. Baseline Report Example
A baseline report helps to compare the planned timeline with the real timeline so that PMs can improve their current progress. It's also helpful to see how changes or delays influence the overall project timeline.
Here's an example of a baseline report, where the planned timeline is depicted in gray and the actual timeline is in blue.

3. Time Tracking Report Example
A time tracking report allows seeing how much time your team has actually spent on project tasks. For instance, the PM will inform you how to avoid potential unplanned expenditures. Reports will provide helpful insights for future project estimates as well.

4. Risk Assessment Example
A risk assessment gives you a chance to spot and mitigate potential risks based on their likelihood of happening in the future. This helps to prioritize issues of the workflow, nipping risk in the bud before it impacts your project success.

5. Project Health Report Example
A project health report gives a brief snapshot of the project status. This helps everyone involved to know which portions of the project are behind the schedule or which ones are missed.

6. Team Availability Report Example
When your PMs create a project plan, they will let you know their arsenal of resources to finish your work well. A team availability report shows how much work each team member has to fulfill so that your PM can make wise resourcing decisions for your project.

Conclusion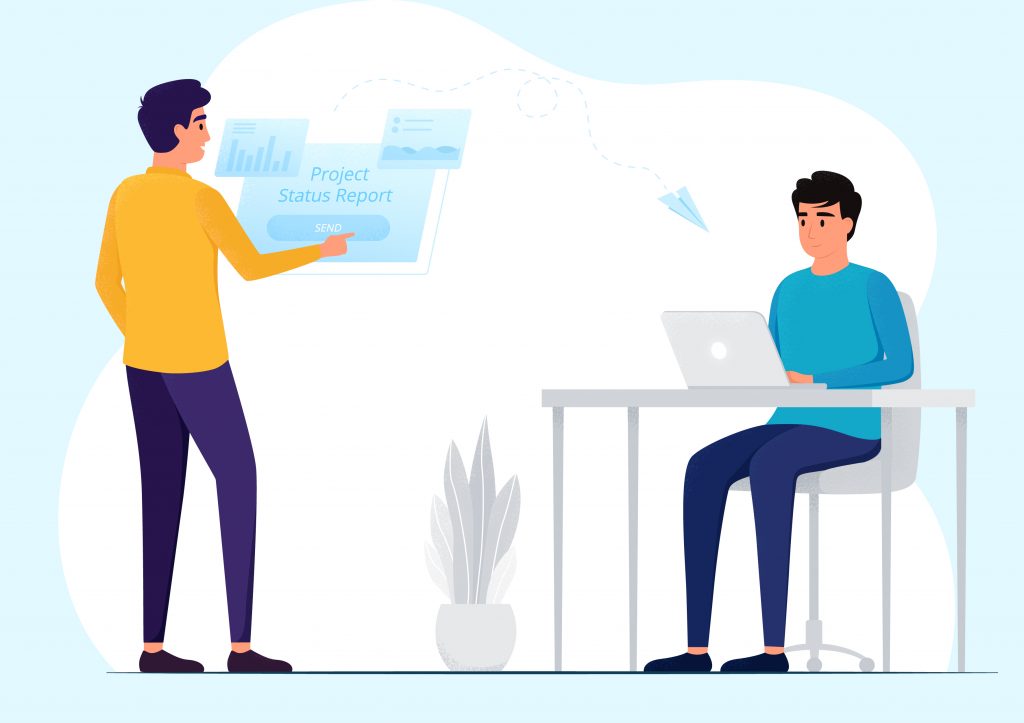 The foundation for effective project status tracking and reporting is laid during project planning. That's where the PM and stakeholders define clear deliverables and checkpoints for measuring progress.
Your PM is the link between you and your development team fulfilling your project. As part of their duties, your PM will need to create project status reports to keep you and other stakeholders informed on your project's progress.
Here at Alternative-spaces, our PMs will not only provide you with timely project status reports. They'll make sure your project will be completed punctually, orderly, and efficiently.
Content created by our partner, Onix-systems.