How to Build a Fitness Website: Features, Benefits, and Best Practices by Alternative-spaces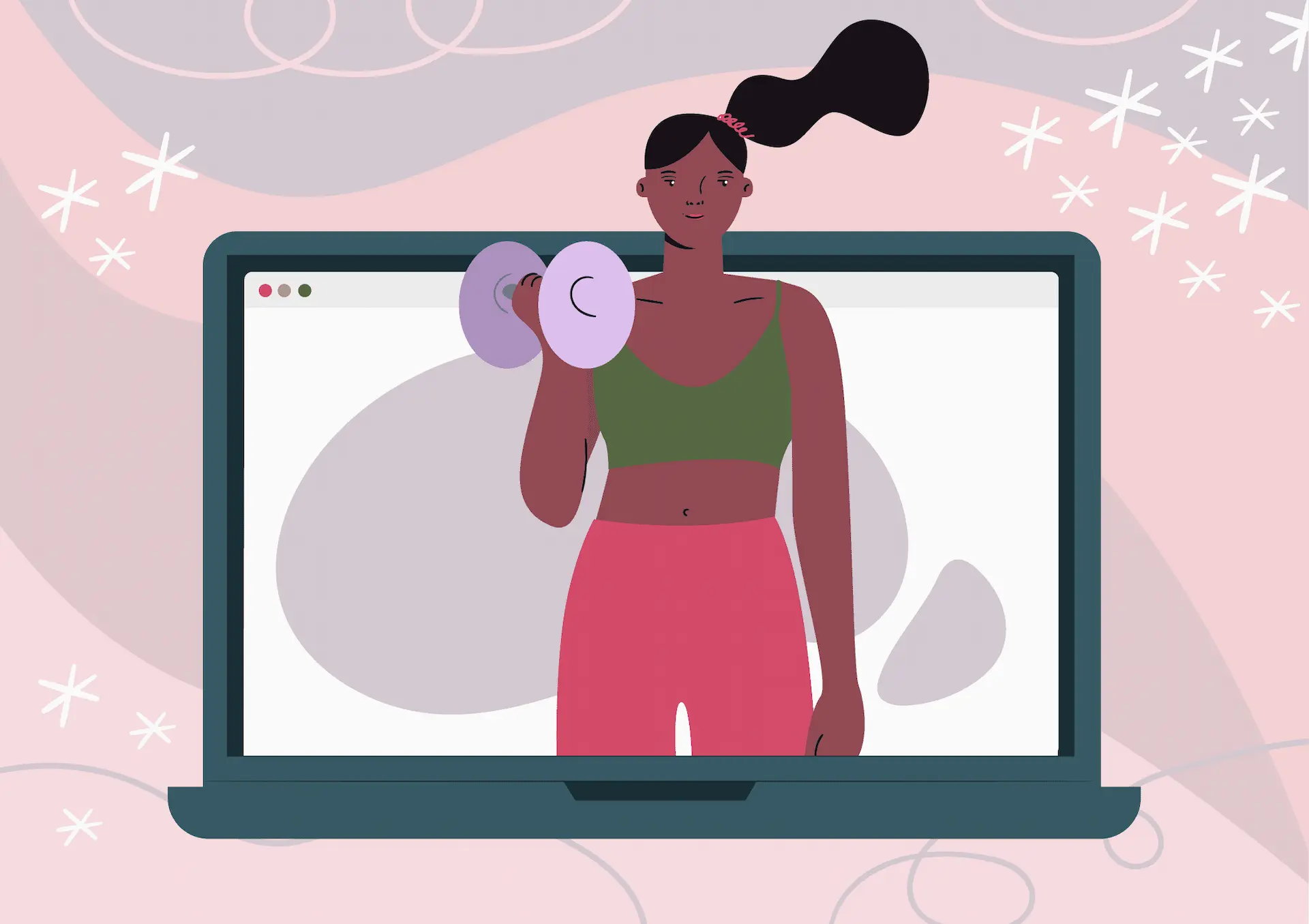 A fitness website is a powerful tool that can help you attract new clients and grow your business. By creating a well-designed website, you can showcase your unique brand, share helpful information about your services, and create an online presence that will help you stand out from the competition.
Whether you're a personal trainer, a nutritionist, or just an avid gym-goer, a fitness website can be a great way to connect with like-minded people and help others achieve their fitness goals.
To help you with that, we decided to create this guide on fitness website development.
This blog post is based on the case studies Alternative-spaces experts have developed in the fitness domain.
We provide you with real-life examples and demonstrate how our Alternative-spaces team's exceptional experience helped our clients to deliver professional services through the website more efficiently and take customer experience to the next level. Keep reading to discover more!
Table of contents
Virtual Fitness: Market Wrap-Up
How online fitness platform can benefit your business and your customers
Fitness platform functionality: Must-have features
How to build a fitness website: Best practices from our experts
How to estimate the fitness website cost
To conclude
FAQ
Virtual Fitness: Market Wrap-Up
The fitness industry has seen a significant shift in recent years, with an increasing number of people looking to adopt healthy lifestyles and get in shape. This has resulted in a growing demand for online and offline fitness services and products.
According to the Business Research Company, the global fitness market was worth $11 billion in 2021 and is projected to reach $80 billion by 2026. And with the rise of technology, much of that growth is happening online.
Interestingly, the global online fitness market is still in its early stages of development and is expected to proliferate in the coming years. Currently, North America dominates the market, followed by Europe and Asia-Pacific. Now is the perfect time to build your own online fitness platform.
The major players in the market are Nike, Adidas, Reebok, Under Armour, and ASICS. These companies have a strong presence in the offline fitness market and are now increasingly turning to the online space to reach a wider audience.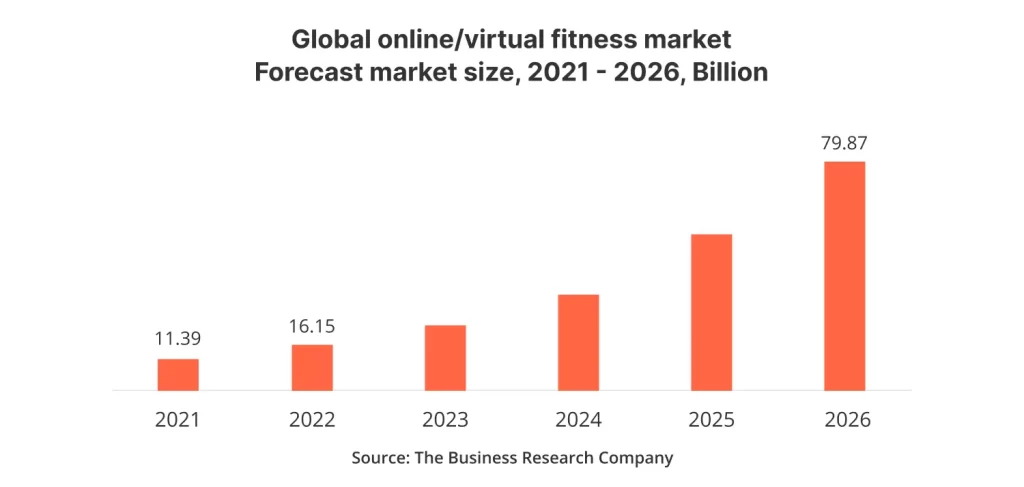 How online fitness platform can benefit your business and your customers
An online fitness platform can benefit your business in many ways if you are a fitness trainer or coach. On the other hand, customers also get some pros from using your online fitness website. Let's look at some benefits for both you and your clients: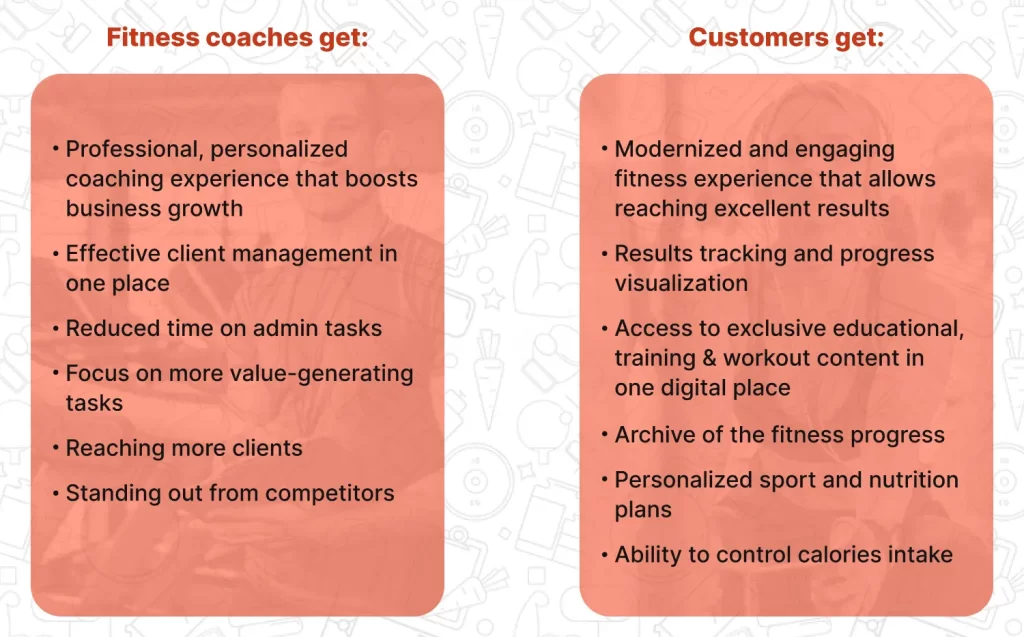 Fitness platform functionality: Must-have features
Below, we will show the basic features set and some extra ones based on our recent fitness case ProjectX.
User Registration
User registration is one of the essential features of a fitness website. It allows members to sign up and create their accounts on the website. This account can be used to access the website's content and track its progress.
It's vital to make the user registration process as straightforward as possible. The last thing you want is for members to get frustrated and give up before they even start using the website. Users should feel that the platform cares about them during the onboarding process.
User registration can be done in several ways, but the most common method is to use an email address and password. Or let your users sign up with Google or Facebook accounts.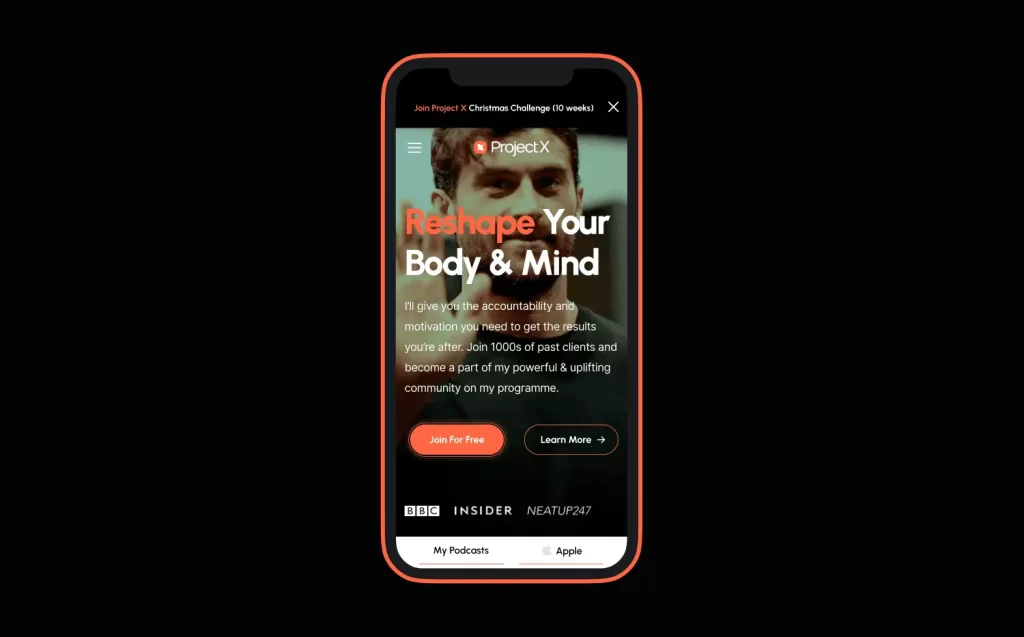 Client management and accountability
Managing clients and keeping track of their progress is crucial to any fitness business. A good website will allow you to do both quickly and efficiently.
Regarding client management, a website lets you keep track of important information such as contact details, fitness goals, progress reports, and payments. It also allows you to communicate with your clients directly through the website, either through a messaging system or by sending them automatic emails or reminders.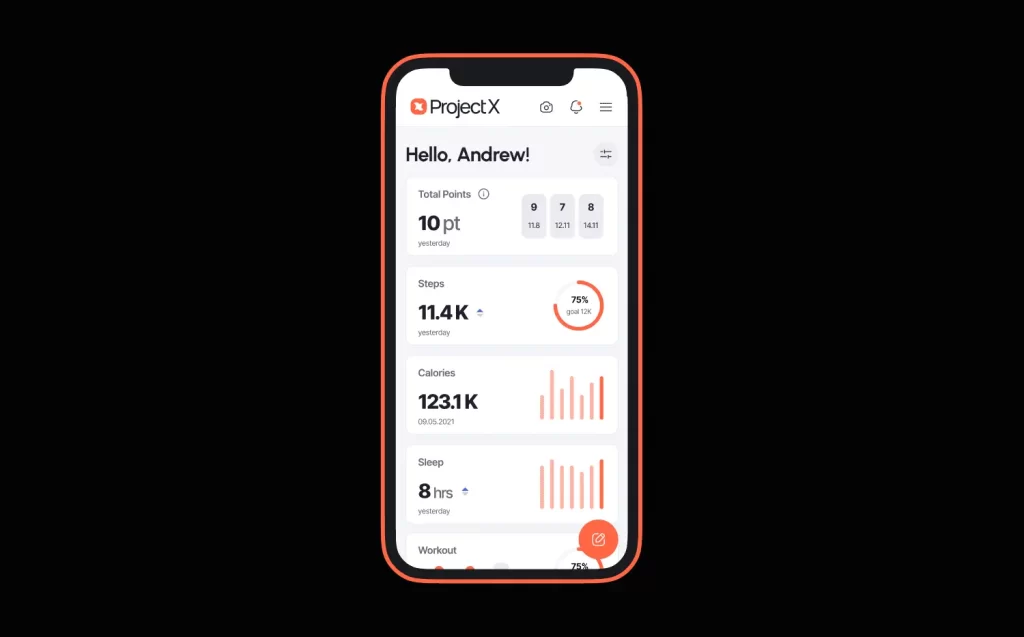 Workout and nutrition plans
One more essential feature is the ability to offer workout plans that are flexible and can be updated at any time. This could be by providing custom workout and nutrition plans for individuals based on their goals or by offering pre-made plans that people can follow.
Including a workout plan feature on your fitness website will help engage users and keep them coming back, but it can also be a great way to upsell other products or services. For example, you could offer premium memberships that give access to more detailed and personalized workout plans.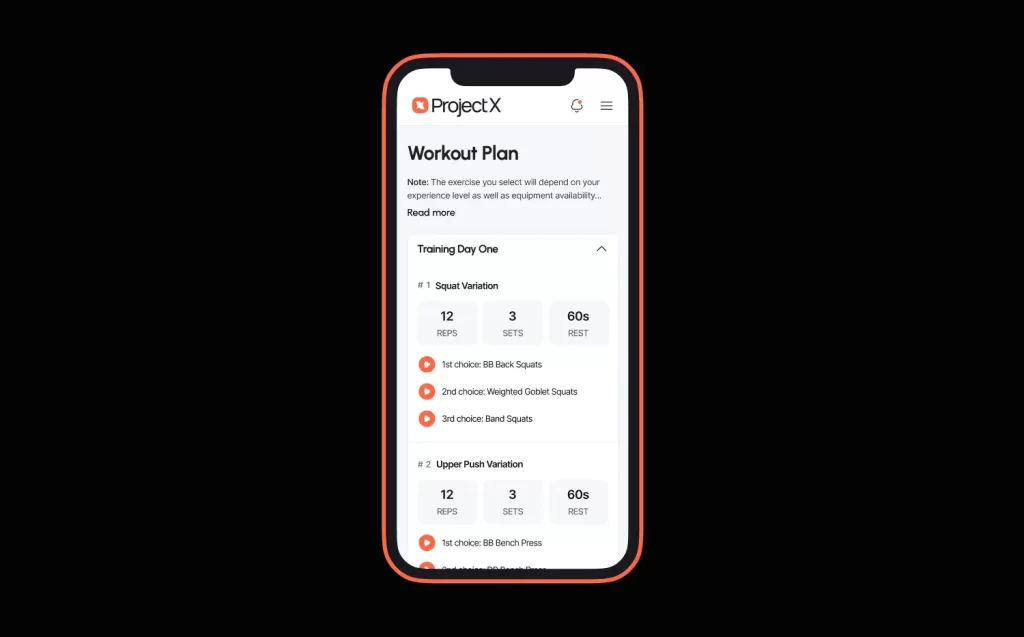 Appointments schedule
The following key feature you'll need to include is how users schedule appointments. This could be for personal training sessions, group classes, consultations, or other appointments.
There are a few different ways to go about this. One option is to use a plugin or extension designed explicitly for appointment scheduling. This can be a good option if you're using a content management system (CMS) like WordPress, as plenty of options are available.
Another option is to use a general booking system designed for businesses. These systems often have more features than appointment-specific ones but can be more expensive.
Stream or video call
A fitness website should have a feature that allows users to stream or video call with personal trainers. This is important because it allows for real-time interaction and feedback between the trainer and the client. The video call helps the fitness platform to provide a one-on-one personal training experience for its users. This is a great way to connect with trainers and get a personalized workout routine. This feature can also be used for group classes, where participants can see and hear each other, allowing for a more interactive and engaging experience.
Live chat
Live chat allows trainers and clients to communicate in real-time, which is essential for coordinating workout schedules and providing feedback on progress. Live chat can answer questions, provide customer support, and sell products or services.
Calendar and notifications
Calendars and notifications help users stay on track with their workout schedule and be up-to-date with the latest information. The calendar allows users to manage and tune their workout schedule and see when they are free or busy.
The calendar can also be used to set reminders for upcoming workouts. While notification features can remind users of new blog posts, workout sessions, or other important information. Notifications can be sent via email, SMS, or push notifications.
Payment processing
When building a fitness website, you need consider how you'll accept payments. This is an essential feature for customers who want to sign up for classes or memberships, and it's vital to your business conversions.
There are a few different options when it comes to payment processing, and the best choice for your fitness website will depend on your needs. For example, if you only offer a few weekly classes, you may not need a full-fledged payment processor. On the other hand, if you're running a more extensive operation with multiple instructors and many classes, you'll need a more robust solution like Stripe, PayPal, or Authorize.Net.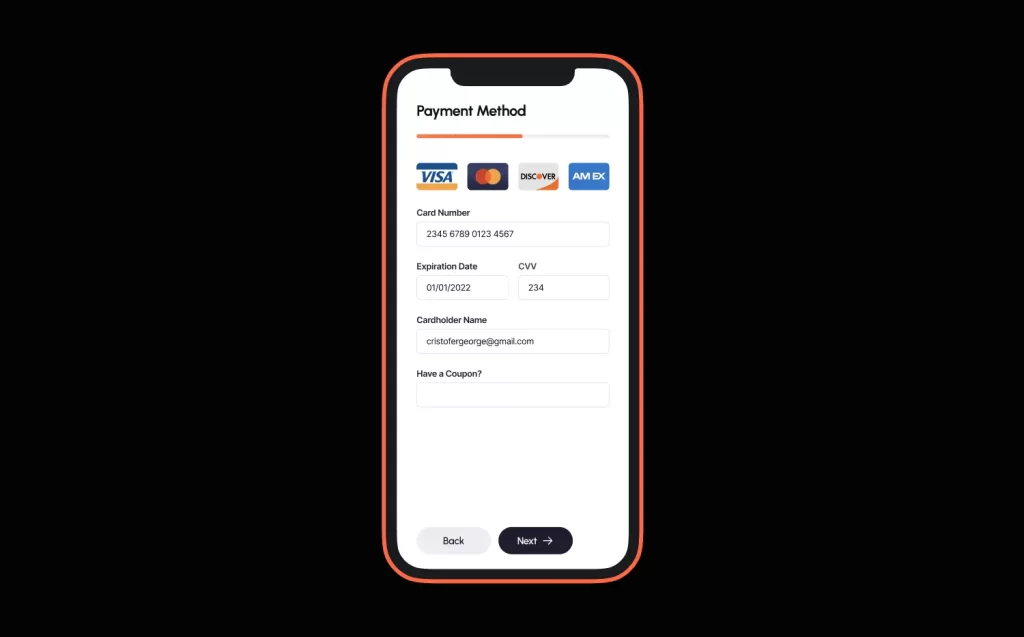 Blog
A blog on your fitness website lets you keep your readers up-to-date with the latest news, products, and services you offer.
Your blog should be easy to navigate and searchable so that readers can find the information they are looking for quickly and easily. In addition, your blog should be updated regularly with fresh content to keep readers coming back for more.
Finally, include social sharing buttons on your blog posts so that readers can share your content with their friends and followers.
Chatbot
Chatbots are a valuable tool for fitness websites because they can provide high customer service and engagement. Including a chatbot on your site can offer your users a more personalized experience and ensure they have all the information they need to make the most of your services. Chatbots can provide a range of services for your users, from answering questions about your products or services to customized workout plans.
Calories tracker
This feature is not mandatory but competitive. It will allow the users to input the foods they eat and their activities and calculate the number of calories earned or burned. To do that, the fitness website should have a database of foods and their calorie content so that users can accurately track their intake.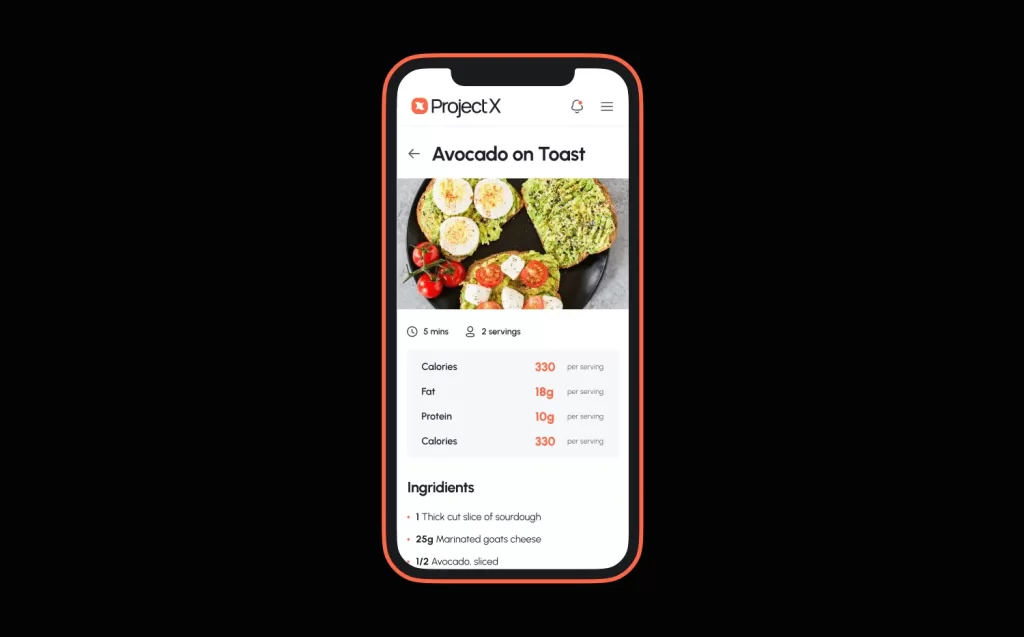 Gamification
Gamification can be a great way to engage and motivate users. By adding elements of competition and fun, you can encourage people to stick with their fitness goals. Here are some ideas for how you can use gamification on your fitness website:
1. Use leaderboards to create a sense of competition.
2. Offer badges and rewards for users who reach certain milestones.
3. Use progress bars to show users how far they've come.
4. Let users unlock new content as they progress.
5. Make the website interactive and engaging with fun graphics and animations.
6. Challenges that users can set and achieve.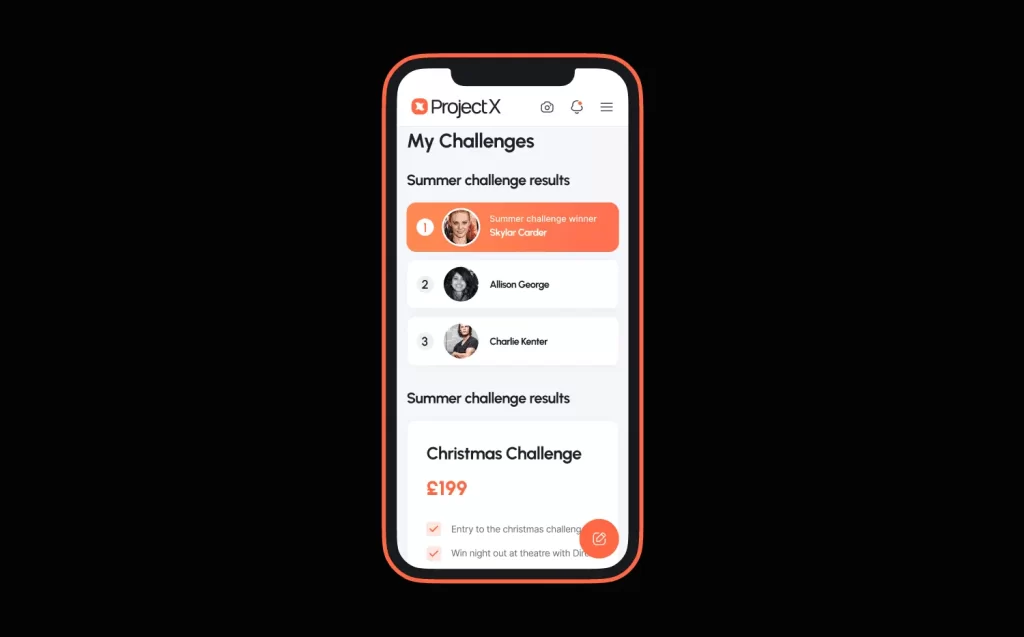 How to build a fitness website: Best practices from our experts
Research and discovery
When you start to develop a fitness website, it's essential that you first take the time to research your audience and your competition.
At Alternative-spaces, we focus on the discovery phase at the start since we believe proper research is key to building successful products.
Based on our experience, the discovery phase entails the following benefits to the project:
A deep understanding of the product concept, intended market, and target audience
Clear goals and a step-by-step plan for the development process
Risks assessment and mitigation
Optimized resources management
Reduced development costs and increased credibility with the investors
Product discovery begins with identifying your target audience. To do this, we need to know who the potential customers are and their needs. Once we know your target audience, we start to research the competition. This will help to understand other fitness websites' features and how to make your website unique.
Based on the outcomes of our product discovery stage, we prepare a mind map to visualize a representation of the users' interactions with the product. For example, that's how the user flow of ProjectX looks like: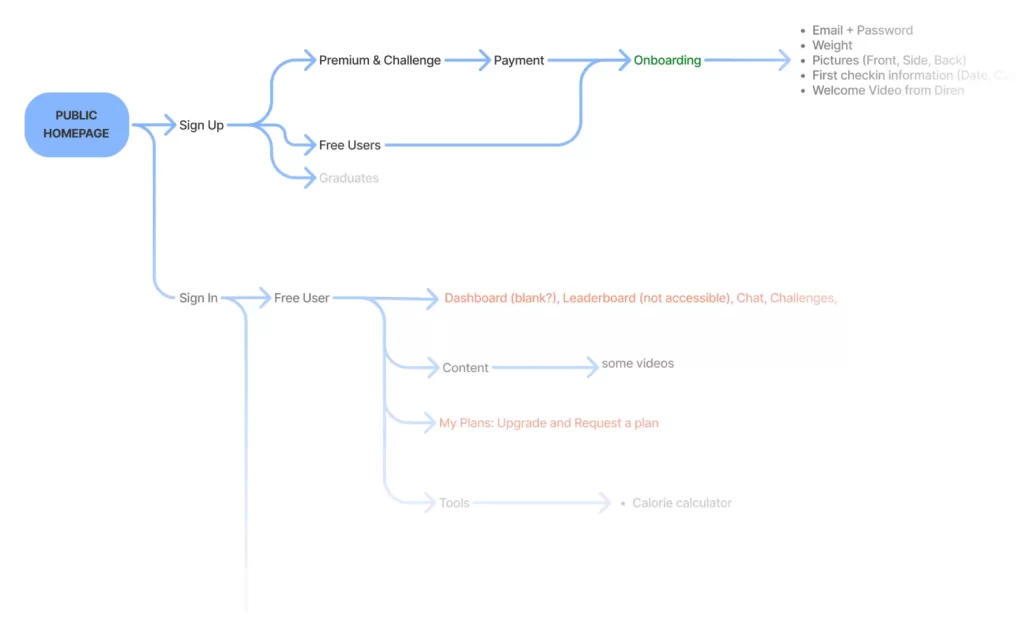 Add trust to your fitness website
If you want to create a fitness website that people can trust, you can do a few things.
First, ensure that your website's content is accurate and up-to-date. If you're providing information about fitness and exercise, ensure that the information is correct.
Second, use high-quality images and videos on your website. People are more likely to trust a website that looks professional and polished. Consider adding testimonials from happy customers to your website. This can help create a feeling of trust and credibility.
If you're offering personal training services, ensure that you have qualifications and experience that you can easily showcase on your website. You can do this by including a section on your website that outlines your credentials or by writing blog posts that detail your expertise.
It's also important to create a firm privacy policy so people feel confident their personal information will be protected. Explain what kind of data you collect and how it will be used.
Encourage user engagement
There are a few key ways to encourage user engagement on a fitness website. One way is to ensure the site's content is high quality and engaging. This means writing exciting and informative articles and including photos and videos that are visually appealing.
Another way to encourage engagement is to make it easy for users to interact with the site. This means including features such as social media integration, comment sections, and forums.
Finally, offering incentives for users to return to the site is also beneficial. This could include offering discounts, freebies for signing up for a newsletter or providing exclusive content for members.
Make visuals appealing
The user interface is one of the most critical aspects of designing a fitness website. Here are some tips for making your fitness website UI appealing:
Use whitespace effectively. Whitespace, also known as negative space, is the area around elements on the page. Using whitespace effectively can help to create a more streamlined and modern look for your site.
Keep things simple. When it comes to fitness websites, less is often more. Use clean, straightforward design elements and avoid clutter.
Use well-chosen color schemes. Your color schemes should be carefully chosen to create the right mood for your site. For example, if you want to create a feeling of energy and excitement, you might use brighter colors like red and yellow.
Make high-quality images. The images you use on your fitness website can greatly impact your site's overall look and feel. Use high-quality, professional photos whenever possible.
Make your site responsive. Responsive design is vital for fitness websites. That's because people are likely to view your site on various devices, from desktop computers to mobile phones. We worked on an app and a website for the ProjectX case, and here's how the design looks.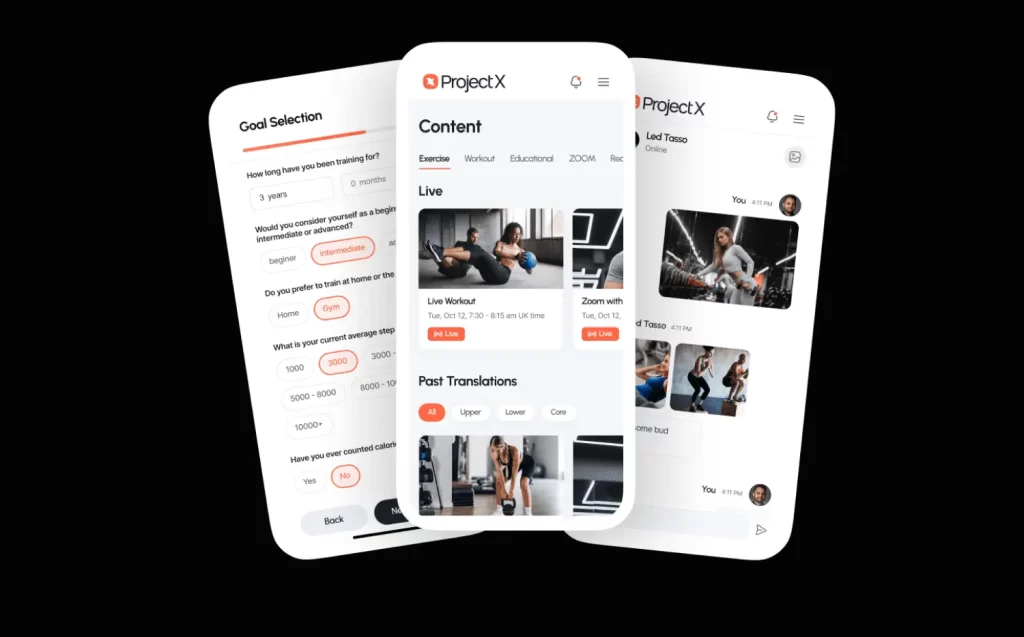 Monetize your website right
The perfect monetization strategy for a fitness website will generally involve some combination of advertising, subscriptions, and selling products or services. Advertising can be a great way to generate revenue, especially if your website gets a lot of traffic. You can sell advertising space on your website or work with advertising networks.
Subscriptions can also be a great way to generate revenue, especially if you offer premium content or features that require a monthly fee. You can charge a monthly subscription fee or offer a free trial followed by a monthly subscription.
Finally, selling products or services is another excellent way to generate revenue from your fitness website. This could include selling workout programs, personal training services, or fitness-related products.
Make sure that your website provides value to its users. You'll be more likely to generate revenue if your website is full of helpful, informative content.
Sync your website with app and tools
One of the best things you can do is pair your website with your fitness app. This will give your users a more seamless experience and allow them to track their progress conveniently.
There are a few different options when it comes to fitness apps, so be sure to do your research before settling on one. You can read more about fitness app development here.
There are also a few other tools that you might need to build a successful fitness website. For example, a content management system (CMS) like WordPress or Drupal.
This will allow you to create and manage your website's content easily. You'll also need to choose a domain name and hosting provider. Your domain name should reflect your brand, and your hosting provider should offer reliable service and support. One more important thing is to add tools for analytics. It can be GA4, Hotjar, or others.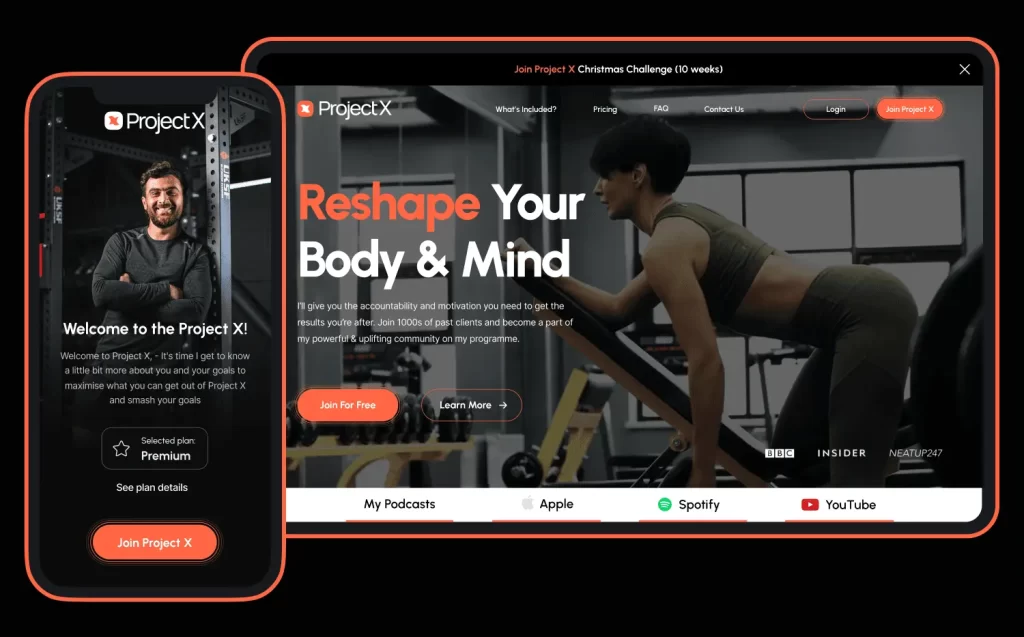 How to estimate the fitness website cost
Many factors go into the cost of building a fitness website, including the type of website you want, the features you need, and the development team you hire. For example, if you need a lot of features, such as a payment gateway, membership system, and online booking, it will cost more than if you just need a simple website with a few pages. The developer you hire will also affect the cost of development. Development rates vary significantly in different parts of the world. Let's look at some of them: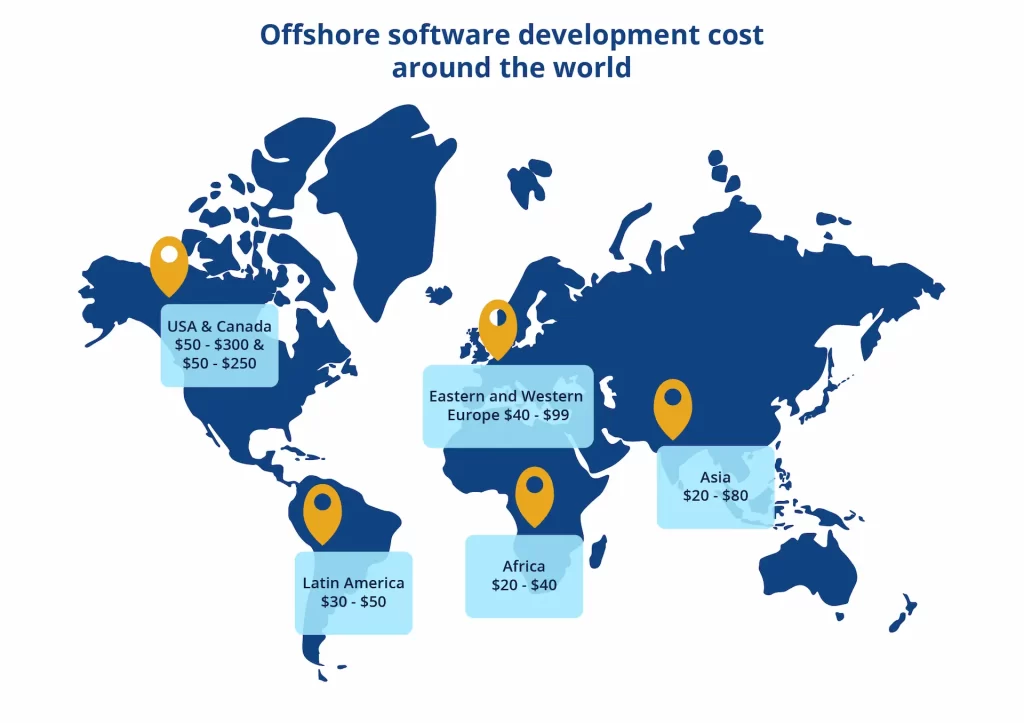 To get an idea of how much it will cost to build your fitness website, consider the following questions:
– What type of website do you want?
– What features do you need?
– What is your budget?
– Who will you hire to build your website?
Once you have answered these questions, you will have a better idea of how much it will cost to build your fitness website. If you need help estimating the cost of building your fitness website, feel free to contact our specialists and get a consultation.
Alternative-spaces experience in fitness website development
When developing a fitness website, we understand the importance of incorporating features that will engage and motivate users.
Some of the key features that we focus on when developing a fitness website include:
– A user-friendly interface
– Easy navigation
– Engaging content
– Fitness tracking capabilities
– Social media integration
– E-commerce functionality
Alternative-spaces development gurus love working with fitness apps and websites. One of our favorite works is ProjectX; we already mentioned it in this article.
The client came to us with an idea to create an end-to-end fitness platform for online coaching. He wanted to create an all-in-one space for coaches with all the required functionality instead of using various tools.
And we did it. Our developers created a multifunctional well-structured fitness platform that enhances training experience and client management.
Now, ProjectX is a top-notch fitness platform that unites thousands of users simultaneously watching workouts, tracking their progress, and feeling like one big community. We are happy that our client can now provide coaching services more efficiently with the help of the upgraded ProjectX platform.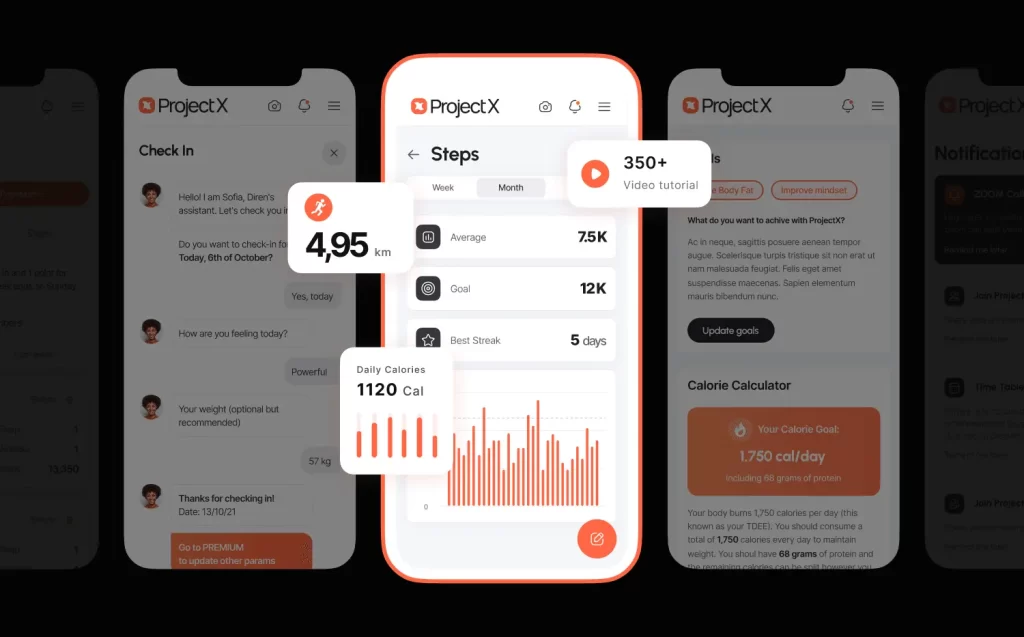 One more great fitness website project is MiPaddle.
We worked both on the web and mobile versions of the platform for paddle tennis enthusiasts. The client came up with an idea to develop a truly interactive space for like-minded people and gather them in one big community.
We were responsible for creating a website, robust application, dynamic UI, and seamless UX for MiPaddle users. Now, customers can follow the latest community news, speak with each other on a forum, and learn from the professional coaches all in one place. This makes MiPaddle not just an ordinary project but one big community of paddle tennis pros and amateurs.
To conclude
Creating a fitness website from scratch can be a daunting task, but with the proper planning and execution, it can be a success. By following the best practices for fitness website development, you can create a platform that is not only functional but also visually appealing.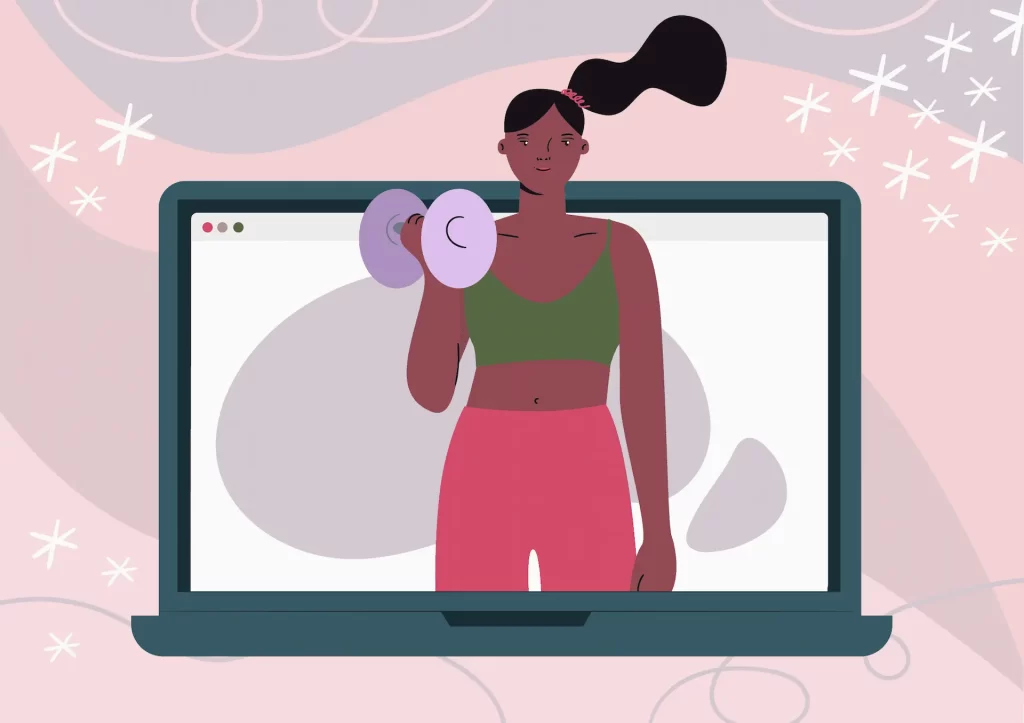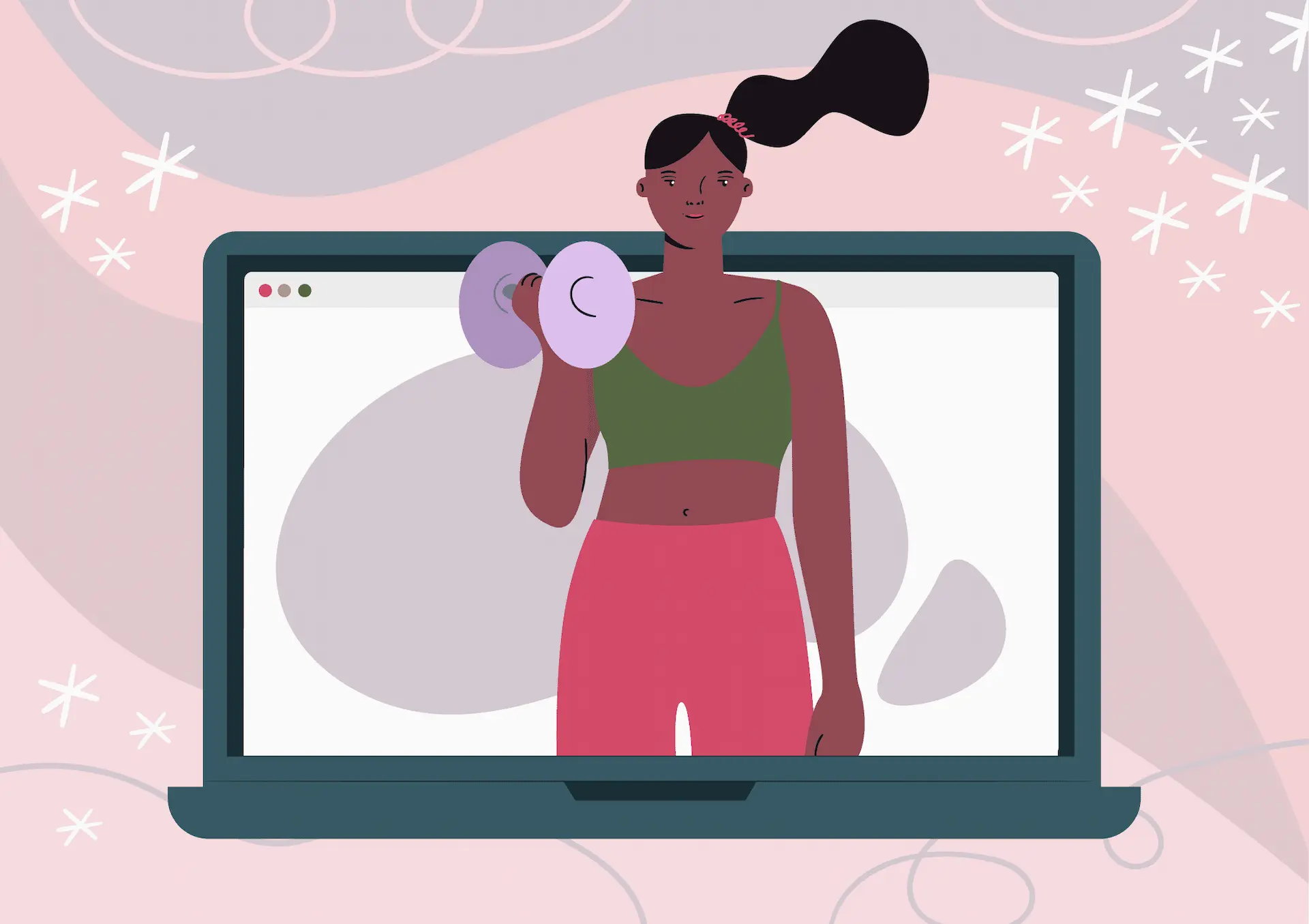 Some critical considerations for fitness website development include selecting the right hosting platform, designing an easy-to-use interface, and creating compelling content. With these factors in mind, you can create a fitness website to help you achieve your business goals.
If you have a great website idea but lack technical expertise, just contact us, and we will be glad to help you with that!
FAQ
What are the required features for a fitness website?
The required features for a fitness website will vary depending on your specific goals and objectives. However, some essential features that all fitness websites should have include:
– A clear and concise message that outlines what your website is all about
– Attractive visuals that capture the attention of your target audience
– Easy navigation so that users can find what they're looking for
– A call to action to encourage visitors to take action
What are some practical tips for developing a fitness website?
Some practical tips for developing a fitness website include:
– Using WordPress as your content management system
– Choosing a responsive theme that will look good on all devices
– Adding plugins to add functionality to your website
– Creating quality content that will engage and convert your readers
– Optimizing your website for search engines
What are the challenges of building a fitness website?
Creating a fitness website can be a daunting task. There are many challenges that you must overcome to create a successful website. Some of the challenges that you may face include:
1) Creating content that is engaging and informative
2) Designing a website that is user-friendly and easy to navigate
3) Ensuring that your website is mobile-friendly
4) Make sure your website stands out from the competition
5) Generating traffic to your website
By choosing the right technology partner, you can overcome those challenges and create a fitness website to help you achieve your fitness goals.
Content created by our partner, Onix-systems.
Source:
https://onix-systems.com/blog/how-to-build-a-fitness-website