How to Create a Run And Walk Tracking App from Scratch in 2022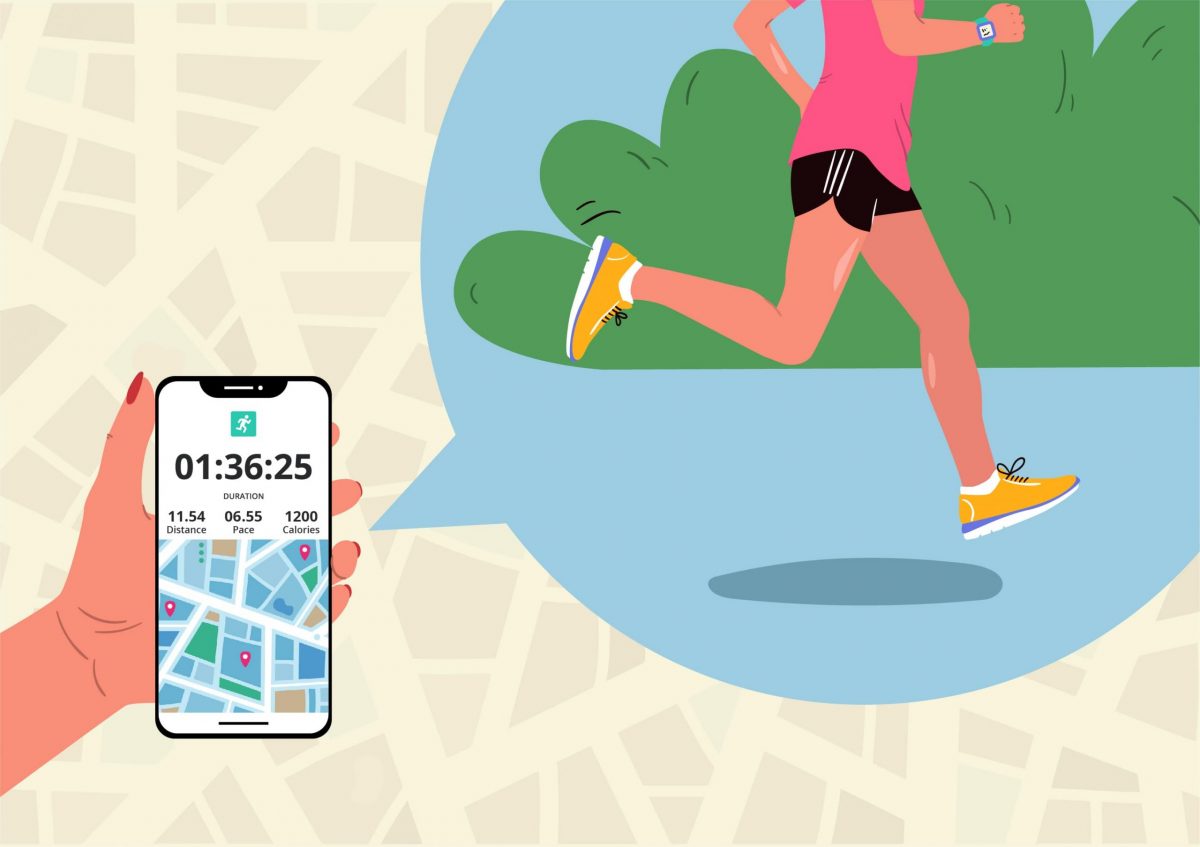 The market for fitness apps is booming and with good reason. People are becoming more and more interested in staying fit and healthy, and as a result, there is a growing demand for apps that can help with that. When it comes to developing a fitness app, there are a few things that you need to take into account.
Firstly, you need to decide on the features that you want your app to have.
Then, you need to think about the technology that you'll need in order to make those features a reality.
Finally, you need to consider the cost of app development.
We have covered it all in our new article about the walk and run tracking app development based on Alternative-spaces experience. So, please read ahead to learn more.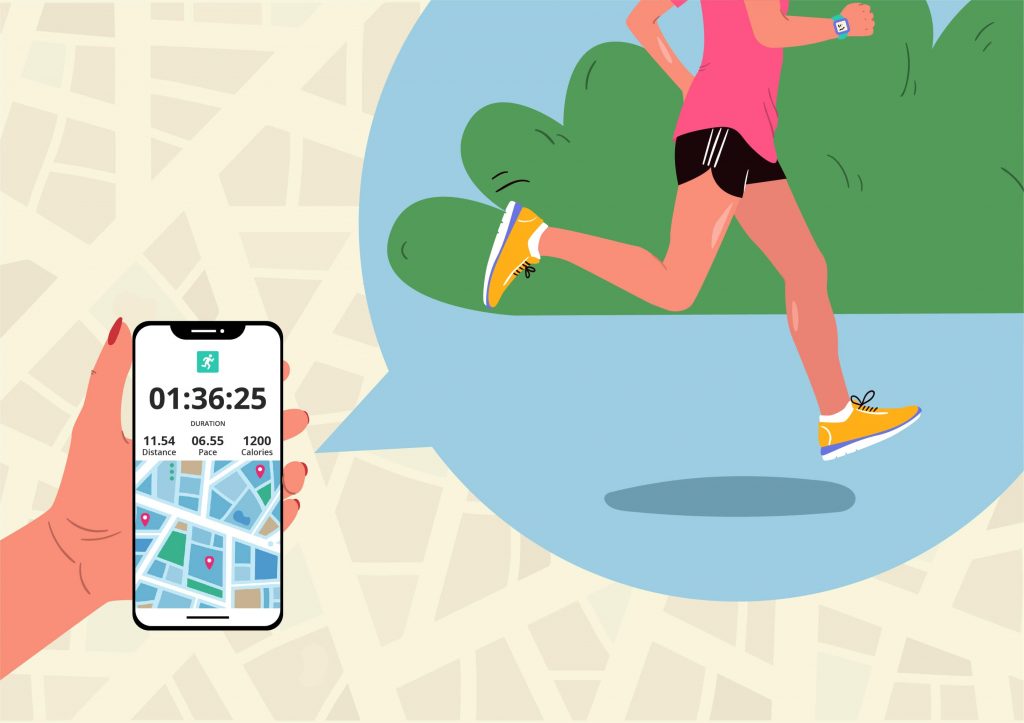 Fitness app market overview: Runkeeper vs Strava vs Nike Run Club
The global fitness app market is expected to grow at a compound annual growth rate (CAGR) of 17.6% from 2022 to 2030. This growth can be attributed to the increase in awareness of fitness and mental well-being, the growing trend of online fitness training, and the expansion of the network of fitness studios and gyms. In addition, the COVID-19 pandemic has led to an increase in awareness concerning health and hygiene. This is driving the market as well. Tough competition has been ongoing between brick-and-mortar gyms and in-app fitness. Thus, information technology has transformed the way the fitness industry works. It is stated that downloads of fitness and health apps have increased globally by 46.0% due to the growing trend of online fitness training. In addition, revenue generated by Peloton, a U.S.-based exercise equipment company doubled in 2020.
This growth can be attributed to the increase in demand for in-home fitness equipment and the growing trend of online fitness training. So, as you can see, the fitness apps niche is in great demand today and has great prospects. Let's take a look at the three top apps in the fitness industry and compare them according to some key factors.

What features to choose for your run and walk tracking app?
Choosing a feature set for your running app can be challenging. Therefore, start with deciding on MVP features first, and then add other features that your users will need. Below, you can find the basic functionality set and extra features from our experts.
MVP features
Activity tracking
When it comes to developing a running mobile app, activity tracking should be one of the top priorities. This is because activity tracking is one of the most essential features for users. By tracking runs and walks, they can see data such as the distance they have covered and their pace.
In addition, many running apps have GPS and map integrations to help runners create and track their routes. So, if you're looking to create a running app, make sure that activity tracking is at the top of your list. Here is an example of an activity tracking feature in the Nike Run Club app.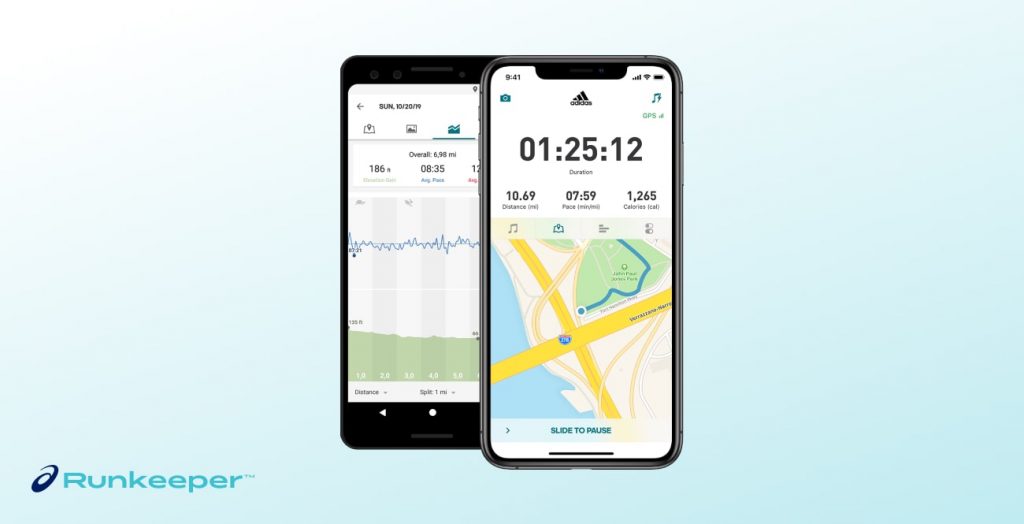 User profile
Most apps need a user profile so people can input their personal information. Your running app will be no different. Start with the basics, such as social media links or displaying a photo. If you desire, any additional elements can be presented as a separate screen. A user profile in a running app would typically include information such as age, gender, weight, height, and general fitness level. When determining the needs of users, it is important to consider what features would be most beneficial for them. Some features that may be useful for runners include tracking distance traveled, calories burned, and time elapsed.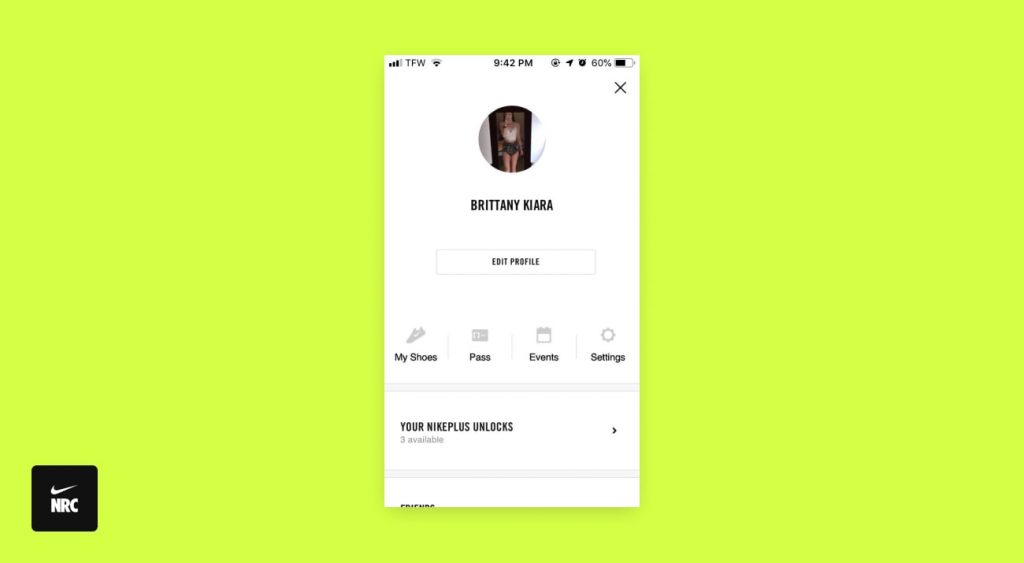 Statistics of users' progress
When designing the performance statistics feature, you will need to decide what data to track. The most common metrics are time, distance, and pace. You may also want to track calories burned and heart rate. Be sure to choose the metrics that are most important to your users.
Once you have decided on the metrics to track, you will need to create the user interface for displaying the data. Most running apps display the data in a graph or table format. You should also consider adding features that allow users to compare their performance stats with previous runs. This can be motivating for runners.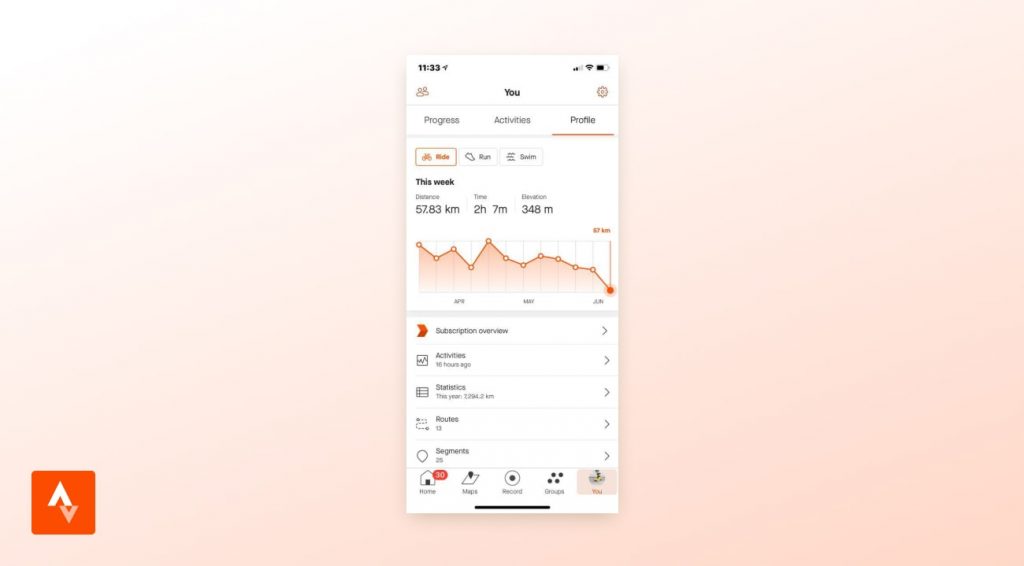 Goal setting
One feature that is common to most running apps is the ability to set goals. It allows users to specify a distance or time goal for their run, and the app will track their progress towards that goal. Goal setting is an important part of any running program, as it helps to keep users motivated and on track. In order to develop a goal-setting feature for your running app, there are a few things you will need to consider.
First, you will need to decide what type of goals users will be able to set. Will they be able to set a distance goal, a time goal, or both? Once you have decided on the types of goals that will be available, you will need to determine how users will input their goals into the app; directly by entering the number of the goal or searching in a drop-down menu, for example. Here is how the Nike run club running app integrated this functionality.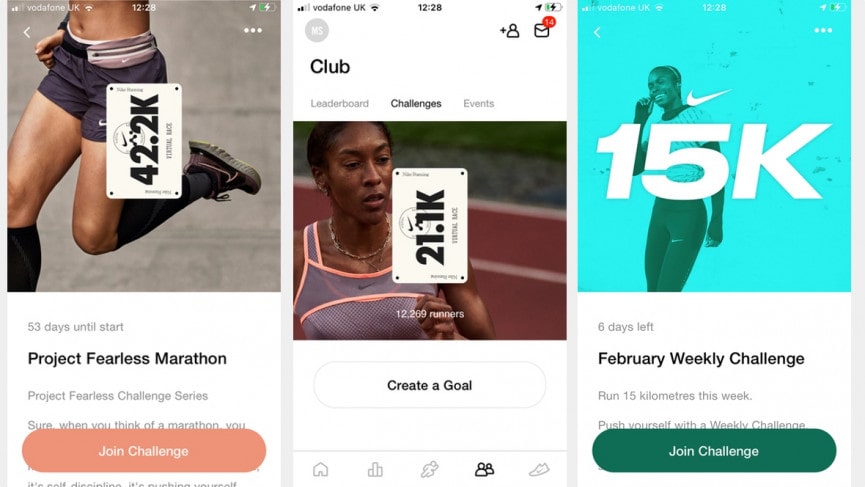 Training programs
If you're looking to develop a running mobile app, it's important to include a selection of training plans to help users prepare for their runs. This could include race preparations for a 5K or half-marathon, teaching beginners how to run, speed training, building strength and endurance, and more.
By including various types of training plans, you can help users of all levels achieve their running goals, encourage their sports activities, and increase user loyalty to the app.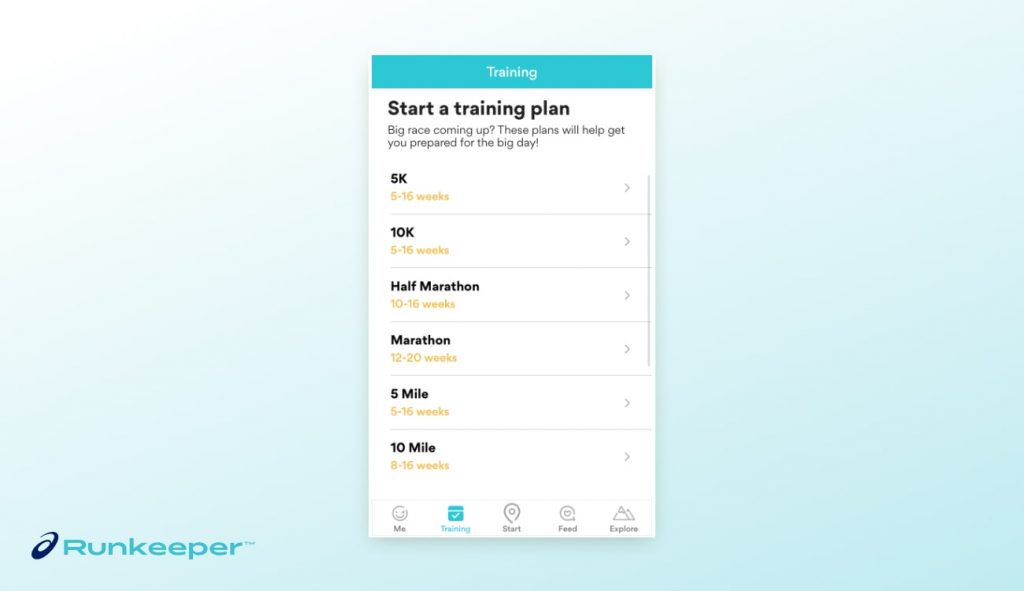 Additional features
When you've decided on your running app MVP features, it's important to add extra features that will make your app unique among big players on the market. Consider adding some of the following features to make your app more personalized and attractive to users.
Add push notifications.
Integration with other devices such as smartwatch (Apple Watch, Garmin, etc.)
Let your users listen to their favorite tracks while walking and running.
Add some other social elements like sharing photos and videos with friends.
Build heart rate monitoring feature with the help of built-in wearables.
Add nutrition plans.
Provide social networks integrations.
Built-in weather data into the app.
Create educational content for runners.
Develop a voice coach to navigate users during training.
Challenges of building a running tracking mobile app
It's no secret that developing a running mobile app is no easy feat. But when it comes to creating a running or walking tracking app, there are some unique challenges to take into account. GPS tracking can be notoriously inaccurate, especially when used indoors or in urban areas with lots of high buildings. This means that your app will need to be able to account for this inaccuracy and still provide accurate data to users.
Another challenge is getting people to actually use your app. There are already a ton of fitness apps on the market, so you'll need to find a way to make yours stand out from the rest.
That's why it's important to test your idea by launching MVP first, then adding extra features to provide a unique selling proposition, and finally creating a solid marketing plan.
There are a number of ways to market a running app, but some of the most effective include partnering with local running groups or races, sponsoring local events, working with fitness bloggers and influencers, and creating loyalty programs for users.
The Alternative-spaces team recommendations on building a running app successfully
Tip #1
When it comes to design, there are a few key elements that should be considered. First, the app should have a clean and simple interface. Second, it should be easy to navigate and use. Third, the app should be visually appealing. Fourth, the app should be responsive and fast. Fifth, the app should be compatible with both iOS and Android devices.
Tip #2
When it comes to developing a running mobile app, one of the most important things to consider is GPS tracking. GPS tracking can be implemented in a number of ways, but one of the most popular methods is to use the built-in GPS functionality of the smartphone. This is because it is accurate and reliable, and most people already have a smartphone with them when they go for a run.
Tip #3
Include a social element in your app. This can be something as simple as allowing users to share their runs with friends or connect with other runners in their area. A social community of like-minded people is a great motivator for people to stay active, as they can track each other's progress and compete against other users.
Tip #4
One way to differentiate your running app is through personalization. By offering unique features and customizable options, you can give users a truly personalized experience that will keep them coming back for more. Here are some ideas for ways to personalize your running app:
allow users to set personalized goals and track their progress over time
offer users different challenges or add gamification
let users customize their interface, including the colors, themes, and layout
With a little creativity, you can come up with even more ways to personalize your running app and make it truly unique.
Tip #5
Ensure your app is compatible with popular fitness tracking devices and platforms. This will make it easier for users to connect their runs with other data they're already collecting, and it will make your app more appealing to a wider audience.
Tip #6
Choose the right monetization model. There are a few key ways to monetize a running mobile app.
First, many running apps offer a premium subscription that unlocks additional features and content. This could include things like detailed performance tracking, personalized coaching, and exclusive access to certain training programs. Premium subscriptions typically cost a few dollars per month.
Another way to monetize a running app is through in-app purchases. This could include virtual goods such as new outfits for your avatar or power-ups that make you run faster. In-app purchases can also be used to unlock premium content, such as new routes or challenges. Finally, some running apps generate revenue through advertising. Advertisements can be displayed in the app itself or on the website associated with the app. Many running apps use a combination of these monetization strategies to generate revenue.
Tip #7
Choose robust technologies. To help you with the required tech stack for building successful run and walk tracking applications, we interviewed our best experts and gathered their recommendations in this table.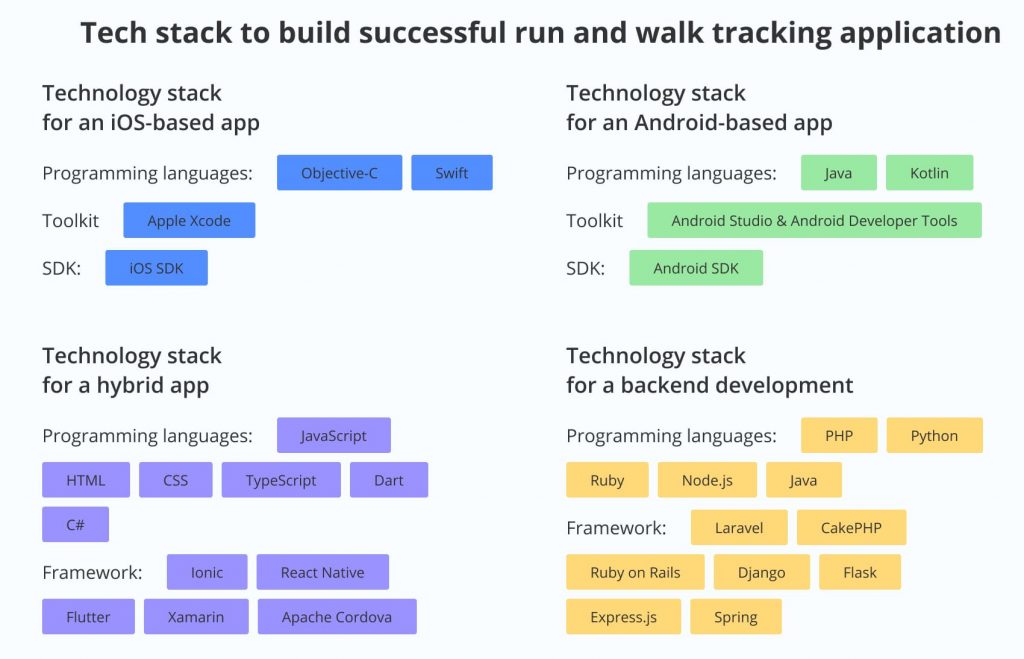 What affects a run app development cost?
The cost to develop a walk and run tracking app may vary depending on various factors. The most important factor is the concept or idea for the app. Other factors that can affect the cost include features, complexity, and platform. Generally speaking, an app with more features and greater complexity will be more expensive to develop than one with fewer features. Although making the precise cost estimation is pretty hard, here are some constant factors that influence run app development costs.
The platform you choose for your app development
The cost of creating an app does not differ much for Android or iOS whether you pick only one of these, the situation gets more complicated and expensive when you'd like to have both. They require different programming languages and use different and varied development tools.
Also, since the development of apps for these two platforms differs greatly, you will need to hire two different development teams and, basically, double the cost of app creation. If having your app available on both iOS and Android platforms is an absolute necessity, though, a solution could be hybrid app development. This way you will have a single app that will work on both platforms, but it will be less optimized and look/feel different on each.
Another thing to consider is how much the app will cost to maintain. Additional expenses can include updating the app to support new iOS or Android releases and changes in the OS, as well as accommodating different screen sizes and resolutions. So, while the cost of creating an app is important, don't forget to budget for its ongoing support and upkeep.
The app's complexity and feature set
When it comes to developing a walk and run tracking app, there are a few core features that are necessary for the app to be functional. These features include user registration and login, profile completion and editing, search, basic customer support chat, and a basic admin panel.
It typically takes up to 3-5 months to build these features. However, if you are looking for a more complex app with additional features like push notifications, voice coach, smartwatch connection, educational content, and personalization based on user data, then the development cost can go up to $150,000.
It takes 8-12 months on average to develop a complex run tracking mobile app.
The development team factor
When it comes to how much it costs to develop a walk and run tracking app, the size of the development team and their hourly rates are among the most important factors to consider. Another key factor is the pace of their work. If it takes longer for them to complete the project, the overall cost will be higher. The location also matters, with North America being the most expensive region for app development. Rates there start at $150 per hour, while developers in other regions, such as Eastern Europe and the UK, tend to charge from $40 to $70 per hour. Indonesia is the most affordable location, with rates starting at just $10 per hour. So, it's important to consider all of these factors when budgeting for an app development project.
The UI/UX design complexity
The cost of designing a mobile app is influenced by a lot of factors, such as the number of screens, the type of screens, and whether you want a native or custom UI/UX design. Native UI designs are usually more familiar to users and require fewer investments, but may not give your mobile app a distinguished brand identity. Custom UI designs facilitate distinguished user experience and solve navigation problems effectively, but require extra effort to ensure design accessibility and increased development cost. It ultimately comes down to your business goals and the expectations of your target users when choosing a UI/UX design.
How much does it cost to build a run and walk tracking app?
Below we provide estimated hours for making the MVP version of a mobile app for running. So, let's take the 5 product development stages of a running app and approximate time estimates required to implement it: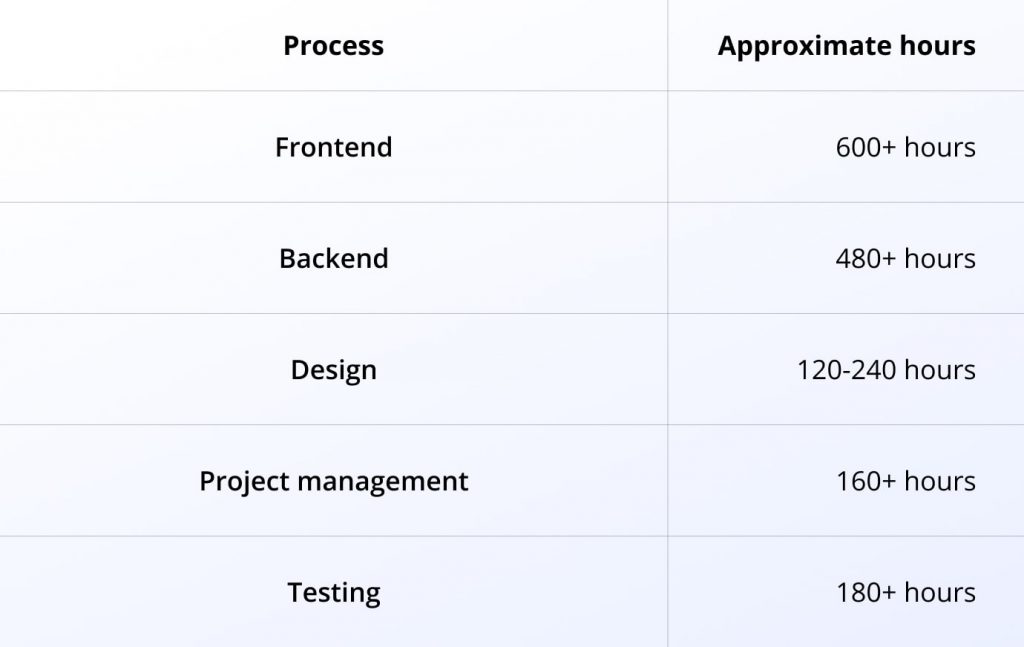 We also need to take into account the companies' rates, which differ from country to country. Below you can compare mobile development companies' rates.
Concerning the size of the development team, here is a list of specialists required to create a mobile app for running:
1 Project manager
2 Backend developers
2 Android developers
2 iOS developers
3 hybrid development specialists (in case of hybrid app)
1 QA engineer
1 UI/UX designer
You can use the following formula to roughly calculate app development cost: app development time X hourly rate.

Please note that this estimation is approximate since we don't know the peculiarities and details of your project. But we're always open to discussing your idea and providing an exact calculation of fitness mobile app development cost.
Alternative-spaces's experience with mobile app development for the fitness industry
When you are looking for a reliable run tracking mobile app development company, experience matters. Alternative-spaces has over two decades of experience in software development, which includes custom mobile app development for Android and iOS devices, as well as wearables.
Our team of experts can provide a broad range of development services from start to finish for startups, small businesses, and medium-sized businesses all over the world. We can help you execute your fitness app project according to approved requirements and within your budget. Alternative-spaces can also assist you with finding and incorporating the most suitable, up-to-date technologies as the market or your business objectives change. To learn more about our experience in fitness mobile application development, please check out our portfolio.
The Alternative-spaces development company has a lot of experience in creating user-friendly and intuitive applications, such as the Healthy Freelancer fitness app. This app was designed specifically to improve our expertise and deepen knowledge in developing and designing apps in the fitness industry. It provides users with simple tips and access to workout videos to improve the quality of their lives and work.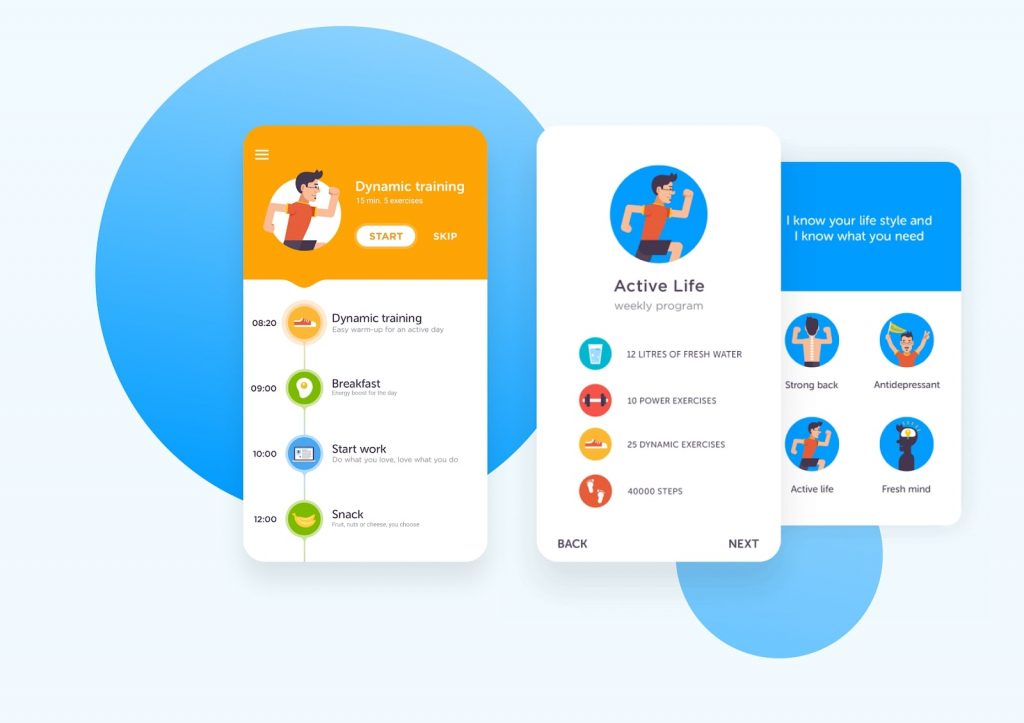 At Alternative-spaces, we pride ourselves on being able to develop complex solutions from scratch. This was the case with LiftSync – a fitness app that our team was tasked with developing. The app is unique in its focus on teams, as opposed to individual athletes. The app supports full metrics for teams and individual athletes, allowing users to track their progress. Other key features of LiftSync include workout metrics analytics, workout management, and a social component that can broadcast messages to teams or groups.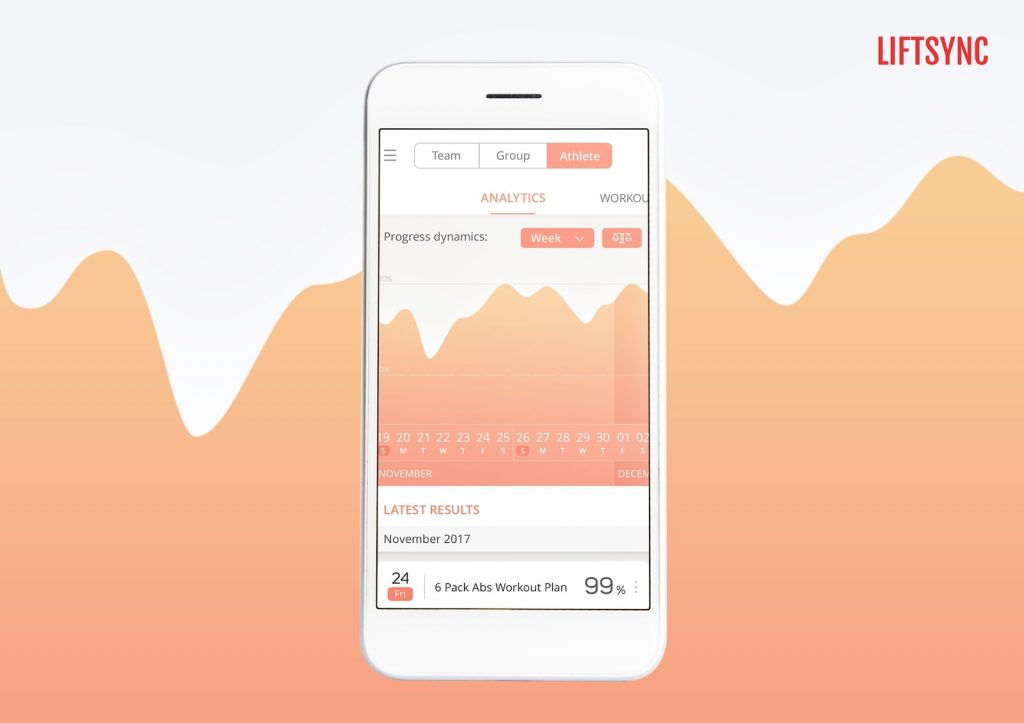 Key takeaways
Creating a running tracking app can be challenging, but with the right mobile app development services, it can be done effectively. Offer your users all the features they need while planning their running schedule. This will keep them motivated to use your app and not switch to another one.
Running apps can be great investments, both in terms of monetization and self-gratification. So, following these steps will help you be on your way to developing a successful app.
If you have an amazing run tracker app idea, reach out to our team of experienced developers. We will help you create a world-class running app that meets your business requirements.
Content created by our partner, Onix-systems.
Source:
https://onix-systems.com/blog/walk-and-run-tracking-app-development