Custom Healthcare CRM Development: Key Features and Cost

On this blog, we had briefly mentioned customer relationship management (CRM) software in the context of enterprises and travel and tourism. Now we'd like to elaborate on the role of CRM in healthcare.
Patients nowadays expect easy access to the healthcare system, highly personalized services, and privacy and security for their health information. They are more informed, involved in their own healthcare, and meticulous when it comes to selecting providers. The marketing departments of healthcare institutions need to adapt to these challenges.
At the same time, technology is revolutionizing how healthcare functions. As the number of touchpoints and data inputs increases, health systems need to collect, store, and analyze that flood of data more effectively. For improving patient outcomes, health care teams need a "single pane" view of each patient and tools for organizing the appropriate care and communications. Simultaneously with delivering truly patient-centered care, the healthcare industry strives to contain the operational costs.
A comprehensive health analytics and customer relationship management system provides a solution to the needs of patients and healthcare providers alike.
The Definition of Healthcare CRM Software
Generally, CRM software keeps the customers' and business data in order. A CRM system designed for the healthcare industry helps engage, acquire, and retain patients and improve care across the patient lifecycle. Besides hospitals, such software can be used by companies that deal with pharmaceuticals, medical supplies, or health insurance.
A healthcare CRM system, also called HCRM or medical CRM, integrates a consumer's social, behavioral, clinical, and financial details into a holistic profile. For this purpose, it weaves together electronic health records (EHRs), patients' interactions with the organization's web page and call center, provider credentialing, and even indirect sources like web traffic and subscription opt-ins.
HCRM can be built and customized to be integrated with existing EHRs, EMRs (electronic medical records), appointment calendars, radiology information systems, and other databases and care-delivery tools, as well as a Quality Management System (QMS). API integrations with a content management system (CMS) and marketing automation platform (MAP) facilitate the creation of personalized customer experiences in a scalable way. The software should also integrate easily with medical billing, accounting, human resources management (HRM), and other back-office systems. All of this reduces duplicate record keeping.
Healthcare CRM systems should be able to run on multiple devices and platforms. For example, physicians doing rounds or house calls need to access patients' records on tablets.
There are also legal and security requirements, such as the European General Data Protection Regulation (GDPR) or the Health Insurance Portability and Accountability Act of 1996 (HIPAA) in the United States. Medical CRM systems should help organizations handle patient information safely and put patients in control of their healthcare data in compliance with all applicable regulations.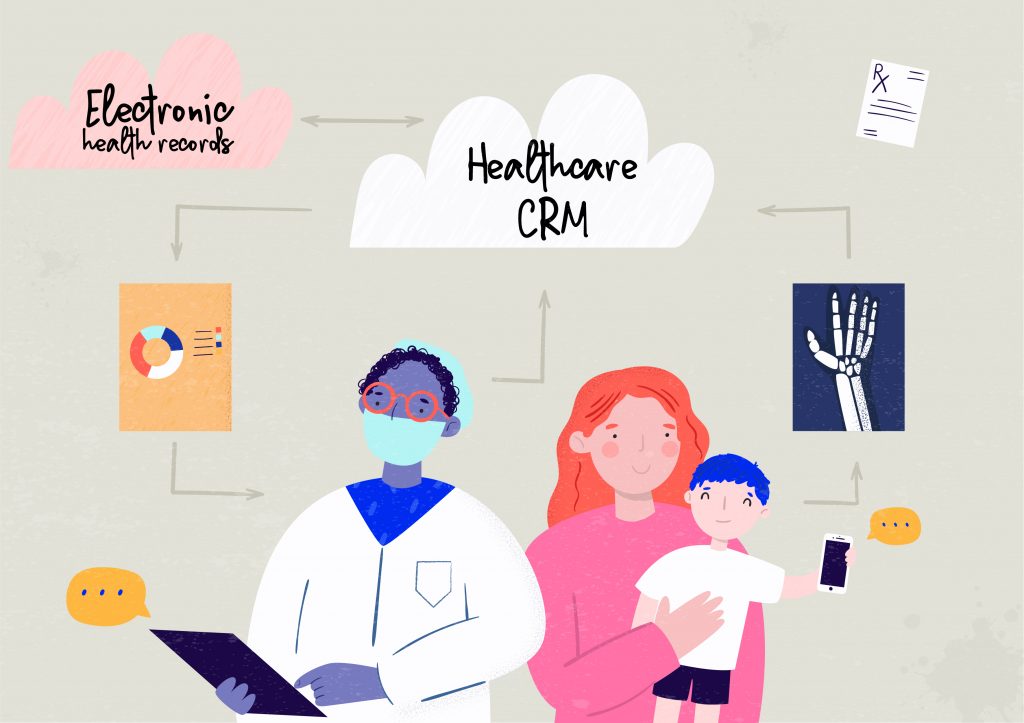 There are plenty of healthcare CRM solutions on the market, such as Salesforce Sales Cloud or Zendesk Sell. A single-physician practice has different needs than a large hospital or Health Maintenance Organization (HMO). Vendors should offer customizable features and capabilities to support the scale and size of different entities and to meet their specialty-related needs.
HCRM products include a unique mix of features, often more than one hundred, but primarily, they address the following areas.
Healthcare CRM Functions
Patient management
Healthcare CRM software helps medical staff handle appointments, documents, prescriptions, and other patient-related activities at any time from anywhere.
A calendar can automate appointment reminders, track appointments and no-shows, and help reschedule if needed. Automated management of patient information eliminates the need for patients to fill out forms each time. The integration with critical back-office systems ensures consistency across patient records and promotes timely filing of claims and invoices. Healthcare CRM systems can generate bills, track payments, and send automatic reminders if payments are not made on time.
The ability to generate and maintain detailed patient profiles allows healthcare providers to get a panoramic view of each patient, craft personalized customer journeys, and access powerful analytics and real-time reporting.
Team management
The best CRM solutions can make team management simple and fast — even from a smartphone. A task management tool helps assign work quickly, and integration with an HRM module facilitates managing employees' vacations, sick days, etc., as well as payroll.
Medication management
Some tools facilitate the management of medicines, for example, through sending electronic prescriptions to the pharmacy. Many patients also expect doctors to send them reminders about their medication intake. Some HCRM systems have a function that can do this automatically.
Communications
Healthcare CRM software facilitates secure and industry-compliant communication with current and potential patients through the channels they prefer. For example, the software can send out automated messages based on predetermined rules, such as:
appointment reminders;
post-appointment feedback surveys;
post-discharge and follow-up emails with health tips and relevant healthcare service suggestions;
discounts on prenatal yoga classes and advice to new moms;
birthday cards;
annual screening reminders;
welcome emails to first-time visitors of your website;
… and other communications that help build relationships with patients and prospects and improve their experiences.
Medical CRM solutions may come with a chatbot that can respond to patients' concerns 24/7. They also provide strategic insights for creating targeted content.
HCRM tools also facilitate sending tailored direct mail messages to patients and physicians. Such campaigns can include regular service communications, screening reminders, referral communications, nurse recruitment mailers, and more.
Fast and efficient communication between different providers, healthcare staff, and teams is essential. Sometimes, medical personnel use their own mobile phones and messengers like Skype and WhatsApp for professional communication, which is not secure. A medical CRM can serve as a safe centralized hub for transparent record-keeping that is synchronized across touchpoints. It would protect patients' health information through data encryption, multi-level authentication, digital signatures, etc., and support the storage and transfers of patient data in GDPR or HIPAA-compliant ways.
Marketing
Modern CRM tools help plan, implement, and review marketing campaigns across multiple channels: email, direct mail, SMS, and social media. But today's healthcare marketers need real-time or near real-time data from a whole robust platform that includes and integrates healthcare CRM, EHR, CMS, MAP, call centers, and a content rationalization system (CRS).
Many specialized CRM solutions allow segmenting patients based on demographics, psychographics, high-risk health issues, etc. They pinpoint the consumers who are likely to need a health system's services at a procedure level. This helps marketers create targeted marketing campaigns, and physicians precisely target groups of patients that are likely to be profitable. The availability of detailed patient profiles and integration with Facebook and other social networks facilitates sending newsletters with personalized health tips, educational event alerts, or discounts on appropriate medical treatments.
Cutting-edge tools with integrated email templates help distribute tailored engaging emails and manage deals easier. They track marketing progress throughout the campaign lifecycle, provide real-time information on performance, and deliver insights into success and failures. Reports on marketing campaigns and outreach efforts that attribute leads, conversions, and revenue to tactics, campaigns, and even their specific aspects make it easier for health systems to measure their campaigns' effectiveness and Return on Investment.
Dashboards and reporting
The growth rate for data in the healthcare industry is one of the fastest. On a modern healthcare platform, various healthcare data flows seamlessly across applications, devices, teams, and points of care. Medical CRM software should be able to analyze it to create all types of customized reports and provide a 360-degree view of the consumers. The analysis can produce valuable insights to drive the healthcare organization's administrative, marketing, and outreach efforts. For example, an open issues report may organize all patients' complaints or malfunctioning equipment.
Referrals management
Healthcare CRM software helps streamline and track relationships and coordinate the care across specialties, departments, and facilities. For example, if it detects that a patient whom a general practitioner referred to a specialist hasn't arranged an appointment, it will notify the healthcare facility. They will contact the patient and resume the interrupted care. There are also tools for monitoring trends, case and payer mixes, and overall impact of a healthcare organization's referral and outbound communication activities.
Recruiting management
Healthcare CRM tools also assist hospitals and specialty practices with recruiting physicians and nurses. There are tools for communications, management of outreach campaigns with response tracking and automated follow-up, and analytics. Response data and trends may help organizations refine their recruitment approach and stimulate interest.
The tools assist in tracking and management of all physician relations or physician liaison outreach activities and help tie changes in physician loyalty directly to physician relations/liaison actions. This empowers health systems to measure the impact of their outreach efforts and adjust their growth strategies accordingly.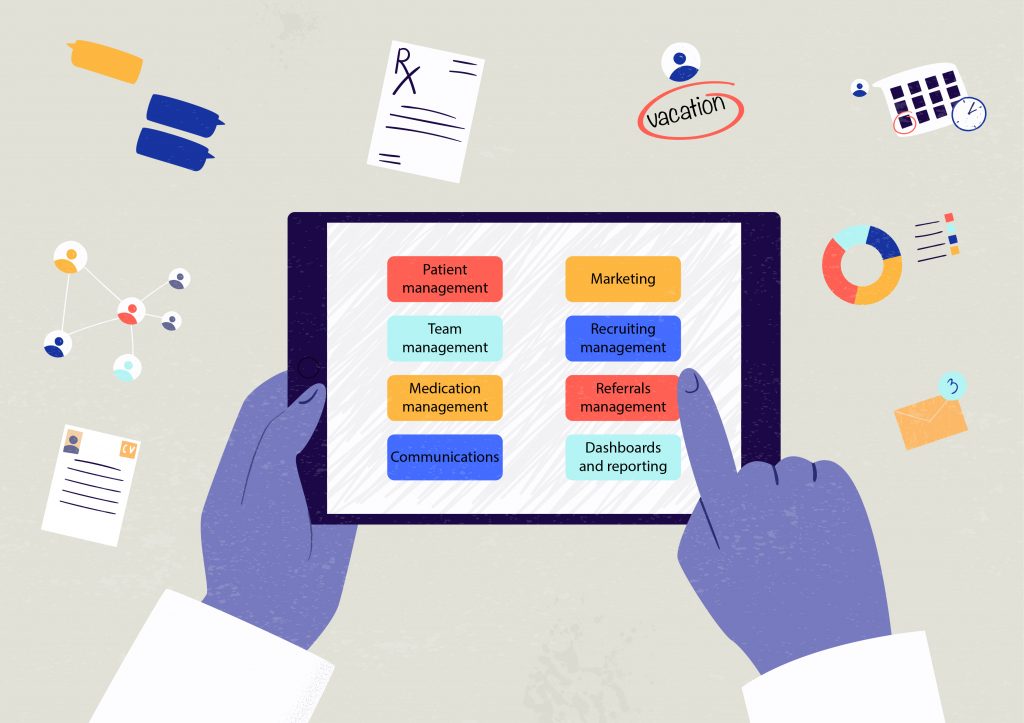 The Benefits of Implementing Specialized CRM in Healthcare
Patients
Healthcare CRM software helps ensure that patients have access to the right information and services in time. For example, a patient can schedule a blood test online and have it performed at a medical center on the same day. The sample will be analyzed immediately, and the patient will receive the results in a secure email. After exchanging emails with the doctor, an electronic prescription would be mailed to the pharmacy so that a local one-day delivery post can deliver the medication the next day. All of this can be done within 24 hours, minimizing the patient's anxiety and expenses and freeing up the medical team to deliver better care to more patients.
Consolidating information from various databases, partner applications, and services, HCRM systems permit healthcare providers a common view of each patient complete with medical history, appointments, insurance, preferences, and social determinants of health. For instance, in-home providers can assess the exhaustive information to identify factors that might bring the patients back to hospital. The resulting insights will help orchestrate reminders or targeted campaigns around relevant services. Nearly real-time updates to electronic medical profiles speed up patient service.
The analysis of patient feedback, complaints, and other gathered data helps healthcare providers evaluate the quality of their services and take appropriate and timely actions to improve them. For example, some organizations use medical CRM tools to collect, via email, the patients' feedback before and after a surgery and after the recovery. Similarly, health insurance companies collect feedback from numerous clinics to generate valuable reports.
Healthcare CRM tools also offer additional opportunities to maintain communication with patients and improve their health management engagement. For example, when a general practitioner refers a patient to a specialist, a skipped consultation may lead to health complications. Referral tracking and management tools reduce such risks. CRM tools can also send very useful content to targeted groups, e.g., segmenting families with children and sending reminders about the necessity of vaccination and how to do it.
Doctors and staff
Clinical care is increasingly complex. Health care teams need to act decisively and deliver coordinated care in all circumstances. HCRM tools make crucial patient information from various groups, devices, and systems that updates nearly in real time available when and where it is needed. They also ease the administrative workload, and automated messaging frees up the staff to better serve patients at the office.
A custom medical CRM system also can take care of doctors' schedules, for example, by finding the most suitable appointment slots, sending notifications, building routes for house calls, rescheduling appointments, and more.
Business
Medical CRM systems automate billing, resource management, customer service, and other internal processes and foster easy and secure communication and data exchange for the staff. They help synchronize healthcare management with providers and third parties like pharmacies or insurance agencies, monitor the sales pipeline, improve operational time and overall performance, and optimize expenses.
Real-time dashboards and reports give healthcare organizations an instant overview of their operations and performance and insights into patient data. They help streamline daily tasks to increase employee efficiency and customer satisfaction. The ability to improve patient satisfaction quickly based on a close examination of patients' feedback is another competitive advantage.
Cloud-based healthcare CRM solutions seamlessly record, transmit, and store patient data coming from more and more medical devices, applications, etc. They are equally suitable for small and large healthcare organizations and imply low maintenance costs.
HCRM systems can parse through the wealth of customer information to deliver actionable intelligence. The CRM-supported understanding of patient demographics promotes the adoption of high-value patients and prospects. Marketers can develop smarter strategies for the acquisition, engagement, and retention of customers, lowering customer acquisition costs.
The best medical CRM platforms create a 360-degree profile of each individual and a single coordinated view of the patient journey. Thus they empower marketers to personalize customer experiences and foster positive relationships. Better coordination with operations improves the customer journey, identifying points where patients drop out and taking steps to keep them engaged and motivated.
Final Thoughts
Just as the retail industry has embraced CRM platforms for sharing knowledge and omnichannel engagement, the appreciation of specialized CRM software is growing in the healthcare industry. It delivers many benefits, helping healthcare facilities orchestrate their internal processes and communications, acquire new customers, and guide and keep patients for life. Technology is redefining healthcare practices and processes and helps deliver personalized quality care faster and at a lower cost.
The growing focus on more value-based healthcare services, patient engagement, and higher customer satisfaction while containing costs stimulate the global healthcare CRM market. It should reach a value of USD 9.6 billion by 2026, growing at a CAGR of 10.4% from 2020 to 2026. Other drivers are the rapidly growing aging population and chronic diseases that demand frequent consultations and hospitalizations. The anticipated big data revolution, coupled with technological advancements in healthcare IT, will likely open new growth avenues for this market.
If you are an IT entrepreneur, it's reasonable to invest in your own software product. If you are a healthcare organization, you can choose from a plethora of healthcare CRM software on the market. However, each company is unique, and it may be challenging to find a solution that meets all your specific needs. A custom-built system can do that, as well as help you avoid unnecessary expenses on the unused modules of a ready-made solution.
If you have any questions or need help with realizing your project, please don't hesitate to contact Alternative-spaces' experts!
Content created by our partner, Onix-systems.