The Russian Invasion: What Is Happening And How You Can Help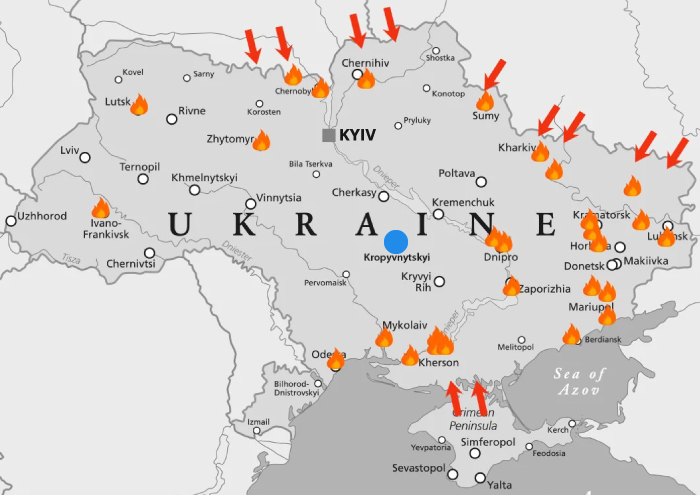 by Mila Slesar, Writer & Sergey Holin, CTO, Updated 03/13/2022
Alternative Spaces is an outsourcing software development company with headquarters in the San Francisco Bay Area. Our sister company, Onix-systems, has headquarters in Kropyvnytskyi, Ukraine. After working together for 15 years, we have developed a close bond, and we feel like Russia is brutally attacking our family. In fact, the civilized world is currently facing challenges not seen since World War II. Ukrainians are fiercely resisting the Russian invasion, and right now, they desperately need the support of the civilized democratic world.
In this article, you can learn specifically how to make a difference. At the end of this blog post, we have listed some reliable resources. We will first provide some context for a better understanding of the situation.
What Happened
For nearly two decades, Ukraine has been a major IT outsourcing hub, attracting the likes of Amazon, Apple, Google, IBM, and Oracle. The proximity to European and Asian markets and a massive pool of tech talent using a variety of programming languages are attractive for startups and established tech companies. Both have hired senior engineering talent, and contract dedicated teams from local IT firms.
In late 2021-early 2022, warnings from U.S. sources caused many Ukrainian and global companies with offices in Ukraine to develop plans to:
Promptly relocate employees and families to neighboring countries
Support those who stay in Ukraine
Secure backup communication methods
Temporarily transfer business-critical responsibilities to team members outside of Ukraine
Ukraine has been at war (albeit undeclared) for eight years, with the Russian Federation annexing the Crimean Peninsula and Eastern territories. The remainder of Ukraine lived peacefully, steadily growing the economy and implementing crucial reforms. Few expected a full-on invasion from Putin's regime.
On 24 February 2022, our colleagues and millions of people woke up at 5 am to see Ukrainian military bases, airports, enterprises, and residential areas across the country bombed, creating the largest invasion in Europe since WWII.
Russian forces have attacked Ukraine from the north, east, and south. Their air units are bombing cities and villages, destroying homes, schools, airports, railways, bridges, power plants, and killing many civilians. Russian land troops are trying to capture major cities, including the capital of Kyiv. The Russians have targeted nuclear power plants, keeping personnel hostage and threatening the world with another Chernobyl. Major roads to the West are gridlocked. Russian warships are bombing the entire Ukrainian coast.
Currently, there is no way to estimate the scale of death and destruction caused by Putin's aggression. However, Ukrainians are standing strong and fighting fiercely. While the Ukrainian Army strives to defend every city, town, and village from the Russian tanks and bombs, local men and women have joined the Territorial Defense Forces and are fortifying their towns.
Women and children are being evacuated to the safer Western region of Ukraine or abroad. Most neighboring countries to the West of Ukraine are allowing them through without visas and often even without a passport. Over 2,500,000 refugees have crossed the borders of Poland, Slovakia, Hungary, Romania, and Moldova. At the same time, thousands of people worldwide are returning to Ukraine to help their families or fight for their homeland.
Those who are in Ukraine, in cities and towns under attack, spend nights in bomb shelters and do whatever they can to support the army, help people in need, and carry on with their lives as much as they can working, operating businesses, and caring for their families.
What Is Going On In The Tech Sector?
This war is affecting many people working in the tech industry, especially in Europe and the U.S.
Many Silicon Valley companies with engineering hubs in Ukraine anticipated this and developed emergency plans to help people move. Currently, Ukrainian IT companies and branches of foreign companies that relocated continue their operations in the relative safety of Lviv and other cities in neighboring countries.
Others, who had little to no preparation for such an event, will likely feel a massive impact until things get back to normal. While some assist with urgent relocations, others may find out that their engineers are already in the middle of a war zone or have joined the army.
Since Ukrainian men aged 18-60 are not allowed to leave the country, it is not possible to evacuate male personnel. Still, many companies are helping move families and lend support to those needing to stay behind.
Firms like Alternative Spaces, have well-established daily communications and are working to facilitate the organization of outreach for humanitarian support and volunteer work. Managers are reorganizing their teams and finding ways to replace missing workers and reduce the workload on the most affected employees.
Some companies have responded by establishing emergency funds and extending relief to Ukrainian workers, sending developers 1-2 months' worth of salaries and bonuses ahead of time, and doubling the frequency of payouts. Many companies have committed to paying full salaries to employees joining the Ukrainian army or Territorial Defense forces for the duration of their service and ensure that developers who are in war zones will retain their jobs and will be paid in full.
Those tech specialists who happened to be outside Ukraine when the war began are qualifying for highly-skilled worker visas in several European countries. Experienced software engineers will have plenty of choices for moving within Europe, and expedited visa requirements that many European countries are expected to introduce will likely promote an influx of tech talent from Ukraine to Central and Western Europe.
Simultaneously, Russia and its ally Belarus are both risky for technology companies. Companies with tech employees in these countries can be expected to open offices and relocate employees to the EU to the extent that evolving visa rules will permit. Russian technology companies and their employees will most likely be prevented from working with European or U.S. companies as Putin closes communication channels.
The war has also raised the risk of severe cyberattacks that may affect the U.S. and European systems. The Kremlin and its cybercriminal allies will likely step up their attacks as the war continues.
Kropyvnytskyi
The Alternative Spaces team remains in the current relative safety of Kropyvnytskyi.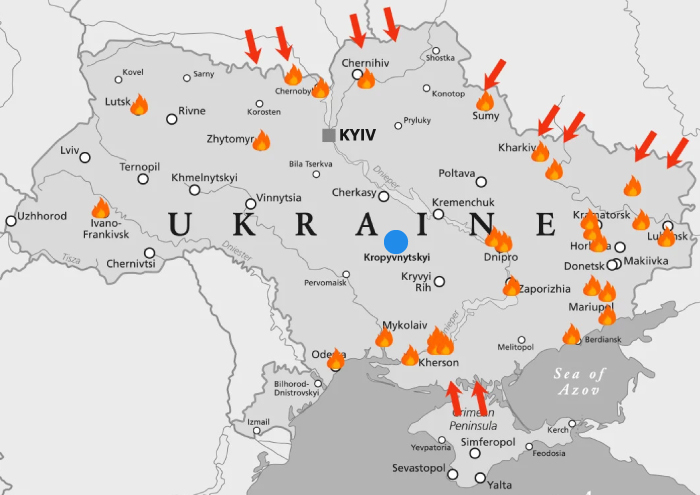 Our HQ is located at nearly equal distances from major battlefields. Like other citizens of Kropyvnytskyi, we support the humanitarian efforts and the Ukrainian armed forces, donate blood, take care of our elderly, children, and pets, host and feed refugees from other regions, and carry on projects and services! The damage caused has been minimal so far, despite the bombing of our airport.
Alternative Spaces partners and clients have been extremely supportive, generous, and loyal. We are doing our best to continue undisrupted service and keep up with project deadlines. We sincerely appreciate our clients who are allowing us extra time, acknowledging that the safety of every team member rightly comes ahead of anything else.
Nevertheless, all our systems are operational, the Internet connection remains stable, no client or user information has been affected, and we have taken extra cyber-security measures to preclude issues in the future. All information regarding our clients' projects and customer data is stored securely on cloud services, such as AWS, Digital Ocean, and Google Cloud Platform, and will be safe.
After Ukraine's Minister of Digital Transformation tweeted to Elon Musk asking for Starlink stations, the SpaceX founder promptly activated the satellite internet service in Ukraine to limit the disruption of Internet access.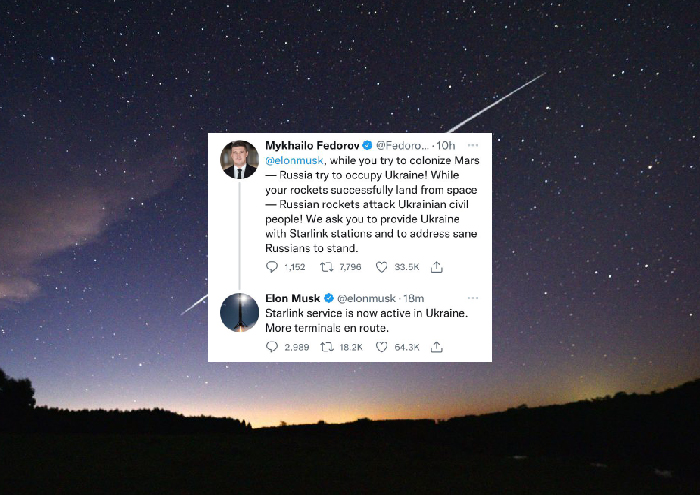 How You Can Help:
Spread the word and speak up.
Unless you are located in Russia or Belarus, it is easy to condemn the Russian military aggression and support Ukraine on social media or the streets.
Talk to your friends and colleagues about a historic humanitarian catastrophe that is happening in Ukraine and urge them to participate.
Contact your local, state, and national government officials to ensure they are pursuing economic sanctions against Russia, as well as funding much-needed humanitarian support for Ukraine.
Russia is blocking social media to remove unfavorable content and disseminate state war propaganda. Check your sources for getting accurate information, share verified news, fundraisers, and report fake messages, fraudulent activities, and inappropriate content.
Use the hashtags #StandWithUkraine, #SaveUkraine, #StopPutin, #StopRussia, and #WorldForUkraine on your social media to indicate your support and drive the world's attention to the cause.
Join protests worldwide or organize your own events to support Ukraine, demand actions to stop the Russian invasion, and raise funds for humanitarian efforts.
Help people and animals in Ukraine and Ukrainian refugees.
The UN projects more than 5 million people will soon flee from Ukraine. People escaping war often leave on short notice, taking young children, elderly parents, and pets with little to no savings and belongings.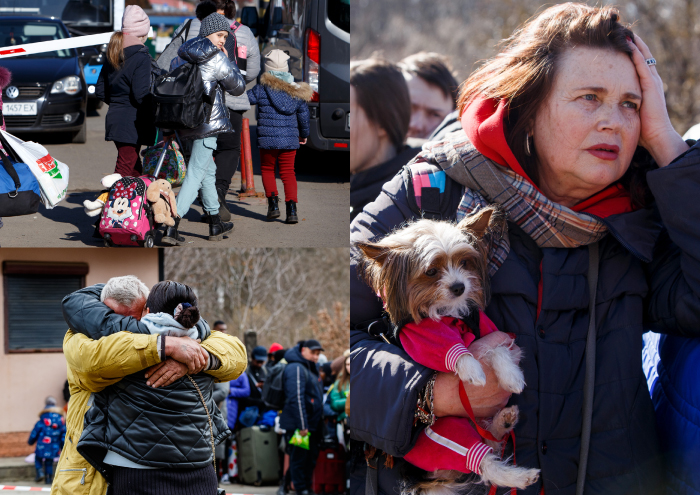 People in the EU and around the world can help refugees and relocated persons by:
Connecting with people and organizations that can help
Offering a room to stay overnight or for longer
Using apps like Airbnb, misterb&b or ICANHELP.HOST to help find shelter
Buying a meal, groceries, basic necessities, or medical supplies
Donating money to relevant national and international charities
Hiring Ukrainians so they can take care of their families
It's important to understand that people under attack in Ukraine, relocated IT employees, and refugees are all likely going through the greatest challenge of their lives.
Make donations.
Please open the PDF for donations through SMILE for direct donations to Kropyvnytskyi. We are grateful for any assistance you can provide to help us out.
You can also search at Help Ukraine Win or Support Ukraine Now for collections of resources and information on how people worldwide can help Ukraine.
The best immediate support of Ukraine's effort to defend its people and democracy is sending money to the Ukrainian Army. Save Life Foundation provides aid to the Ukrainian Armed Forces, military training, veteran associations, and independent media.
The National Bank of Ukraine has also opened a special fundraising account. It's possible to donate via bank transfer or in cryptocurrency. If you don't want to do anything with the military, please consider donating to any of the multiple noble causes providing humanitarian aid to Ukraine during this crisis:
Final Thoughts
Regardless of the participation you choose, please join the worldwide effort to stop this war and the horrible atrocities inflicted upon Ukraine.
Ukrainians are not only fighting for their lives: they are defending their freedom, safety for other European countries, and democratic values of the civilized world. They can't be left alone to battle the monster of a state that Putin's Russia has become.
If the war stretches out, more people will die, and more families will be forced to flee, increasing the burden on neighboring countries. Even assuming the war ends quickly, it will take time and huge amounts of money to rebuild Ukraine's infrastructure including housing, industry, businesses, and educational institutions.
Every dollar donated today increases the chance of saving someone's life, helps support Ukraine's victory, and contributes to restoring and rehabilitating our war-torn nation. At this moment in history, we are all supporting Ukrainians and democracy!
Content created by our partner, Onix-systems.
Source:
https://onix-systems.com/blog/how-ukraine-resists-the-russian-invasion