Top 6 SaaS Pricing Models and How to Choose the Right One

When it comes to starting a SaaS business, getting your pricing right is a vital step to make your business truly lucrative. However, sometimes, it might be hard for a SaaS company owner to decide on the proper pricing approach. To make it easy for you to get the decision right, we've gathered the most efficient pricing models and have provided practical advice on how to choose the best one that fits your business goals.
Before we consider different methods, let's find out what a pricing model is and why it matters.
The main idea of the SaaS pricing model
Pricing is the first thing any business owner should think about. The basic idea behind a SaaS pricing model is to set a specific cost for a specific product or service. In other words, customers have to pay if they want to use your services. However, it's important to remember that the pricing model for SaaS is not only about income, it's also about the value of your software. If the value your platform provides is weak, customers will simply leave.
In some cases, SaaS cost can be a determining factor in buying your services. Therefore, a well-thought-out and affordable price can help you beat the competition.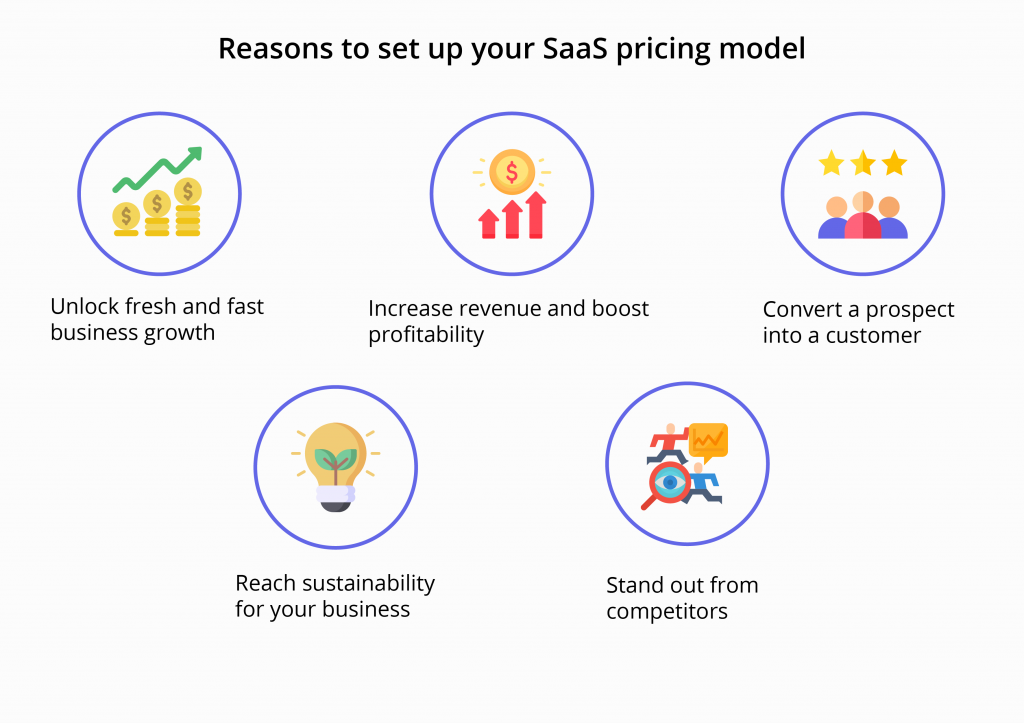 There are various available SaaS pricing strategies, so let's consider six of the most effective ones.
6 Win-win types of SaaS pricing models
#1 Freemium
People can use the platform for free, but with a limited number of features. If users are needing more functionality, they will have to pay to increase their capabilities. A popular SaaS that uses freemium is Notion.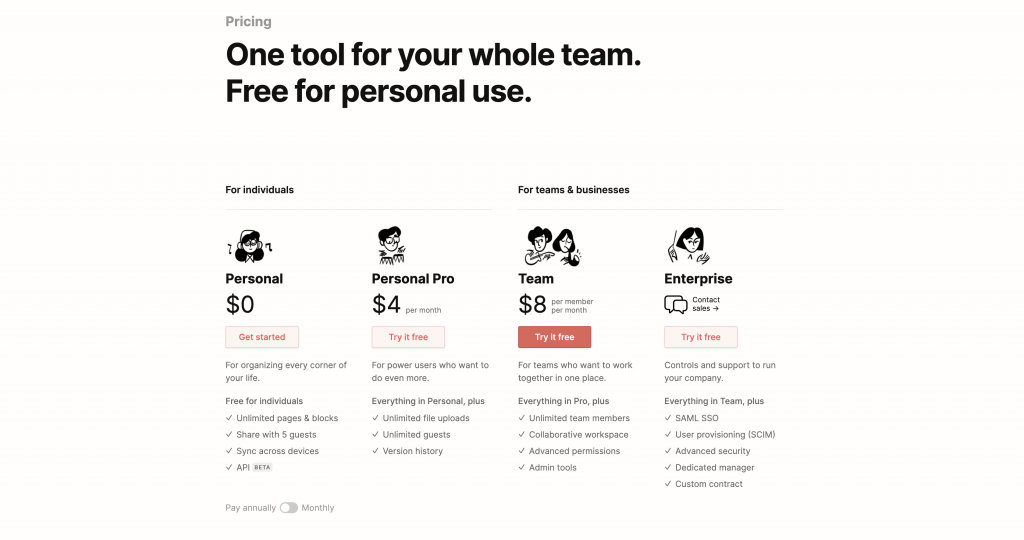 Advantages
It's easier to develop a large user base since you offer a free product
Great opportunity for free beta testing
Since you have a large customer base, you can collect essential data and feedback to create effective paid plans
Users are more willing to use free products, which can reduce marketing costs
Disadvantages
Low conversions rates
Users can try your product and leave quickly knowing they haven't paid anything
High cost for users support
No incoming revenue
#2 Feature-based pricing
This pricing model implies packages that contain a certain number of features. One customer can purchase a basic package, and those who need a wider set of functions can buy a premium package, but at a higher cost. For example, ActiveCampaign applies this model.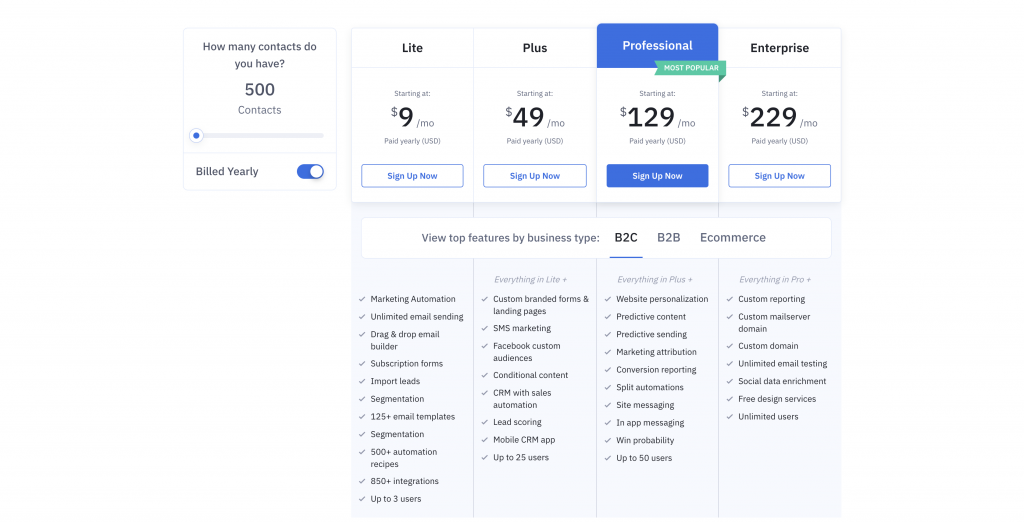 Advantages
Users are more willing to purchase services as they clearly see what they are paying for
This can be a good incentive for users to buy more advanced packages
An opportunity to target multiple buyer personas
Disadvantages
It can be hard to determine what set of functions should be in a certain package
#3 Flat-rate pricing
One may say that this is the easiest way to price a SaaS business. Users pay a fixed price for using your software regularly. Usually, a fee is charged monthly or once a year.
For example, Basecamp uses this SaaS model for pricing.

Advantages
This model is simple, transparent and it's easy to sell
Since you have one package, it's easy to promote
Disadvantages
No flexibility for users with different needs
It's hard to get maximum income from your varied user base
If the price doesn't fit users, they will simply leave, no compromises
#4 Per active user pricing
This enterprise software pricing model allows companies to purchase software for widespread use and not be concerned that they will spend too much since they only pay for active users. Probably the most popular example is Slack.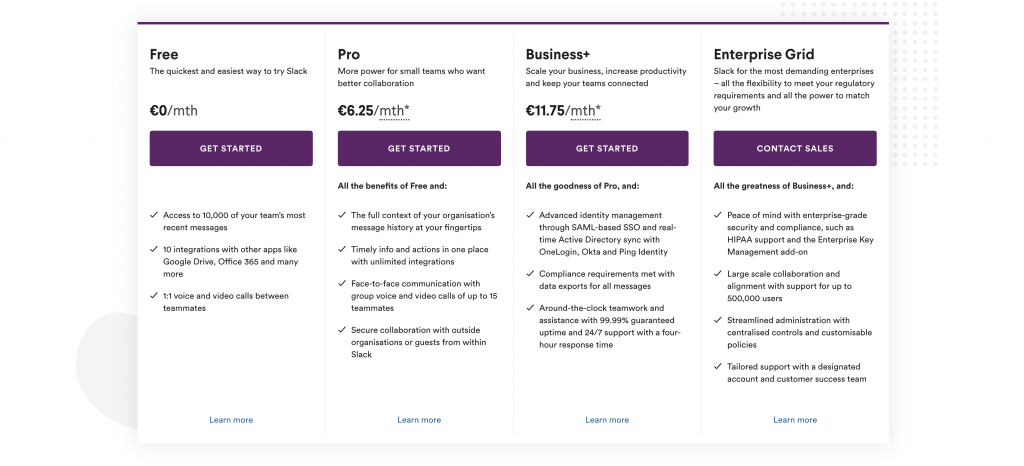 Advantages
Since you know how many active users you have, you can more easily predict your income
You can attract large companies easier because this model can be a cost-effective option for them
Disadvantages
It's hard to attract small businesses
Users may decline your services or abandon your software more quickly
#5 Tiered pricing model
This SaaS billing model allows consumers with varying requirements and budgets to decide the most suitable set of services for them. Namely, you can create different packages at different costs depending on the features they contain. A good example is Hubspot.

Advantages
You can easily attract an audience with different demands
Users are more loyal as they have several options to choose from
Disadvantages
It can take you a lot of time and effort to analyze the market and design packages for each target audience
Variety of packages can be confusing for users
#6 Per-storage pricing model
This is one of the basic pricing SaaS models. Users pay for the space they need. The cost will vary according to the amount of space. For instance, Dropbox offers some storage for free, and if users require more space, they pay accordingly.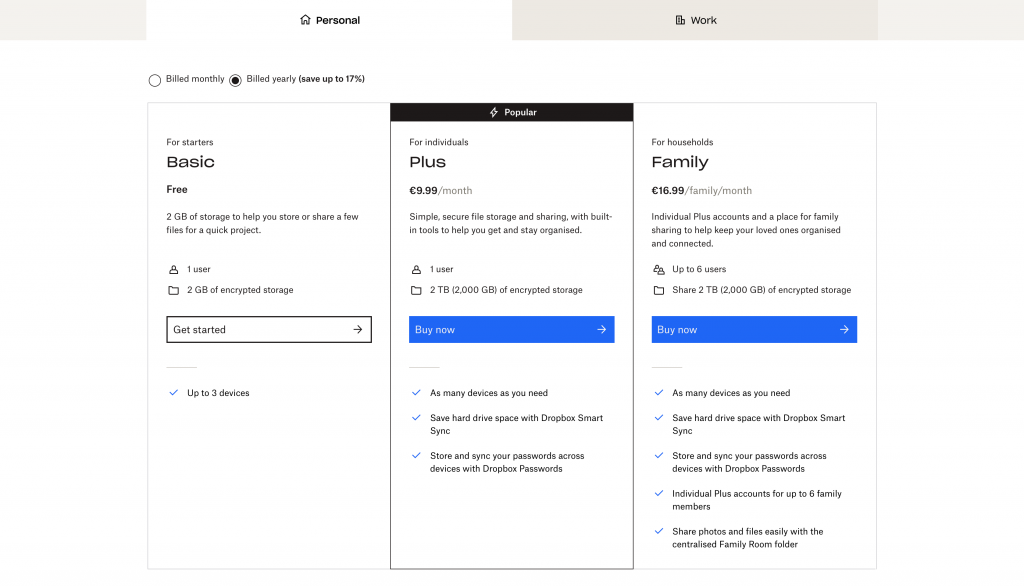 Advantages
You can allow people to become acquainted with your software making them more willing to purchase additional space
Disadvantages
Be careful not to offer too much free space as it can rob you of profitable users
It can be costly to support non-revenue producing users
To sum up, here's a table comparing the six pricing models we've talked about. It contains useful information that can help you make the right choice.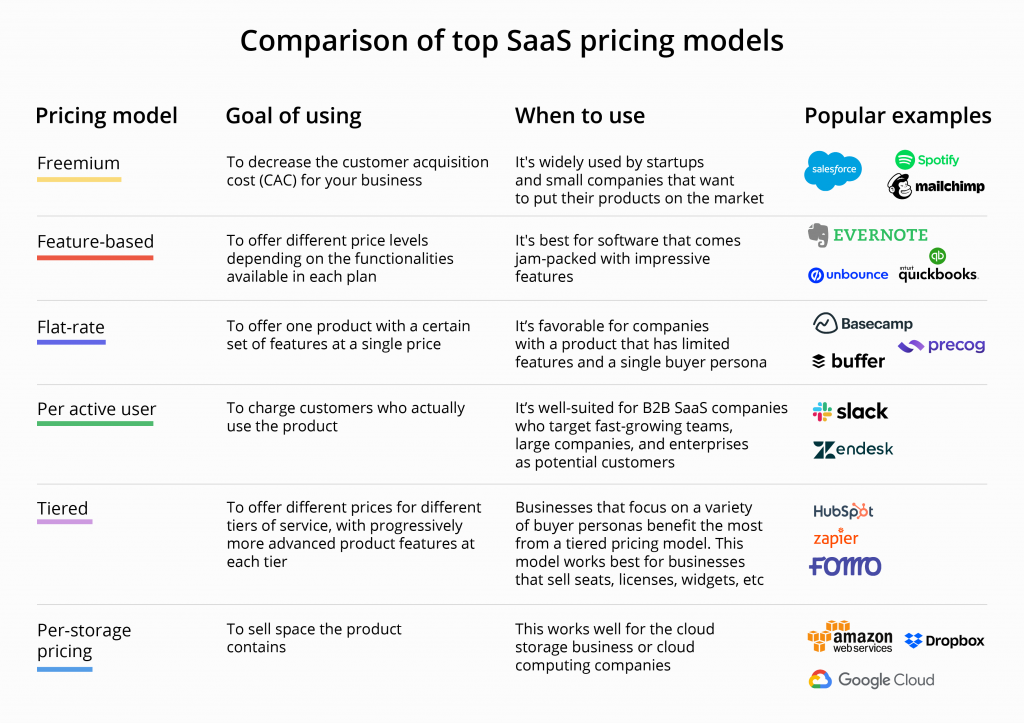 Now that we've considered pricing models for SaaS and know their pros and cons, it's time to find out how to choose a strategy that will ideally fit your business and bring a good income.
How to price your SaaS: 7 effective tips
There are a wide variety of strategies to price SaaS. But how should you choose a winning tactic that really works? To make the right choice, answer the following questions:
What is your target market? What is its spending power?
Do you understand how your competitor's price and charge their users?
How are you different from the others?
Does your product offer enough value to successfully sell it?
What is your customer lifetime value to customer acquisition (LTV/CAC) ratio?
Is your pricing model easy to understand?
What are the fixed and variable business costs you need to cover?
By answering these questions, you will receive valuable information, based on which you can eventually form a solid pricing model.
To make it easier for you to price your SaaS, you can divide this process into different stages and take things one step at a time. Below you can see a checklist that facilitates the process of finding your ideal pricing model.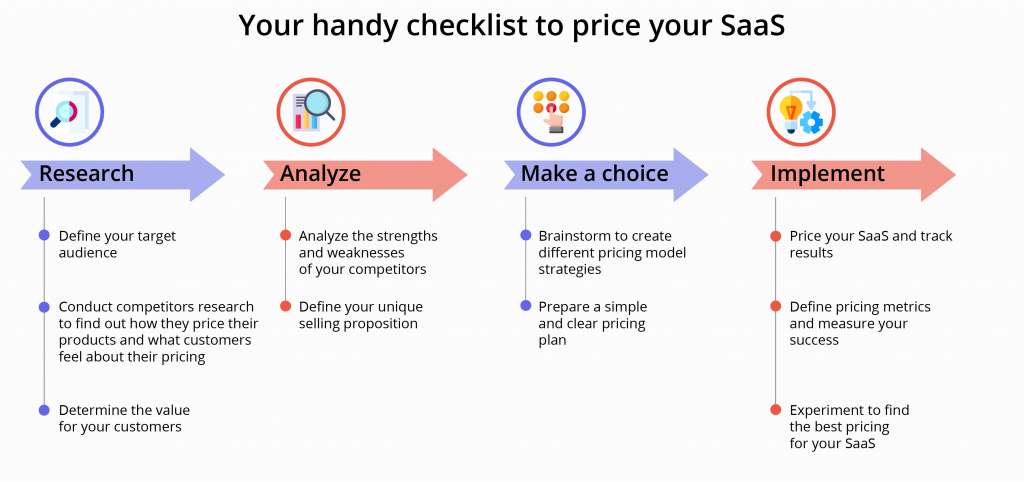 Now, let's dig a little deeper and look at the most efficient best practices you can follow to find a pricing model that aligns with your business goals.
1. Define your market segment
Your target audience is fundamental to implement an efficient pricing strategy. You can promote the best platform with the greatest features, but if you are not targeting the right market, it likely will not sell. Thus, first and foremost you should conduct market research. The data obtained will help you to better comprehend your clients' demands and define the best approach towards pricing.
2. Find a balance between value and revenue
"Price is what you pay, value is what you get." — Warren Buffet
When defining your strategy, you should focus on a value-based model, rather than a cost-based one. If you charge too much for your potential customers' needs, they may not buy your services. To price your SaaS effectively, you should find a balance between the value your customers get from using your software and the revenue you're going to earn.
3. Know your customer lifetime value to customer acquisition ratio
Customer lifetime value to customer acquisition (LTV/CAC) ratio is a particularly significant metric for SaaS businesses that measures the value of a customer over their lifetime and the cost of acquiring them. Knowing your LTV/CAC ratio allows you to understand whether your business is ready for sustainable growth, define what customer segments have the greatest value, and distribute funds to the necessary channels.
4. Keep your pricing simple
The simpler your pricing, the higher rate of packages acquired. Make it easy for people to understand what value they get, what features they can use, and what payment for your services are. Simple and clean tiers are a good chance to increase purchases.
5. Mix different models to get the most out of your SaaS
Don't limit your SaaS to only one pricing approach. Feel free to mix different methods according to your audience and see what works for your business, and which ones are better to stop using.
6. Measure your results
There is a wide range of SaaS metrics to help you understand how well you are doing with your business. For example, customer lifetime value, customer acquisition cost, and so on. These metrics allow you to find out which cost models work best and ultimately help you increase your customer base and achieve great results.
7. Implement, test, iterate
There are no hard and fast rules to select cost models. You should always analyze your target audience, do enough research, choose the most appropriate SaaS pricing approach and test what works for you. It's always useful to experiment with several strategies to find the best for your goals.
Ready to get the most out of your SaaS?
Any SaaS should pay attention to its pricing plan. Applying the above-listed pricing models and strategies, you can boost your business and increase profits significantly. As you can see, there are various pricing models. This diversity allows you to choose the most viable one that perfectly fits your specific business needs. Sometimes it's vital to experiment and reconsider your pricing. Thus, your SaaS business will stay ahead of the game increasing profits and growth.
The most important task is to implement these models correctly so they're beneficial to your business. Reach Alternative-spaces to get a technologically advanced and cost-efficient development solution.
Content created by our partner, Onix-systems.