Why you should start a Neobank in 2022: A Step-by-Step Guide on Neobank Development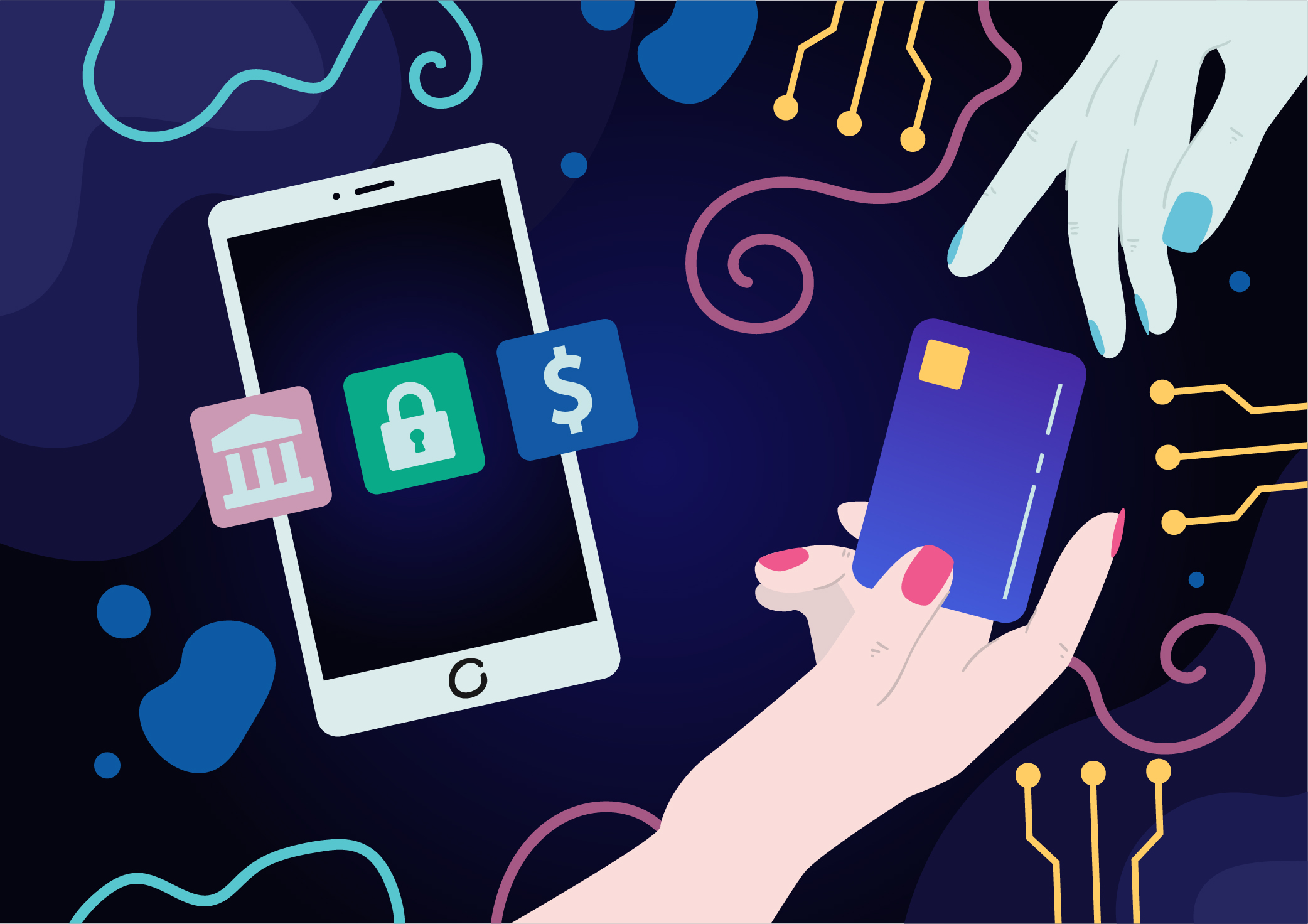 It's no secret that neobanks are on the rise. In fact, a study by Boston Consulting Group found that neobanks are growing three times faster than traditional banks. So what is driving this growth? And how can you get in on the action?
In this article, we will walk you through everything you need to know about building a neobank – from development costs to features required. Let's get started!
The Neobank Concept Explained
A neobank is a digital bank that offers its services exclusively through a mobile app or online. There are a few key differences between traditional banks and neobanks.
First, neobanks don't have any physical branches. They're entirely online or mobile-based. This makes them much more convenient for customers who want to do their banking on the go.
Second, neobanks tend to have lower fees than traditional banks. This is because they don't have the same overhead costs associated with running physical branches.
Finally, neobanks often offer more innovative features than traditional banks. For example, some neobanks offer customers the ability to automatically save money based on their spending habits. The innovation and modern approach to customer experience make neobanks highly demanded among users today.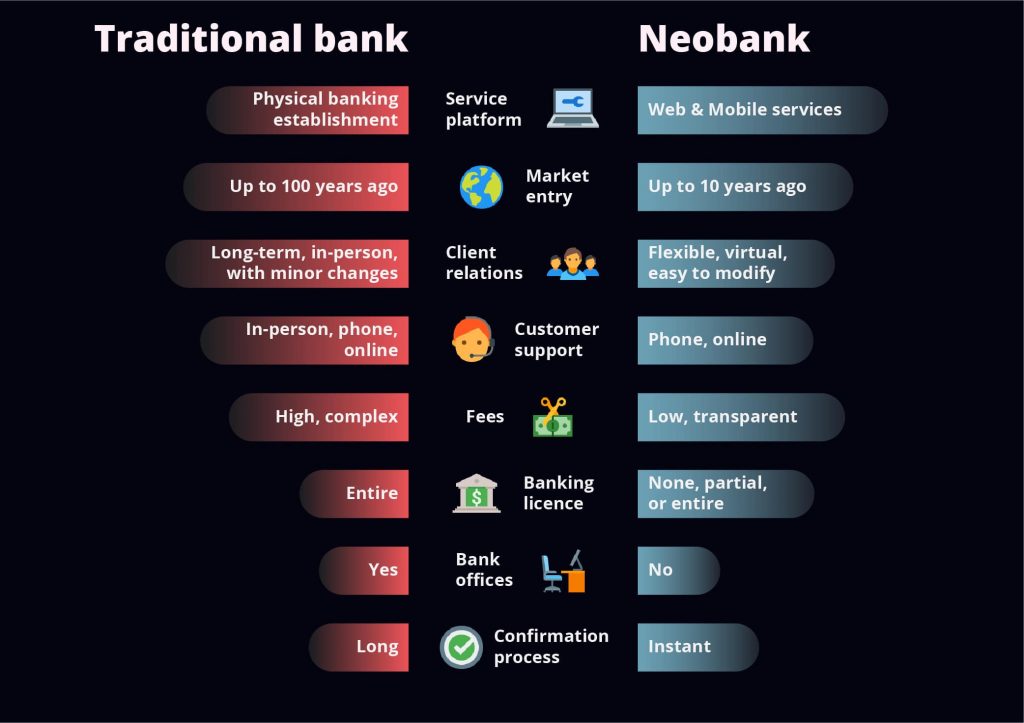 In general, there are three types of neobanks: independent neobanks, big tech neobanks, and neobanks from traditional banks. Each type has its own set of features, costs, and technologies required.
Independent neobanks are startups that have built their business model around a mobile app from scratch.
Big tech neobanks are online-only banking services launched by technology companies such as Google, Amazon, or Facebook.
Neobanks from traditional banks are online banking services launched by incumbent banks.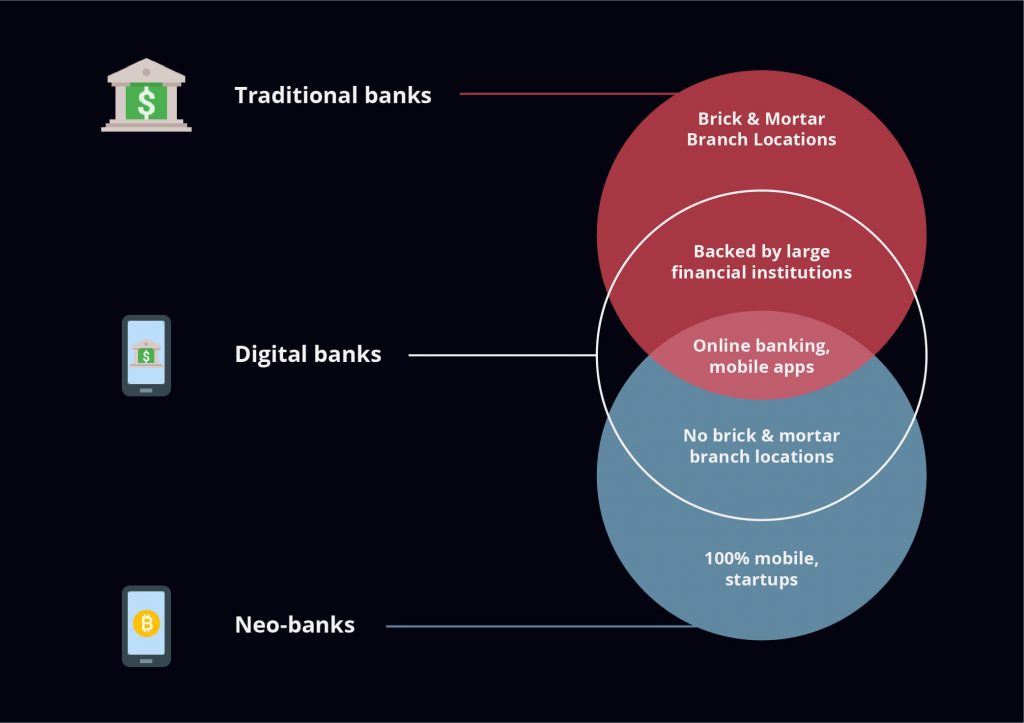 In addition, there are a few different neobank models that have been adopted by startups around the world. In the US, we've seen companies like Chime and Varo Money launch full-service neobanks that offer everything from mobile checking and savings accounts to personal loans and investment products. In Europe, meanwhile, startups like N26 and Revolut have focused on offering digital-first banking experiences with minimal fees and a great mobile experience. And in Asia, we've seen neobanks like WeBank and Kakao Bank launch with a focus on providing innovative financial services to underserved populations.
No matter which model you choose, there are key factors you need to consider before starting your neobank app. And we will talk about these factors below.
Why Should You Start a Neobank in 2022: a Market Overview
The neobanking market is growing rapidly in the United States, Europe, and Asia. In 2020, there were over 60 million Americans using neobanks, and that number is expected to grow to over 80 million by 2025. This growth is being driven by a number of factors, including the increasing popularity of mobile banking, the rise of digital nomads and freelancers, and the growing number of people who are tired of traditional banks.
The neobanking market in Europe is expected to grow at a CAGR of 53% during the forecast period (2022-2030). This growth is attributed to the rising demand for mobile banking services, the growing adoption of digital banking among millennials, and the increasing need for financial inclusion.
The neobanks market in Asia is currently small but growing rapidly. In 2020, the region's neobanks held a total of US$24 billion in deposits, up from just US$11 billion in 2019. This growth is being driven by the increasing number of people who are comfortable using online banking services.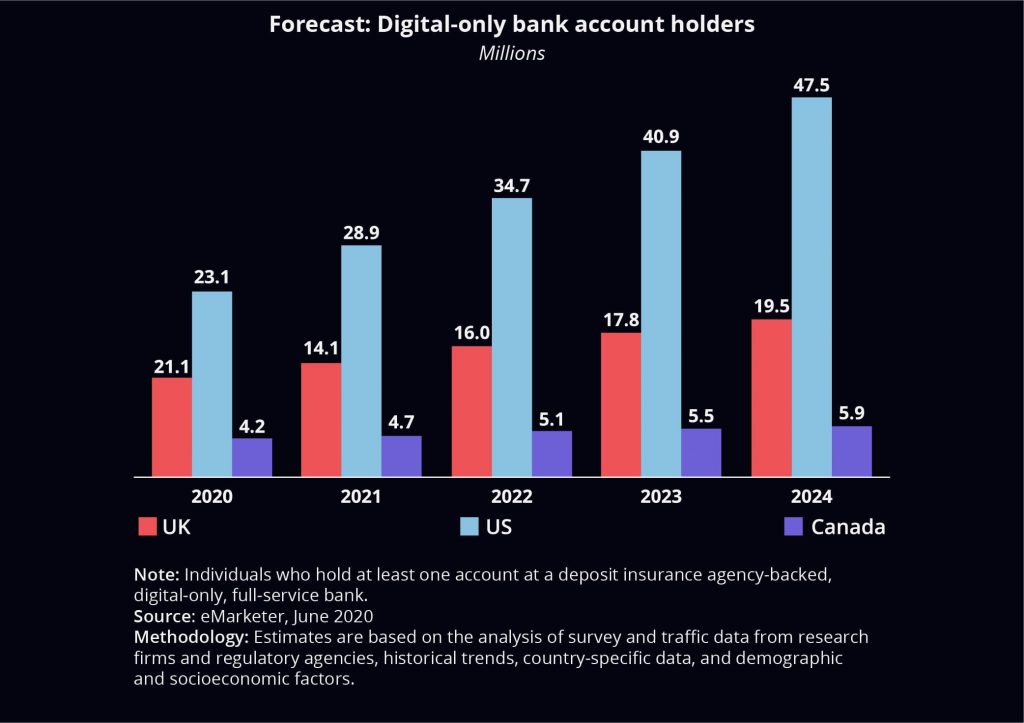 Key Benefits of Neobanking
Convenience
The convenience of neobanks is one of their defining features. Customers can do their banking anywhere, anytime, and from any device. This is made possible by the fact that neobanks are built on mobile platforms. Unlike traditional banks, neobanks don't have brick-and-mortar branches. This allows them to offer their services at a fraction of the cost of traditional banks.
Agility
Another important benefit of neobanks is that they are much more agile and innovative. Because they don't have the legacy systems and processes of traditional banks, they can move much faster to implement new technologies and offer new services. This agility gives them a significant competitive advantage over traditional banks.
Boundlessness
One more of the key advantages that neobanks have over traditional banks is their openness to the international market. This is due to the fact that neobanks are not bound by the same regulations as traditional banks. This means that they can offer their services to customers in any country. This is a huge opportunity for neobanks to tap into the global market. In fact, many neobanks are already starting to expand their operations into other countries.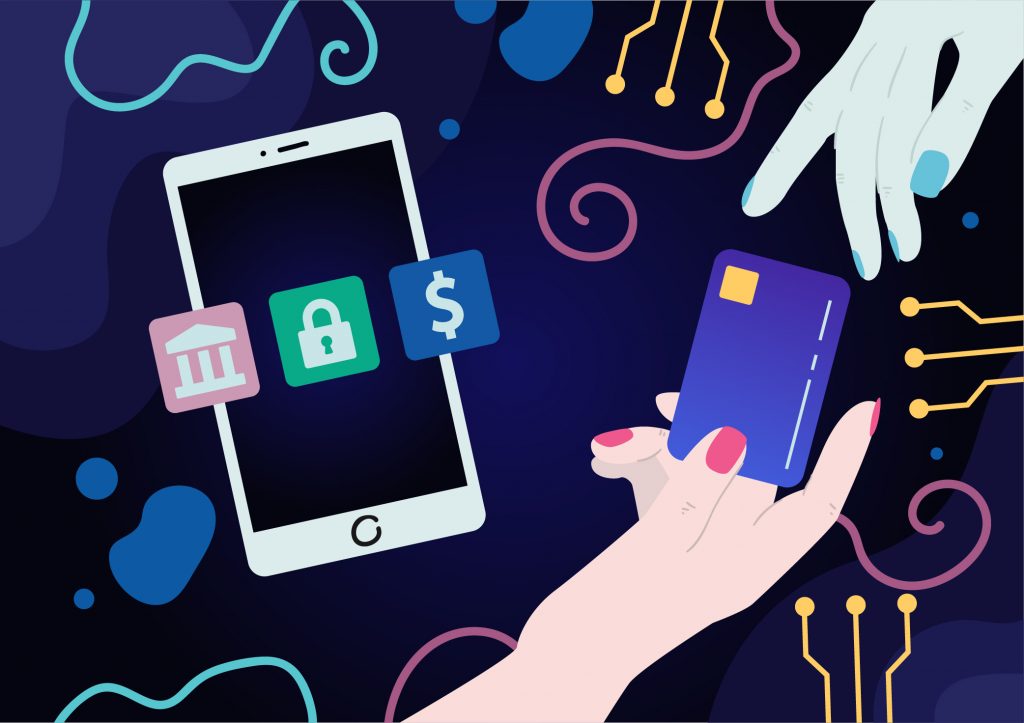 Quality
Finally, neobanks can be much more customer-centric than traditional banks. They are built around the needs of their customers and may offer a superior customer experience. This focus on the customer is one of the key reasons why neobanks are growing so rapidly.
Accessibility
Because neobanks have lower overheads than traditional banks, they are able to offer their services at a lower cost. This means that neobanks can be a great option for people who are looking for an affordable, flexible way to the bank.
So, if you're thinking about starting a neobank, now is the time to do it. There is a huge opportunity for growth in this sector, and you can be at the forefront of this exciting new industry.
Main Players On the Market: Examples of Popular Neobanks
Monzo
Monzo is a UK-based neobank founded in 2015 by Tom Blomfield, Jason Bates, Paul Rippon, and Jonas Huckestein. Monzo has been referred to as a "challenger bank". As of September 2019, Monzo had over three million customers. The company is valued at over $US one billion. Monzo has raised over £330 million from investors including Passion Capital, Y Combinator, Accel Partners, and Thrive Capital.
Monzo offers a mobile app-based current account that can be opened in under eight minutes. The account comes with a contactless Mastercard debit card which can be used to make payments and withdrawals.
Monzo also offers a range of features including in-app spending tracking, notifications, and budgeting tools. In July 2017, Monzo launched its first product for businesses; a business current account. In September 2018, Monzo announced that it was planning to launch customer lending products. In October 2018, Monzo launched its first physical product, the Monzo Plus subscription. For a monthly fee of £14.99, Monzo Plus customers receive a number of benefits including an upgraded debit card, higher withdrawal limits, and exclusive customer support.
Monzo has been praised for its transparency around its pricing and products. The company has also been praised for its customer service. In 2018, Monzo was ranked as the number one bank in the UK for customer service.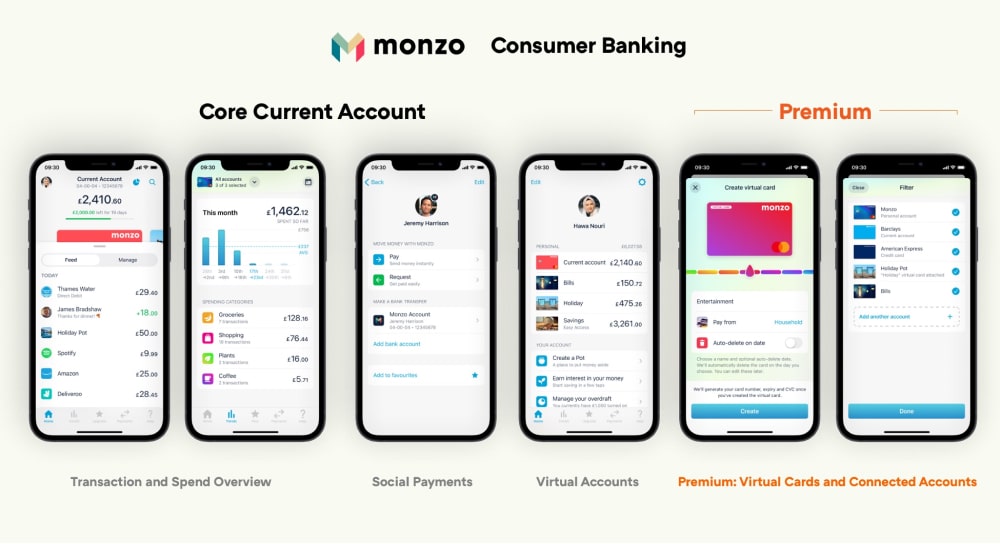 Chime
Chime is a neobank that offers mobile and online banking services with no fees. It was founded in 2013 and is headquartered in San Francisco, California.
Chime has over two million customers and is one of the fastest-growing neobanks in the United States. Chime offers a variety of features that make it unique among other neobanks. These include early direct deposit, mobile check deposit, and a savings account that automatically saves money for its customers.
Chime also offers a debit card that can be used with any ATM in the world without incurring any fees. Chime is one of the most popular neobanks in the United States because of its unique features and its commitment to customer service. If you're thinking about starting your own neobank, Chime is a great example to follow.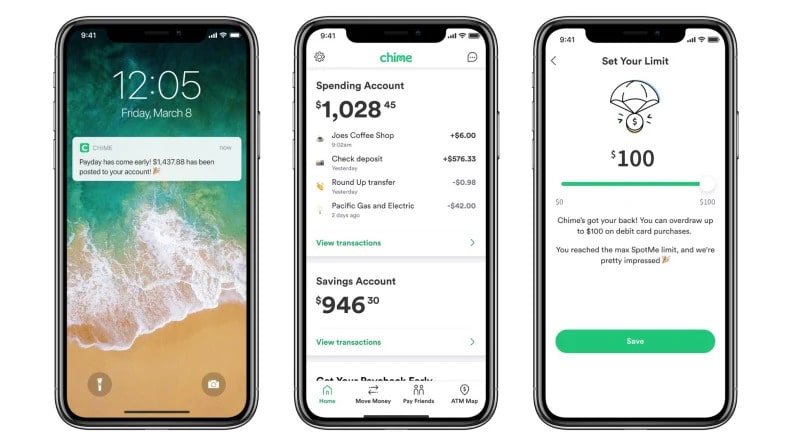 Revolut
Revolut is a digital bank founded in 2015 by Nikolay Storonsky and Vlad Yatsenko. The company offers banking services including a multi-currency account, a debit card, currency exchange, peer-to-peer payments, and mobile phone top-ups. Revolut has received over $500 million in funding from venture capitalists including DST Global, Index Ventures, and Ribbit Capital. As of today, Revolut has over 18 million personal customers and 500 thousand business users. Another popular feature of Revolut is its fee-free foreign exchange. This allows users to send money abroad without incurring any fees. Revolut also offers a number of other unique features, such as the ability to hold multiple currencies in one account, and instant notifications when there are changes in the exchange rate.
To start a neobank like Revolut, you will need to obtain a banking license from a regulatory body such as the Financial Conduct Authority (FCA) in the UK. The process of obtaining a banking license can be lengthy and expensive, so it is important to consult with experts in the field.
Features to Build a Robust Mobile Neobank App
Authentication
When it comes to security, one of the most important features of a neobank is biometric identification. This ensures that only authorized users can access the app and their data. There are many different types of biometric identification, but the most common ones used in neobank apps are fingerprint and iris scanning.
Another important security feature is two-factor authentication. This means that in addition to a password, users must also enter a code that is sent to their mobile phone in order to log into the app. This makes it much more difficult for someone to hack into an account. Finally, neobanks typically use encryption to protect user data. This ensures that even if someone were to gain access to the data, they would not be able to read it.
Single-screen transfers
Traditional money transfers have long become a part of our daily routine, ideally made within a no-click to a few-click mobile journey. Why are fintech startups winning this competition providing any bank offers money transfer services? That's an easy one. Improved user experience and multiple payment options your users can make from a single screen are the answers.
Multiple payment options
Speaking about payment options, person-to-person transfers are very much in demand nowadays. This can be done in a variety of ways, API integrations with third-party services being one option. All in one, sending money through a variety of channels like A2A, P2P, ACH, and services like PayPal is what your users already expect your financial institution to offer them.
Customized UX
It's not only about having a mobile banking app anymore. Your users would like to have some kind of interaction with their app to customize their banking experience. For instance, wouldn't it be great to leave digital personal notes near your receipts? Add a search engine that allows your end-users to find what is needed based on those personal notes on top of that and here we have your customized user experience.
Gamification
Your users would never be bored with a new gamified process. Some neobanks have already added movable gamified icons to their UIs. This gamification element allows users to personalize their accounts while playing with the icons. Your online banking users can apply these little pics/icons to mark their receipts and visualize/automate their personal notes.
Let's say a user needs to add a note to their receipt. This takes time if adding a real written notice. Although if you add a 'home' icon to your receipts connected with home costs and a 'baby' icon to the receipts on the costs you've spent on kiddos, this will easily help to visualize what's going on with your receipts/banking messages. Another option could be building a digital hero around your brand, be that a naughty cat, a powerful buffalo, a small birdie, a mighty lion, or a humble penguin.
Easy account opening
Believe it or not, gamification can be a part of online account opening as well. Prepopulation of eligibility fields done by a simple process of taking a photo of your driver's license or a national ID would add loyalty to new users. From the corporate perspective, quick identity verification is recognized to be the most cost-effective means of acquiring new business and automating asset gathering.
Biometric technology
What are neobanks? In short, they are cutting-edge technology. Younger age groups appreciate no-password authentication enabled by eyeprint or ear scanning technology. One of the authentication layers of logging in can be enabled via biometrics like fingerprint recognition, eyeprint or ear scanning. This technology choice usually adds positive and even excited end-user feedback on social networks and as app store reviews. Moreover, multi-factor authentication means better security.
Real-time fraud detection
Out-of-pattern behavior detection is another feature that adds to your users' security. A fraud detection system for online banking might be based on users' behavior patterns and location detection. Out-of-pattern behavior and a location change can be seen as evidence of fraud. A significant deviation from usual transfer amounts and a change of the device used to access the accounts are other evidence of potential fraud hidden in the algorithms of digital FIs.
Mobile marketing
Behavioral analysis is also useful for marketing campaigns of digital banking service providers. Providing targeted campaigns are in use, the 25-35 age group might see mortgage banners and the 55+ age group may see a pension program campaign. Fintech neobanks apply data analytics and metrics to qualify and generate leads, and to promote new products adoption more efficiently.
Online lending
Easy choices with predefined criteria are what users of online lending services desire. Neobanks offer rules-based funding approvals. All of this increases the value of neobank services to their end users facilitated by special algorithms to qualify candidates for online lending programs.
Seamless experience VS third-party functionality
Being open to integrating third-party functionality to your service is another feature of successful fintech companies. For instance, photo bill pay feature integrated via an API with a professional third-party service could be another differentiating factor of your FI. Although, no matter what service is integrated into your system, seamless UX and a one-platform user journey wins new business and gets referrals.
How to Build a Neobank Mobile App: Challenges And Tips
Compliance with legal requirements
In order to comply with regulations, neobanks must have a banking license. This can be obtained from the relevant regulatory authority in your country. In the United States, this is the Office of the Comptroller of the Currency (OCC) within the United States Department of the Treasury.
In Europe, this is the European Banking Authority (EBA). Obtaining a banking license can be a lengthy and expensive process. It typically involves meeting capital requirements, having a certain amount of assets under management, and passing a fit and proper test.
Once a neobank has obtained a banking license, it must then comply with all the regulations that apply to banks. These include regulations on anti-money laundering (AML), countering the financing of terrorism (CFT), and know-your-customer (KYC) requirements.
Neobanks must also comply with prudential requirements, such as capital requirements and liquidity requirements. Prudential requirements are designed to ensure that banks are sound and stable, and able to withstand financial shocks. In order to comply with all these requirements, neobanks must have robust risk management systems and processes in place. They must also have a dedicated compliance function that is responsible for ensuring that the bank complies with all applicable regulations.
Security and data protection
When it comes to neobanking, security is of the utmost importance. Neobanks hold sensitive customer data, so they must take extensive measures to protect that data. One way to do this is to encrypt all data stored on the neobank's servers. Another way to protect data is by using two-factor authentication for all login attempts.
In addition to data protection, neobanks must also have robust security measures in place to prevent cyber attacks. They should have a team of security experts who are constantly monitoring the neobank's systems for any potential threats. They should also have a plan in place for how to deal with a security breach one were to occur.
Reliable neobank app tech stack
When it comes to neobank development, there are a few key features that your mobile app will need in order to be successful. First and foremost, you'll need to have a robust back-end infrastructure in place in order to support all of the transactions that will take place on your platform.
Additionally, you'll need to make sure that your app is highly secure, as you'll be dealing with sensitive financial information. Finally, you'll need to have a user-friendly interface that is easy for customers to navigate. And to help you with that, our experts in neobanks app development shared a proven tech stack for building neobank apps.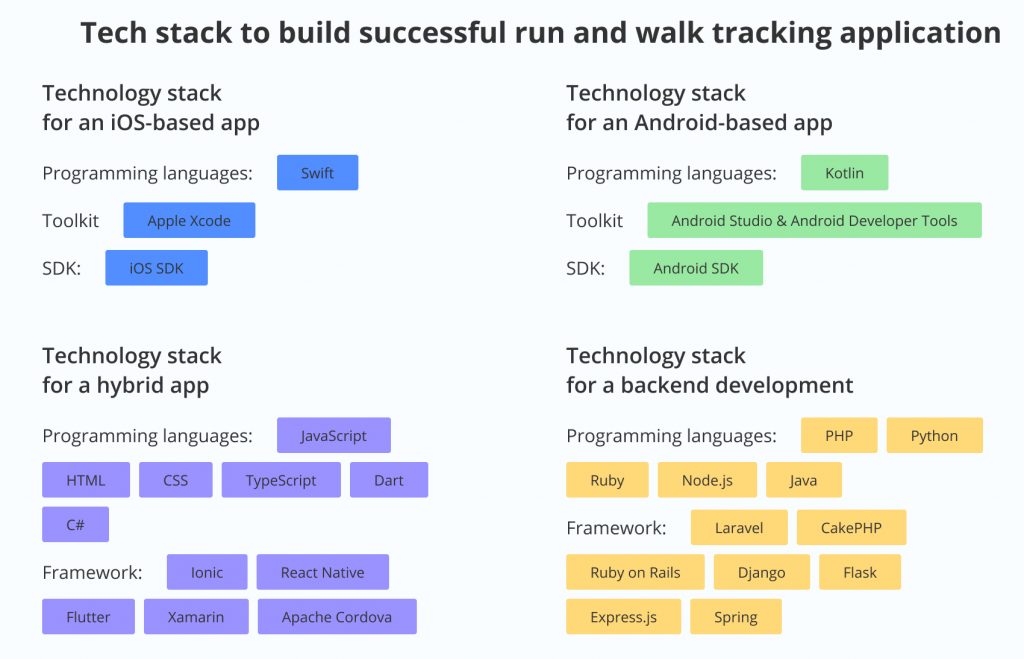 Right business model
There are a few different ways that neobanks make money. The most common is through charging fees for various services. This could include transaction fees, account maintenance fees, foreign transaction fees, and more. Some neobanks also make money through interest on deposits, merchant service fees, and other forms of lending.
Another way that neobanks make money is by selling customer data. This data can be sold to third-party marketers or used to target ads within the app itself. Neobanks have access to a lot of valuable customer data, so this is a significant revenue stream for many of them.
Finally, some neobanks generate revenue through business partnerships. This could include affinity programs, co-branded credit cards, and other joint ventures. These partnerships can be extremely lucrative for neobanks, so they are always on the lookout for new opportunities.
There are a variety of ways to make money as a neobank. The most important thing is to find a model that works for your particular business. With the right strategy in place, you can be well on your way to success.
Intuitive UX
When you're looking to design a neobank, there are a few things you'll need to take into account. First and foremost amongst these is how you'll create a great user experience. After all, mobile banking is all about convenience, so your app will need to be easy and intuitive to use if you want people to adopt it. Here are a few tips to help you create a great user experience for your neobank app:
– Make use of push notifications to keep users updated on their account activity and any changes or new features that have been added.
– Use clear and concise language throughout the app so that users can easily understand what they need to do.
– Allow users to customize their experience by giving them options for how they view their account information and how they want to be notified about activity.
By following these tips, you'll be well on your way to creating a neobank app with a great user experience. Keep in mind that user experience is key when it comes to neobanking, so make sure you put the time and effort into getting it right.
Cost to Build a Neobank Mobile App
Below we provide estimated hours for making the MVP version of a neobank app. So, let's take the 5 product development stages of the app for neobank and approximate time estimates required to implement it: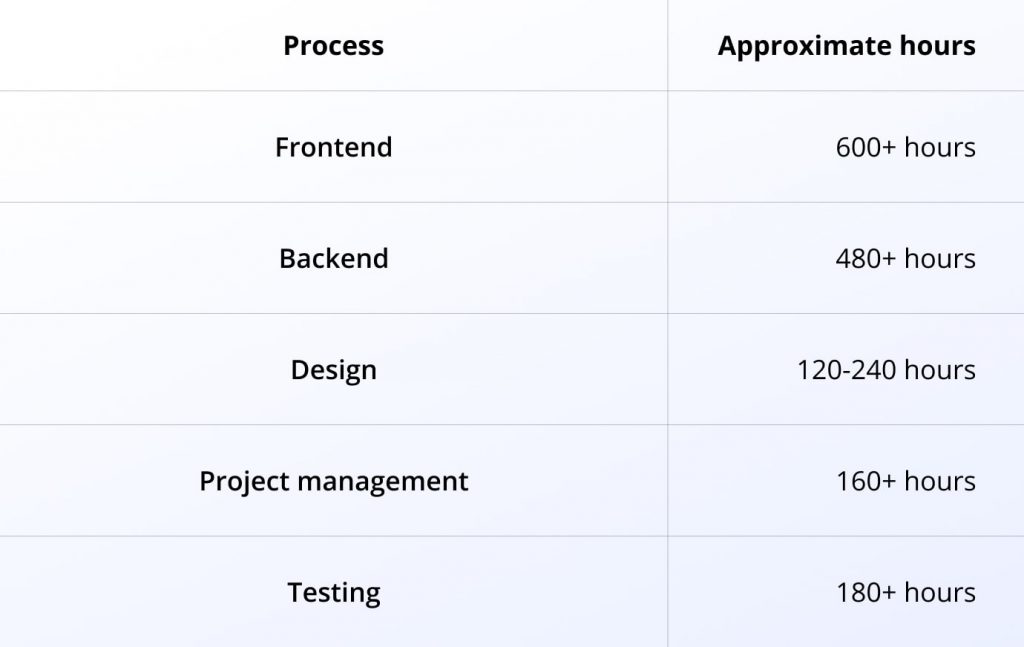 We also need to take into account the companies' rates, which differ from country to country. Below you can compare mobile development companies' rates.
Concerning the size of the development team, here is a list of specialists required to create a neobank mobile app:
1 Project manager
2 Backend developers
2 Android developers
2 iOS developers
3 hybrid development specialists (in case of the hybrid app)
1 QA engineer
1 UI/UX designer
You can use the following formula to roughly calculate app development cost: app development time X hourly rate.

Please note that this estimation is approximate since we don't know the peculiarities and details of your project. But we're always open to discussing your idea and providing an exact calculation of neobank mobile app development cost.
Final Words
Neobanking is the future of the banking and finance industry as a whole. Although not wholly replaceable, these banks can be tough competition to the traditional banking industry. Neobanks offer the young generation a convenient and flexible banking solution. They address the painful point of unnecessary expenditure while encouraging savings and investment.
Neobanks do not market deposits and lending solutions unnecessarily. Instead, they promote customer-centric solutions and designs to attract and retain users. Thus, neobank applications offer significant profitability and growth potential. Businesses should explore and tap the market before it becomes crowded and their novelty becomes more common. In order to create a neobank application that stands out from the crowd, feel free to contact our team for more information.
Content created by our partner, Onix-systems.
Source:
https://onix-systems.com/blog/a-step-by-step-guide-on-neobank-development