5 Ways to Use Augmented and Virtual Reality in Business and Consumer Marketing – Part I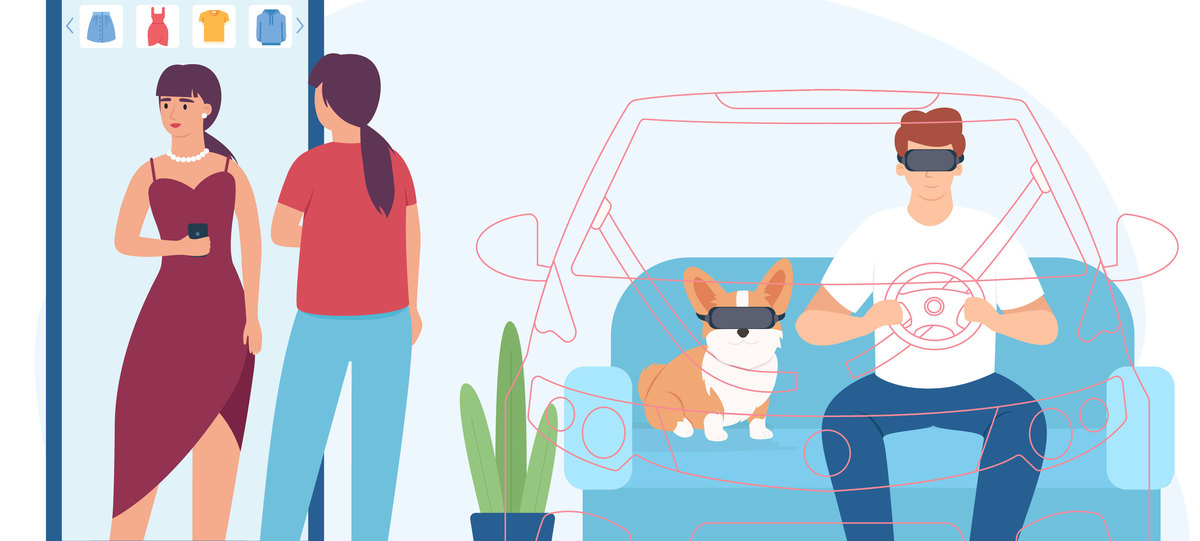 Not long ago, we wrote about the ten best virtual and augmented reality business applications. Marketing and advertising were listed last, but not least. Now, we'd like to elaborate on the specific opportunities that augmented reality (AR) and virtual reality (VR) offer to companies and consumers alike.
The marketing potential of VR and AR stems from the media's nature. VR, which requires wearing a headset, immerses people in a three-dimensional, artificially designed environment. VR technology can also recognize the person's movements, e.g., in a retail store or trade show booth, and translate them into activity in the virtual environment. The latter can incorporate real sights, sounds, movements, and haptics, or be entirely digital. Thus VR offers interactive experiences in places people haven't visited or even couldn't imagine.
Initially, smartphone-based VR was expected to find widespread adoption. However, it is pretty clear now that smartphones are better suited for augmented reality applications.
AR is a result of placing computer-generated content onto the real world, e.g., by using smart glasses or a smartphone camera. No headsets, hand-held controllers, or fixed locations: people can enjoy augmented reality even in the comfort of their homes. This makes AR technology accessible to over 5 billion smartphone owners worldwide.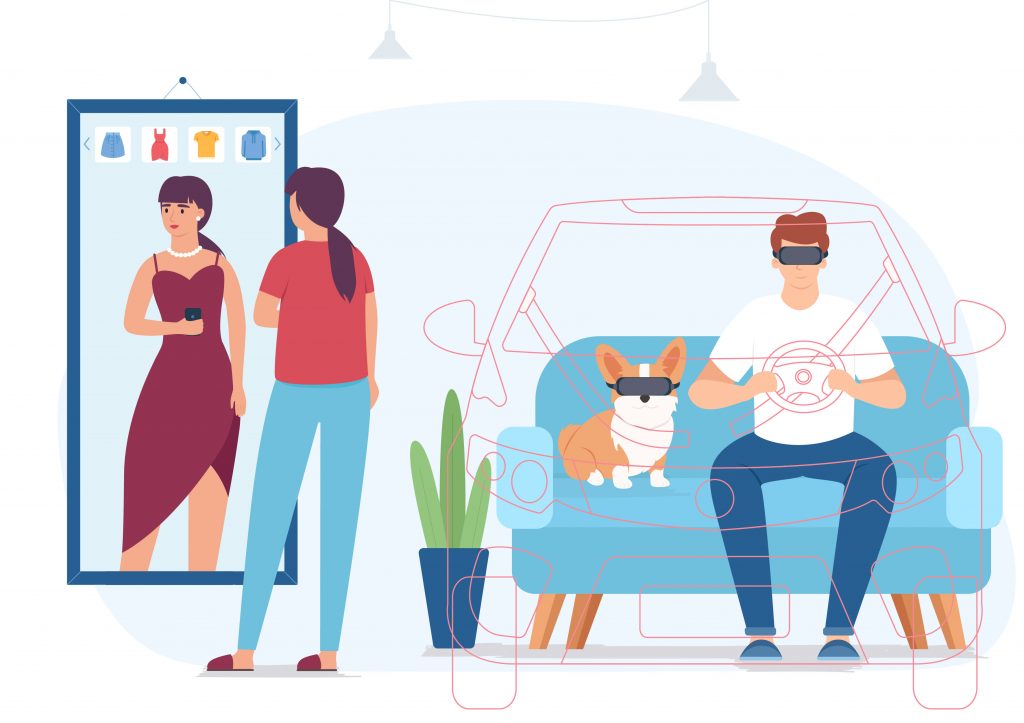 Currently, we can distinguish five ways to employ VR and AR in marketing:
Promotion of products and brands
'Try before you buy' applications
Building brand connection
Consumer research
Marketers' everyday tasks
This article concentrates on the first two. If you are contemplating an AR or VR component for your PR and marketing strategy, you may find a few inspiring use cases here.
20 Exciting Augmented and Virtual Reality Marketing Examples
Product and Brand Promotion
Augmented reality brings products to life more effectively than a photo or even video, because people can discover them and interact with them. Unprecedented insights into products help win consumers in their path to purchase.
It's easy now to bring to life promotional brochures, book and magazine pages, ads and movie posters just by holding a smartphone in front of the subject. For example, in 2018, the promo campaign for 'Ready Player One' included AR-powered posters. When people were scanning them through Facebook's in-app camera, unique content would show up.
Facebook's AR Target Tracker made this possible. It allows phone owners to point the camera at any flat surface anchored with AR, and the camera will track an image and overlay it with programmed effects. The technology lets brands, publishers, artists, and developers to create and tie content to images, logos, signs, and pictures in the real world.
HBO and Netflix have been partnering with social apps as well. For example, before the second season of Stranger Things in 2017, along with Facebook AR effects, Netflix launched a custom Snapchat 3D world lens. It enabled fans, whenever they were, to wander in the protagonist's living room and tap various elements to find surprises.
In a relaxed social environment, people are more open to new ideas and suggestions. By bringing a product into the users' space, AR technology makes online browsing and shopping more immersive, engaging, and memorable, and gives consumers a more intimate buying experience.
In June 2019, ASOS launched an experimental AR experience within its iOS shopping app. The 'Virtual Catwalk' feature allows users to see 100 new ASOS Design products. While pointing the iPhone camera at a suitable flat surface, the user clicks the 'AR' button on the product page. Models wearing the items will appear virtually, as though they're walking in front of the user, who can zoom in and out to see the details. The feature was created in partnership with AR firm HoloMe.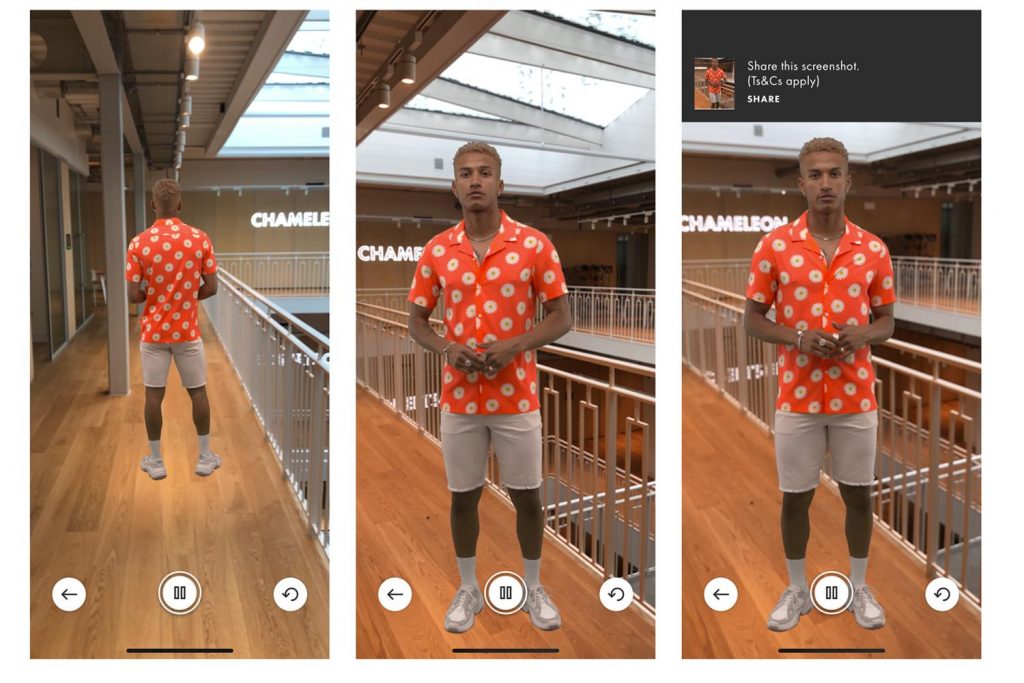 For the automotive industry, where fewer consumers are visiting auto dealerships, AR technology helps to bring dealers and showrooms into consumers' phones. Toyota partnered with the digital agency Brandwidth to promote a better understanding of how the C-HR model works. In February 2019, they launched an AR app that enables customers to 'see inside' the sport utility vehicle (SUV). AR technology and object recognition create a 3D experience showing how the system parts interact. Graphics of the Hybrid driveline's inner workings are overlaid onto physical vehicles. By tapping on 'hotspots,' users can find out key information about the fuel tank, engine, and other parts of the car.
Ford Canada wished to gain greater SUV market share and new sales opportunities. Launching its EcoSport mini SUV, the company decided to reach out to a younger-than-average demographic: urban populations with smartphones glued to their thumbs. Ford needed to bring the vehicle directly to them, excite them with an entertaining experience, and have them share it with friends.
The solution was to reach the consumers through a social app which they access daily and to take them directly into Ford EcoSport via its AR model. The company worked with Snapchat to make a dedicated AR filter. It featured a realistic, high-resolution 3D model of the EcoSport, including the first-ever AR vehicle interior, and truly interactive capabilities. Users could position and scale the car anywhere in their immediate environment and view the design and features from all angles, inside and out.
The truly three-dimensional, fun, and interactive experience drove meaningful engagement. The campaign had 3.1 million impressions and almost 86K total shares. It successfully generated buzz and excitement for the new model and strengthened Ford's leading position in the market.
Instead of bringing promo campaigns to the consumer, virtual reality brings the consumer into the middle of it all. Fashion retailers have been treating the public to front-row views of their exclusive fashion runway shows through 360° VR panoramic video streams. For example, in 2018, the highlights from Mulberry's AW18 Beyond Heritage show on Day 1 of London Fashion Week were published as a VR catwalk experience.
More sophisticated VR marketing allows consumers to explore products on a more personal level and get a hands-on experience of how they work, which promotes greater buyer awareness and accelerates the purchasing process.
Immersive experiences telling a story are excellent for specialized markets. People who experienced, even virtually, the adventure and fun associated with a product will be more eager to buy it.
In 2015, the hiking shoe brand Merrell created such an experience for promoting its most innovative model, the Capra. TrailScape was taking people who tried on the boots and a headset on a dangerous mountain hike. Participants walked along a stage set mapped to the virtual experience. Oculus Rift technology helped integrate the tactile elements of rope walkways, shaking wooden planks, and even rockslides and other obstacles that participants had to navigate around. This level of immersion, which is not often seen, made TrailScape extremely memorable. People who were able to feel what it was like to explore actually got a reason to purchase the shoes.
Companies that leverage VR may also appear more modern and relevant compared to their competitors. For example, in 2017, BMW's new X3 felt out of this world during the "On a Mission" advertising campaign. Its cornerstone was a VR test drive on the surface of Mars.
The 360-degree video begins on a platform rising to the Martian surface. From the driver's seat, the user could look in all directions during a drive through canyons, tunnels, and plains. Another X3 was nearly crashing into the driver, but both finally arrived safely at another Mars base, having fully showcased X3's luxury and technology.
Even food and beverage companies, less likely beneficiaries of a VR marketing strategy, can promote themselves through immersive educational videos, e.g., telling a compelling story around their product and its life cycle.
So did Patrón, the producer of ultra-premium tequila. The company leveraged Oculus technology to give a comprehensive behind-the-scenes look into the production process, second only to visiting in person. The viewer can follow the path of agave from the fields in Mexico, through the Hacienda Patrón distillery, to the bottling of aged tequila. The 360° VR experience combines live-action video filmed on location with cinematic CGI animation. 3D audio ensures an experience that is authentic and natural to human hearing.
The "Art of Patrón VR Experience" was offered globally at Patrón events, seminars, and at select on- and off-premise retailers. A 360° web experience was published as well. Similar virtual experiences can be used to showcase products in business-to-business (B2B) marketing.
'Try before You Buy'
One of the main reasons retail brands are investing in augmented reality apps is to help customers make more informed product decisions, and thus help reduce returns and boost customer satisfaction.
IKEA Place smartphone app is already an iconic example of using AR to 'try before you buy.' Users can swipe through products and virtually place any piece of furniture in their setting and see what it looks like, whether it will fit, and so on.
Most of the top beauty brands and online retailers have also tried their hand at personalizing shopping experiences with the power of in-store AR 'try-on mirrors' and mobile and web apps. The latter can reach out to consumers who prefer to buy things online or need to try them at home. The AR solutions allow customers to try on make-up digitally, overlaying it onto photos or videos in real time, try different fashionable looks, hair colors, and more. Seeing how a product suits their skin-tone, style, etc., and how it enhances their appearance, the customers are more eager to buy (with a simple tap!) and confident over their choice.
Clothing and footwear retailers are keeping pace with adopting AR technology for both online and in-store experiences. The fashion brand Gucci is one of the latest examples. In June 2019, its iOS app was refreshed with an AR feature allowing to 'try on' a sneakers collection virtually. Users select a pair and, pointing their iPhone's camera down, can see a digital overlay of the sneakers on their feet. Swiping left or right, they can 'try on' 19 pairs. A built-in photo feature facilitates sharing the snaps via social media, text, or email.
The social media element is key when brands are aiming to generate as much buzz as possible.
In late 2018, Adidas launched an ad campaign on Snapchat. An AR lens enabled users to preview 19 new Ultraboost sneakers virtually. Using the Snap camera, they could merge a selected pair onto their feet to see how they look.
This became possible after Snapchat launched a Shoppable AR Lens in 2018. The ad option offers three categories: Website, Video, and Install. Adding respective buttons to branded lenses, companies can turn every branded Snapchat selfie into a potential purchase or app download. The Website Shoppable AR Lens with a "Buy Now" button is the "most shoppable" option, allowing advertisers to link to a product page within the Snapchat app. According to a MediaRadar report, 73% of those who ran video ads on Snapchat's Discover channels were media, entertainment, technology, or retail brands. Shoppable Lenses hit right at these segments, giving the brands a direct path to conversion straight from the in-app camera.
While Gucci's mobile app and Adidas Ultraboost 19 AR experience are giving consumers a better idea of the shoes' look, Nike plans to go further. In May 2019, its eponymous mobile app was announced to use AR to fit shoes with sub-2mm accuracy soon. Nike was motivated by the high costs of returning merchandise to retailers and research showing that 3 out of 5 people were wearing the wrong shoe size. Some retail stores in the U.S. and Europe would also feature Nike Fit technology. Several tricks combined with artificial intelligence and machine learning software will help to measure a person's foot accurately. Thirteen data points would be used to determine the length and width of each foot, resulting in personalized shoe size recommendations. That accuracy hints at a future in which all AR apps will be able to achieve a perfect measurement precision and retailers will reduce their shipping and restocking expenses dramatically.
The 'try before you buy' advantage applies not only to goods. What about experiencing a service? App developer YouVisit uses VR and AR to help people tour locations ranging from major cities to hotels with their phones. They recently debuted an AR app providing campus tours. The University of Pittsburgh was one of the first profiled. The app gave users a bird's-eye view of the campus and showed what the surrounding community offers. According to YouVisit's stats, the results delivered by their solutions include up to 80% increase in inquiries, a 30% rise in physical campus visits, and higher conversion rates for applications and enrollment.
Virtual tours are a growing trend. Tourism companies are advertising their destinations, and hospitality businesses offer virtual experiences of staying in their accommodations via VR and AR applications. Architects and interior designers can also showcase projects to potential clients via 3D computer models and immersive VR simulations.
VR enables shoppers to explore products in a life-like way. Lowe's is a major North American retailer of home improvement goods and arguably the most innovative company in AR/VR. According to their Innovation Labs producer Olivia Myers, customers stall projects worth $70 billion due to failure to visualize a product or the final result. Lowe's decided to offer virtual skills-training clinics to homeowners struggling with do-it-yourself (DIY) home improvement, expecting that it would lead to increased purchase conversion. Training in VR also means that customers can learn basic DIY skills in a fun and safe way right in the store.
'Holoroom How To' was introduced in three stores in spring 2017. In the first iteration, customers learned how to tile a shower in a fully-immersive environment, using HTC Vive headsets and a specially made controller.
The program improved unskilled DIYers to a memory performance level comparable to that of experienced DIYers. It also demonstrated the brand's ability to teach customers and gave them the necessary confidence to undertake a renovation and to purchase the necessary supplies.
'Holoroom Test Drive' followed in 2018. The visual, educational experience allows customers timid around power tools to learn how to use them safely and get a feel for the tool before purchasing it. They started with using a Kobalt hedge trimmer to chop hedges in virtual reality. The controller in the experience is based on the actual instrument. A Vive controller replacing the handle and a Vive Tracker on each hand allow independent tracking of the tool and the user's hand in the virtual environment. Haptics was added to enhance realism.
'Test drives' may be one of the best virtual reality marketing examples. A few years ago, supporting the launch of its XC90 SUV, Volvo offered the first virtual test drive on the mobile phone. It put viewers in the cockpit of the most intuitive Volvo ever designed and immersed them in a breathtaking mountain drive.
The easily downloadable Volvo XC90 Experience was a brilliant marketing move, emphasizing the company's innovative approach. The accessible VR experience, where even Google Cardboard was not needed, should inspire other companies. Many types of packaging, starting with smartphone boxes themselves, may become cardboard VR headsets and help share information about a product or brand. Besides being fun to make and to use, it's an example of smart repurposing.
Marketing through virtual test drives works in B2B spheres too. All Nippon Airways (ANA) has recently used VR technology to showcase its new business-class cabins. Mbryonic studio cooperated with Acumen, a leading transport design consultancy, to create an immersive tour of 'The Room,' one of the world's largest business-class seating environments.
In July and September 2019, it was demonstrated to the industry and media in Tokyo and London respectively. Attendees wearing headsets first found themselves in front of an aircraft. Then, in the virtual 'Room,' they could open and close suite doors, change the lighting, order meals, watch an inflight movie, or explore other new passenger-friendly features.
Virtual reality conveyed ANA's message to the global audience without taking people onto an actual aircraft. Such VR solutions may prove to be functional, innovative, and cost-saving for many manufacturers and organizations. They also gather customer data as a part of market research, which is extremely valuable for building a marketing strategy.
The Takeaway
VR and AR are among the hottest topics for marketers to consider. They can be powerful marketing tools because:
Both are great at telling visual stories, explaining complex concepts, sharing information entertainingly, and reducing language barriers;
Both facilitate unique, personalized, and immersive digital experiences that improve customer engagement;
Such virtual experiences make consumers' encounters with products and brands memorable and facilitate purchasing decisions;
Both media are still relatively new technologies, and thus buzz-worthy and noticeable.
VR technology also empowers businesses to create cost-effective true-to-life simulations for promotional and educational purposes.
The next article will feature three more ways marketers can leverage VR and AR. Meanwhile, you are welcome to check out our earlier posts on this topic:
Top 10 Applications of Augmented and Virtual Reality in Business
5 Augmented Reality Shopping Breakthroughs for Businesses
3 Universal Applications of Augmented Reality in Business
Content created by our partner, Onix-systems.