Introduction to Maritime Safety App Development
Digital technology is transforming economic sectors as disparate as commerce and education, healthcare and dating, finance and shipping and navigation. Namely, maritime digitalization has created a global ecosystem of data and communications connecting all vessels, maritime professionals, companies, and state and international agencies.
Modern software covers a vessel's entire life cycle, from engineering to the owners' business decisions. Various digital products and services facilitate and secure processes and operations on vessels ranging from fishing boats to supertankers at sea and ashore, boosting performance and increasing profits.
Maritime app development presents lucrative opportunities for startups. The marine and marine management software market size is expected to grow from USD 1.7 billion in 2021 to 2.9 billion by 2026, increasing at a CAGR of 11.2%.
Shipping companies and other marine businesses may also build a maritime app for their unique needs. Smartphone-based solutions present a particularly attractive option, being handy, low-cost, and easy to implement.
For example, a seafarers mobile management app can streamline day-to-day procedures, facilitate communication and cooperation between the seafarers and teams aboard and ashore, and improve continuous flexibility and transparency within the company.
This article is dedicated to marine safety, an aspect essential to any crew, type of vessel, or company in any part of the world. It explains what benefits maritime safety apps can yield and where, outlines their core features, and describes Alternative-spaces' experience in maritime mobile app development.
The Advantages of Maritime Safety Mobile Apps
The ultimate goal of marine safety apps is to prevent maritime accidents that potentially can cost millions in lost cargo and, most importantly, lives. This can be broken down into several points:
Protection of seafarers, property, and the environment
This is the main reason for state agencies and local councils to embark on maritime safety app development. Sponsored mobile apps can further public education in boating safety, equipment, and regulations, promote fast and informed decision-making and prevent human errors during cruising, fishing, sailing, and any other activity on the water, and more.
Projects improving maritime safety may yield not only social benefits. They can become a commercial company's competitive advantage, improve the relationships with customers and the public, and promote its brand while enhancing credibility.
Businesses can reduce and avoid costs
Mobile apps that inform safe operational decisions and facilitate occupational safety training for maritime workers help prevent workplace injuries and fatalities. This helps companies avoid direct workers' compensation payments, medical expenses, legal services fees, fines, costs of replacing the employees, repairs of damaged equipment and property, accident investigation and corrective measures, lost productivity, and more.
Custom maritime app development and third-party apps installed on employees' personal gadgets can be an economical alternative to costly devices and software. For example, some apps rely on modern smartphones' internal hardware to measure acceleration, rotation, and severity of motions and display statistics on simple and interactive graphical user interfaces. Companies and individuals don't have to buy and maintain extra equipment: their smartphones and tablets are always on hand.
Easier compliance with international, state, and local safety requirements
Maritime safety apps help reduce the administrative burden of numerous shipping industry regulations, such as ISM (International Safety Management), ISPS (International Ship and Port Security), SOLAS (the International Convention for the Safety of Life at Sea), TMSA (Tanker Management and Self-Assessment), classification rules, vetting inspections, PSC (Port State Control), and more.
A ship safety management system can support a company's efforts regarding safety and compliance with increasingly complex rules and regulations through facilitating:
continuous organization-wide learning and improvement in maritime QHSE (Quality, Health, Safety and Environment) management
planning and monitoring of on-board safety drills, exercises, and meetings
access to internal procedures and guidelines, industry's best practices, and other resources for personnel ranging from captains to deckhands
reporting and follow-up of audits and inspections: ISM, PSC, OCIMF's SIRE (Ship Inspection Report Programme), charterer, technical, etc.
reporting and follow-up of on-board incidents, accidents, injuries, and near-misses
monitoring of actions during incidents/accidents processing
analysis of safety performance by the employees, crews, and vessels fleetwide
centralized management of a fleet's safety-related documentation
… and so on. This way, a mobile app can help maritime businesses reduce the likelihood of not only loss of life and injuries, but also detentions, penalties, environmental harm, and other risks.
Increased efficiency and productivity for organizations, groups, and individuals
Mobile apps generally provide the utmost ease of access to content and data and allow users to conduct activities at their convenience, at any time, and even remotely. For example:
Maritime mobile apps make it easier for officers, ship operators, and owners to track crew and vessel activities and movement, receive reports, and access analytics. This promotes better-informed decisions.
Auditor apps help streamline the workflow of onboard safety inspections and corrective actions.
Employees handling dangerous cargo will appreciate quick tips or a whole database of International Maritime Dangerous Goods at their fingertips. Such reference tools may be more effective with QR codes and augmented reality (AR) for visualization.
An m-learning occupational safety app can help crews drill their life-saving skills and onboard new members faster.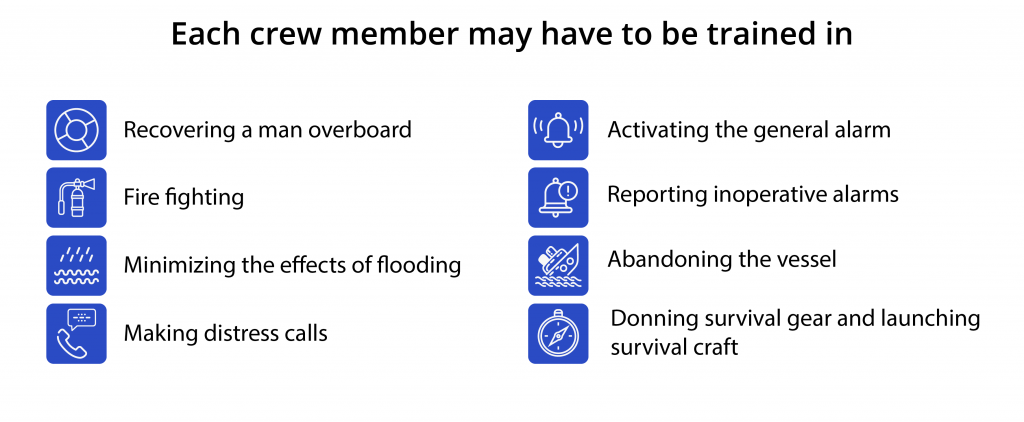 Thus, marine safety mobile apps help free up everybody's time and focus on their core activities.
Popular Use Cases for Maritime Safety Apps
Apps promoting a vessel's physical stability and safety
Small Craft Motion Program (SCraMP) by Leigh McCue may be one of the earliest examples. Initially developed for low-budget commercial fishing operators, the app may come in handy even for ferry operators and others.
SCraMP uses the mobile device's accelerometer, gyroscope, and GPS data to display motion warning indices in real time and sound alarms. Namely, the app tracks the vessel's roll and pitch displacements and heave accelerations. The user can tailor the metric to their needs by entering their desired roll, pitch, and heave limits and the minimum and maximum values outside of which the app should warn them of anomalous behavior. Monitoring trend behavior can help identify emergent issues.
Another relatively old app, the FishSAFE Companion App, was launched in 2015. It complemented the FishSAFE Information site and the FishSAFE Unit already used on commercial fishing vessels operating in the North Sea, where every one of thousands of oil and gas objects on the seafloor and on the surface is a potential hazard.
FishSAFE Information Project, a joint venture between Oil & Gas UK, the Scottish Fishermen's Federation, and the National Federation of Fishermen's Organisations, was set up after a trawler sank due to snagging on an underwater pipeline. The project aims to prevent maritime accidents like that and protect the lives of offshore oil and gas personnel and the environment.
Their app for smartphones and tablets provides a regularly updated map and information about oil and gas platforms, subsea wellheads and pipelines, protective structures, decommissioned items, etc., their dimensions and design, and a short animation of each.
The information is permanently stored on a user's device and remains easily accessible even when there's no mobile phone coverage. They can also enter their own notes in case, for example, the object has moved, providing important information for the offshore sector.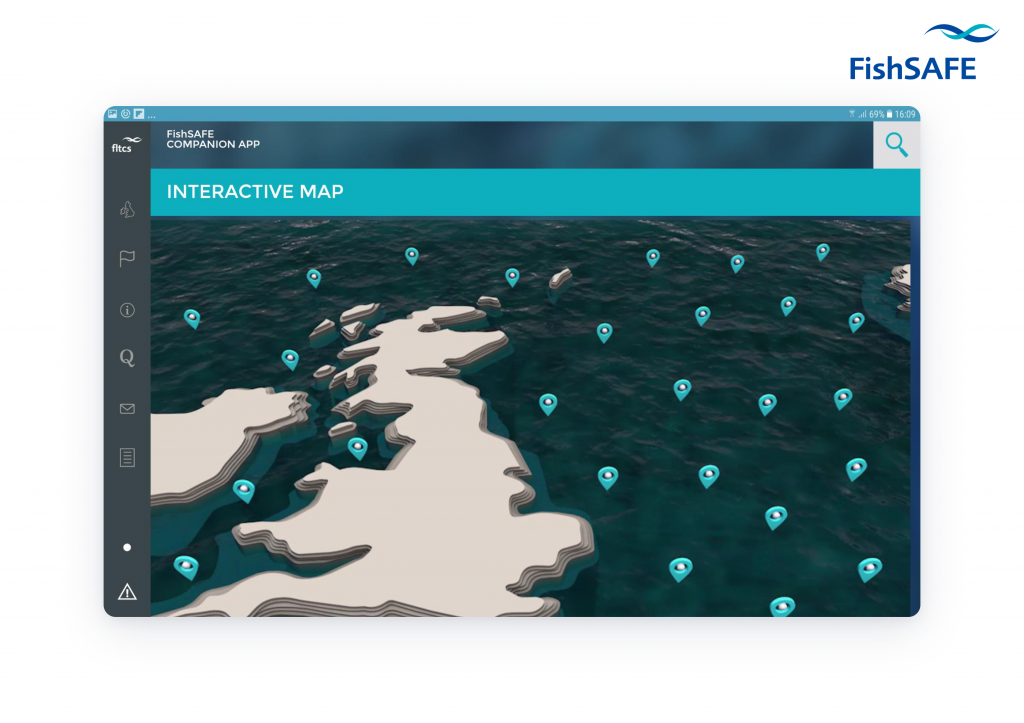 In other areas, vessels need to guard against piracy, hijacking, and other hostile activities against ships, crews, and passengers. The National Geospatial-Intelligence Agency developed the ASAM app to address this problem.
ASAM stands for Anti-Shipping Activity Messages. The mobile app updates users on the geographic location and descriptive accounts of reported hostile acts. The app also allows users to store warning data pulled from the ASAM database when connected to the Internet so that they can view reports even without a Wi-Fi or cellular connection.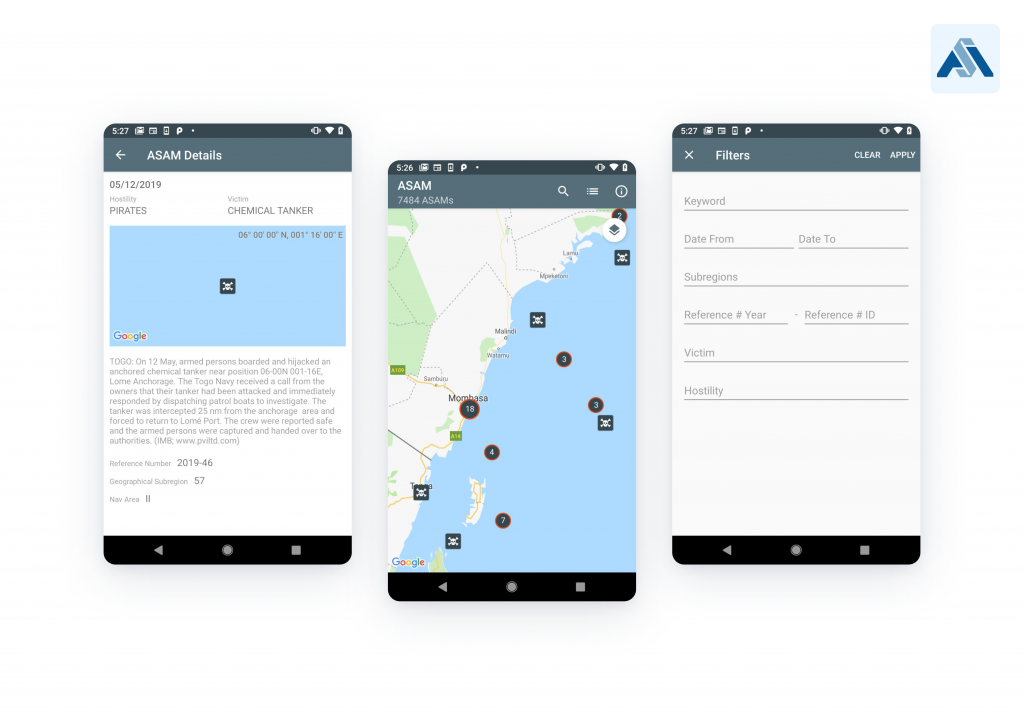 Marine occupational safety facilitation
Regulatory agencies worldwide require continuous education of the personnel and conducting regular drills.
Maritime safety mobile apps can help individuals, crews, and companies comply with external and internal regulations in a cost-effective, convenient, and even fun way.
For example, the creator of SCraMP partnered with the Alaska Marine Safety Education Association (AMSEA) to develop FVdrills, an app providing a drill checklist with vessel safety orientation. The sample drills were taken from the AMSEA-produced book.
FVdrills provides realistic, interactive, prompted transitions between the drills and allows local and remote logging, signature, and time/date stamping of exercises. Its latest version includes Apple Watch functionality which reminds users that they're due for vessel safety drills and guides them through random routines.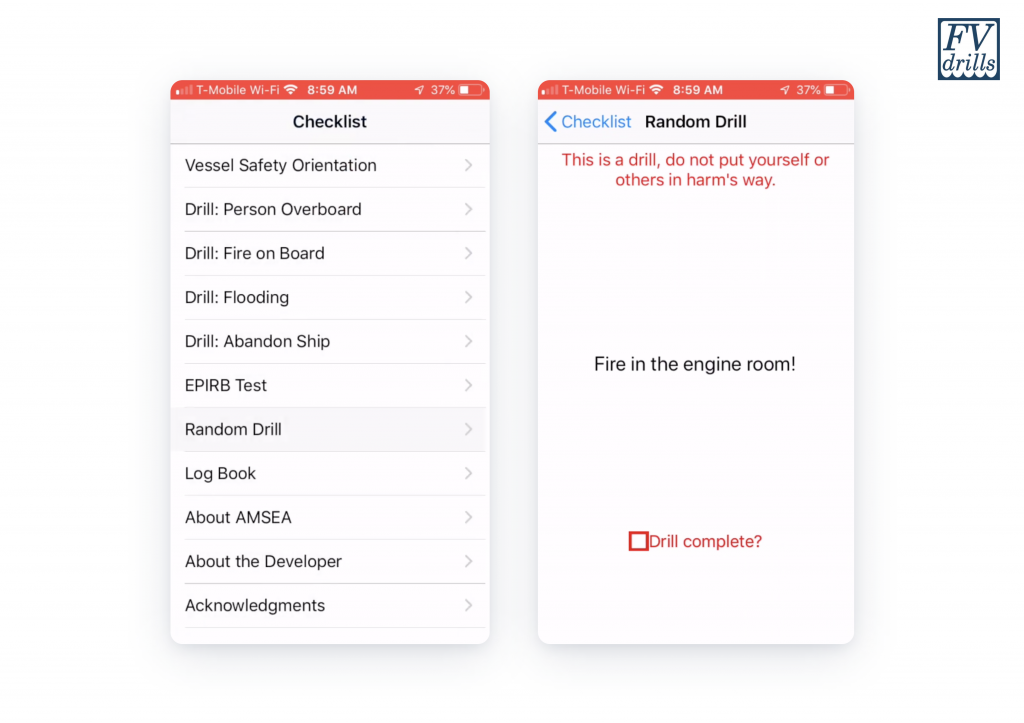 Apps like ISPS Code Auditor and ISM Auditor aid in determining whether a company or crew's efforts further the objectives of the respective codes and comply with the company policies and other applicable marine safety standards. Their names (and features) often include auditor, inspection, reporting, or checklist.
These apps are designed for shipping companies' Designated Persons Ashore, Company Security Officers, Quality and Compliance Managers, Superintendents, nautical officers, and engineers that oversee their shipboard safety management and security systems.
At a minimum, these apps promote the understanding of relevant codes, conventions, policies, etc. They can also update users of any amendments and other latest developments and provide easy access to safety management manuals, fire safety manuals, and technical documents.
The apps may provide different vessel audit techniques and processes. For example, users can
fill out and update inspection checklists
create own inspection templates and questionnaires that others can fill out on their mobile devices
record the findings and other inspection results
enter audio comments
capture and save photos of identified deficiencies
assign scores
… and more. An app may also support the management of open and closed deficiencies, corrective actions, preventive actions, root cause analysis, and a full history of accidents, audits, and inspections of a vessel. Data may have to be transferred to or come from a bigger system, such as the company fleet's database.
The apps also generate documents containing audit results that can be shared or automatically transferred to shore for processing. Ideally, the app should feature dashboards that track the entity's safety performance indicators and identify potential improvements.
It's worth mentioning that shipping companies' centralized knowledge bases and document management needs, such as the creation, revision, review, approval, publishing, version control, and archiving of policies, procedures, forms, manuals, safety advisory notes, etc., are provided by web applications.
Apps promoting safe marine recreation
Mobile apps can facilitate the safety of boaters, sailors, paddlers, anglers, and other members of the public on many levels, from basic safety checklists during a fishing trip preparation to vessel tracking using the global AIS (automatic identification system) aerial network.
A modern seafarers app can quickly update a user on the weather, tides, depths and seafloor structure, potential hazards, and traffic in their quadrant, send alerts when needed, and more.
The United States Coast Guard mobile app is a good example. It provides the essential information that most boaters need:
latest weather reports from the closest National Oceanic and Atmospheric Administration weather buoys
latest safety regulations
state boating information
a safety equipment checklist
navigation rules
It also helps with float plan creation and requesting a free boating safety check. On top of that, with location services enabled, a user can:
report suspicious activity, pollution, or location of a hazard
call the closest CG command center.
The official volunteer marine rescue service of New South Wales, Australia, also provides a brand app. Along with the essential information, resources, and calling buttons, their maritime safety app features boat tracking functionality.
Log On allows boaters to be connected directly to the service. Before a boating trip, they need to enter:
image of the vessel
number of people aboard
the planned journey location
when they plan to return
An automatic tracking function will be updating their position every 30 minutes, allowing Marine Rescue NSW to track their journey.
The user is expected to Log Off once they are back on shore. If they don't, the app will alert the service with its 3,000+ search and rescue professionals. Knowing the trip's details, they will swiftly deploy a search mission.
Not only official rescue services need to track vessels, but also maritime professionals, boating businesses, or anyone who wants to see where their friends and family are at sea.
The Ship Finder app shows live moving ships on nearly real-time "virtual radar" maps. Its system simultaneously tracks 20,000+ ships worldwide by picking up AIS ship feeds used by all passenger vessels and increasingly by smaller pleasure craft.
Users can watch vessels moving on full screen, tap a ship to see its name, type, photos, speed, dimensions, and more, apply filters, search and save favorite ships, and save locations for quick navigation to areas or ports of interest. An AR feature allows identifying vessels at sea using the device camera.
Alternative-spaces' Experience in Maritime Safety App Development
A UK-based outdoor gear manufacturer approached Alternative-spaces with the need to build a maritime safety app for individuals and groups sailing on the open water. They envisioned a system that would detect man-overboard situations, promptly alarm the crew, and guide them to the incident spot to retrieve the missing person.
The system needed to integrate personal iOS and Android devices and brand hardware – water-proof wristbands and tags with BLE beacons and control hubs installed on vessels. Alternative-spaces' team implemented the entire application logic in two phases:
development of a system incorporating only BLE beacons
integration with external hardware and a list of commands
One of the most challenging parts was an asynchronous method of polling devices. This method features subscriptions to events, such as the appearance of a new device, its disappearance, or changing parameters.
This method is essential to the app's working principle. Every crew member and guest on board, including children and pets, wears a wristband or tag that incorporates a transmitter and a water-activated strobe light for visibility at night. The wearable is assigned their name.
Users can connect several wearables to a single mobile device, typically the captain's or guide's. One wearable can be connected to multiple phones, tablets, and even iPod Touch and Mac.
The system is constantly tracking all wearables aboard. If a wearer moves away from the control device or main mobile device, the system automatically records their last known coordinates and alerts the rest of the group through their mobile devices. Then, like a compass, the app would show the direction back to the point of loss to rescue the missing person or pet.
If a prompt recovery is not possible, the system helps inform the coast guard and emergency services about the incident.
Currently, the product is primarily marketed as a seafarers app. However, it has the potential for broader adoption, e.g., for organizers of mountain hikes, extreme marathons, and other leisure and sports activities in the woods, caves, or other environments where getting lost is highly probable and potentially fatal. Since tags may be attached to objects, the app may be helpful even during routine travel, e.g., helping prevent luggage theft at airports.
Common Maritime Safety App Features and Characteristics
Marine safety apps come in all shapes and sizes, with a widest variety of functionalities. Each app's feature set depends on its unique goals and conditions under which people will use it.
Still, more often than not, an app would provide:
A user account
Access to information, such as safety rules and regulations, educational content, news, company's database, quick links to licensing and registration portals, etc.
A checklist of some kind
Ability to share some kind of information with onshore services, officials, company personnel, or other seafarers
Ability to receive messages or alerts, e.g., official safety alerts and marine notices
Geolocation-supported features, such as maps with boat ramps, speed zones, potential hazards, etc.
We would like to mention a few maritime app-specific nuances that developers need to address.
Personal account
Sometimes, users can use an app without creating a profile, but personal accounts enable the system to customize and streamline their experience. For example, the app can display information that is most relevant to the vessel type they indicated.
Privacy concerns should be addressed. For example, the USCG app neither stores any personal information on the phone nor sends it to the Coast Guard unless the user chooses to. Neither does the app track a user's location when they are not using it.
If needed, enable users to decide when the app should track their location, who can see their location at sea, boat ramp, or port, and what exactly information can be shared.
UX/UI design
The user interface of a seafarers app has to be as minimalist, concise, and intuitive as possible: someone's life may depend on the user's ability to quickly read an instruction or tap the right button in a stressful situation.
Every layout element and interaction should be designed to add practical value, guide the users, and save their time. Select a minimum number of bold colors and use them to communicate information and encourage crucial actions, e.g., for emergency assistance buttons.
The designer should also remember that people can use the app in various settings, on multiple devices, may not always be able to use both hands, and so forth.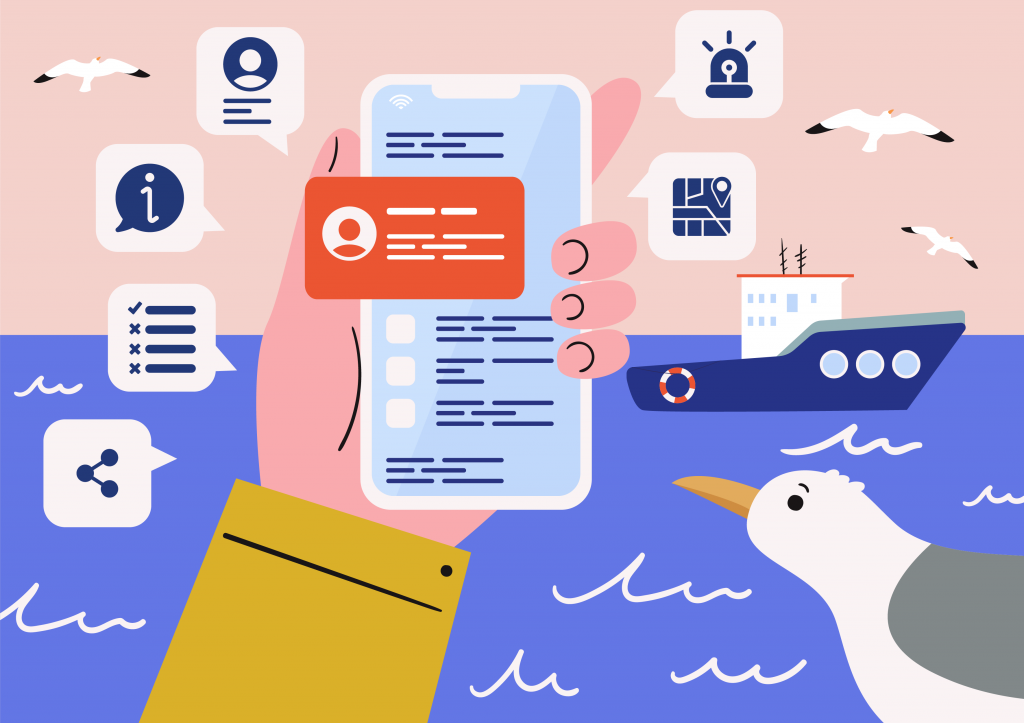 Localization
Remember that crews are often diverse and can travel around the world. Provide localizations, for example, to enable crew members to receive safety training without language barriers or to read news in their native language. Localizations will also facilitate your app adoption.
Connection
Internet connection is always an issue at sea. When designing user flows, remember that seafarers may need to access crucial information at all times, from any place in the world, so it should be stored in the app for use without a Wi-Fi or cellular connection. Other activities, such as inspections, can occur offline but need to be saved.
Wireless connectivity to people, devices, and cargo on board vessels may be desirable.
Analytics
No third parties or government agencies, other than explicitly authorized entities (such as USCG or Marine Rescue NSW from the above examples), should access the individuals' or businesses' data. However, app owners may collect and occasionally share de-identified data with their content partners and local authorities for analysis.
Third parties can use the data to create statistics, e.g., the prevalence of maritime incidents against incident-free journeys, for evidence-based policymaking, identify trends in boating behaviors for commercial purposes, and more. App owners need to track usage trends on the app to improve it.
To Recap
Digitalization in the maritime industry promises a safer, smarter, and sustainable future for shipping companies, as well as great opportunities for digital startups.
Modern software helps improve maritime safety at all levels, from simulation-driven design, analysis, and optimization of a boat's systems to crew safety training. Besides saving lives and preventing damage to aquatic ecosystems, innovative web-based and mobile applications can improve the customers' performance, reduce or eliminate potential costs, and build competitiveness.
However, most of the existing solutions are still far from being perfectly designed and glitch-free. There is sufficient potential for new maritime mobile app development for the needs of shipping and boating businesses, fishermen, sailors traveling around the world and dealing with a growing number of rules and policies, and all the anglers, paddlers, boaters, divers, surfers, and other ocean-based leisure enthusiasts.
Are you planning to develop a maritime safety app for your company or the public? Alternative-spaces is an outsourcing company with just the right expertise and experience.
Why not arrange a free consultation today?
Content created by our partner, Onix-systems.