Why and How to Build a Grocery App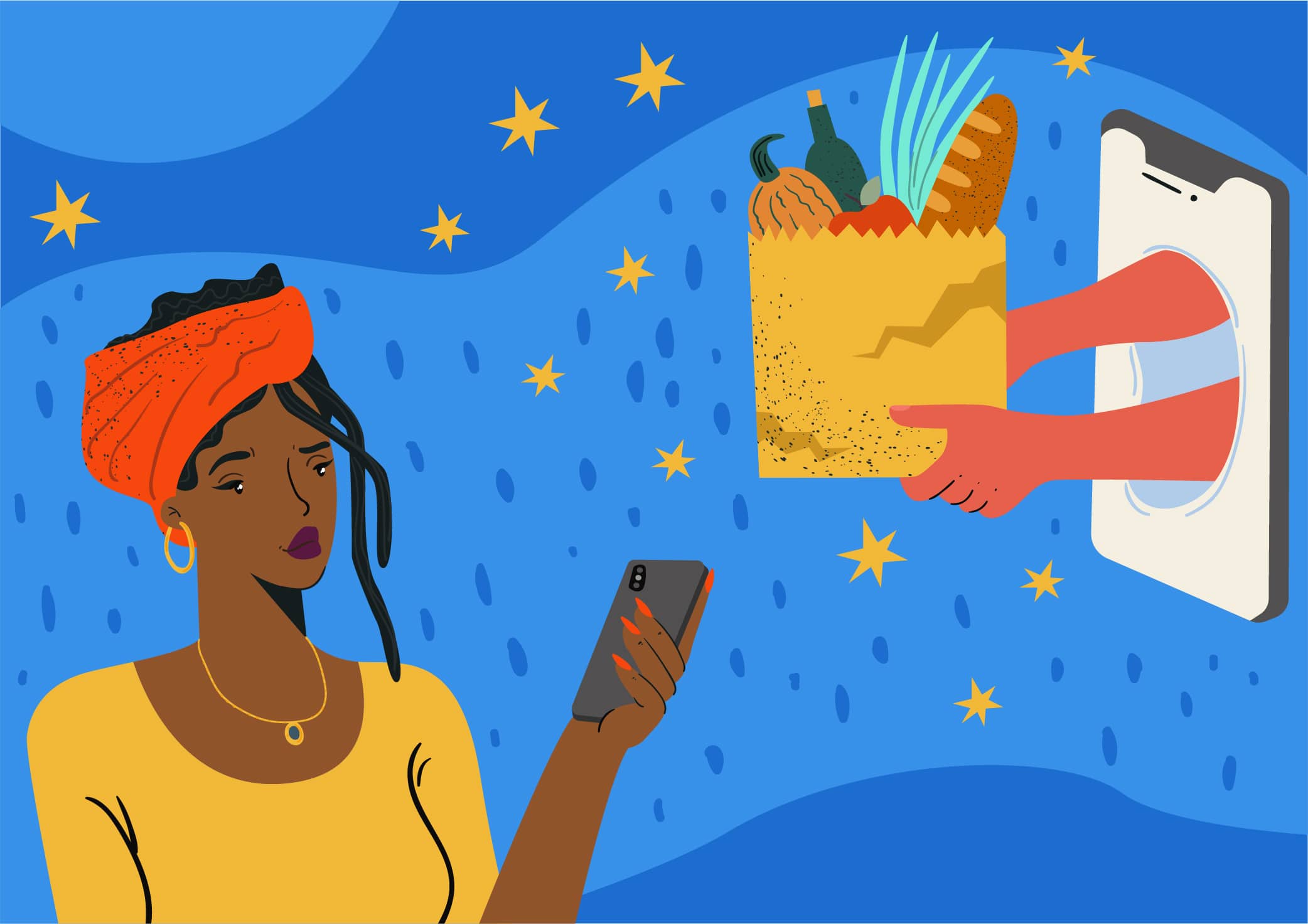 This blog post is inspired by Alternative-spaces's recent work on the METRO C&C and Fayno Market grocery app development. For example, the latter mobile app helped the client increase its sales by UAH 1 billion in a year. Whether a small store, a supermarket chain, or a tech startup, all can capitalize on the growing popularity of online grocery shopping and on-demand delivery.
Ironically, COVID-19 has been beneficial for eCommerce and particularly online grocery stores. The pandemic turned the luxury of online shopping and home delivery into a necessity for many people. Grocery chains started developing and improving their online ordering software to cater to these customers and not to lose business to tech-savvier competitors.
When the pandemic ends, online grocery shopping will likely retain its appeal to consumers and stores. Customers appreciate its convenience, time savings, and ability to shop 24/7 from anywhere. Contactless payments and intuitive mobile applications facilitate delightful modern customer experiences — just what this increasingly competitive industry requires.
Grocery apps also increase business efficiency, create new jobs, help businesses reach new audiences, and get customer insights for highly accurate targeting, boosting sales and revenue.
Read on to learn the basic steps of online grocery app development, what features your future app may have, and how a quality solution can become a game-changer for your business.
A Perfect Moment for Grocery Mobile App Development
The adoption of smartphones continues to grow worldwide simultaneously with the popularity of contactless and cashless shopping. If a grocery business wants to adapt to this new reality, it must go online and then mobile.
Consumers worldwide are continuing to explore the benefits of online grocery shopping. According to GlobalData's Q1 2022 consumer survey, 58% of shoppers expect to continue or increase their grocery shopping. China, Thailand, South Korea, and Vietnam are the leaders in digital grocery shopping adoption.
Mobile applications are the primary channel for online grocery shopping. Unprecedented demand during the pandemic propelled the apps for grocery pick-up and delivery services up the charts. In April 2020, global downloads of grocery shopping apps reached 106 million a month; Walmart reported the highest number of downloads ever.
In the US, over half of the population already shop for groceries online. The country's digital grocery sales will grow another 20.5% in 2022, reaching $147.51 billion. The market is expected to reach $243 billion by 2025.
A study by Mercatus predicts online grocery sales to double by 2025 (compared to 2020).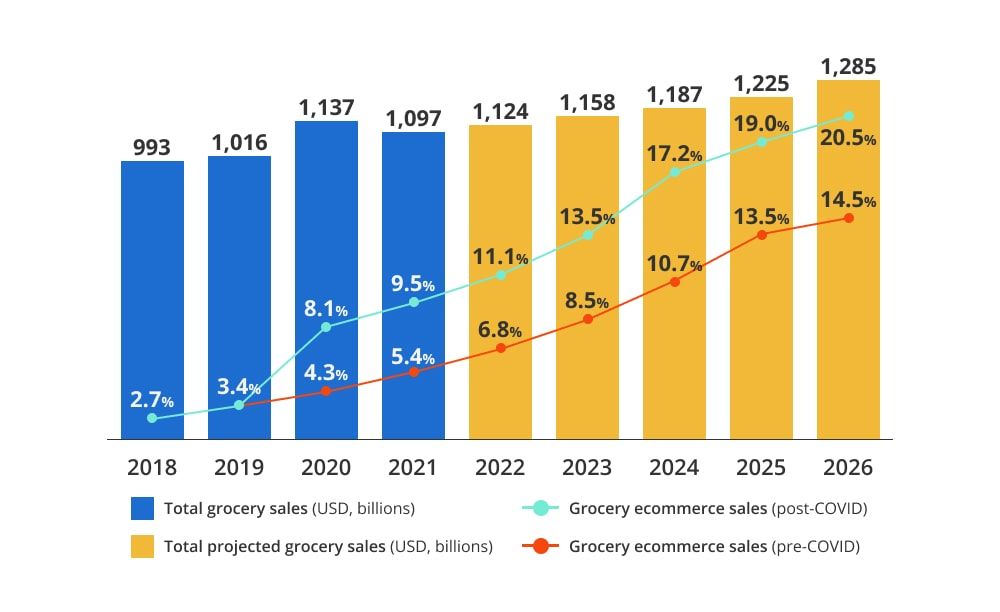 In the UK, three in five consumers shop for groceries online. The current market size of the online grocery retailers industry is £28.3 billion. Despite the lifted anti-COVID restrictions, the market remains solid because consumers continue to "adopt omnichannel shopping habits."
The digital grocery market is definitely poised for growth, but only early movers will win. Grocery shopping app development is not an option anymore. Nowadays, it's a necessity.
Primary Use Cases for Grocery Mobile App Development
The most common grocery shopping app business models include the following:
1. Apps for small grocery chains and independent stores
The primary motives behind small grocery store app development are customer retention and enhanced in-store experience. Their apps can be simpler, with small feature sets. For example, an app can enable customers to:
check the price and availability of an item in the nearby shop, product listings, current discounts, and possibly additional information
view coupons, deals, and weekly circulars online
make shopping lists
receive notifications, e.g., weekly promotions, when their favorite products are available in the nearest store, etc.
join a loyalty program, track bonus points, and pay with accumulated bonuses
order home delivery…
or all of these things. On-demand grocery app development may be of interest even to small local chains. An app can significantly enhance their appeal and reputation by adding grocery delivery to their services and employing youth part-time to collect and deliver orders.
For example, Alternative-spaces is currently working on a mobile app for a local chain that positions itself as "grocery stores next door." Fayno Market app supports the company in:
going green
digitizing and streamlining processes
meeting social responsibility commitments
engaging more customers in the loyalty program
adaptation to the changing market using consumer activity analysis
gaining a competitive advantage in marketing
Alternative-spaces delivered one solution for customers and another for the grocery store employees. The consumers' app enables them to:
choose the nearby grocery as their home grocery store
learn news and view special offers in the home grocery or other Fayno Market stores
use their virtual loyalty card to accrue bonuses and display it while shopping to apply discounts
view their purchase history
evaluate their shopping experiences
contact Fayno Market's support team, and more
In the app for employees, users can:
view their work schedule
receive and send push notifications, e.g., to call an employee or employees to a specific workstation
view their loyalty program details and special offers
use the loyalty card at the check-out point
2. Supermarket chain apps
More ambitious business goals and larger scales require more complex and feature-rich solutions. Besides all of the above functions, a supermarket mobile app can help customers:
find the chain's stores using geolocation and check their opening hours
receive promotions depending on the user's location and highly personalized offers based on their online and in-store purchase history and other data
create and edit shopping lists, share them with contacts, save lists for future use, and easily convert them to the shopping cart
add products to favorites
receive notifications when their favorite, frequently purchased, or items on their list are available at a discount
store gift cards electronically
quickly find items in a particular store using a store map, barcode search, or voice assistant
receive cashback on certain products
order products online with options such as pick-up from a store, home delivery, schedule the pick-up or delivery, track orders in real-time, and cancel orders
pay with the mobile phone easily and securely
find the pick-up point using a map with geolocation tracking
tip the courier via the app
deal with refunds and replacements
subscribe for free delivery, extra promotions, and other privileges available to members
… or anything supermarkets can offer to attract new audiences, increase customer engagement, and stand out among the competitors.
Walmart's mobile app is an excellent example of grocery ordering app development. Users can:
order and collect their order curbside or have it delivered by FedEx or UPS within two days or as little as one hour
quickly and easily reorder frequently purchased items
scan items' barcodes to check prices and build lists
stay on budget while shopping (when they select an item, the total order cost is shown with tax)
check out contact-free at the counter or curbside check-in using all payment methods through Walmart Pay.
The app even allows consumers to refill and pick up family prescriptions at discounted prices, schedule vaccinations, and locate testing sites.
Metro UA is an example of supermarket app development by Alternative-spaces. The mobile app was designed to make shopping more convenient and digitize some offline customer processes at the Ukrainian branch of METRO C&C, an international wholesale grocery retailer.
The app's functionalities include:
Electronic METRO customer card that substitutes the physical card. The cashier would scan the customer card screen at check-out to award or spend loyalty bonuses.
Barcode scanner for checking a product's current price. The app conveniently keeps all scanned items in a carousel and updates the prices every time the user opens the app.
Electronic promotional brochures relevant to a specific store.
Creating shareable shopping lists manually, via scanning, and soon from an online catalog. The app automatically groups the items by categories corresponding to the physical store's departments to help shoppers move through a huge store purposefully.
Map of all METRO stores and their hours of work.
METRO loyalty program, where users can choose the type of reward (bonuses or discounts), accrue bonuses upon each purchase, generate vouchers during subsequent purchases, and level up their membership.
3. Aggregator/intermediary grocery mobile apps
These apps act as a middle-man between multiple stores and online shoppers. Users can order groceries from a store without downloading its app. They would typically place an order with a nearby store and choose either a pick-up or delivery option. Grocery marketplaces may rely on a supermarket's delivery service or have their own pool of drivers.
An aggregator app thus should feature:
advanced search and filters
unified product listings so users can order from different supermarkets
search results not from a selected store but all stores in the neighborhood
recommendation engine suggesting products similar to search results, based on previous purchases, or what other users order
ability to track the order on the map and receive push notifications
ability to leave reviews about purchased products and rate the store
live chat with courier during shopping
multiple payment options, including mobile payments, cash, credit card, or even QR code payment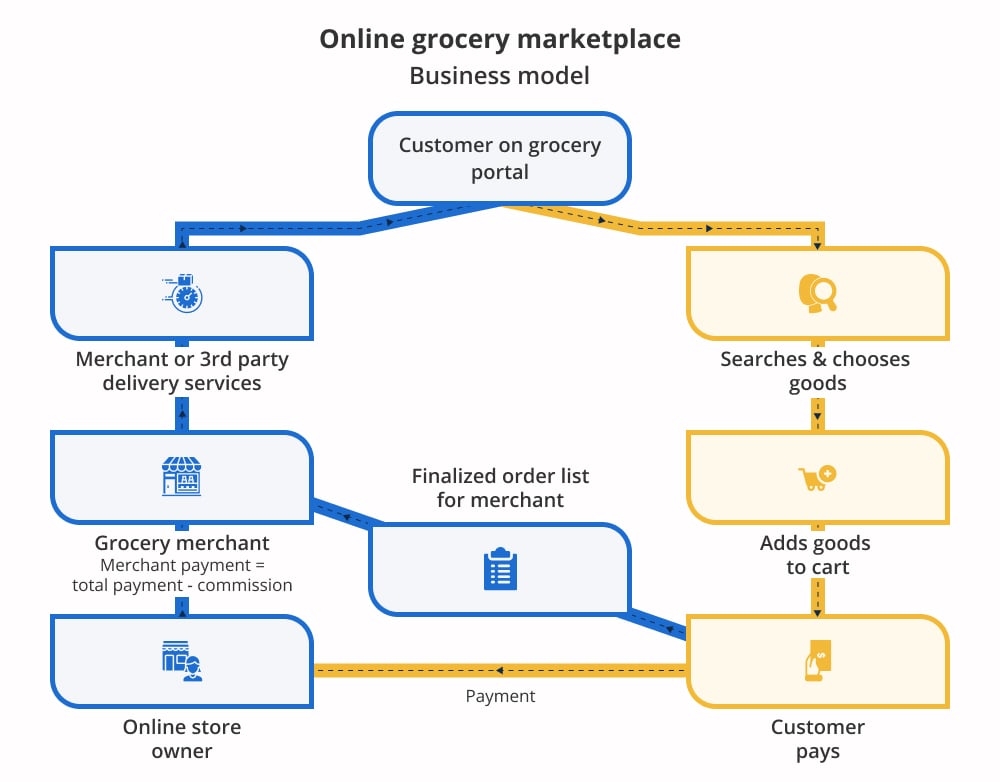 The grocery app developer typically earns money by charging a fee for each order either to the merchant or the consumer (commission on the order or delivery service fee). They can generate additional revenue through partner supermarkets and third-party ads.
Entrepreneurs that want to create a grocery delivery app may draw inspiration from Instacart. Consumers can shop online for food, fresh produce, drinks, snacks, alcohol, and household items at 20,000 retail locations across the US and choose contactless curbside pick-up or same-day delivery. They just need to enter their zip code and select their favorite local grocery stores. Instacart allows users to:
view nutritional information and filter groceries according to their dietary requirements
find exclusive deals and coupons
use Group Carts to shop together with friends, family, and neighbors
chat with the delivery person during the shopping and select replacements when needed
Amazon is also an expert in grocery delivery app development. For example, Amazon Prime Now is a one-stop online shop for millions of Indian consumers. They can order groceries from multiple supermarkets, favorite neighborhood grocery shops, and select markets from the comfort of their home, get exclusive deals, and enjoy discounts that merchants offer daily.
4. Courier apps
These apps basically enable users to hire a personal shopper who will pick and buy the ordered goods from a grocery store and promptly deliver them to the customer. The app may have a contract with a particular store or chain, in which case it would charge a commission on every order. Otherwise, a service fee can be charged to the customers.
Another interface enables the delivery staff to receive, view, and manage orders, enable or disable their availability, etc.
HappyFresh is a leading online grocery delivery service in South East Asia. Over 5 million consumers shop from over 1,000 online supermarkets, specialty stores, and fresh marts across Indonesia, Malaysia, and Thailand. They can save with discounts and deals, access exclusive vouchers and promotions, and earn and redeem loyalty points. Trained personal shoppers handpick the best items, and riders deliver them to the customer's home or office within an hour.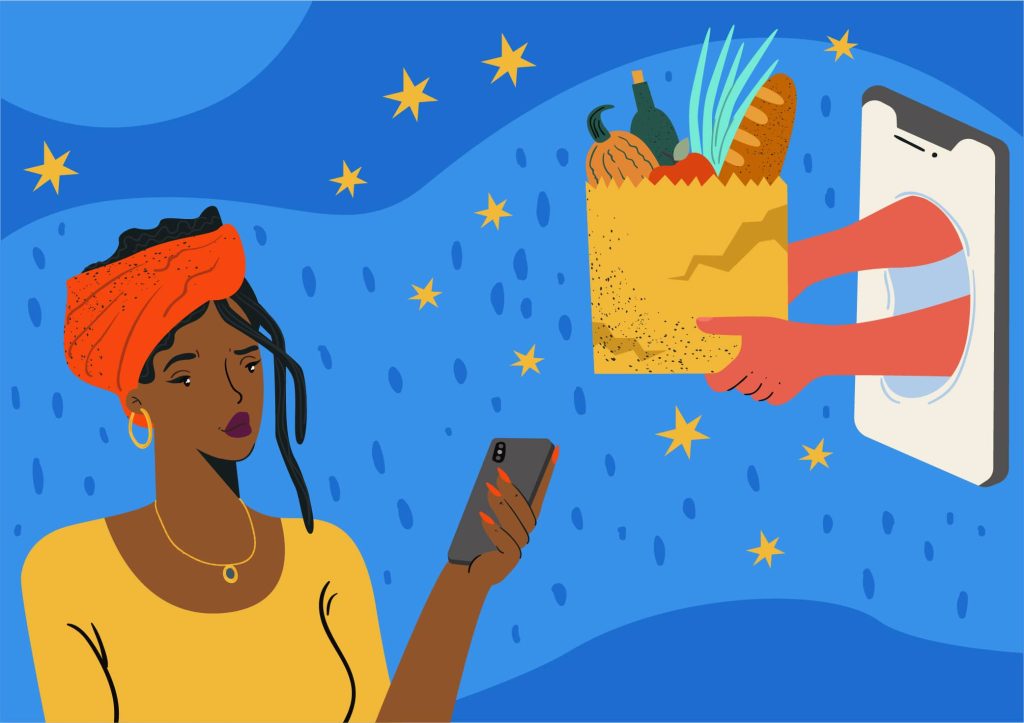 How to Build a Grocery App
Let's divide the grocery mobile app development into several steps.
1. Conduct the necessary research and plan the project.
The first thing you need is a clear understanding of your business goals, customers' needs, and the market. You need to identify the unique business problems to solve and the customers' pain points and come up with a better solution than your competitors offer.
Thoroughly research your target audience, demand, trends, competitors' mobile apps, business models, and possible marketing strategies. It's reasonable to start by investigating the best practices established by national and global industry leaders. Then, identify competitors in your niche, analyze their advantages and shortcomings, and try to figure out what improvements can help you beat them.
It would be best to end this stage by documenting the project requirements and creating the basic wireframes. It will make it easier to plan the budget and explain your needs to grocery app developers.
If you don't have the time or confidence to carry out these activities, you can delegate this task to a professional agency like Alternative-spaces. Experts can help prioritize the desired app features, suggest the best solutions, recommend optimal technologies, verify your idea viability early on, estimate the project cost, identify possible risks, and help organize timely product development.
Experts often recommend starting with a minimum viable product (MVP) to save the entrepreneur's time and budget and reduce risks. An MVP includes only the essential grocery app features. After the MVP is launched, obtains a user base, and collects feedback from the first users and investors, the company can gradually add more advanced features.
Certain functionalities are likely to be found in any mobile grocery app:
Registration with as few text fields as possible and optional onboarding.
Log in with a password and email address, phone number, or social media profile.
Personal profile with information about a user, including their name, phone number, email, address and ZIP code, favorite grocery store, etc., with general account management options and app settings.
Marketing information on sales, discounts, promotions, coupons, etc.
A quick and easy search that can be facilitated by product categories and filters, predictive search, and favorites lists.
Product listings, including at least the product name, pictures, and price, and possibly comprehensive nutrition and allergens information, rating, reviews, details for vegans, religious groups, etc.
Digital loyalty card with a barcode or QR code and features related to bonuses, rewards, redeeming points, etc.
Shopping list.
Push notifications, including order status updates, location-based information about offers, current sales or promotions at nearest stores, discounts on items they buy often, availability of favorite goods, abandoned shopping cart reminders, company news, etc.
However, different business goals require different feature sets, as the previous chapter shows. For example, if you have a pick-up option, you might add the customer's location tracking and QR-code system to identify customers at pick-up points. If your app offers delivery services, you need to provide multiple payment options for users and an interface for drivers and couriers.
Additionally, you may add to the MVP or subsequent versions of your mobile app:
prices comparison
product labels for allergens
voice search
chatbot that can answer generic questions on products, delivery statuses, etc.,
recipe recommendations based on the food items bought previously
forming a shopping cart based on a particular recipe…
… or any features that can enhance the user experience and make your app competitive and unique. The features must be valuable for your business and your customers.
Remember that along with a grocery shopping app, you will also need an admin panel for managing all in-app processes. These functions are usually realized through a web application. For example, a grocery delivery app's admin panel for managers and administrators may include a user-friendly interface and features for:
order management and tracking
tracking payments
real-time inventory management
in-app content management
running promotions, offers, rewards, etc.
creating, sending, and automating push notifications to all users or particular groups
keeping track of courier working hours
managing consumers and other app users
providing support for consumers and stores and handling returns and refunds
keeping track of various statistics, such as monthly, weekly, and daily users, most and least popular products, in-store purchases/pick-up/home delivery numbers, days with more and fewer sales, most popular payment methods and price range for customers, most and least used app features, etc.
2. Assemble your grocery app development team.
Entrepreneurs can have a team build the mobile grocery app in-house, hire freelancers or an external dedicated team, or outsource the job to an offshore software development agency for greater savings.
Your minimal grocery mobile app development team is likely to include:
Project manager
Android developer
iOS developer
Back-end developer
Web developer
2-3 quality assurance (QA) specialists
When recruiting grocery app developers, look for specialists in the following popular technologies:
For a grocery app back-end development:
Programming languages: JavaScript, Python, or PHP
Frameworks:
JavaScript: Angular, Ember.js, Meteor, React, Vue.js
Node.js: Express.js, Nest.js
PHP: CakePHP, Laravel, Symfony
Python: Django, Flask
Database: MongoDB, MySQL, PostgreSQL
Caching tool: Redis or Memcached
Server: Amazon Web Services, DigitalOcean Cloud Services, Linode, Microsoft Azure, Vultr
Web server software: Apache HTTP Server, Nginx
For grocery mobile app development:
Native mobile apps: Kotlin (Android), Swift (iOS)
Cross-platform mobile app: Flutter, React.js + React Native
Global payment s: Braintree, Stripe, PayPal
For grocery app web admin panel:
Programming languages: CSS, HTML, JavaScript, TypeScript
Create an attractive and user-friendly grocery app design.
The primary goal of grocery mobile app design is convenience. A practical, intuitive, and visually appealing solution will nurture customer loyalty and garner positive reviews and recommendations. Quality grocery app design implies:
a smart user experience (UX) design that will make the purchase journey as short and smooth as possible
minimalistic and clean user interfaces (UI) for customers, couriers, and other users
brand design that vividly delivers the company's message and distinguishes the app from the competitors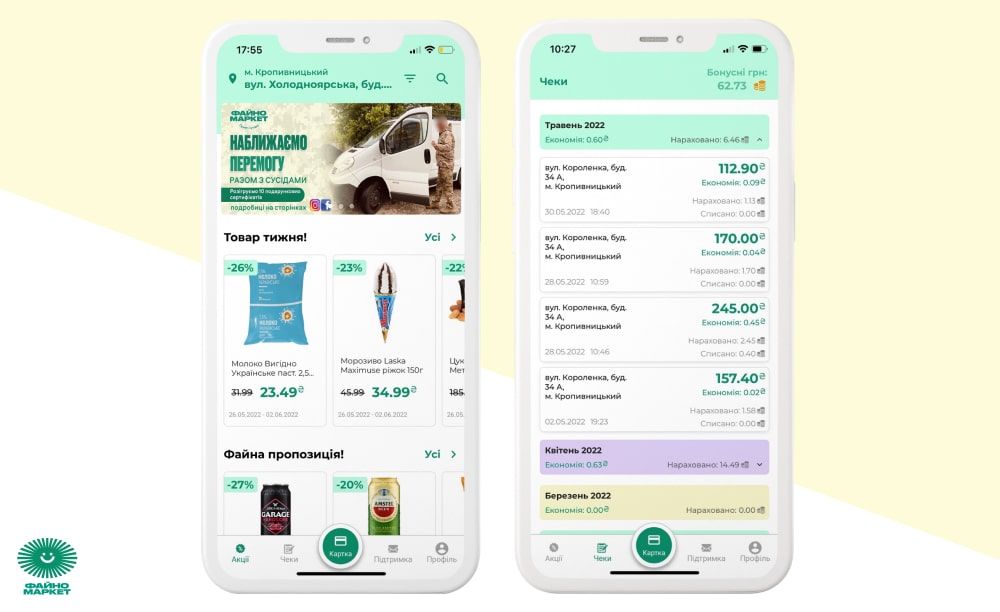 For example, here are several UX tips from Alternative-spaces's experience:
Minimize the users' need to search for anything. Discounted products should be the first thing shoppers see on the home screen when they launch the app. It should list the most popular products first.
Department categories and subcategories can be neatly placed in a drop-down menu.
Customers must be able to save and easily return to their cart-in-progress. Consider including a progress indicator for users to know where they are in the check-out process and create a solid and clear call-to-action.
The eCommerce UX/UI design best practices also apply to online grocery marketplaces.
4. Have your mobile and web apps built and tested.
Every project starts with fixing a technical base for further operations. Then, the web and mobile developers implement the designed interfaces. At the same time, the back-end developers build databases and implement APIs, various services, and libraries for the system's inner workings.
The app has to be coded to meet all applicable requirements and go through
functional testing
usability testing
interface testing
security testing
It is essential to check whether the mobile app runs equally well on different devices, debug the entire code, and remove all issues before deployment. However, error elimination and maintenance will continue long after the app is released to Apple's App Store or Google Play.
Alternative-spaces's Expertise and Experience in Grocery Store App Development
For METRO C&C, an international wholesale grocery retail company, Alternative-spaces developed branded mobile apps for the iOS and Android platforms.
The project supports METRO's long-term strategy to:
digitize the current offline customer processes
facilitate shopping at physical METRO stores
pave the way for future online sales
Alternative-spaces's team joined the project after the specification and design for the minimum viable product were developed. They started with an audit of the UI/UX design, made some recommendations, and had the app design adjusted.
The MVP's functionalities — registration, customer card, METRO stores list, and advertising brochures — were developed in close cooperation with the client.
The loyalty program launch was a milestone in the development of METRO UA wholesale shopping apps. Eventually, Alternative-spaces's developers implemented the product barcode scanner, shopping list, linking stores, push notifications, vouchers, and the product catalog.
As of July 2022, the Android app alone has had 500,000+ downloads. Alternative-spaces's team continues fixing issues and adding new functionality to the supermarket applications.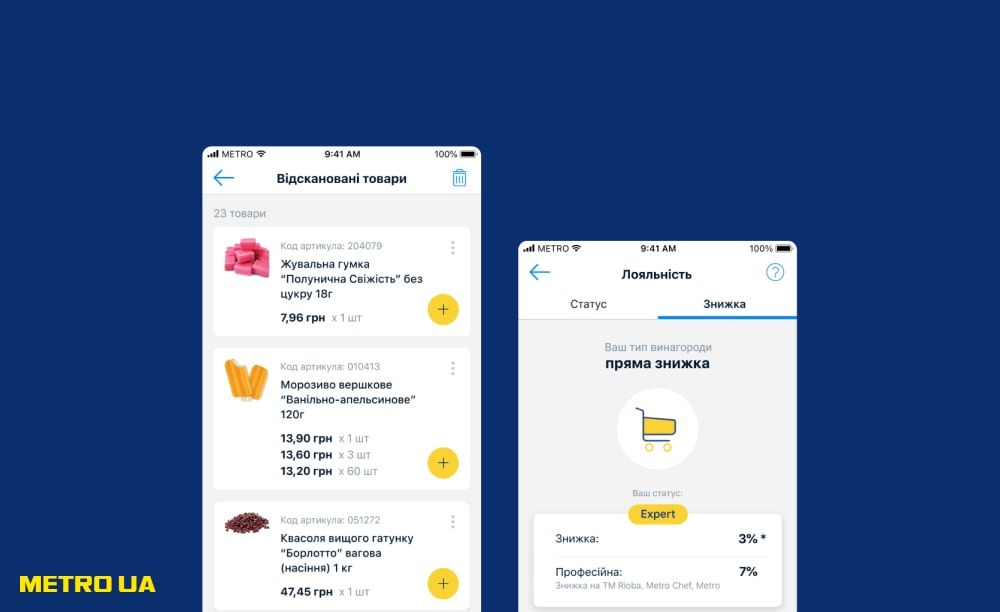 Fayno Market, a Ukrainian chain of grocery stores, intended to use promotions and bonus programs to convert mobile app users to active shoppers at their physical stores.
Alternative-spaces's specialists had to build a solution from scratch in a very short time, so it wasn't feasible to implement all of the client's ideas in the first version of the app. Together, we reviewed, discussed, and approved the proposed app features and software requirements again, reducing the task to building an MVP. Nevertheless, it included:
a native iOS application
an Android app
a database for the marketing department
The latter enables marketers, for example, to personalize special offers based on the analysis of the most frequently viewed products, popular purchases, and other customer activity data. The database currently stores information about over 18 million receipts and 70 million product items in the receipts.
One of the biggest challenges was to generate tailored offers considering numerous parameters. It also took significant effort to build a DB management system in such a way as to speed up the request-response flow.
Alternative-spaces's specialists chose PHP-based back-end development and other technologies that promote app functionality customization, massive database integration, and content management.
The Fayno Market team didn't want to use an admin panel, so we built a tool allowing them to administrate the database. The integration with their custom enterprise resource planning and customer relationship management systems was challenging, but we worked out an architecture that perfectly met the client's needs.
Although not responsible for the app's visual design initially, Alternative-spaces's designers created some parts of the application and modified the design as the developers introduced new functionalities.
The Fayno Market mobile apps were published on the App Store and Google Play store in early 2020. Currently, the number of customers registered through the application exceeds 100,000.
Here are some statistics for the first two years of the mobile apps' operation: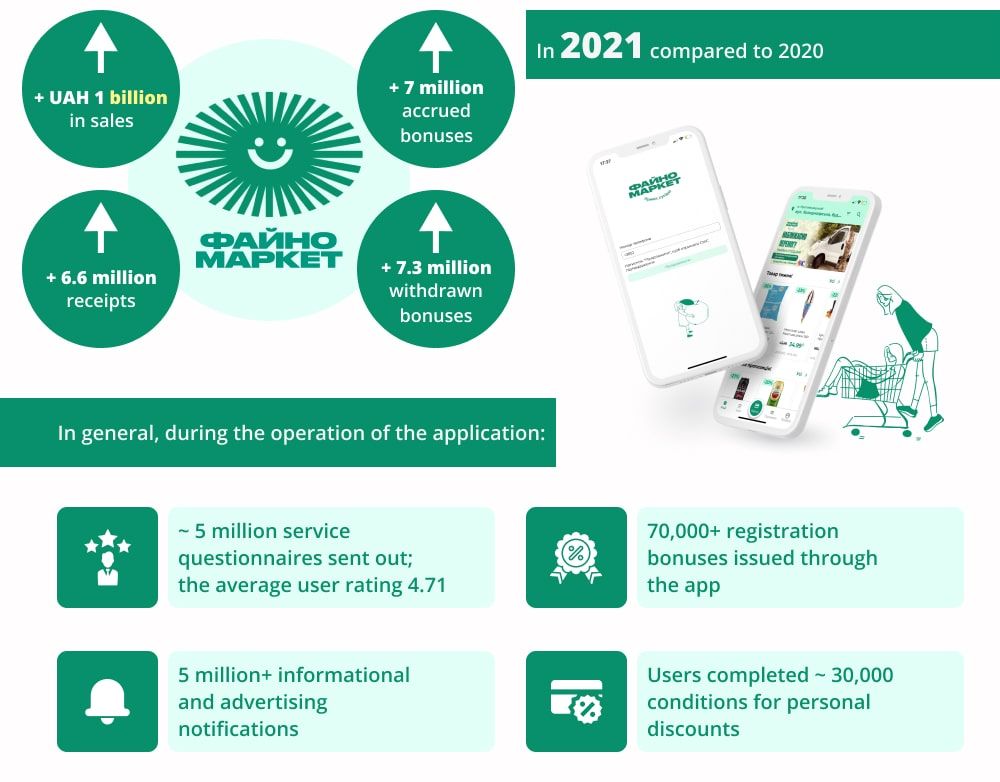 To Recap
The market for grocery shopping applications is still in its infancy but is poised to grow. They received a significant boost from the pandemic, but after it's over, many customers will still opt for convenient and economical online grocery shopping. A custom shopping app can prove effective in increasing sales, improving the customer experience, and providing timely and accurate customer insights.
The current year seems like a great time to expand a grocery business online or start a delivery service. Are you ready to make your own grocery delivery app or another solution for grocery eCommerce? Do you need to enrich your existing customer experience with novel features or updated interface design? If yes, Alternative-spaces is at your service!
FAQ
What businesses are the primary beneficiaries of grocery mobile app development?
Big supermarket chains
Tech companies that act as a middle-man between stores, delivery companies, and online shoppers
Delivery and courier companies
Tech companies that create applications for the industry
Small grocery retailers and chains
What are my steps to building a grocery shopping app?
Determine your business goals, vision, and problems, and research the target audience, demand, and competition.
Select the essential grocery app features and prepare a technical specification and basic wireframes.
Engage grocery app designers and developers who can deliver a solution according to the specification. The best approach would be to engage specialists as early as Step 1.
Have the app's user experience, interfaces, and branding designed.
Have the grocery mobile app's front-end and back-end programmed and thoroughly tested before publication.
How much does grocery app development cost?
The main factors that determine grocery app development cost are:
the app complexity and the number of features
for which platforms it is being developed
the choice of technologies and third-party services, such as payment gateways
the app developers' salaries or hourly rates, which differ from country to country and from company to company
For example, the first factor directly impacts the number of man/hours necessary to create grocery delivery app:
| | |
| --- | --- |
| Type of work | Estimated man-hours |
| Front-end development | 450-550 |
| Back-end development | 320-400+ |
| Design | 120-150 |
| Project management | 160+ |
| Testing | 180+ |
| Total estimate | 1,230-1,440+ |
You can roughly calculate the app development cost by multiplying the development time by the specialists' hourly rate. By outsourcing the development to countries with a lower cost of living, such as Eastern Europe or the Indian subcontinent, you can negotiate lower rates and save up to half of your budget.
Can Alternative-spaces set up a dedicated grocery app development team for my project?
Yes. Our company offers a variety of experts that can make an excellent dedicated team. In particular, they have considerable experience building eCommerce solutions for the web and mobile devices.
You can count on Alternative-spaces's vast and unique technical expertise. Over 22 years, our software engineers have worked on hundreds of diverse projects in various industries, developing flexibility and out-of-the-box thinking and creating impressive libraries of solutions and methods.
Our seasoned designers, programmers, experts in test automation, QA and DevOps engineers, and PMs are accustomed to rapid delivery under the pressure of deadlines, Agile development practices, and frequent changes on projects.
Content created by our partner, Onix-systems.
Source:
https://onix-systems.com/blog/how-to-build-a-grocery-app