How to Create a Meditation App: Features, Development Process & Cost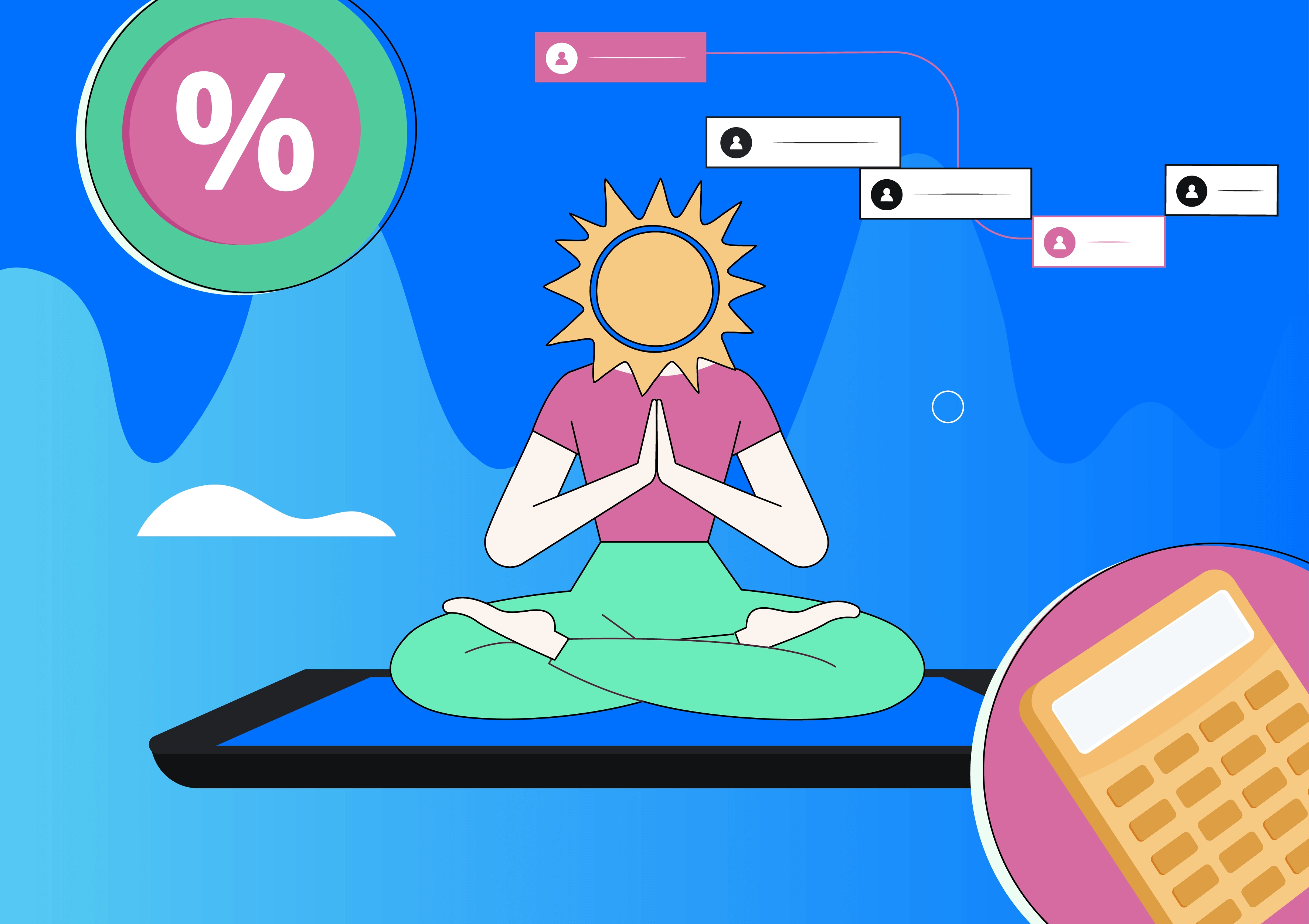 The mental health and wellness app sector is a trending area for startups. In this post, we explain why, share Alternative-spaces' experience in mindfulness and meditation app development, and offer tips to help you create your own meditation app.
Table of contents
As everyday stress and mental health awareness grow, people look for ways to calm down and relax. This has propelled the popularity of yoga, meditation, and other spiritual practices. For example, our company has assisted in creating an Oculus VR meditation game. InnerVR offers diverse virtual environments and experiences that help players ease their minds and recharge daily, making mindfulness a habit. And people love it!
Simultaneously, the adoption of mobile devices and sensor technology-based health-tracking applications has been growing. Together, these factors gave rise to mindfulness and meditation mobile apps.
Virtually all know the pioneers' names: Headspace and Calm. In 2010, a Buddhist monk and his ex-client founded the Headspace startup in the UK with only $50K of initial capital. Today, it has reached 70 million downloads and provides guided meditation and stress relief activities in multiple languages across 190 countries. Headspace generated around US$15 million through in-app purchases (IAP) in Q1 2023, 7.5% up from the previous quarter.
The Calm meditation app arrived in the UK market in 2012. The app has since exceeded 100 million international downloads and 4 million paid subscribers. Calm's IAP revenue in Q1 2023 reached US$22.5 million.
A wave of Headspace/Calm app clone development followed. Between 2015 and 2020, over 2,500 meditation apps were launched. However, by 2021, the two leaders shared around 70% of the U.S. meditation app market.
In the B2C meditation apps segment, revenue from subscriptions and IAP is projected to reach US$4.64 billion in 2023. The United States will account for most of the revenue – $940.3 million. Growing at a CAGR of 11.06%, the global market should exceed $7 billion by 2027.
If meditation app development like Headspace or Calm seems like an intriguing idea, you're in the right place! Here, you can learn about the essential features of such apps, how they can be improved, how they are built, and how much the development may cost.
Read also: Mental health app development – complete guide
If you are not convinced yet, the following chapter should provide context for meditation app development.
A Few Reasons to Develop a Meditation Mobile App
These apps offer instruction in breathing techniques, relaxation, and mental images. They help users find inner peace during stressful periods, fall asleep faster, overcome anxiety and strain, and even help manage depression, chronic pain, high blood pressure, and other health issues. Moreover, mobile apps bring guided meditation to practitioners' homes – exactly what 21st-century consumers appreciate.
However, there's much more to meditation apps that makes their development a promising endeavor for entrepreneurs.
1. Meditation apps are varied and appeal to different groups.
Mindfulness and meditation techniques are easy to explore, learn, and practice for anyone and come in a variety of types, presenting nearly endless opportunities for app developers and marketers. Various use cases, feature sets, types of content, and business models are possible, allowing for great creativity and flexibility.
For example, meditation app developers can consider, at a minimum, the following types of meditation to include in their app:
Guided meditation. Users listen to recorded guidance from a teacher throughout a session. Guided meditations are more suitable for newbies.
Unguided meditation. Some people prefer to meditate in silence, so the apps offer only music or sounds of nature as the background for their meditation sessions.
Movement meditation. People meditate not only sitting or lying down but can also move and stretch their bodies to recorded session tracks. It's even possible to meditate while walking, dancing, commuting, gardening, or doing household chores.
Visualization meditation. Practitioners concentrate on inner images instead of letting their minds wander. This type of meditation can be guided or accompanied by ambient music.
Chanting meditation. Practitioners sync their own chanting with a coach or spiritual director.
Since meditation is a deeply personal practice, there can be no one-size-fits-all solution or format. Despite a huge number of existing apps and the Headspace/Calm domination in the US, users worldwide still seek alternatives.
Any newcomer has a chance to stand out, for instance, if they come up with a significant improvement to the user experience (UX) or a way to meet their target audience's needs better.
2. Growing demand promises high revenues.
The expected notable mindfulness app market growth will be driven by
– growing mental health awareness and increasing government support of yoga and meditation-related projects
– the rapid digitalization and surge in smartphone penetration
– the rising application of sensor technology and smartwatches
200-500 million people worldwide meditate regularly, and this number continues to grow. Meditation and mindfulness practices are so popular that schools encourage kids and businesses their employees to practice at work, stimulating meditation app developers to offer corporate plans.
Meditation app user penetration, estimated at 2.85% in 2023, is likely to reach 3.46% by 2027.
3. Meditation apps present excellent monetization opportunities.
Region-wise, Asia-Pacific, specifically Japan, China, and India, remain significant participants in the global mindfulness meditation app industry. However, it is North America that is expected to lead the market due to favorable government policies that boost innovation, a substantial industrial base, and high purchasing power.
Several free app monetization methods can be applied and combined in meditation apps. Many popular services have successfully implemented premium subscriptions and accustomed audiences to paying for a mindfulness app.
The most popular monetization models for meditation apps are:
Subscriptions. An app offers a free trial period with complete access to all features or some introductory meditation sessions for free. If users want to keep using the app, they opt into a monthly or annual subscription or pay a one-time fee that grants access forever. Premium subscriptions facilitate steady cash flow and profitability and are Headspace's primary monetization method.
Freemium upsell. The Calm app is built on a freemium model. Users can listen to free content as long as they want. However, they need to subscribe if they want to unlock the entire library. These fees may unlock advanced features, remove ads, or provide other perks.
In-app purchases. Users may pay for particular services or content on the platform as well. These digital items should be moderately priced so that users wish to pay for them on top of the subscription fees.
Fee per download. Although an upfront payment may be a friction point for potential users, some apps also charge a small fee for downloading the app. Buddhify is an example.
Ads. Apps providing meditation sessions for free may display ads and receive payments for views and clicks. This method should be used cautiously: while a free app attracts users, excessive ads may have the opposite effect. For users annoyed with ads, publishers may offer an ad-free app for a small fee.
Partnerships and sponsorships. An app with a substantial audience may attract brand partners. For example, Headspace has collaborated with Amazon, Apple, Nike, Spotify, and other companies.
Read more: 12 mobile app monetization strategies to use in 2023
4. Meditation apps are highly scalable.
Meditation goes well with many other practices beneficial to mental and physical health. App owners can scale it in multiple directions to meet their users' evolving needs.
Read also: Top trends that will impact the digital fitness industry
But let's review the essential meditation app features first.
Key features of meditation apps
There are 5-8 core features that any user expects to encounter in any app like Headspace or Calm.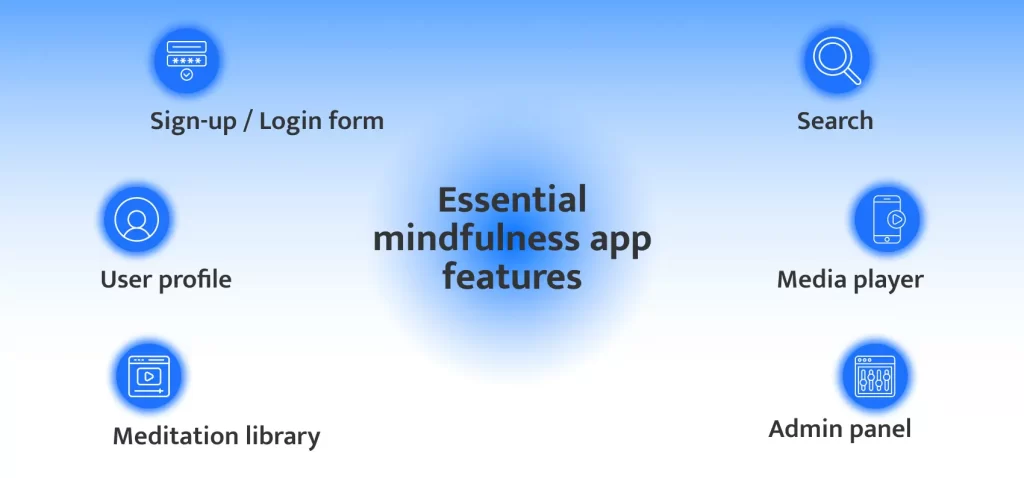 1) Sign-up / Login form
It is generally recommended to simplify the sign-up form. An email address and password should suffice. Signing up with a Facebook or Google account is fast, convenient, and eliminates the need to remember one more password.
2) User profile
This is where users can quickly access information about their subscription plans, the history of their meditations, progress, and, if you're using gamification, leaderboards, bonuses, etc. Users should also be able to access settings to change the app's language, add photos and profile status, change their credentials, turn on/off and tweak push notifications, customize interface colors and sounds, and further personalize their app experience.
3) Meditation library
The primary meditation app feature is high-quality content organized into a searchable structured catalog. The more diverse your content, the more people it attracts and the longer they stay in the app.
Consider offering:
guided and unguided sessions
audio and video content supported by music, sounds of the ocean, birds, etc.
meditations narrated by male and female narrators, spiritual gurus, and even celebrities
meditations for various purposes (sleep, anxiety, depression, eating disorders, personal growth, fear of flying, etc.)
various formats (soothing music, breathing meditations, sleep practices, bedtime stories, meditation exercises, masterclasses, yoga sessions, meditation-aided workouts, etc.)
sessions of different length
onboarding tutorials and meditation for beginners and experienced practitioners
The library should be divided into logical groups and thematic sections. Each item should show its type, format, theme, length, and other information for users to know what to expect and sort and filter content.
Users may also appreciate the ability to bookmark/like items and create folders or playlists with favorite meditations.
4) Search
Content categories and labels facilitate a quick and intuitive search. A search filter and search by theme, purpose, or even author or narrator will improve the user experience. Effective voice search may become your meditation app's competitive advantage.
5) Media player
Play/stop and rewind buttons, video scrubber, and volume, speed, and voice settings should be prominent and convenient to tap.
As most meditation exercises require closed eyes, it's helpful to have a 3- to 5-second pause between the moment the user hits play and the meditation starts. The app may also include a countdown timer for any session so that users can set it to 5, 10, or 30 minutes, after which a soft alarm sound wakes them up.
Consider offering both streaming and downloading at least short audio meditation sessions when a user is offline.
6) Admin panel
The admin panel is usually web-based. The app owner needs instruments for:
running the app content (upload and delete content, manage categories, etc.)
managing subscription plans, digital goods, gamification, etc.
managing users and individual profiles
monitoring activities and running reports and analytics, etc.
A mindfulness meditation app can't be functional and valuable without these features. However, if you want to stand out from the crowd and succeed, your app should offer much more. Here are several ideas.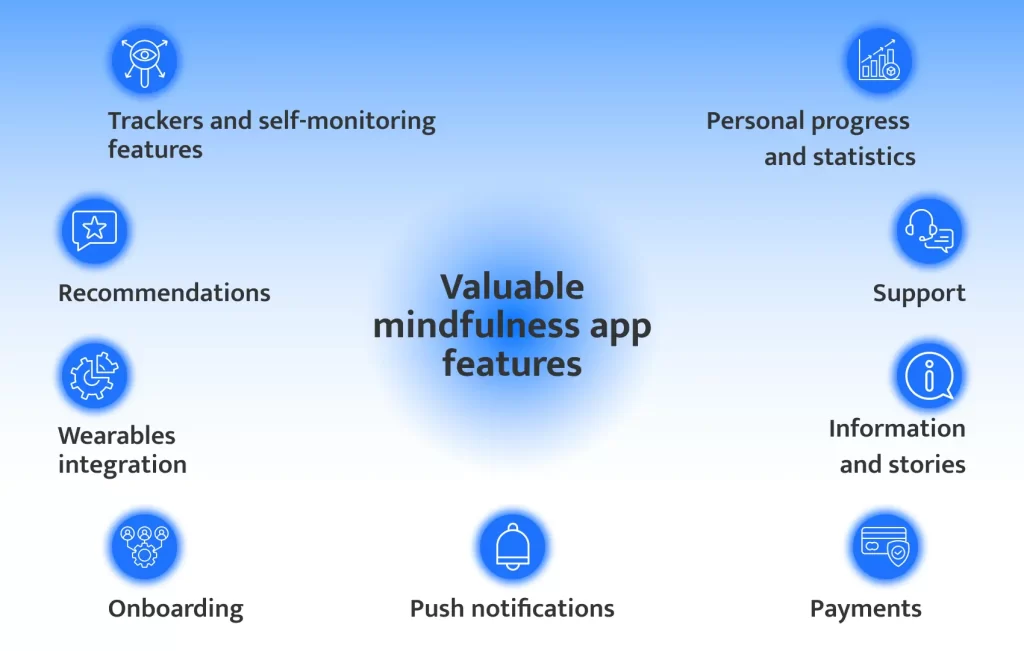 Onboarding
Introduction to the app is a crucial step in a user journey, especially for beginners and skeptics. The app should quickly communicate what it does, highlight its most important and unique features, and explain how users can navigate its parts. A slideshow, animations, or a 60-90-second introductory video may do the job.
The user journey in Solomiya, a meditation mobile app Alternative-spaces helped develop, begins with a survey that helps assess the user's mental state at the beginning of the app use. In the future, it will enable Solomiya to recommend the most suitable meditation courses or techniques based on each user's response. 
Recommendations
Consider implementing machine learning (ML) in your app. The app's ML algorithm can automatically recommend the first batch of content based on an onboarding questionnaire filled out by each user. Eventually, artificial intelligence (AI) can analyze the users' preferences and recommend the most relevant content.
Read also: How artificial intelligence will transform your business
Payments
The more payment options, the better. PayPal, ApplePay, or GooglePay will likely be helpful for any target audience.
Push notifications
Firstly, push notifications act as triggers to open the app. Users can set up a daily reminder so that every morning, the app invites them to meditate to prepare for the work day, or reminds them about a session scheduled 10 minutes before they go to bed. This will help users form new habits.
The app may also help users track their mood and other indicators or share motivational quotes and congratulatory notes about their daily progress. These app notifications should be unobtrusive and customizable, with the ability to opt out of them anytime.
Push notifications will also update your users about new content, app features, subscription renewals, discounts, etc., keeping them engaged and interested.
Trackers and self-monitoring features
Trackers are particularly valuable if your app is designed to help with specific issues, such as insomnia, mood swings, eating disorders, etc. For example, the app may regularly ask users to evaluate their mood or let them track their weight right in the app.
Read more: How to create a mood tracker app: features, tips & cost
It may be helpful to enable sharing of data on the user's mood changes, sleep patterns, and other health-related indicators with the user's therapist.
Read also: How to achieve interoperability in healthcare IT
Wearables integration
The app may send notifications to smartwatches and fitness trackers, reminding them it's time to relax or go to bed, facilitate breathing exercises without a smartphone, and collect data related to mindfulness and meditation, such as sleep quality.
Personal progress and statistics
Visualized results, progress bars, and rewards, such as badges, motivate people to continue meditating. For example, the Headspace app includes a run streak feature that records consecutive days when a user meditated.
Suppose the app includes trackers or is integrated with wearables. In that case, the app may demonstrate improvements in the user's sleep quality, moods, weight loss, or other indicators, statistics, and patterns to help adjust the users' routines and plans.
Support
If your business model includes live meditation instructors, you may implement video call functionality to provide consultations and real-time guidance to users.
A chatbot trained on frequently asked questions and responses can both educate users and substitute your support team. 
Information and stories
The app may offer tips for healthy sleeping, fitness, dieting, and more, as well as encourage users to share their success stories and tips that will be published to encourage others to meditate and improve their lives.
Read also: Diet Planner App Development – Alternative-spaces's Guide
These are just some of the possible options. Research and brainstorming with your team and experts may help you generate more ideas on how to create a meditation app for a particular audience. And that's the subject of the next chapter.
How to start a meditation app project right
Mindfulness app development requires research and expertise both on the technical and creative sides. We recommend the following:
Tip 1: Involve domain experts and content creators early on.
Your app must offer accessible and effective techniques and supply relevant, up-to-date information and content. You must start with at least a hundred and eventually provide thousands of meditation sessions. If you want to monetize your app successfully, you need not only to entice people to spend a few minutes daily or weekly with your app but to make that time beneficial.
Hiring consultants and content creators among experienced and certified meditation instructors early in the project will help make your mindfulness app efficient and unique and speed up your meditation app development.
Tip 2: Consider building a minimum viable product first.
A minimum viable product (MVP) enables entrepreneurs to quickly test the target audience's reaction to a product and its ability to benefit their business or generate revenue without spending a fortune. If an MVP proves to be successful, chances are it will start bringing you some ROI, and you will continue improving the app based on feedback from real users. If not, you will know you've minimized your money loss.
An MVP is basically a version of your app with the essential functionalities plus 1-2 distinguishing features. There's no point in a complete Calm or Headspace app clone development: you need to improve their app experience or enrich it with something new – your unique value proposition (UVP).
Proper meditation app design is as important as the right feature set, so it's recommended to engage an experienced designer to create the user experience (UX) and user interfaces (UI).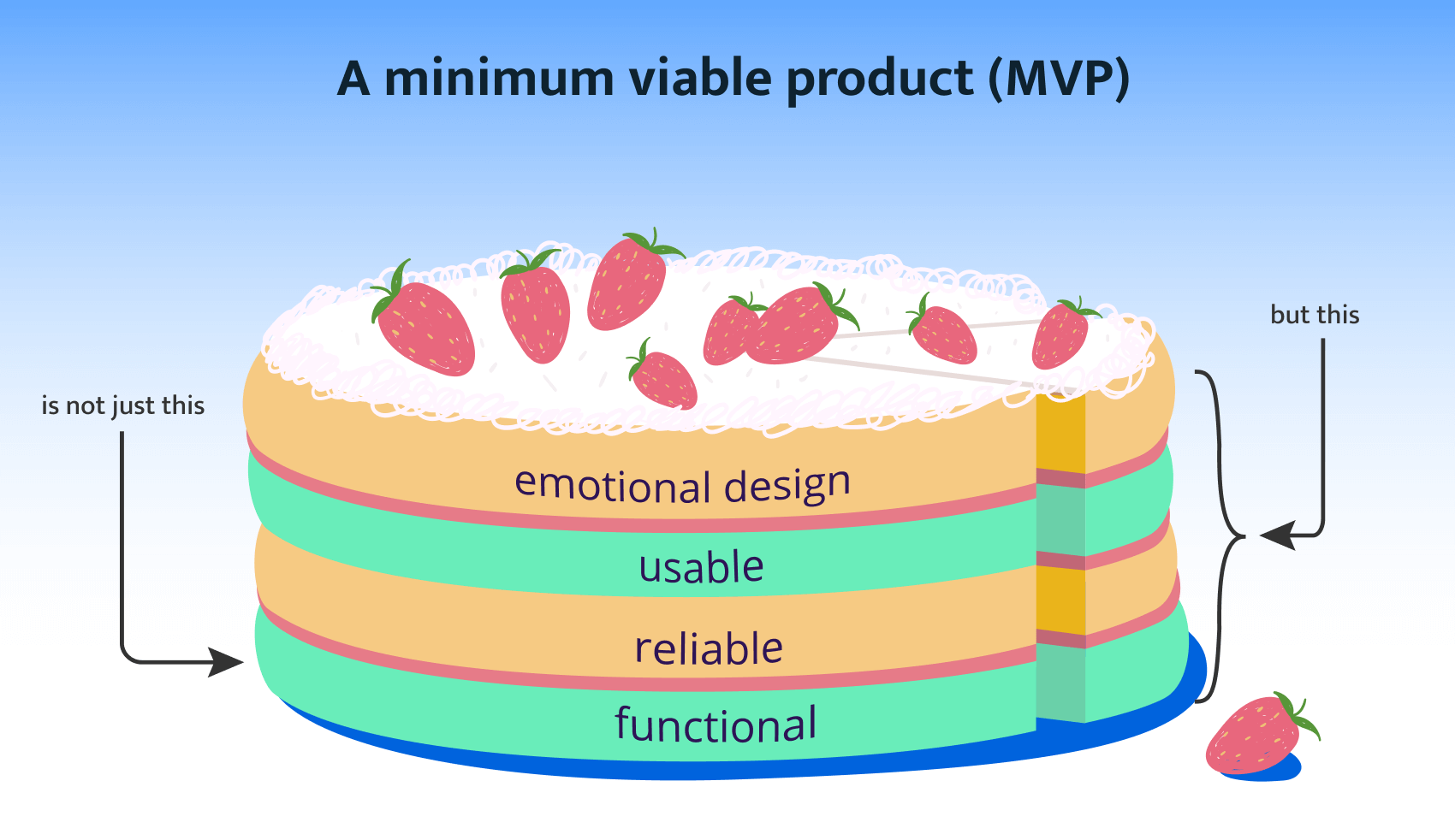 Ideally, your meditation mobile app should be available to both Apple and Android users to cover a larger market, but it's reasonable to choose between an Android and iOS MVP. If your MVP succeeds on one platform, a version for the other will follow.
Cross-platform development on Flutter or React Native is an alternative scenario. For example, our Solomiya meditation app tech stack included Flutter. This framework provides a fast and cost-efficient way to build apps for both iOS and Android devices.
Tip 3: Engage experienced mindfulness app developers.
A meditation development team is likely to include:
UX/UI designer
Android and/or iOS developer
Web developer for the admin panel
Server-side developer
2-3 quality assurance (QA) specialists
Project manager
A meditation app tech stack may vary from project to project, but we can list some technologies to look for on candidates' CVs and case studies:
Hosting: AWS, GoogleCloud, Microsoft Azure
Services: Jitsi (for streaming), MySQL (database), LoadNinja (testing)
Back-end: Django (Python), Laravel (PHP), Node.js, Spring Java
Mobile app front-end: Flutter, React Native, Kotlin (Android native app), Swift (iOS)
Web front-end: React.JS, Vue.js
Payment gateways: Platform-specific SDK
If you don't have these experts on board, it is most reasonable to engage external specialists who have completed mindfulness-related projects and know all the technicalities. 
Learn more: Best practices for outsourcing software development in 2023
We recommend engaging at least an experienced PM and app designer as early as possible: their assistance will be invaluable when you research and plan your meditation app project.
Tip 4: Conduct proper product discovery.
Firstly, you need a clear vision of the type of your meditation app. You need to formulate the problems your product should solve, for whom, and through what means.
It's crucial to study your target audience. Children, teenagers, women, seniors, religious and other groups have different goals, face different challenges, and prefer different coping techniques. The audience's age, mindfulness experience, cultural peculiarities, and financial standing may determine your design and content decisions, the choice of platforms, and monetization strategy.
Explore and assess the available methods of relaxation, dealing with stress and anxiety, sleep and eating disorders, or whatever your app will focus on. They must be popular with consumers and effective because you'll want users to open the app regularly.
Sometimes, a target audience can be as limited as a particular clinic's patients or a group of disenfranchised individuals. For example, Solomiya is intended for refugees dealing with the trauma of the Russian invasion of Ukraine.
However, a preferable scenario is to target an audience as broad as possible by offering all types of meditation for all demographics with all kinds of needs and problems.
If you have to choose between an Android and iOS MVP, your choice should primarily depend on the target audience's preferences.
Once you have decided on the app type, the next step is to research the market and the competition.
The 2022 Mindfulness Meditation Application Market Research identified the following major players: Calm, Headspace, Inner Explorer, Meditation Moments, Mindfulness Everywhere Ltd., Simple Habit, Smiling Mind, Stop, Breathe & Think, Ten Percent Happier, and The Mindfulness App. The Mindfulness Meditation Application Market study also listed Breethe and House of Deeprelax.
The comparison of top-ranking apps in your niche will help define the best and worst practices in mindfulness app design and development, and the analysis of user reviews may help you come up with a few UVP ideas.
Learn more: How to determine & prioritize features for an MVP
The necessity of decisions regarding an app's architecture and technical solutions is another reason why it's beneficial to involve professional developers during the research and planning. The discovery process is an integral part of Alternative-spaces's software development but can also be a separate service.  
At the end of this process, you should have at least a project requirements document. The experts you invited, or any other team or company, can use it to estimate the time frame and cost of developing your mobile app.
The requirements document will also guide the product development team at subsequent stages of your project.
How to create a meditation app in 3 steps
1. Prototype and create the UX/UI design.
Using the product requirements specification, UX/UI developers create low-fidelity, medium-fidelity, and high-fidelity prototypes, one after another, using feedback on each one to improve the next. Users can interact with a high-fidelity clickable mock-up of your app as if using a real app, allowing developers to check the features' work without coding anything.
Simultaneously, your meditation apps' color scheme, style, and branding will be created.
After getting feedback on the final prototype, the team can fix any identified issues and tweak the UX and UI accordingly before coding.
NB. Remember that you will also have to contract certified meditation instructors, writers, videographers, graphic designers, musicians, professional actors, voice-over artists, and other professionals to create content for your app.
2. Have the meditation app built and tested.
Using the project specifications and design prototype, the programmers will build the app's client and server sides and integrate necessary third-party services. The backend (server-side) will be shared by any apps you make: native iOS, native Android, cross-platform, and even a web app you may add eventually.
Learn more: How to integrate third-party APIs into your mobile app
Uninterrupted playback is one of the challenging tasks in meditation app development. The programmers must ensure that the audio and video files with narration or music play smoothly. Simultaneously, decent quality of the audio and video, especially with extended narrations, is associated with big files that require significant bandwidth.
AWS-based custom streaming may help with this issue. The system creates multiple copies of each file in different sound quality, and the app streams the file that corresponds best to the user's connection quality.
Most types of testing associated with m-health apps are essential to meditation app development:
Functional testing: This testing validates the product against the approved specifications.
Usability testing: This testing involves members of the target audience and helps improve and adapt the UX to end-user needs, accounting for possible attention and concentration problems, irritability, and other nuances.
Interface testing: This process tests the connection between the server and the app.
Compatibility testing: The app is run on different operating systems, mobile devices, and network environments to ensure it runs smoothly in all cases.
Performance testing: The engineers test the app's speed, response time, and scalability. Load tests and stress tests help ensure future stable work.
Once any identified bugs have been fixed and you're satisfied with the app's look and feel and performance, you can prepare for submitting it to Google and Apple's app stores. Your product must comply with the respective app store's guidelines and monetization requirements before it can be published.
3. Launch, evaluate, and improve the app.
After the app launch, you will need to track user engagement and other KPIs to identify improvement areas. Some of the indicators and issues you'd want to track include:
the most popular paths users take inside the app
any roadblocks that prevent them from taking desired actions (e.g., subscribing)
average user session time
monthly active users
user retention and churn rates
app stickiness
average revenue per user (ARPU), etc.
FREE DOWNLOAD
60+ SaaS Startup Metrics for Smarter, Faster Business GrowthDownload PDF
The app's content needs to expand continuously to keep users engaged and increase customer retention, which is crucial to your app monetization. You will have to regularly create and upload new guided meditations, music, sounds, and any other content your users and market trends may require.
Your team should also maintain the app's high loading speed.
The metrics you monitor and the collected feedback will determine your next steps regarding your app development. The analysis of users' activities will help you understand what they enjoy and dislike, or what is lacking. By tailoring the app's experience according to these findings, you will be able to retain more users and engage them over the long term.
The work on app improvement never ends. The development team will have to remove, add, and modify features, update layouts, fix bugs, and more.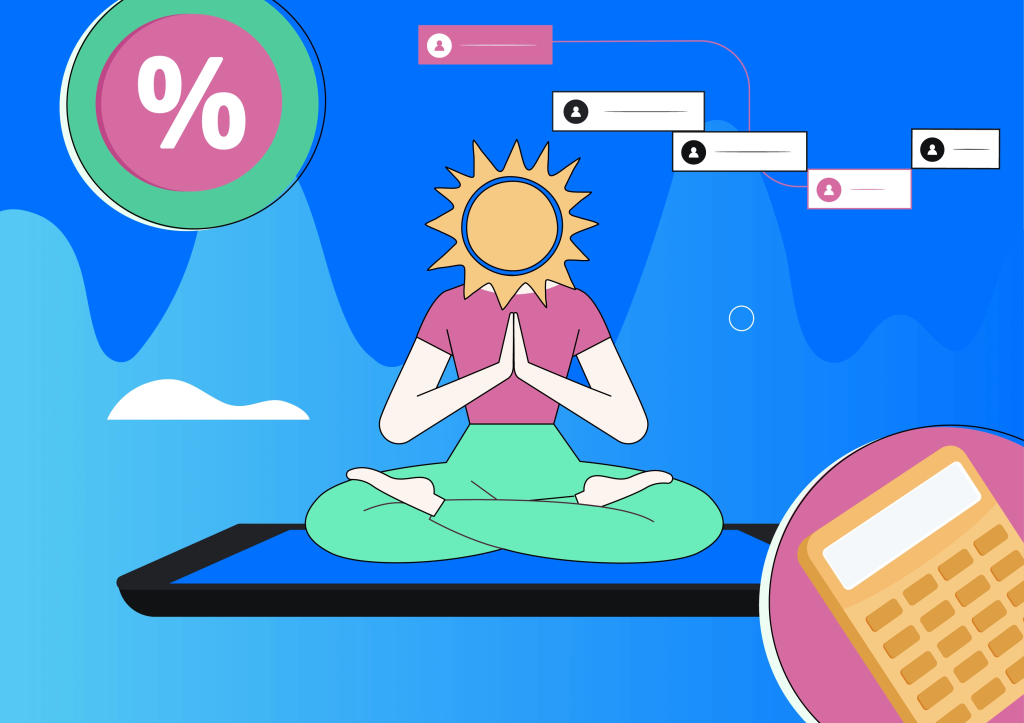 Let us share a few more tips for successful mindfulness app development.
Meditation App Development Best Practices
Follow the established meditation app design guidelines.
An app helping users to cope with stress, anxiety, and similar issues must have the most user-friendly and intuitive interface ever. A cluttered layout, annoying colors, or occasional distracting visual elements may scare off irritable users.
Your meditation app must be easy to navigate, and prominent buttons should encourage users to tap and dive into mindfulness content. Everything, from the app's logo on the splash screen through transition and fade-in effects and typography to the sounds, should create a smooth and soothing app experience and help tune the user's mind into meditation.  
The minimalist design approach and pastel color palettes are common for apps like Headspace and Calm. The designer should provide maximal value for users with the minimum of elements on each screen.
Light shades of pink, violet, blue, and green are favored. Earthy colors, such as muted shades of orange, brown, and beige, are also perceived as soothing and warm, inducing feelings of security and tranquility.
Nature-inspired tracks and imagery may enhance the overall meditation experience. Abstract art and audio are another popular option.
Cute or funny illustrations, images, animations, sound effects, tunes, and videos can build an emotional connection but should be used with caution. Animations may substitute text, and short videos may help users understand new app features.
A meditation app's onboarding process requires some extra care and creativity. While explaining to first-time users what meditation is and what your app offers, it must be engaging and appealing and convince them to stay and continue exploration. So, whatever medium you choose, you should make the story easy to understand, engaging, or even interactive.
InnerVR solved this problem brilliantly by introducing a cute virtual character to guide users through the app experience.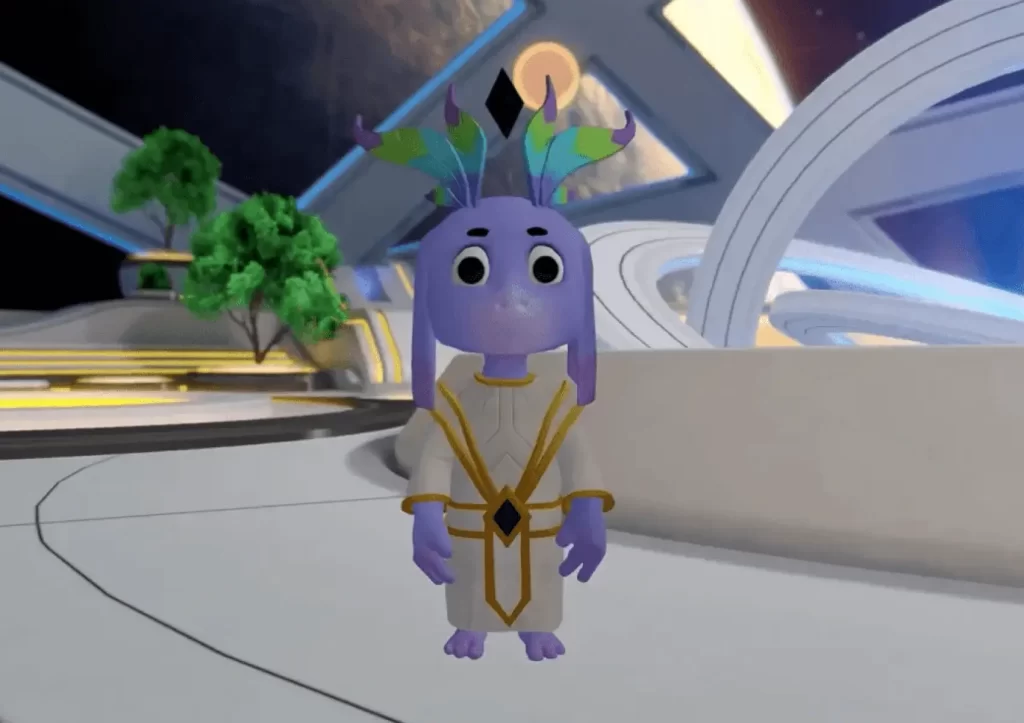 If you want animated elements in your app, you must ensure they are well-designed, run smoothly, and are functional rather than filling the gaps.
However perfect you may think your app's UX and visual design, you should still enable users to personalize it to meet individual needs.
Employ gamification to engage users.
Gamification is one of the best ways to keep app users engaged and interested. Most people like reward systems; many enjoy competing with peers, while others want only to see their streak going.
A meditation app may award points and badges for users' regular meditations or for completing a particular session series. For example, the Headspace app allows users to track their daily performance on the app. This can also help create a loyalty program and eventually entice users into a paid subscription.
You can run A/B tests on your target audience to discover preferred gamification models or implement several methods at a time to please more users.
Ensure multi-platform support.
People can utilize mindfulness mobile applications on smartphones, smartwatches, or tablets. However, modern users typically switch between smartphones and laptops throughout the day.
Your app should work consistently and synchronize on all popular platforms, OSs, and all screen sizes to maximize convenience and efficiency. This means that besides applications for Apple and Android mobile devices, your product line should include a web app eventually.
Read also: 3 things you need to know about progressive web apps
Invest in localization.
If you want to reach as many consumers as possible or even compete globally, you should make your app's interface and content available in multiple languages. Be ready to hire specialists to correctly translate all labels and content and narrate it professionally in each language.
How much does it cost to build a meditation app?
The following formula can be used to roughly calculate any mobile app development cost: app development time X app developers' hourly rate.
Here's a rough breakdown of a meditation app MVP development process: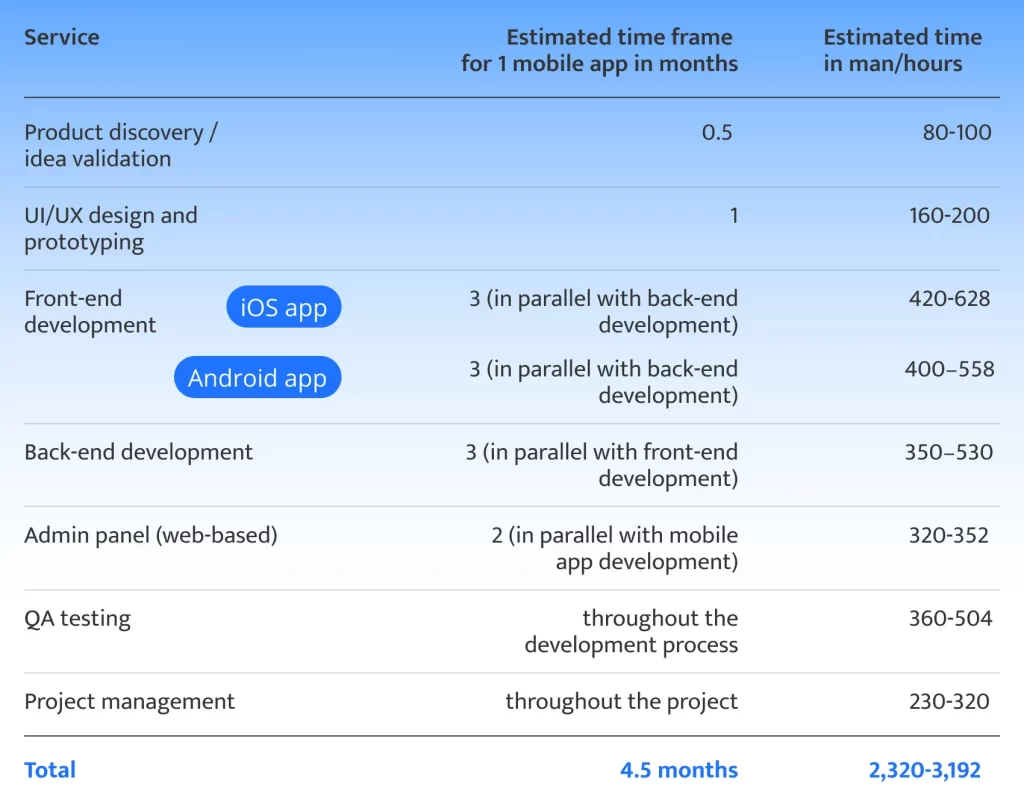 However, even an accurate calculation of these variables is tricky because each app and each entrepreneur's situation is unique. The factors that determine meditation app development cost include but are not limited to:
The number and complexity of your meditation app features. The more features you include, the longer it takes to design, program, and test the app. Features using complex technologies like AI will also increase the cost.
The intricacy of the meditation app design. Animations, unique visuals, etc., will expand your project cost.
The number of platforms you plan to cover. You may need to develop one or two apps using different technologies.
The technology stack selection. Meditation app development is possible with a variety of programming languages, frameworks, libraries, and integrations. An optimal meditation app tech stack facilitates more cost-efficient development.
Whether it involves 3rd-party integrations. The more services the app requires to integrate, the more it will cost.
The product development team line-up and qualifications. More skilled and experienced specialists tend to be more expensive than junior developers. However, they work faster and with fewer errors, which speeds up your app development.
The specialists' location. Software developers' wages differ dramatically across the globe: North America has the highest rates, and South-East Asia the lowest.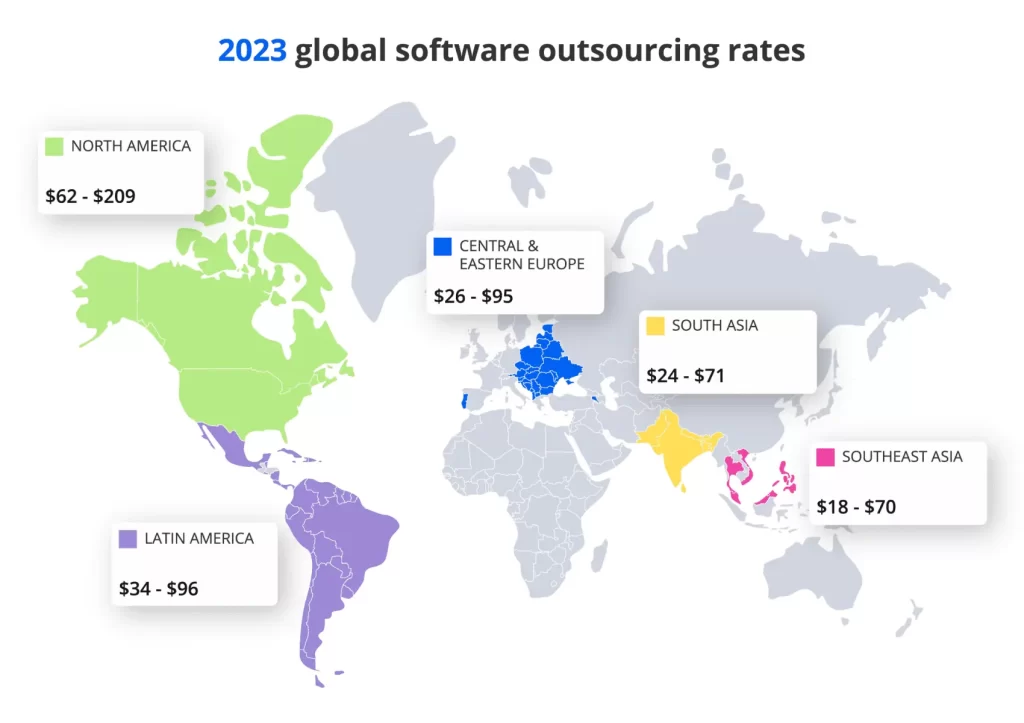 Given the gap between the designers' and programmers' hourly rates in developed and developing economies, the minimal cost of making the same app may vary from $110K in India to $314K in the US or Canada. At the average of $50-99/hour rate in Ukraine, the same product might cost around $116K.
In any case, the best way to get an estimate is to contact expert software developers. Such as Alternative-spaces.
Alternative-spaces's experience in meditation app development
Alternative-spaces's specialists have recently participated in a social project a group of German healthcare professionals initiated.
Solomiya is an MVP of a mobile app designed to help users who struggle with stress, anxiety, PTSD, insomnia, and related issues after traumatizing events. The app will be free.
Solomiya will provide information, strategies, activities, and other tools to help users get back to their normal selves.
The app's key features include:
Weekly plans including various educational and activity videos. Users can unlock the following week's plan only after completing the previous week's tasks. This ensures a more structured approach to mental health, just like in real life. Users can save activities that proved to be most helpful, which they enjoyed most, or would like to practice after completing the online course.
Weekly surveys will enable the app to assess the user's psychological condition and sleep quality and track improvements.
Reward system awarding scores for each completed task, week, etc., will also help users stay motivated and visualize the progress in handling their problems.
Community functionalities will enable users to communicate, support each other, and share their success stories.
Alternative-spaces's experts were responsible for the app's back-end development, working with PHP and Laravel.
Alternative-spaces also developed Solomiya's app design, logo, and parts of branding, focusing on convenience, empathy, and serenity while being culturally sensitive and inclusive. 
Our designers followed all meditation app design best practices. Through thoughtful choices of colors, images, animations, and branding elements, the app aims to convey a sense of tranquility, hope, and support for people on their journey to better mental well-being.
You are also welcome to check our InnerVR case study to learn how to create a mindfulness app for virtual reality.
Conclusion
For a meditation app startup, a solid product idea and reliable contractors are more important than initial capital. Here are a few tips:
Think through your business model and monetization methods in advance.
Start small with a free MVP with essential features. Once it gains traction, you can add more advanced features that users would pay for.
Conduct proper research into the competition, market, and target audiences to come up with ideas for the basic feature set and a UVP.
Engage mindfulness meditation experts early in the project and recruit experienced software developers in countries with the optimal price/quality ratio, such as Eastern Europe.
Follow mindfulness app design best practices.
If you think of designing a meditation app or growing your wellness business with a digital solution, please don't hesitate to contact Alternative-spaces. With our extensive experience in mindfulness and mental health app development, we can cover all your needs and requirements, from ideation to data-driven improvement, on time and within budget.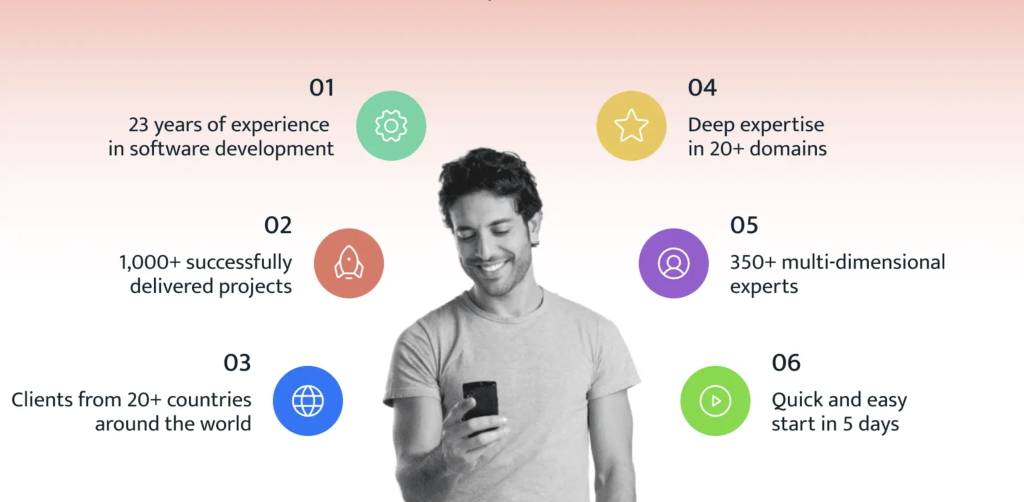 FAQ
What are the essential features of a meditation mobile app?
A mindfulness meditation app should include
sign-up and sign-in
user profile and settings
meditations library with various content
an audio and video player
a search function
A web-based administrator's panel should include a content management system, dashboards, and analytics.
How to create a meditation app?
The basic recommended steps to meditation app development like Headspace or Calm are:
Research and identify the end-users' and business needs, conduct competitor research, formulate your UVP, list the app features, compile your product requirements into a specification, and plan the budget and timeline.
Create a proof of concept to validate any idea that raises concerns technology-wise.
Develop a visually appealing and easy-to-navigate mobile app design.
Curate the app's content.
Code and test the app, ensuring it is user-friendly, fast-loading, and plays content smoothly.
How long does it take to make an app like Calm or Headspace?
Typically, a simple version of an app like Headspace with the functionality described in this blog takes around 4.5 to 6 months to build.
How much does it cost to build a meditation app?
The cost of mindfulness app development may range from $110K in India to $314K and beyond in the US or Canada. The best way to get a more accurate budget estimate is to share your idea with experts.
How to create a mindfulness app faster and cheaper?
One way is to start with a minimum viable product (MVP), a basic version of your app. This scenario will enable you to test market hypotheses and validate your business idea with minimal resources, time, and budget.
Another way is to outsource your meditation app development or hire a dedicated team. For example, the US often has the highest hourly rates, whereas Eastern European rates may be twice lower without compromising product quality.  
How to hire good mindfulness meditation app developers?
Choose a cooperation model that suits you best: а fixed-price contract, a time-and-material contract (aka hourly rates), or a dedicated team.
Choose your preferred outsourcing destination considering your time zone, the experts' average wages in the area, and cultural compatibility.
Look for meditation app development companies in the chosen country on the web, on specialized sites like AppFutura, Clutch, GoodFirms, or Upwork, in Gartner, Forrester, or other industry media lists, etc. Select 5-6 candidates.
Evaluate each candidate's website, portfolio, customer testimonials, reviews, social media pages, publications, etc., contact their past clients, or conduct other research before selecting 3-5 eligible companies.
Contact the candidates and evaluate each one's experience in mindfulness app development and practical knowledge in this niche, their specialists' skills and English proficiency, pricing policy, etc.
Choose one and, if needed, order a small testing task or proof of concept, visit their office, etc., before signing a contract.
Can you provide specialists for my meditation app project?
Yes. Alternative-spaces offers services and dedicated teams for web, mobile, and VR/AR development projects and possesses experience in mindfulness/meditation app development. Our company is among MobileAppDaily's top VR companies and was one of the most reviewed mobile app developers in Ukraine and AR/VR companies globally in 2022 (according to The Manifest).
Our experts can answer your questions, estimate the development cost, warn you about possible risks and technical challenges, suggest solutions and offer advice, design a delightful user experience and interfaces, and build your mindfulness app from A to Z.
Content created by our partner, Onix-systems.
Source:
https://onix-systems.com/blog/how-to-create-a-meditation-app-like-headspace-or-calm