12 mobile app monetization strategies to choose from in 2023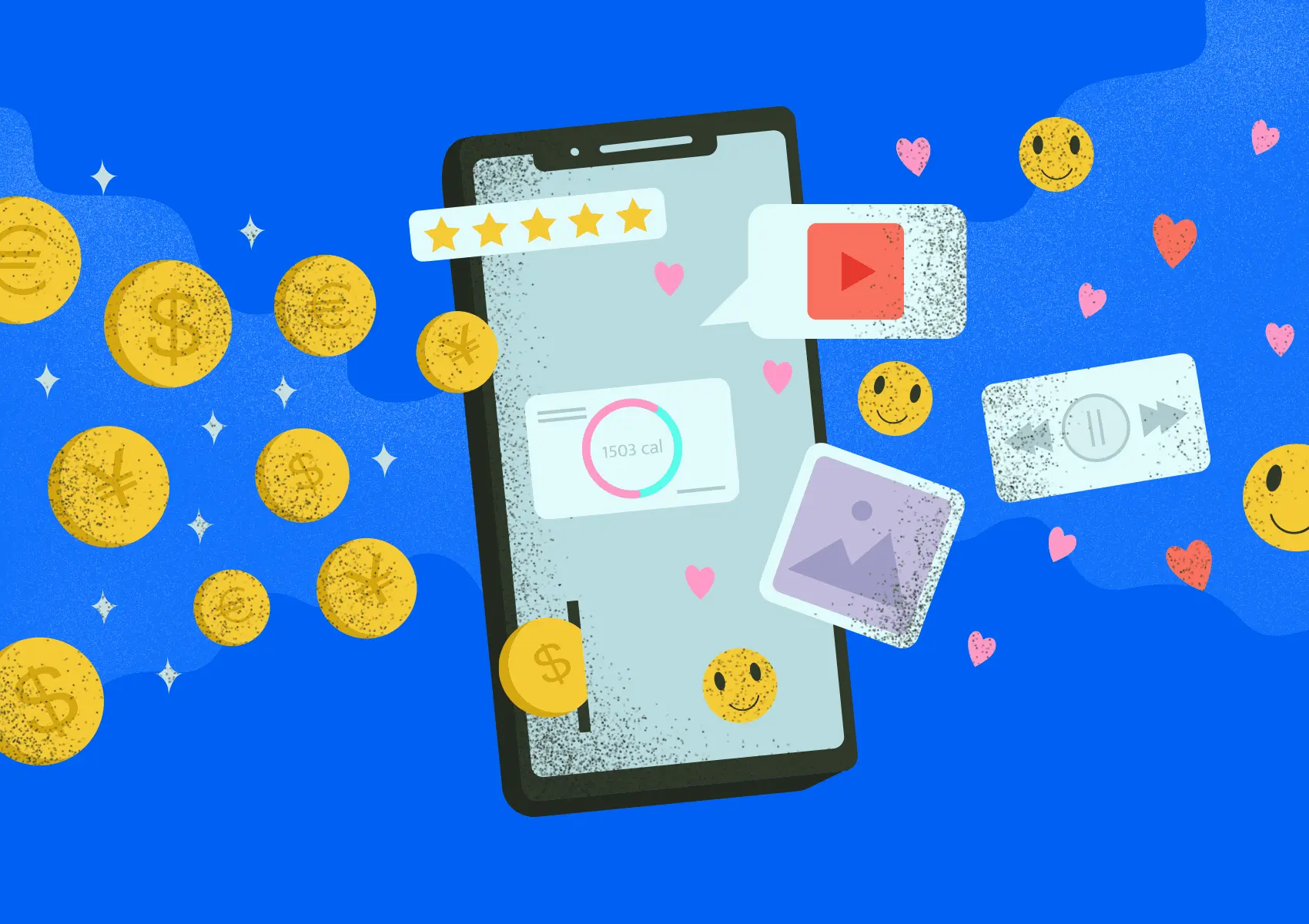 Mobile app monetization strategies are a complicated, tricky, yet essential topic when it comes to building a new mobile game or app or squeezing out the maximum of an existing product. Some app categories are more suited to specific monetization methods, whereas others may benefit from experiments with multiple methods.
Table of contents
Besides an exhaustive list of mobile app monetization options available in 2023, this article offers advice based on Alternative-spaces's experience in building various mobile apps.
The current situation around mobile app monetization
The annual 'State of Mobile' report by data.ai revealed that in 2022, consumer spending on mobile apps declined for the first time. This can be explained by macroeconomic factors tightening consumer spending on games. After several years of pandemic-driven growth, it decreased by 5% to USD 110 billion.
However, this is hardly a sign of recession because
App downloads grew by 11% reaching 255 billion
Hours spent in Android apps alone grew by 9%
Spending on non-gaming apps, where subscriptions became a more popular monetization method, increased by 6% to $58 billion.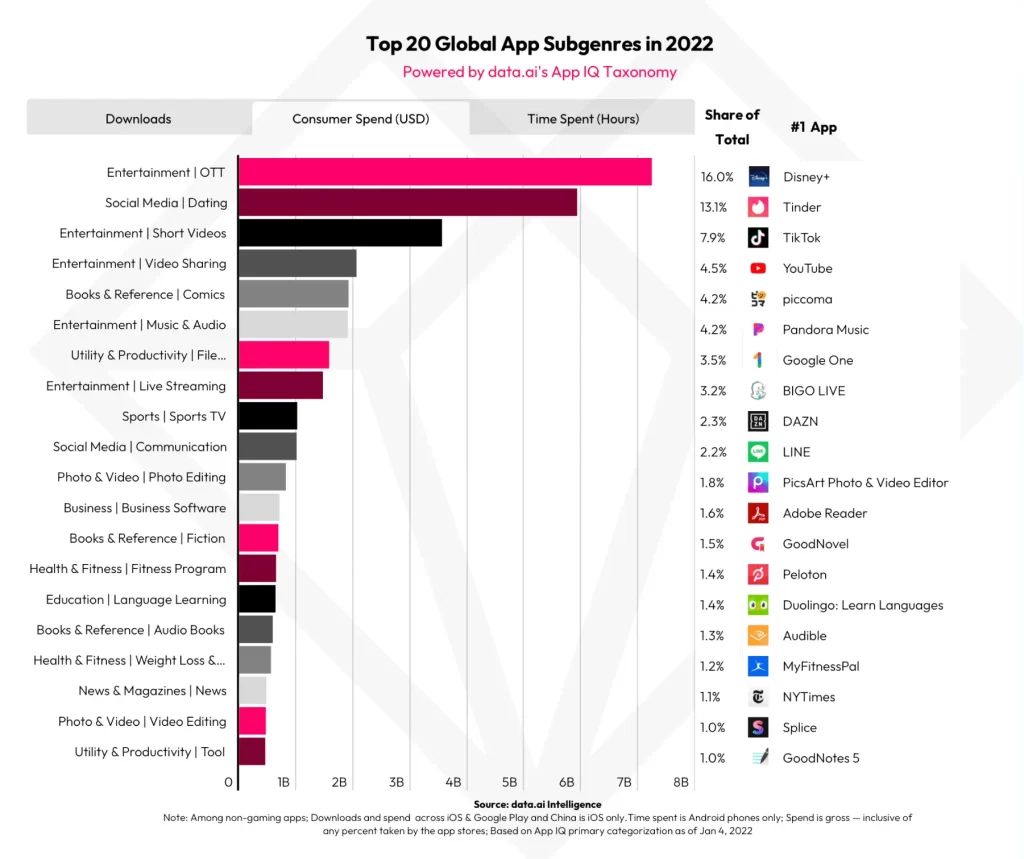 As of March 2023, only 3% of all Android applications were paid apps. However, this percentage varies per country. As of November 2022, 8% of apps from the United States required upfront payment, while the share of such apps globally was only 3%.
Mobile advertising remains the most popular and effective app monetization strategy. Mobile apps accounted for 61% of the global digital advertising revenue, which totaled $616 billion in 2022. As this share is expected to grow, mobile app advertising revenue may hit an astounding $693 billion by 2027.
In-app purchases, including subscriptions, are the second most effective monetization strategy for gaming and non-gaming apps alike. According to a recent report from The Business Research Company, the global in-app purchase market grew from $141.75 billion in 2022 to $176.63 billion in 2023, even despite the Russian invasion of Ukraine.
The increase in downloads of video streaming, gaming, and health and fitness applications should propel the growth of the in-app purchase market at a CAGR of 24.2% so that it may approach $420 billion in 2027.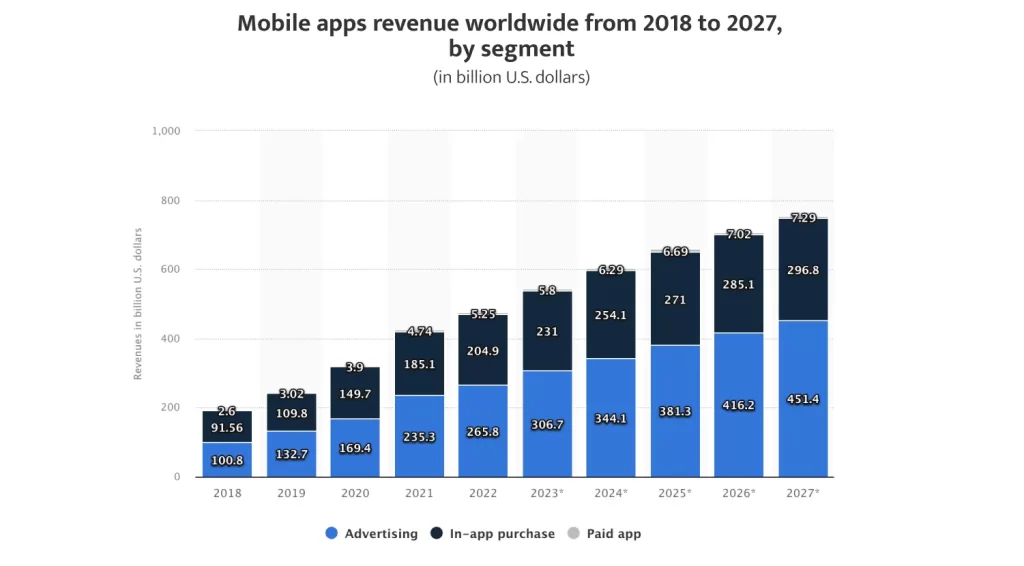 It's still beneficial for developers, publishers, and other stakeholders to know as many methods and variations as possible. The following chapters describe popular models, listing their pros and cons and the categories of apps that typically use them, and include relevant app monetization tips.
1. Mobile app advertising
Basically, publishers sell ad space in their apps to mobile ad networks. The networks supply the ads to display and typically pay for every click on an ad (cost-per-click or CPC) or a thousand times an ad is displayed. eCPM (effective cost-per-mille) is an estimate of the ad revenue the publisher receives from 1,000 ad impressions.
Learn more: How mobile developers make money from free apps
Pros:
Placing ads inside an app is often the fastest and easiest way to monetize it. Mobile ad networks find advertisers and use retargeting, advanced location targeting, and other algorithms to identify and deliver relevant ads to users in real time.
Most commonly, mobile advertising allows publishers to offer their apps free of charge to users, making it easy to build and scale an audience.
Some ad formats can even boost app engagement.
You can combine mobile ads with other methods to create hybrid app monetization strategies.
Cons:
The app publisher will likely have less control over the ads displayed in their app.
Mobile ads that are irrelevant, misplaced, or excessive may be intrusive and annoying to the extent that users abandon the app.
CPC and CPM are generally very small, so it takes significant user traffic to generate meaningful revenue. This may be difficult for first-time app developers.
More suitable for:
In-app ads are utilized across all categories except utility apps, e.g., a banking or maritime safety app, but are particularly common in games.
Multiple ad formats are available:
Banner ads
The small rectangular ad appears at the top or bottom of the screen. They can be static or dynamic and follow the user as they scroll. Banner ads often direct users to external websites.
Banners can be annoying and intrusive, and since they are small, it's difficult to get the most value out of the space.
However, they can be effective if high-quality, placed in strategic locations, and targeting the user based on their data and preferences. If you decide to go with banner ads, make sure to test different placements and designs to find what works best for your app and your users.
Video ads
These ads may appear before, during, or after a video within an app. They can also be used for a variety of formats: rewarded, interstitial, and native ads, as well as affiliate ads.
Depending on the video ad type and placement, these ads can have high engagement and click-through rates (CTR). However, video advertising also requires significant bandwidth and can affect user experience.
Native ads
Native ads may contain videos, images, and text and blend with the app's content and look-and-feel. For example, when one occurs as another post in a feed, only the "Sponsored" tag will indicate its origin.
When implemented correctly, native ads can be relevant and appealing and have one of the highest engagement rates. Thus, they are perfect for news sites and social media, where they help brands build trust and share valuable content with minimal disruption to the user experience.
Native advertising requires more work to implement, can be more expensive than other forms of mobile advertising, and it can be more challenging to secure advertisers. Users still may find native ads intrusive, mainly if they are not relevant to the app's content.
Interstitial ads
These ads usually appear at natural transition points within the user flow and cover the entire mobile screen. A user can only watch the ad for a certain amount of time, dismiss it and return to the app, or click the ad.
This explains the high viewability and high CTRs of interstitial ads. The average eCPM for interstitial ads is reportedly 4,094% higher than for banner ads.
An aesthetically appealing ad that instantly grabs a user's attention can mitigate the disruption effect, but whether it is compelling or frustrating mainly depends on timing. Interstitial ads should occur where a break makes sense: when the app or a chosen video is loading, when moving between menus, between game levels, at the end of a specific flow, etc. Publishers should do it carefully, considering Google's guidelines and recommendations. Otherwise, they risk Google's penalty or negative ranking.
Rewarded ads
The idea behind this type of ad is to incentivize a user to view an ad. For example, a mobile game player can watch a 30-second video or interact with a playable ad in exchange for another try at a failed level, an extra life, coins, a bonus, etc.
Rewarded ads are valuable for advertisers because users watch them voluntarily. These ads can actually boost user engagement and prompt them to stay in the app longer. Google's internal studies once revealed that removing rewarded ads from an app would disappoint half of its users.
Banners, interstitial, and rewarded ads are best suited for mobile games.

Source: Appodeal
Gamified / playable ads
These ads encourage users to interact with them by playing an in-ad mini-game. Typically, it's a teaser or sample of a mobile game letting users "try before they buy" it. After some clicks or completion of the mini-game, users can proceed to the game's landing page to install it. Playable ads are thus an instrument of both mobile app marketing and monetization.
Push notification ads
These brief messages can appear on a mobile screen even when an app is closed. If the user taps the push notification, the app redirects them to the advertising offer. This enables app publishers and advertisers to reach users anytime and anywhere.
Push notifications have a high CTR potential and can increase user retention. However, they should be used sparingly and be as personalized as possible.
Apple App Store allows sending notifications for promotions or direct marketing purposes only if an app user explicitly gave their consent and can opt out in the app anytime.
The rule of thumb regarding mobile app advertising is to choose formats that entice the user, not frustrate them. The better your app experience, the higher the app engagement and the greater your revenue can be.
It will be helpful to answer the following questions:
What ads can make the app experience more meaningful?
What kind of ads would the target audience (TA) prefer?
Can these ads damage the app experience or the perception of your brand?
2. Affiliate marketing / advertising
This business model allows publishers to monetize an app through direct contracts with other companies that wish to advertise their app, product, or service. They can do it in two main ways:
1) Use affiliate ads to convince users to download an app. App stores offer affiliate programs that track people downloading an app after seeing its ad in another app. Apps that serve such ads are paid each time that happens. The commissions are small, but app developers can choose which apps to promote.
2) Partner with companies to help sell their products. When app publishers insert specialized links into their content or ads, users click those links, land on the partner's website, and buy something, the publisher receives a commission from each purchase. For instance:
A doctor consultation app can prioritize affiliated physicians when users search for specialists online.
A travel app can partner with an airline or hotel chain to offer deals or exclusive discounts.
A fitness app may partner with a sportswear or nutrition brand and offer its products to users at discounted prices.
Pros:
The less aggressive and intrusive ads relevant to the TA's needs add value to the app.
App publishers have control over what businesses they promote and with which brands their app is associated. Prestigious partners can enhance the app's appeal and reputation.
This model can be combined with other monetization methods.
Cons:
Affiliate marketing is a relatively unreliable source of income.
It works only with a large audience that 1) trusts your app enough to accept your recommendations of products and apps and 2) would be of interest to a third party.
Recruiting partners who must also be thoroughly vetted and managed takes time and effort.
More suitable for:
Apps focused on specific activities, e.g., dieting, cooking, grocery shopping, fitness, sports, pets, cosmetics, fashion, travel, etc.
Affiliate ads should appear at relevant points with minimal disruption to the app experience.
3. Sponsorship
This model is similar to affiliate advertising but usually involves an app popular among a specific niche market and one investor/sponsor and implies a deeper integration of the app with the sponsor's brand and content. This may include the app's interfaces incorporating the sponsor's logo, a splash screen featuring sponsored content, push notifications delivering the sponsor's messages, and so on.
The sponsor virtually buys the exclusive right to advertise to the app audience. This is a win-win strategy for both parties as long as the sponsorship is relevant and well-matched to the user base.
Pros:
Sponsored ads can be targeted accurately, resulting in higher conversion rates.
Sponsors also promote the apps they invest in, which can lead to increased user acquisition and revenue.
Sponsored ads can create a sense of brand loyalty among app users.
Cons:
This method requires a large and engaged user base to work well.
It may be challenging to find a partner with a similar TA who would pay for brand exposure within your app while benefiting your users and your business, especially if you create an integrated experience.
You are going to be locked into a sponsorship contract for a while.
More suitable for:
Super-apps that combine multiple services to provide all-in-one solutions, especially in the FinTech and travel sectors.
Appropriate ad formats and implementation via best practices are essential to ensure the sponsor's ads, content, and design elements don't damage the user experience.
4. In-app purchases
The idea behind this monetization method is that users already engaged with an app should be able to pay for particular enhancements to their experience.
When users sign up to the Google Play store or Apple's App Store, they can add a credit card to cover any app-related costs. When they decide to make an in-app purchase, it is charged to their credit card, the publisher is paid, and the app store takes a commission.
The main types of in-app purchases are consumable, non-consumable, and subscriptions:
1) Consumables are digital products that can be used only once but purchased again at any time. For example, in the case of mobile games, it can be virtual currency, bonus health, extra lives, power-ups, etc.
2) Non-consumable in-app purchases imply permanent access to them. Examples may include unlocking hidden levels, gated features, or bonus characters in a game.
3) Subscriptions imply recurring payments for premium content or features. In mobile games, subscriptions can be set up to unlock anything from exclusive gameplay items to premium game versions for specific periods. Upon expiration, the app may renew these subscriptions automatically or remind the user to do it manually.
Pros:
In contrast to mobile advertising, this method doesn't require millions of users to generate revenue.
In-app purchases boost app engagement and user loyalty and retention.
The ability to sell a wide range of customizable content, features, and digital products provides a highly flexible monetization model.
Cons:
It is widely believed that only around 5% of users make in-app purchases. This model requires a considerable user base to work, potentially ruling out first-time developers or apps with little recognition.
It may be challenging to convince users that the content or features you offer are worth the price.
App stores charge a percentage on each in-app purchase.
More suitable for:
games and fantasy gaming apps
entertainment and music
retail and ecommerce
health and fitness apps
App developers can introduce in-app purchases at any point in a game or app flow, but it's best to offer them when users need help. It's also crucial that the options are enticing enough to drive users toward a purchase.
Subscriptions that unlock premium functionality or content are technically in-app purchases, but we'd like to pay more attention to freemium and premium subscriptions as separate mobile app monetization models in the following chapters.
5. Freemium model
The freemium monetization model falls under the broader umbrella of subscription apps and differs from premium subscriptions by usually referring to features or upgrades rather than content.
This tiered pricing model includes a free basic version of an app and a paid, feature-rich plan or plans. Users may use an app for free with no issues as long as they want (it can be monetized through in-app advertising).
However, if users want more advanced features to enjoy the app's benefits fully, they will have to pay a one-time fee or a recurring subscription. The benefits may include additional storage space, resources, capabilities, levels in mobile games, etc.
Pros:
A free functional version of an app attracts a broad audience without the overheads of traditional marketing, thus reducing the user acquisition cost.
A free app is a great way to get users hooked on an app and try it out before paying for it, convincing users who otherwise would be reluctant to pay.
Subscriptions provide a predictable revenue stream.
Cons:
It can be tricky to strike a balance between offering enough value to keep users hooked and incentivizing them to upgrade to the paid version.
Users may become frustrated with confusing subscriptions or being bombarded with upsells.
The model requires constant upgrades, improvements, back-end work, and customer support.
More suitable for:
Cloud-based storage platforms and service-oriented apps like language, dating, or productivity apps.
6. Premium subscription model
Some premium mobile apps prompt users to sign up for a fixed fee upon a free download. However, more often, publishers offer a free app with limited content and then charge users for premium content, such as exclusive videos, articles, etc., or access.
The model typically includes a free trial period, after which users can choose between several plans where different monthly, quarterly, or annual fees cover increasing amounts of content or more capabilities within an app. Subscription to an ad-free version of an app may be enough for users who hate ads.
Pros:
Subscriptions drive stable, consistent revenue.
A free trial period makes it easier to attract users.
Each user can pick a plan that best fits their needs and budget.
Users that pay to access an app's content are more likely to do it regularly.
The premium model integrates in-app advertising easily, allowing to monetize both paying and non-paying users.
Subscription via emails may give your app a real boost, especially if you promise considerable benefits for email subscribers.
Cons:
Users may struggle to identify value before using the app consistently, and it may be challenging to balance enough free engaging content and enough appealing content behind the paywall.
Positive reviews and ratings, social media marketing, and other efforts may be required to convince a considerable number of users to subscribe.
Users may be unable to take advantage of special offers or discounts or feel trapped within premium subscriptions they have difficulty canceling.
The model requires regular updates and fresh content to engage and retain users.
It also requires customer support for paying users.
More suitable for:
Online media, streaming services, entertainment, nutrition and fitness apps, mental health apps, and other apps that may serve a lot of valuable content.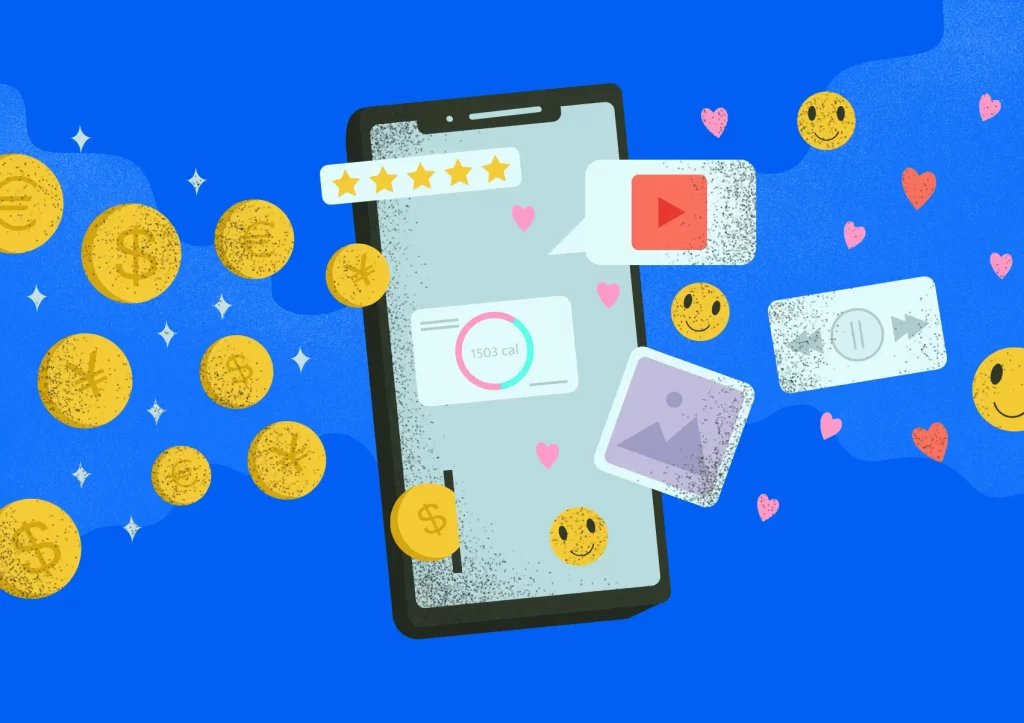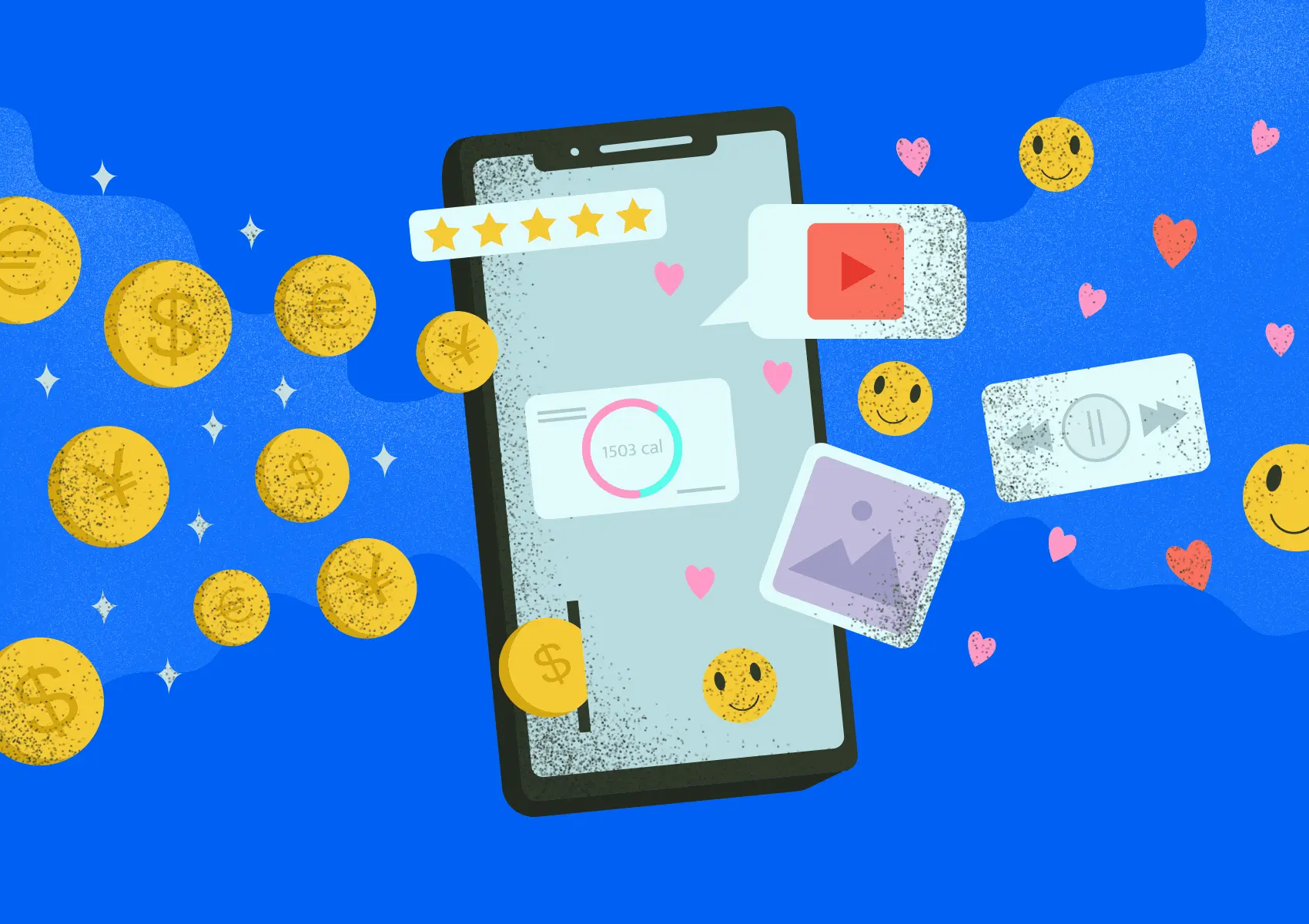 If your app regularly updates its content, consider creating a subscription plan for those customers who keep coming back. Try to differentiate between billed periods and tiers of access to your content. An auto-renewing subscription will ensure that users are regularly billed for new content and don't forget to purchase a subscription.
7. Pay to download
These apps charge a one-time fee to download them.
In early 2023, most paid apps in the Google Play store were priced less than $1 (38.5K apps) or up to $2 (26.6K). Only 2.3K apps were priced at $9-$10. As of September 2022, the average price of a gaming app in the Apple App Store was $0.49; the price of non-gaming apps approached $0.90.
Pros:
Pay-to-download offers a faster return on investment than other models.
Users that paid to download the app are more likely to open it afterward, which may translate into better user retention and higher consumer loyalty.
Cons:
The source of income directly tied to the number of downloads is neither consistent nor reliable.
It isn't a lucrative model in the long-term perspective either: charging a fee upfront is likely to preclude subsequent upgrades to a premium version or in-app purchases.
Most consumers are reluctant to pay for an app without a trial, and it may be difficult to convince them that it is worth the price.
This strategy can bring in substantial revenue only if the publisher or sponsor has a loyal following or the app offers a unique service, content, or app experience that is difficult to find anywhere else.
More suitable for:
Games, productivity and utility apps, especially if they complement a larger ecosystem, household name brands, or apps with a unique proposition.
Consistent user acquisition requires strong brand recognition, verified reviews, positive press coverage, and solid marketing that communicates the app's advantages over free competitors.
Publishers should also invest in App Store Optimization to improve the app's ranking and visibility.
8. In-app transaction fees
Apps that connect businesses and service providers with consumers and provide a platform for their commercial activities can charge a small commission on each purchase, service fee, or gift or donation from one app user to another.
Pros:
Such commissions may provide a stable revenue stream as the popularity of online shopping and elearning, telehealth, digital fitness, and similar online services grows.
As the commission is charged to vendors, consumers don't feel they are paying anything extra.
Cons:
In-app transactions require the development of additional functionalities.
More suitable for:
online marketplaces, which may also belong to the healthcare, fitness, education, travel, entertainment content, and other sectors;
cryptocurrency, investment, and other apps in the financial sector.
9. Sales of physical goods and merchandise
Ecommerce mobile apps are not the only category that can sell online goods ranging from groceries to hotel rooms. Apps of other types may also market and sell branded merchandise like t-shirts, tote bags, phone cases, hats, stickers, etc.
Pros:
Branded t-shirts and other merchandise turn consumers into promoters.
Cons:
Online sales will require an online inventory, mobile payment methods, and other systems to be integrated.
Managing the production, inventory, shipping, and other business processes adds complexity to an app operation.
More suitable for:
Apps with large loyal audiences.
10. User data monetization / licensing
First-party data is a precious commodity in the modern world, and data generated by your mobile app may also have value outside of your business.
You may try to sell information about your users' demographics, preferences, behaviors inside your app, etc., to marketers, advertisers, product developers, data scientists, or other interested parties.
For example, a fitness app can collect information about users' preferred sports, favorite sportswear styles, equipment, nutrition products, etc. Retailers can use that data to personalize offers and boost sales. A navigation app may license its data to businesses that want to place location-based ads. If an app is popular, a major analytics company may want to purchase its data.
Pros:
Licensing can provide a reliable, scalable, and predictable revenue stream as first-party data will grow increasingly valuable.
User data monetization doesn't affect the user experience.
Cons:
Any data the app collects and licenses have to be explicitly signed off on by the users, but they are becoming increasingly aware of privacy issues and cautious about sharing their information.
Users may be less likely to trust your app if they know that you sell their data.
There is an increased risk of non-compliance with national and international privacy laws.
Licensing data can be expensive for small or independent app developers.
Collecting the right data and finding and negotiating with data providers can also be challenging.
More suitable for:
Apps with an established user base in categories that imply the collection of geo-locations and other user-generated data.
11. Gamification
The implementation of gaming elements into non-gaming mobile apps uses psychology to keep users engaged through excitement and a sense of achievement and reward.
For example:
Users of diet wager apps may bet some money that they will achieve a specific weight goal by a specified date. If they succeed, they win a cash prize. If they fail, they lose the money.
Fantasy sports apps can offer cash-prize contests, charge fees to participants, and keep a portion of the contest entry amount.
Pros:
A more satisfying, stimulating, and enjoyable user experience increases an app's stickiness and retention rates, boosting revenue from in-app purchases and mobile advertising.
Challenges and competition motivate users to share the app with friends, generating organic installs.
A gamified app experience may also give you a competitive edge over non-gamified rivals.
Cons:
To make the strategy effective, app developers have to be creative and perform complex calculations and experiments to determine the optimal rules, bet amounts, cash prizes, prize awarding mechanisms, etc.
Convincing and motivating users to participate and pay money may be challenging.
More suitable for:
EdTech, dieting, fitness tracking, entertainment, and social media apps.
12. Crowdfunding
App publishers may simply collect donations from users that wish to support the app or its cause.
Pros:
Supporters may inject funds into an app even in its early stages.
Users that support an app's development will likely be more engaged and loyal.
Crowdfunding can create a community that will provide valuable feedback and promote the app.
Cons:
It may be challenging to convince early adopters to financially support the app's vision and team.
If the app offers rewards or perks to donors, it will raise the cost of running the app.
If an app doesn't have a considerable user base or its users aren't really engaged, it will be difficult to raise money continuously.
This mobile app monetization method is applicable to virtually any category.
Hybrid mobile app monetization strategies
A hybrid monetization strategy combines two or more monetization models. For example:
The most common hybrid approach combines mobile advertising and in-app purchases or subscriptions. It attracts both users who don't want to pay for things but don't mind seeing ads and those willing to pay for an ad-free experience.
A hybrid strategy including ads and transaction-based monetization is also common.
Pros:
An app combining multiple models is more likely to attract a wider audience and maximize revenue.
The hybrid approach allows for greater variety and flexibility in mobile app monetization.
Some ad formats, such as rewarded video ads, work even better in hybrid models and can boost in-app purchases.
Cons:
The development of hybrid app monetization strategies requires a lot of research, strategizing, planning, and testing and can be technically demanding.
Multiple ill-matched monetization methods can overwhelm users and scare them off.
Better suitable for:
Gaming and streaming apps.
It's key to focus on the user experience, prioritize in-app purchase options over in-app ads, and show only highly personalized ads in the most relevant points of an app flow. Advertising shouldn't add unwanted friction to the app flow and block the path to in-app purchases.
The following chapter should provide more tips to help you choose or develop the best mobile app monetization strategy for your unique product.
Mobile app monetization tips for your business
Your choice of monetization methods may depend on:
your overall business objectives
your app category and characteristics
the user persona and the TA's demographic details
where your users are located
the competitors' business models
the platform on which the app operates
your budget
your preferences
whether you are trying to monetize an app for the first time or looking to increase an existing app's profitability.
Ideally, the issue of future mobile app marketing and monetization should come into play as early as possible in the app development process. Your ideas and choices can affect the features, mobile app design, and user experience.
When the app owner and developers select monetization techniques, it would be helpful to answer the following questions:
What does or will the app do?
The type and category to which the app belongs largely predetermine the possible monetization options. Some categories work better with particular models than others. Over many years, users have grown accustomed to certain forms of monetization in specific types of apps.
In most cases, choosing from the typical options makes sense: a different or unique monetization approach may alarm consumers.
How do competitors generate revenue?
Research into similar apps in your vertical can provide an understanding of which monetization strategies work best. You may also spot opportunity gaps in the market.
If there are apps that offer similar content and features for free, people will be unlikely to pay for your app. Replicating the model of a successful similar app is a way to get started, especially if you don't have any experience in mobile monetization.
App publishers and developers should also be aware of the current and upcoming trends in the market.
What does the target audience need and want?
It's crucial to know who the end-users are, what they want from the app, what they like and dislike, and, most importantly, whether they wish or can afford to pay for the app experience.
For example, if your app helps professionals do their job, they will be more likely to pay for a subscription. Youth, especially gamers, are prone to making impulsive in-app purchases but may be unable to spend much. A wide and varied demographic allows for trying out multiple monetization methods.
Surveys, interviews, and market research reports may help inform your strategy and tailor your app experience as close to your TA's needs as possible.
What is best for the user experience?
Identify the primary things your app should offer, what brings in the users the first time, and what keeps them coming back. Your chosen monetization techniques should capitalize on and align with these things, not disrupt them.
The advantages of the chosen monetization methods for the app experience should outweigh their drawbacks. If your monetization model impacts the app experience negatively, you will be unlikely to make the most revenue off the app.
For example, if an app requires users to watch video ads every time they take a specific action, it discourages taking that action. In a while, users will give up. If video ads are your best option, at least make them worth it for the user through rewards.
You may need to build a minimum viable product (MVP) to test your choice and assumptions on real users. Using app analytics, you can determine who spends the most time and money on your app. Focusing on those users may prove more effective than investments in new user acquisition.
If you partner with an app monetization platform, ensure you receive actionable insights regarding revenue, user behavior, geography, and more.
Beware of the specifics of your target platform: Apple and Google have different policies regarding app monetization. Mobile advertising works most effectively on Android apps due to maximum ad personalization. Make sure to research the applicable guidelines before you start implementing any monetization strategy.
To sum up
Mobile advertising has been the most popular and profitable app monetization model for years, closely followed by in-app purchases and subscriptions. Paid apps are less common.
Hybrid app monetization strategies combining two or more of these methods, primarily ads and in-app purchases, can help maximize ROI. Transaction-based monetization strategies are expected to thrive, and app data monetization should become increasingly profitable.
For any strategy to be successful, the app developer should invest in user acquisition and user satisfaction. If an app loads slowly, the navigation is confusing, and the content is stale, users won't return. If the app is good, there will still be some user churn, so happy users and new users are equally important.
Discovering the right combination of monetization techniques is one part research and one part trial and error. However, the first step to successful monetization is to build your mobile app from the ground up with monetization in mind.
Alternative-spaces is an outsourcing company that builds various apps for international clients across many industries. Our agency offers dedicated teams and experts in UX/UI design, web and mobile development, VR and AR development, quality assurance, and other services you may need to create excellent software products. Why not take advantage of Alternative-spaces's expertise and reasonable pricing? Just drop us a line!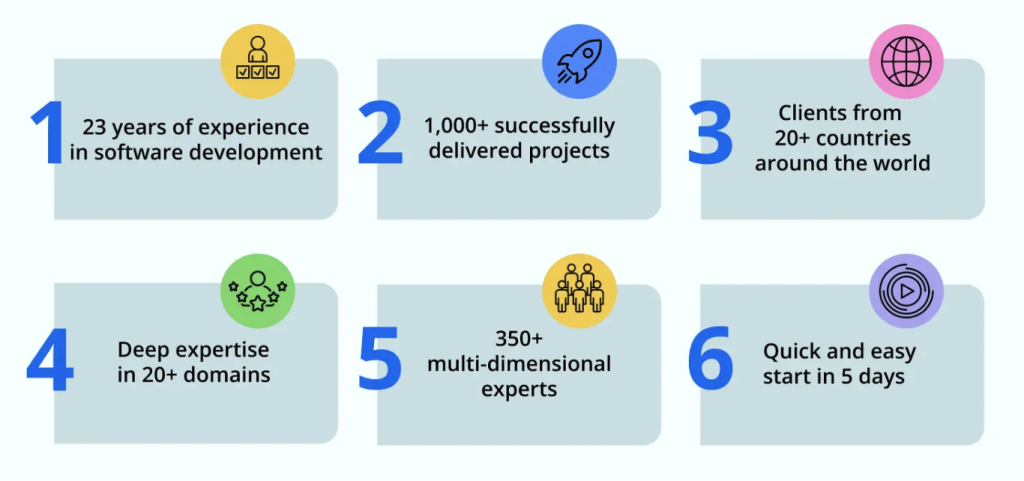 FAQ
What are the most common mobile app monetization strategies?
The most common mobile app monetization models are in-app advertising, free apps with in-app purchases, freemium, subscriptions, and paid downloads.
How can I make money from a free app?
Publishers of free mobile apps can select from a variety of mobile app monetization options:
Mobile advertising, the formats including banners, video ads, interstitial, native, rewarded, gamified ads, and push notifications.
In-app purchases
Subscriptions
Freemium model
Online sales
Transaction, listing, and other fees
Affiliate marketing
Sponsorships
Crowdfunding
Gamification
User data licensing
How do I choose a monetization strategy for my mobile app?
Consider your app's type, target audience, location, competition, OS/platform, and the app's user journey specifics. The app's function is the primary factor when choosing the monetization approach. For example:
Balancing revenue-generating techniques with a good user experience is essential.
What OS is preferable in terms of mobile app monetization?
If it is impossible to build your mobile app or game for both iOS and Android platforms, choose one based on your users' preferences and the selected monetization method. An Android app offers a better start if you plan to generate revenue primarily through mobile advertising. If you aim at subscriptions and in-app purchases, it is wise to create an iOS app first.
Content created by our partner, Onix-systems.
Source:
https://onix-systems.com/blog/pitfalls-and-springboards-of-mobile-app-monetization